Kenneth Harris II caught the engineering bug early.
Beneath the desk of his father, NASA engineer Kenneth Harris, was a slice of foam left over from the Mars Pathfinder. After school, Kenneth the younger would curl up on the foam and nap or color Pokemon pictures while his dad worked. 
Perhaps he became an engineer by osmosis, but that makes it sound too easy.
Harris '14, mechanical engineering, labored doggedly to become a senior satellite engineer at NASA Goddard Space Flight Center, where his father still works. Recently named to the Forbes Magazine 30 Under 30 List, Harris helped build the NASA telescope set for launch in 2021, and flies satellites that spot wildfires and hurricanes, and tends to the data that can predict weather to save lives. 
High Expectations
But at UMBC, a worried academic advisor once suggested Harris change majors. "It was not an option to change my future goals," Harris remembered, shaking his head. He talked to his father and friends, then buckled down. "I saw it as adversity to be overcome."
Anne Spence, a former engineering professor at UMBC now at Baylor University, remembered Harris struggling. 
"There was one course, in particular, that seemed to be his nemesis. Yet he persevered," Spence recalled. Harris tried the class a third time, with tutoring and faculty support, she said, and passed. "The effort required to be an engineer is high and individuals rise to the occasion at different points in their career. UMBC places high expectations on their students. Kenneth has certainly achieved the dreams that we hoped for him."
Harris started working at NASA in high school, graduated from UMBC, then finished a master's degree from Johns Hopkins University. Now, he strolls through the vast NASA building where space telescopes and satellites are built. He peers into cleanroom prep areas stacked with white "bunny suits," peeks in the vibration chamber that tests whether machines will withstand the rattle of launch, and wistfully motions to a pair of massive venting towers, the last remaining pieces of the James Webb Space Telescope left at Goddard. 
Standing in front of a color-coded schematic, Harris points to connections that he ensured would deliver data and power to each piece of the massive telescope. Set to launch in 2021, the Webb telescope will see back in time to when the universe first began, even farther than its predecessor, the Hubble. 
Pondering the deep questions about time and space, not to mention the engineering steps to reach those nebulous answers, was difficult, Harris admitted. Terrific mentors guided him, he said, but didn't give him the answers. 
"That's something I've adopted," Harris said. "I never give my mentees the full answer. It may be frustrating, but you learn more when you come up with the answer on your own."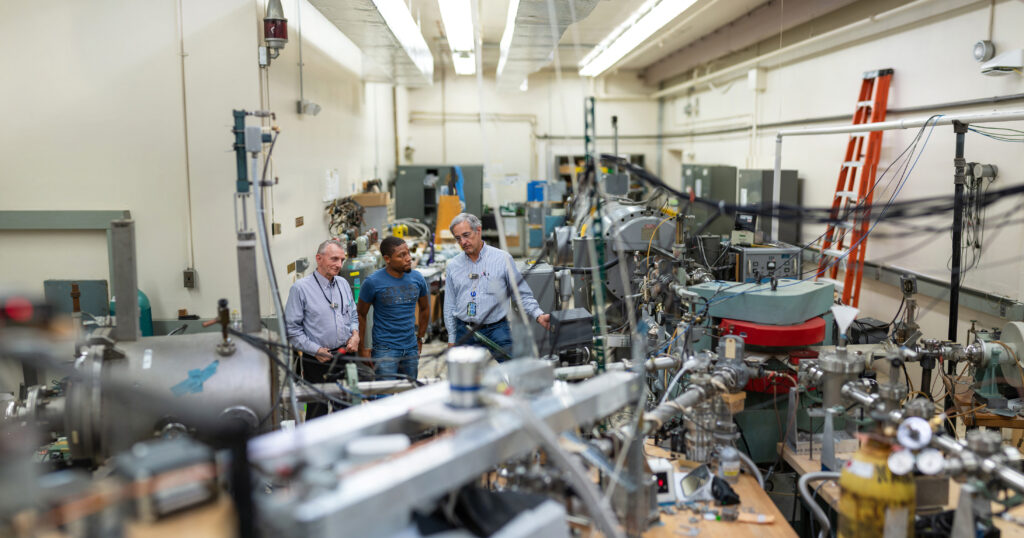 Paying it Forward
Passionate about mentorship, Harris has done a TEDx Talk on it and speaks at schools and conferences to promote mentorship and STEM studies. 
"Mentors are the foundation I was built on," Harris said, and he hopes to "pay it forward."  
Harris worked as a UMBC resident assistant, and closely with Nancy Young, vice president of student affairs. 
"Ken is making a mark in science, but as a resident assistant, he had great compassion for others," Young said. "He would be in my office lobbying me about Greek organizations — he would argue up a good storm — but he was always willing to take on another's perspective to solve problems. People in research are often intensely focused. But Ken is also passionate about leadership, passionate about cultural organizations. He had passion and focus in everything he did. He's the quintessential UMBC Retriever."
Driven to Explore
At NASA, Harris strides into the observation room overlooking the cleanroom, a space large enough to house two Space Shuttle payloads, where he helped build the Webb telescope high up on ladders. Harris is joined by his best friend, Reginald McNeill, also a Meyerhoff Scholar, a planning and facilities project manager at NASA who just finished his masters' degree at UMBC. They each married UMBC classmates, and all four remain close; Harris often cooks for Taco Tuesdays. 
Harris nodded over his shoulder to a Hubble Space Telescope photograph, a blue and gold marvel of cloud that shows the Eagle Nebula. Exploration drives him, he said. He wants to be an astronaut and excitedly talks about astronauts he knows who are rooting for him. 
"My belief is that as scientists, as engineers, we have the opportunity, no, the responsibility, to be open to the unexpected," Harris said. "Our goal is to make it more plausible for the next generation to explore with a different definition." 
– Susan Thornton Hobby
* * * * *
Header image by Christopher Gunn.