At a hackathon last year, two UMBC students took a stand against online harassment through tech innovation, forming a partnership that would become MindStand Technologies. Founders Michael Ogunsanya '20, M28, economics, and Eric Solender '20, computer science, believe there is such tremendous potential to make headway on this problem that, as Ogunsanya explains, "We want people to connect with the idea before they connect with the company."
Together, they've developed a tool that can detect troubling online behaviors, like cyberbullying. It provides an interactive dashboard and real-time alerts based on a powerful algorithm that is already gaining attention.
To get to this point, they've taken advantage of support from UMBC's entrepreneurship programs. Last fall, MindStand Technologies earned second place in UMBC's 2018 Idea Competition, hosted by the Alex. Brown Center for Entrepreneurship, confirming for the team that their idea could really take off and have a positive impact. Now, they've won second place at UMBC's sixth annual Cangialosi Business Innovation Competition (CBIC).
Connecting student entrepreneurs with mentors
The Shark Tank-style CBIC is an annual opportunity for undergraduate and graduate students who are serious about starting a business, and have already begun realizing their ideas, to present to a panel of judges before an audience of community members, including faculty, staff, alumni, and corporate partners. Ahead of the event, each team is paired with an industry mentor who provides guidance and professional advice.
The structure of the event and its focus on mentorship are inspired by the vision of entrepreneur Greg Cangialosi '96, English. Throughout the process, the teams have access to support from Cangialosi and Vivian Armor '73, American studies, director of UMBC's Alex. Brown Center for Entrepreneurship.
Using technology to address challenges across industries
First prize in the competition went to Dan Lee '19, computer science, for Dentuit Imaging, which he hopes will help dentists diagnose patients with challenging conditions. The technology will identify and annotate possible problems on patients' dental images.
Lee is working with collaborators, including Joe Weissman, a Virginia Tech Ph.D. student focusing on machine learning, to develop a prototype that he hopes will be available in the summer. One key part of the work will be training the system to identify potential dental issues. "The more labeled images there are, the better," Lee explains.
Akshay Peshave, M.S. '14, Ph.D. '19, computer science, earned third place for Karotene, which works to connect researchers in fields from medicine and physics to computing with information and data needed to do their work. The technology, explains Peshave, allows researchers to more easily address pain points as they are conducting research, including challenges related to collaborating with people across the country and around the world.
Peshave will use the funding that he earned through CBIC to finalize the legal paperwork needed to officially launch the company. He is also working to build Karotene's advisory board, while refining the product for market release.
Utilizing networking opportunities at UMBC
MindStand Technologies, the second place winner, has already begun moving forward in significant ways. Ogunsanya and Solender have secured office space in bwtech@UMBC's North campus. There, they spend time each week working to advance their technology and grow their business.
Ogunsanya and Solender are particularly focused on connecting with experts beyond tech fields who can provide insights essential to making their tool effective and ensuring it is used in thoughtful, ethical ways. Project collaborator Pamela Rakhshan Rouhakhtar Ph.D. '22, psychology, describes MindStand Technologies as a "true multidisciplinary team."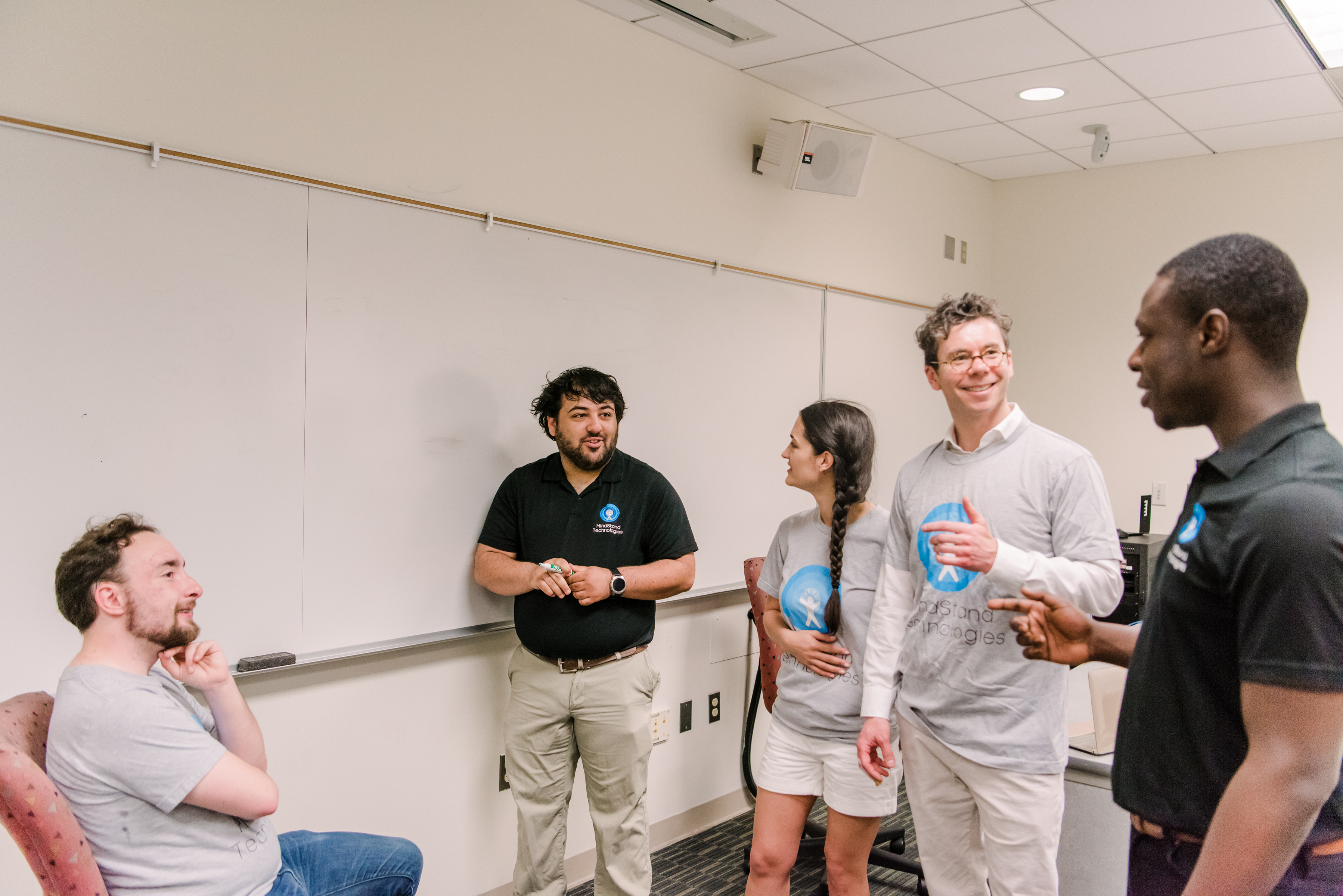 Jason Schiffman, professor of psychology, provides valuable mentorship to help the group keep their mission, ethics, and philosophy at top of mind at all times — asking if each decision is both correct and good. Rouhakhtar and Solendar met while working in Schiffman's psychology lab. They share that he often talks about the importance of working at the intersection of what you love and what you are good at, and that this is what MindStand Technologies is all about.
Taking advantage of the networking and skills-building opportunities at UMBC has been key to his company's success, Ogunsanya says. He encourages future student-entrepreneurs to not shy away from "using all of UMBC's channels" to turn their ideas into a reality.
Banner image: The MindStand Technologies team. Photo by Marlayna Demond '11 for UMBC.
Tags: AlexBrownCenter, bwtech, CAHSS, COEIT, CSEE, MechE, MeyerhoffScholars, Psychology