By Steve Levy '85, Associate Athletic Director, Athletic Communications
Above photo: The Retrievers celebrate their Homecoming win over Albany (3-1). Photo by Gail Burton.
The UMBC men's soccer program has a lot to be proud of these days. With a Homecoming win over Albany, the number 16 nationally ranked team has packed Retriever Soccer Park with record-breaking crowds. And with their last regular season home game tonight versus Delaware, they have showed their "Grit & Glory" on field and off all season long.
But the truth is, the program has had much to celebrate throughout its history.
The year 2017 happens to mark two very special anniversaries for Retriever soccer. On September 23, the program welcomed back members of the 1977 team to celebrate their 40th anniversary; one week later, representatives of the 1992 squad reunited to honor their 25th anniversary.
The 1977 team was the first team UMBC intercollegiate squad to win a conference title, taking home the Mason-Dixon Conference and, subsequently, receiving a berth in the NCAA Tournament. Under head coach Ed Veit, the Retrievers went 15-2-0, led by high scoring forward Ray Ford '91 and future professional goalkeeper Steve Zerhusen '78.
The 1992 team debuted in the Big South Conference and won the league's regular season title. With Pete Caringi at the helm, the Retrievers won six of seven league matches and finished 12-9-0 overall. Bobby Wagner '95, a defender, doubled as a remarkable scorer, as he completed a brilliant career with 31 goals the following year.
Zerhusen and Wagner, both UMBC Athletics Hall of Fame members, discussed their days at UMBC and the present day state of the program.
* * * * *
Q: What drew you to UMBC when you were being recruited?
SZ: Mr. (Head Coach Ed) Veit was the draw.  He was very convincing and he did camps with my high school coach Bill Karpovich.  I was also recruited by Loyola, which was closer to home and actually turned down a full scholarship there to come to UMBC.  My high school coach convinced me UMBC was up and coming and I would fit in perfectly.  Obviously, he was right.
BW: Truthfully, it was the opportunity to play Division I soccer for Coach (John) Ellinger. He was good friends with my club coach at the time, who had been the (current) UMBC goalie coach, Sam DeBone.
Q: Give our readers an idea of what it was like to be a student-athlete at UMBC in your time.
SZ: Being an athlete at UMBC was exciting.  The campus was growing, the stadium was just being built, the locker rooms were coming, it was an exciting time. We had grown from three practice fields above the current turf stadium and lockers in the (UMBC) Fieldhouse to the beautiful grass field in the stadium and new field house (stadium locker room complex.
It was cool to be recognized.  Most importantly, we were always in the campus newspaper, as well as The Baltimore Sun and News-American.  Big articles were in the paper touting the weekend's games, and always a big article in the Sunday paper recapping.  The Mason-Dixon Conference is what made this so special.  All local teams played each other, and there was a tournament. It was awesome…  every game was a battle.
BW: Every time we get together as a group, the same stories seem to surface. The practice field was so bad you had to play the "UMBC bounce," in other words, hope your guess was right and the ball did not bounce over or roll under your foot. The stadium at the time was grass, [and] had a crown so steep that looking at players on the other side of the field you could only see them from the knees up.
Seniors sometimes driving the 15-passenger vans to games, players doing homework with flashlights in the back of the van…all of those stories get more exaggerated as we are comparing them to what the team has access to today. Besides interacting with our own team, all of the UMBC athletes knew each other, we saw each other and coaches at the RAC, we saw each other playing other sports during the intramural season, we saw each other off-campus at various events – we were our own fraternity.
Q: Talk about what you recall from your first encounters with Coach Pete Caringi
SZ: I didn't know Pete prior to my time at UMBC.  I knew of him in the soccer community, and while at UMBC really got to know him socially through friends at his family's bar (Tommy's Lounge) and played against him and the powerful Casa Bianca soccer club as I was playing for a rival, Italia Pompei.  We had many battles both in college and at Patterson Park on Sundays.
One thing always stood out about Pete: he was passionate and quietly confident. He was never loud, only with his play.  He was a tactician back then, always being in the right place at the right time, that knack of knowing where to be.  We became friends, and became closer while playing professionally for our respective clubs.  When I returned home after three years of professional ball, I still loved the game and played for Casa Bianca.  Our friendship and mutual respect grew as Pete invited me to coach with him for three years at Essex Community College (now CCBC-Essex).  Pete's offensive genius was on display way back then.  My defensive tendencies and our lack of egos made us a good match.  I have always admired the way he connects with his players.  He is certainly a players' coach.
BW: I was a sophomore when Coach Caringi came to UMBC. He had a reputation for success and I was looking forward to what he could bring to the team and the university. Years later, I had heard that he talked to Coach Ellinger about me and he was trying to figure out what Ellinger was thinking when he recruited me…apparently I didn't make a very good first impression. We ended up 42-16-1 over the three years he coached me and my individual success came from his coaching and pushing me to never quit. I share that philosophy today with my kids and the kids that I coach.
Q: What was special about the championship team that you competed on at UMBC?
SZ: The people were what made the team special.  We all came from such diverse backgrounds.  We all loved the game, were good players, but not 'blue chip' so to speak, so we all had that little edge.  Mr. Veit was a master at making individuals into a team.  We had good teams, very competitive, great defensively; however, the most important ingredient came in the name of Ray Ford.  He was the straw that transformed us from competitive to dangerous.  He was unassuming, and fit right in, but was very talented.  (Ray) made everyone better.  With this addition, Mr. Veit convinced us no one could beat us, and he was close.
BW: The success of those teams are what we talk about today. Specific games against Towson, Coastal Carolina and UNC Asheville – all of the jokes about what we did or didn't do. In the end, the regular season championships were always nice, but personally l still feel responsible for not getting Coach Caringi to the NCAA's. We had such talent and teamwork and togetherness….it was a missed opportunity. Back then, we had to win the conference to get in; we were not getting an at-large bid.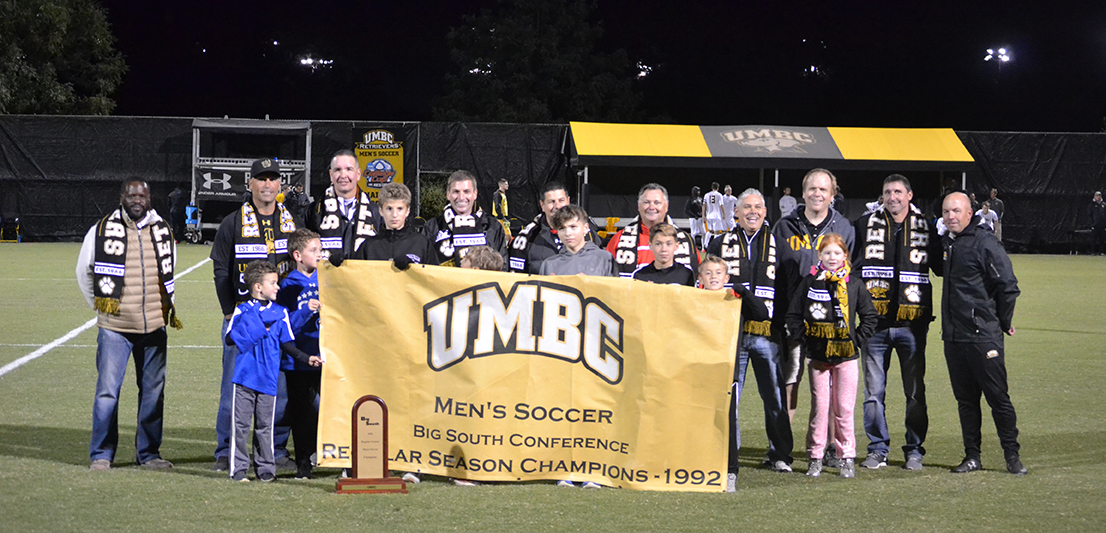 Q: What did it mean to you as an alum when the program made the run to the College Cup in 2014?
SZ: I was just so very proud.  I have always been proud of my team's accomplishments while at UMBC and honestly feel we helped set the foundation.  Pete, as I said previously, had an awesome offensive mind, and his players love him.  I wasn't surprised.  Again, it was a perfect combination.  I remember going to a few of the road games…wish and thought at the time it would be more often.
BW: It was the best feeling because the school, team, and Coach Caringi finally got the recognition they had worked so hard for. Everyone started posting pictures of their old teams, the stories were told again and the fact that we played for UMBC, all of the sudden we were big-time DI players and all because that team was in the spotlight of the College Cup.
Q: Given the turnouts for the special nights that UMBC has hosted this fall, it seems like those teams were very close-knit and many relationships forged then are still thriving today. True?
SZ: Yes!  Our guys were extremely close.  Many still stay in touch today.  We all have each other's e-mails and do stay in touch.  I am very close with several of my teammates; once together, it is as if we never left.  This last reunion we missed Tim McCoy. He is in Iowa, and family business kept him away.  He was so disappointed.  When you ask the guys, "magical," "special," and other such adjectives are heard.  It was a unique time, and quite honestly, right in the middle of the golden years of Maryland soccer.
BW:  Probably ninety percent of the teammates we had continued playing in the amateur leagues, have for 25 years, and now see each other on the soccer field as coaches to our kids.
Q: In your wildest dreams, could you have foreseen crowds like UMBC soccer has attracted this season? What does that say about the state of soccer in the DMV?
SZ: Yes, I could see this, as I have been part of the Baltimore soccer history. Maryland Major League games had the fields ringed with fans and supporters.  UB, in its hay-day always had a packed house; the 'wall' was all very intimidating.  Crowds at Loyola College also were packed at the old field in 1976.  It was awesome. Seeing what UMBC is doing today vs. Maryland is just another telltale sign of the state and growth of Maryland Soccer.  I cannot tell you how proud I am to be a part of UMBC's rich soccer history.
BW: UMBC is the new mid-major to soccer as Butler is to March Madness – teams don't want to play us at home. You see Maryland hadn't played UMBC until 2011, 18 years after they came to UMBC and we beat them during my senior year, 3-1. So far this season, UMBC is 2-1-1 against top-20 ranked teams. UMBC is made up of the players that are like Coach Caringi – hard working, never quit and have a chip on our shoulder for anyone doubting our ability and overlooking our team.