Earlier in the month, on the day when news rolled out about the appointment of UMBC's next president, the woman who will take over for retiring president Freeman Hrabowski hopped a plane and made a surprise visit to Baltimore. Valerie Sheares Ashby, current dean of Duke University's Trinity School of Arts & Sciences, may not officially start her role until August 1, but she's already making a splash on campus.
"I showed up today, on the day of the announcement, because there was no way I was not going to show up in Freeman Hrabowski's office to honor him," Sheares Ashby told a group of campus leaders the morning of April 4th.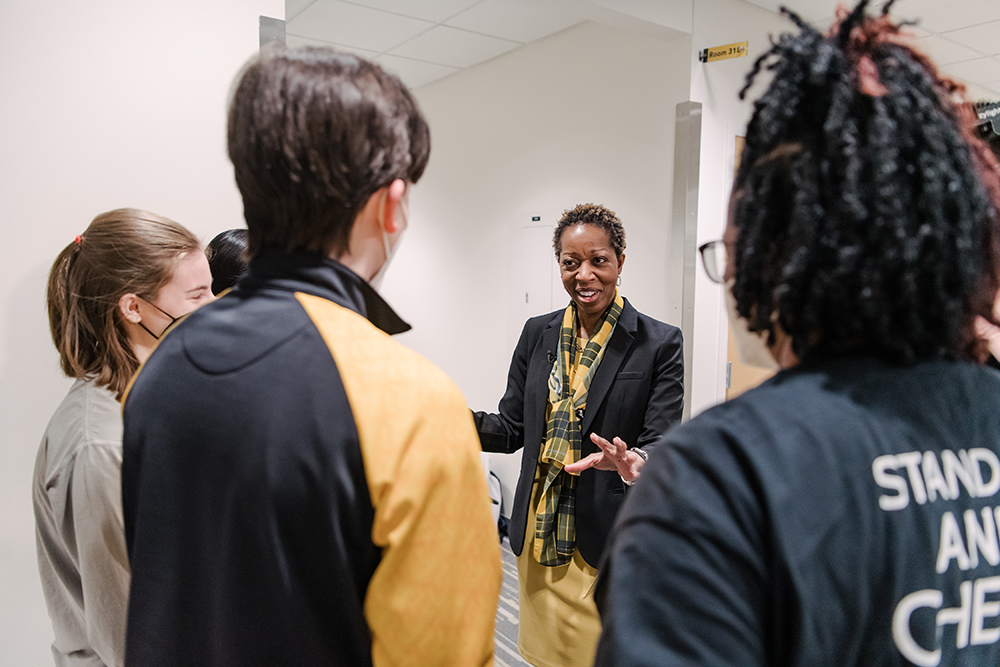 Sheares Ashby spent the rest of her two-day visit exploring campus and meeting students, faculty, staff, and civic leaders—much of the time with Hrabowski as her guide. With each new person she met, she shared her growing excitement about joining the UMBC community.
"It is a real honor," she said. "The biggest compliment I have received today is, 'Oh, this is perfect for you.'"
Here are some highlights from announcement week:
Learn more about our incoming president and planned celebration events for President Hrabowski at president.umbc.edu.
Header image and portrait of Valerie Sheares Ashby with True Grit by Marlayna Demond '11.