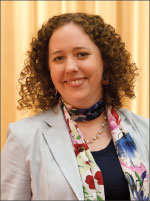 With Kristin Schenning '15, Mimi Dietrich '70, and Vickie Greisman '13
By Meredith Purvis
Americans take immense pride in their flag. The simple rectangle of red, white and blue fabric sewn together is a national symbol that helps knit Americans together as a people. But how much does the average person know about the actual flag that "Star Spangled Banner" author Francis Scott Key saw flying over Fort McHenry during the War of 1812?
Kristin Schenning, a UMBC graduate student and the education director for the Maryland State Historical Society, and a team of volunteers want to help Americans reconnect with that fabled pastby creating a full-sized replica of the famous flag. The project is called: "Stitching History: Recreating the Star Spangled Banner Flag."
Step 1: Brush Up On Your History
 Before you sew a stitch, you need a pattern. And this pattern required Schenning to crack open some history books. The flag that flew above Fort McHenry was created in 1813 by Mary Pickersgill, a Baltimore flag maker. Pickersgill worked for six weeks in a local brewery by candlelight to stitch the 30' x 42' flag that inspired Key to pen the anthem.
"[The War of 1812] is sometimes called the forgotten war, but what we got from that war is so important in how we see ourselves as Americans," says Schenning.
Step 2: Get to the Market
Once you've brushed up on history, you'll need supplies. And making a 30' x 42' flag requires a lot of material, especially if you want to find materials that match the original fabrics used by Pickersgill. Thanks to research done by the Smithsonian Institution, Schenning was able to make a shopping list. The most challenging item to obtain was English wool bunting. "You can't just get this fabric at a store or take in a piece of the original flag for duplication," she says. So Schenning sought out weavers, and settled on a family-run company in Pennsylvania that could replicate it. She also turned to Baltimore-based businesses G. Krug and Son for iron grommets, and to Historic Ships for rope splicing.
Step 3: Marshal Your Troops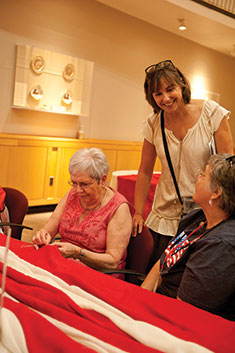 You need many skilled hands to help lighten the workload of recreating history. So Schenning turned to local quilting clubs and guilds for expert help. In just a few months, she was able to recruit around 200 stitchers. The volunteers also needed to understand the history. "We took the stitchers on several field trips to Fort McHenry, the Flag House and the Smithsonian," she says.
Several of these volunteers are UMBC alumni, including former UMBC Alumna of the Year Award winner Mimi Dietrich '70 and Vicki Greisman '13. Both women have worked on the project since it kicked off on July 4 – and Schenning and her volunteers wanted to complete the flag in roughly the same time and manner that Pickersgill did.
"Because of the place [of the flag] in Baltimore's history, this project has a real place in my heart," say Dietrich
"People are thrilled [by the project]," adds Greisman.
Schenning also invited in the public for open sewing days. While it may seem odd to ask folks without any sewing experience to come in and put a stitch in the flag, there was a good reasonto  seek the extra help: "The goal of this project is hands-on history," Schenning explains. "We want people to identify with that iconic national symbol, and to be able to put themselves in Mary Pickersgill's place."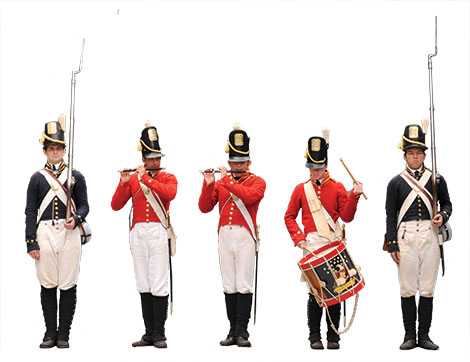 Step 4: Run It Up the Flagpole (We'll All Salute!)
All this hard work in recreating history deserves some celebration, and Schenning and the Maryland Historical Society are planning a number of events featuring the flag. Upon its completion, the flag will fly over Fort McHenry on Defender's Day in September 2013, and will  travel around the state of Maryland and beyond, retracing the path of key events in Maryland during the War of 1812. There are also ongoing discussions about a national tour as well.
"I was one of the first students to attend UMBC when it was founded, and we're referred to as pioneers," says Dietrich. "I like that. I like to get involved with projects [like this] and help figure them out."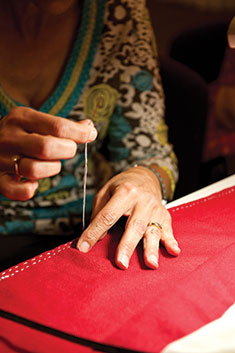 By the numbers
110 yards of red fabric
110 yards of white fabric
55 yards of blue fabric
15 stars
13 stripes
200 volunteers
6 weeks of work
$10,000 for supplies
Tags: Fall 2013