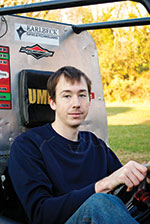 With Steven Storck '08, M.S. '09, mechanical engineering, UMBC Racing Co-Captain
by Jenny O'Grady
The call of the open road. The rev of the engine. Wind rushing through your hair. There's simply nothing like it. Whatever comes your way.
But is it possible to properly head out on the highway without appreciating the vehicle that carries you? For UMBC's Baja SAE (Society of Automotive Engineers) racing team, that's no problem at all. Every year, the student-run team builds a new offroad vehicle from scratch, and every year they outmaneuver the competition in tests of endurance, speed and safety. (Last year they were third overall in the world out of 253 teams.)
Now that we have "Born to be Wild" stuck in your head, we turn to team co-captain Steven Storck '08, M.S. '09, mechanical engineering, for the nuts and bolts about how he and his teammates have climbed so high in the world of competitive racing. Ready? Set? Go!
Tools of the Trade
1. 3-D rendering software to design the car of your dreams
2. A workshop filled with soldering irons, raw metals and gears up the wazoo
3. A sturdy seat belt and an even sturdier barf bag
STEP 1: Assemble Your Dream Team
Building a car from scratch takes more than a head full of gears and a blow torch (although soldering experience certainly comes in handy!). It takes designers who can create 3-D schematics, drivers with stomachs of steel, business-types who can manage a budget – even visual artists to create videos and a web presence for the team. Storck prides UMBC's operation on its well-roundedness. The team ranges from 30 to 60 members at any given time at various levels of commitment, he says.
"If someone wants to get involved, we try to find a place that makes sense for them," he says. "It takes a lot of skills [to compete], and a lot of types of people."
STEP 2: Respect the Rules
Knowing the rules of a competition is just as important as scoring points. Ignore the fine print, Storck says, and your car might get stuck at the starting line.
SAE competition is necessarily nitpicky when it comes to rules, with regulations covering everything from car design to vehicle specs to safety features. Budgets submitted must detail every cent spent along the way. Teams also provide a full catalogue of parts used to build the car – even those they fabricate themselves.
"There's a huge element of project management involved," says Storck, a stickler for details. "You'd hate to lose points off your score for missing something."
STEP 3: Polish – And Re-Polish – Your Design
UMBC's team fabricates nearly every square inch of its 10-horsepower car, bumper to bumper. But designing and building a vehicle that can stand up to rocky terrain, unexpected rolls and unpredictable loads takes more than a mechanical mind. It takes flexibility. And a lot of testing.
"We try to test the vehicle beyond what's expected in the race so we're prepared for pretty much anything," he says. "They don't tell you about what the race is going to be like [in advance], so you have to be ready."
The process is perfect on-the-job training for future engineers, he says, adding that team members often make multiple car components knowing they'll need replacing along the way.
"A lot of times you learn more making mistakes than figuring things out right away," he says.
STEP 4: Build Your Fan Base
What do you see at a professional car race besides the cars and drivers themselves? Colorful collages of sponsorship ads.
The same is true within SAE competition, where teams compete as much for support, spare parts and raw materials from the Lockheed Martins of the world as they do for speed records. Fundraising is absolutely necessary to stay afloat, says Storck, who reports that the team gets half its budget from outside sources. They also get donations of materials and tires, some of which are stored in a tall pile in the Baja SAE workshop.
"We could not do what we're doing without outside support," he says, pointing out the array of sponsor stickers on the back of last year's prototype.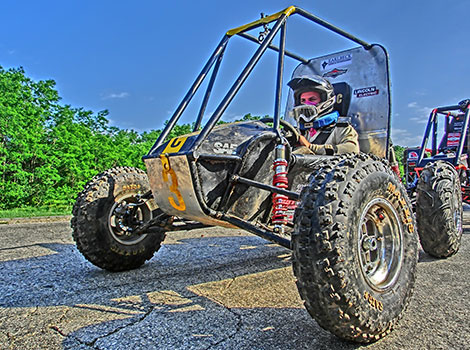 STEP 5: Get Off -Road
Every time the UMBC team competes, members pile into rented U-Hauls and make a road trip to the site. Being together as a group lets them witness the wins and losses – and see how all the moving parts work successfully as a whole.
"We want everyone to have that experience, no matter how they contributed," says Storck. And, having extra teammates around comes in handy when something inevitably goes wrong. There's a reason why SAE racing enthusiasts lovingly refer to endurance courses as the "don't let it break" race, after all.
"Your car will break," he says. "The question is, are you ready to deal with it?"
* * * *
Because That's How We Roll…
What's it like to actually drive the car, you ask? Check out the links below to watch members of the magazine staff take their turn at the wheel. No barf bags necessary. Plus, you'll find a web-only interview with team members, videos and stats from SAE competitions, and much, much more. Zooooom!