The UMBC community honored faculty and staff who were instrumental in the lives of UMBC's African-American and Latino students at a Legends of Excellence Brunch and Awards ceremony held on Saturday, March 31, 2012. Congratulations to the award recipients:
Ramona Arthur, Former Director of Off-Campus Student Services
Norma Green, Former Coordinator of Student Activities
Bonny Tighe, Senior Lecturer of Mathematics and Statistics
LaMont Toliver, Director of the Meyerhoff Scholars Program and Assistant Dean of Undergraduate Education (awarded posthumously)
"It was wonderful to see so many alumni, faculty, staff and friends come out to celebrate and honor members of the UMBC community who are considered to be trailblazers, mentors, role models and friends to thousands of our alumni," said Stanyell Bruce, director of Alumni Relations. "The event is a great opportunity for alumni to pay homage to those people who've inspired true excellence in their lives."
The Legends event is held once every five years. The first event, held in 2007, honored Betty Glascoe of Career Services; Dr. Daphne Harrison of Africana Studies; Cynthia Hill of Student Support Services; Dr. Acklyn Lynch of Africana Studies; and Dr. Ana Maria Schwartz of Modern Languages and Linguistics.
To read more about the 2012 award winners, click here.
To see more photos from the event, visit our Flickr page.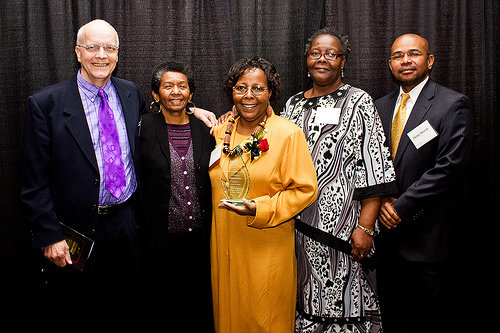 Tags: acklyn lynch, ana maria schwartz, betty glascoe, Bonny Tighe, cynthia hill, daphne harrison, LaMont Toliver, Legends of Excellence, Norma Green, Ramona Arthur, stanyell bruce, umbc