Finding Love at UMBC
By Elizabeth Heubeck '91
* * * *
Maybe it was a first date at Quadmania. A coffee at the Commuter Cafe. A pizza at Sorrento's.
Ask those who've studied and worked at UMBC, however, and you'll find that many of them didn't just get their degree or a job at UMBC. They found long-term relationships that are still going strong.
As Valentine's Day approaches, we've asked five couples who found their significant other at UMBC to share their stories.
We hope you'll enjoy the ride down memory lane. And feel the love.
Katelyn Niu and Kevin Yang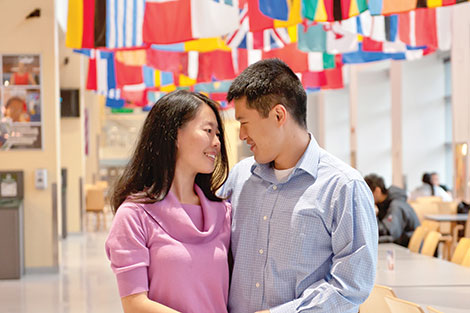 In the fall of 2003, Kevin Yang '07 computer science and financial economics and Katelyn Niu '05, biochemistry, found themselves in the same physics study group.
But their relationship began to bloom a year later, when a computer virus brought them together.
"Katelyn's computer was affected by a virus, and she called me for help," Kevin recalls.
He admits that he took his time fixing the computer problem, making several trips to Katelyn's place at Walker Avenue Apartments. "That gave us time to chat," he says.
Kevin and Katelyn also began bumping into one another more frequently in the dining hall. "I wasn't stalking her or anything, but I have a good memory and I memorized her schedule. I'd show up [at the dining hall] a little before she'd get there," he says with a playful grin.
While Kevin found the time in his full academic schedule to see Katelyn, her recollection of life as an undergraduate at UMBC is a little different.
"I was always so busy studying," Katelyn says, who earned a joint Ph.D./D.D.S. from the University of Maryland, Baltimore, after graduation.
Katelyn was eventually won over by Kevin's persistence. The couple married this past fall at the Center Club in Baltimore after a two-year engagement. They live in Ellicott City, a half-way point between Katelyn's commute to her dentist's office in Hagerstown and Kevin's position as an investment analyst at T. Rowe Price in downtown Baltimore.
While life as young commuting professionals is busy, Katelyn and Kevin stay connected to UMBC. She uses the pool on occasion; he plays tennis on the campus's courts. They volunteer their time at recruiting events for prospective students, and attend alumni events. They also see UMBC President Freeman A. Hrabowski, III and his wife, Jackie, from time to time.
"I was a Meyerhoff Scholar," says Kevin. "He was the founder. We've kept in touch ."
Katie and Jessica Porras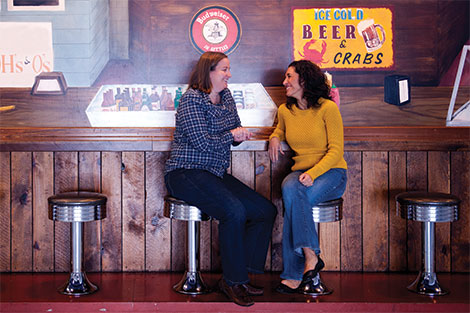 For the two years that Katie Walrod and Jessica Porras worked together at UMBC, a large part of their jobs involved making sure students felt comfortable and engaged on campus. As the university's community director and assistant community director, respectively, Katie and Jessica focused on helping students find success at college outside the classroom.
Eventually, some of the very same issues which Katie and Jessica assisted students in tackling – in particular, finding their identity – proved near and dear to their own hearts.
During their time as staffers at UMBC (Katie from 2003 to 2007, and Jessica from 2005 to 2007), they developed a strong friendship within a tight-knit and supportive environment.
"I loved our co-workers. We worked with some amazing people, and the students were great. It was a really special time," Katie says.
The setting was conducive for falling in love. And over time, that's exactly what happened – though neither woman realized it at the time. It wasn't until after they'd moved on to other jobs literally a continent away from each other – Jessica at Gonzaga University in Washington state and Katie at George Washington University in Washington, D.C. – that their relationship moved beyond friendship.
Katie observes that the blossoming of her relationship with Jessica after leaving UMBC had to do with a gradual deepening of their feelings for one another, and not the environment at the university.
"One of the first things that struck me about UMBC is how accepting students are. It was the first campus I'd been on where it was okay for students and staff to be 'out'," Katie says.
Indeed, when the couple wed in May of 2011 in D.C., many of their friends from UMBC came to the wedding ceremony as guests.
The couple has settled in the District. Katie took Jessica's last name, which was a sacrifice she wanted to make since Jessica had agreed to uproot herself from the West Coast and move across the country to be together.
They both work now for George Washington University, where Katie as an associate director in the Office of Students Rights & Responsibilities and Jessica is an academic advisor in the Columbian College academic advising office. The couple is enjoying life as newlyweds, and is thinking of starting a family in the near future.
Amy Young-Buckler and John Buckler
It's not clear which came first for John Buckler '93 ancient studies: interest in Amy Young '92, history, or a disinterest in biology indicated by his chronic class absences.
What's certain is that in 1991, John spent more time sitting by the pond outside of the Albin O. Kuhn Library getting to know Amy than learning about cells and molecules.
With its fountain and the surrounding trees flowering in springtime, the pond is admittedly conducive to romance. "In April, we'd hang out and talk there," recalls John. "I began to get interested in her, and I spent a lot of time figuring out how to ask her on a date."
Amy figured out John was interested when, as she sat huddled in a cubicle of the library working on her senior thesis, John would "casually" stop by – sometimes at 3 a.m.
The now-married couple's first date finally happened during spring finals week. Fittingly, it took place on campus. "I had been awake for almost two days typing my senior thesis. John asked me if I wanted to meet after I was done that day," Amy recalls. "By the time we met, I was so exhausted. I don't know what I agreed to."
What Amy agreed to was a rendezvous at the Student Union. Over a bucket of Rolling Rocks and mozzarella sticks, the two UMBC students' feelings for each other began to gel. Twenty-three years later, the couple remains together, through exciting educational and career moves, a 1996 wedding, and the birth of their son, who is now four years old.
In 1995, the couple began graduate school at the University of Maryland, College Park, where Amy eventually received her master's degree in library science and John earned a master's degree in anthropology.
Today, John works for the U.S. Department of Agriculture as a geographic information systems developer for the Economic Research Service, where he spends much of his time performing computerized mapping of the agency's databases and applications. Amy is the library media specialist for the Meade Heights Elementary School in Anne Arundel County. The couple lives with their son in Columbia, Maryland.
While Amy and John have come a long way from their days at UMBC, they have vivid memories of sitting along the stone wall bordering the pond 20 years ago and contemplating their future.
"At UMBC, I figured out what I wanted to do with my life, I met Amy. It gave me the tools to move forward," John says.
Amy agrees: "For me, it was just one of those times and places where everything kind of happened. All the pieces just fell into place."
Lisa and Dwayne Price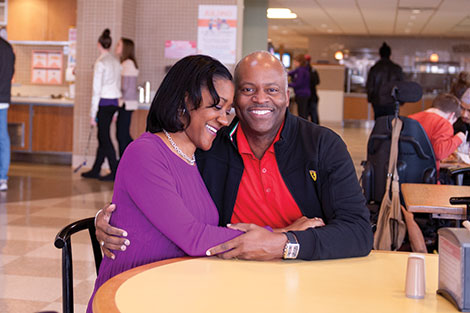 From the start, Lisa (Dates) Price '87, information systems and Dwayne Price '87, information systems, '87, seemed destined to become a couple.
They met on the first day of freshman orientation. Later, they were assigned to the same orientation team. And though they lived in different dorms freshman year (Dwayne in Patapsco; Lisa in in Susquehanna), they shared a circle of friends and a major.
Lisa acknowledges how her feelings for Dwayne began to change as she got to know him better that first semester. "Probably around October or November, I started to see Dwayne a little bit differently," she recalls. "My relationship [with a former boyfriend] had gone the way most long distance relationships did. I started doing some reconnaissance to see what Dwayne's situation might be."
Though Dwayne was not in a committed relationship, Lisa waited some time before making her feelings known. She chose Valentine's Day to make her move – sort of. A sorority on campus was selling homemade Valentine's Cards, so she bought one and sent it to Dwayne, signing it, "Your Secret Admirer."
Wayne was stumped. He asked his friends (including  Lisa) who the secret admirer might be. She played dumb, for a while, but a month or so later, she confessed. That risky move turned out to be the turning point.
Their commitment was tested when Lisa received an opportunity to participate in a co-op through UMBC that extended from the summer through the following semester. It meant the two wouldn't see each other regularly for several months. "It was part of us building the foundation for the rest of our lives," Lisa says. (Dwayne later completed a co-op as part of his UMBC experience.)
To make up for lost time together, and lost credits, Lisa and Dwayne spent a summer together on campus, working and taking classes.
"You felt like you owned the campus," Lisa recalls.
Dwayne concurs: "We had the whole campus to ourselves."
Two years after graduation, they married. They also both decided to pursue master's degrees in management information systems.
Over the years, the couple has remained highly involved in UMBC, serving on the alumni board in various capacities and offering advice to prospective students. Their two children – Devin, 20, and Layne, 18 – both attend UMBC.
"No one believes us, but we didn't push them to go there. They could have gone anywhere they wanted, and they chose UMBC," says Lisa.
Bob and Patti Pfeiff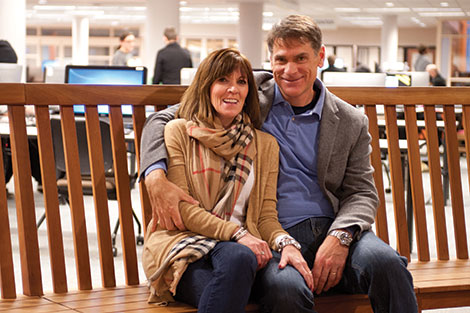 Bob Pfeiff '82, economics, was a quiet, slightly home-sick freshman from rural Southern Maryland. Patti Kattowski'81, health science and policy and sociology, was a bubbly sophomore from New Jersey. They met and fell in love at UMBC.
Both Bob and Patti lived in the same residence hall on a campus that, in the 70's, was limited to just three dormitories – which were still called Dorms One, Two, and Three.
"We traveled in the same circles. It was a really tight group of people who lived together in the dorm," Patti recalls.
In spite of (or perhaps because of) their dramatic personality differences, the two undergraduates were drawn to each other. "Bob was so shy, and I was so out there," Patti says.
Patti and Bob began to date by the spring of his freshman year. As neither one of them had a car on campus, their social activities were limited to activities on or near campus. "Going home wasn't an option," Patti says. "You found your fun."
That they did. They swam laps together; frequented the 'party room' of Dorm Three; watched men's lacrosse games. (Patti played both field hockey and lacrosse for UMBC.) Occasionally, by bus or borrowed car, they ventured into downtown Baltimore or Georgetown.
"If there was anything happening on campus, a performance of any sort, we went," Patti says.
In 1981, not long after Bob and Patti graduated from UMBC, they got engaged. For their "honeymoon," they drove to Pensacola, where Bob reported to Navy flight training after having been commissioned by the U.S. Navy. He then spent ten years as a naval officer, managing weapons and control systems at sea.
After Bob retired from the Navy, the couple settled in Fairfax, VA and raised a son, now 19. Bob has worked for a number of technology companies; currently, he is a senior software architect at Microsoft. Patti has worked in both several industries, including restaurant and real estate. Now, she is employed at a private boys' school in Bethesda as the headmaster's executive assistant.
Bob and Patti still recall their undergraduate days as a significant part of their lives together.
"It's part of our history," Bob says.
Patti, effervescent as ever, comments: "It's been a fun ride."