As a Cyber Scholar at UMBC, Victoria Herr '18 knows how important mentorship and direct, hands-on experience can be for young women in computing. Herr is graduating with an information systems degree this week, but she came to UMBC after receiving an English degree from the Community College of Baltimore County. Once at UMBC, she began to pursue her longstanding interest in IT and cybersecurity. To explore every angle of her new focus, she pursued internship after internship through UMBC's Career Center.
That a student would be so eager to get early work experience, develop skills, and build their network is no surprise to the Career Center. Each year, thousands of UMBC students complete high-value internships, service-learning, and research, and those applied learning experiences have an impact. Surveys of UMBC graduates show that 90 percent head directly to a job, advanced degree, or both. Of those employed, a majority worked for or interned with their employer as a UMBC student.
Internships, internships
Herr has now completed four technical internships at Northrop Grumman, including three in the Cyber and Intelligence and Information Security divisions. Working in different roles and offices has enabled her to get exposure to research and development in areas from streaming data analytics to security provisioning and orchestration, as well as security monitoring, with Northrop's Cybersecurity Operations Center.
This work complemented the skills that Herr developed in the classroom, particularly through UMBC's cybersecurity informatics certificate program. "The classes that I took introduced me to cybersecurity-related topics, and I was able to apply this knowledge in a hands-on way in my internships," she says.
In addition to her Northrop Grumman internships, Herr has also competed in cyber engineering events organized by Northrop Grumman and UMBC's Center for Women in Technology (CWIT), with her team taking first place in 2017 and 2018.
Herr's experience as a Cyber Scholar, through CWIT and the Center for Cybersecurity, has enabled her to build connections with other students and professionals in computing, at UMBC and in the industry. She has also had opportunities to share her experience and perspective with K-12 students, as part of outreach work to advance CWIT's mission to increase the representation of women in engineering and computing fields. And she's supported incoming transfer students as a peer facilitator, and her classmates as a tutor.
Ultimately, she says, one of the most important things she has taken away from these experiences is "lasting relationships." She will begin a full-time position as a cyber systems engineer at Northrop Grumman in January.
Wealth of experience
For some students, like Herr, UMBC provides a way to get that first experience working in a new field. Others students, like Ari Rapkin Blenkhorn, Ph.D. '18, come to UMBC with a wealth of industry experience and a clear vision for what new path they want to explore next.
Blenkhorn holds degrees from Johns Hopkins, the University of Virginia, and Carnegie Mellon, and she is receiving her Ph.D. in computer science from UMBC this week. She started her UMBC degree after making a name for herself as a software engineer in the film industry, working on Jurassic Park III and with Industrial Light and Magic, the visual effects company behind Star Wars.
Blenkhorn used software to simulate fire, water, and smoke in films, and to show movement in characters on the big screen. Inspired by her love of skydiving, her Ph.D. dissertation focused on computer graphics to visualize jumping through clouds with sunlight on them.
In the months ahead, Blenkhorn will serve as the publicity chair for the Interactive 3D Graphics and Games symposium. The symposium is part of the Special Interest Group on Computer Graphics and Interactive Techniques of the Association for Computing Machinery (ACM). She will also serve as the information director for Proceedings of the ACM on Computer Graphics and Interactive Techniques.
Learning while leading
As the head of an active nonprofit organization, Erin Stauder, Ph.D. '18, completed her doctorate in public policy on the go. "Being that part-time working person, meant that I worked on my Ph.D. anyplace there was WiFi—roller rinks, public pools, the public library," she says.
Stauder leads the American Speech-Language-Hearing Association (ASHA), which supports people with communication challenges. "As the executive director and CEO of a midsize nonprofit, focusing on issues of equity, access, and economics is my job," she recently wrote on the ASHA website. "The School of Public Policy at UMBC has given me the toolkit to be successful."
In particular, her advanced degrees enable her to "advocate and teach from an objective and thoughtful perspective," Stauder notes.
With the guidance of her Ph.D. advisor and mentor Chris Curran, assistant professor of public policy, Stauder has studied the impacts of early childhood programs, such as preschool and kindergarten. She worked to better understand how different schooling experiences influence outcomes like reading and behavior.
Throughout her studies, Stauder also served as a clinical faculty member in speech-language pathology and audiology at Loyola University Maryland.

Chance to explore
Like Herr, Blenkhorn, and Stauder, Alex Lee Mercado '18, mechanical engineering, sees his learning in the classroom and work in his field as directly supporting each other.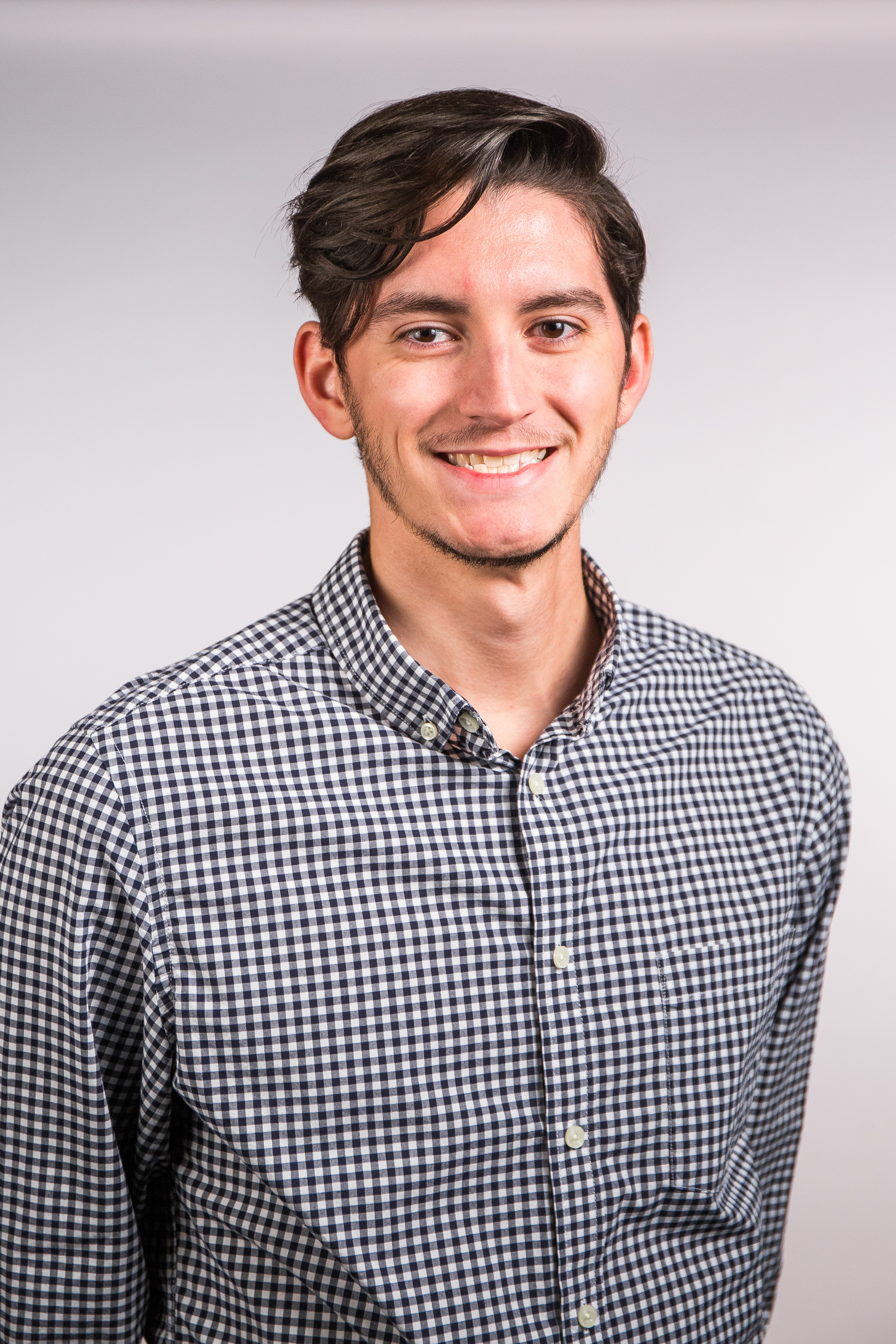 After an initial internship with the Consolidated Container Company, Mercado began interning at leading tool manufacturer Stanley Black & Decker at the beginning of his senior year. "My schooling at UMBC gave me all the tools I needed to survive and thrive as an engineer," he says. "From the theoretical classes to the practical classes, I can say that I have used most of them here at my time at Stanley Black & Decker."
At Stanley Black & Decker, Mercado has focused on computer aided design work to support an engineering team that is exploring possible new products. "I've worked closely with both industrial designers as well as engineers on tools such as compressors, grinders, fasteners, and vacuums," he explains. "I have done multiple projects, which include failure mode analysis and testing, creating new product prototypes, and doing tolerance analysis on new products."
Looking back at his time as an intern, Mercado says that finding the balance between school and work was challenging. "There was a ton of commuting back and forth," he shares, while noting, with gratitude, how flexible the company was in scheduling his work around his class schedule.
He also enjoys thinking back to his experience in Stanley Black & Decker's Summer Internship Innovation Challenge, which brings together interns from across the company to develop ideas for new products. "We essentially had the whole Towson Stanley Black & Decker campus at our disposal for creating prototypes of these products," he recalls.
Mercado looks forward to working full-time with the company in the new year.
Across all fields—from mechanical engineering to public policy to computer graphics—UMBC students reflect on the value of connecting with knowledgeable faculty and industry professionals. These relationships, they say, help them learn and grow, and give them essential insight into their future careers.
Of her Ph.D. experience, Stauder shares, "The ability to interact and learn from a diverse set of professionals is an experience that I will carry with me forever."
December commencement ceremonies will be livestreamed through both the UMBC Commencement website and UMBC Facebook page. Share well wishes for our grads using #UMBCgrad and #UMBCproud.
Banner image: Victoria Herr, left, connecting with CWIT's Cindy Greenwood at an event. All photos by Marlayna Demond '11 for UMBC.
Tags: CAHSS, CareerCenter, COEIT, CSEE, diversityandinclusion, IS, PublicPolicy