Nearly 1,800 students walked across the stage at Chesapeake Employers Insurance Arena this week during UMBC's 78th graduate and undergraduate commencement ceremonies. After pausing to receive their congratulatory elbow bumps from President Freeman Hrabowski and other leaders, they could breathe a sigh of relief, knowing their hard work and perseverance paid off.
After another unprecedented year, many of the commencement speeches touched upon the resilience and drive of the Class of 2022. Their time at UMBC was marked by tradition and change, a new normal and questioning "what is normal?," and a collective focus on supporting each other and having a positive impact.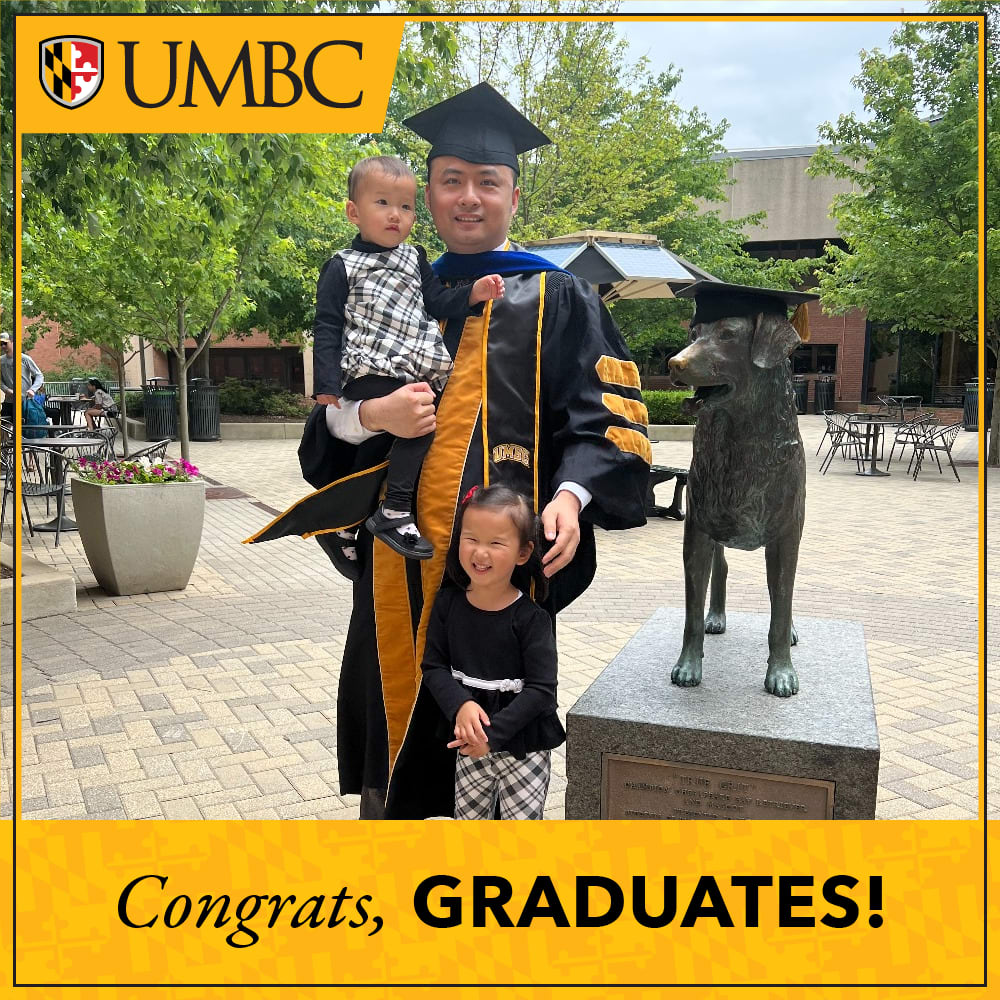 Joel Tyson '18, chemical engineering, president of UMBC's Graduate Student Association, addressed master's and Ph.D. graduates saying, "I've seen you reach forward for help and for mentorship, looking ahead not just at a path of personal success, but a path in service of making the world a better place."
Encouraging graduates to build upon the lessons they learned at UMBC, honorary degree recipient Judge Ricardo Zwaig '77, Spanish, said, "Whatever your calling, the elevation of humanity should be your primary goal regardless of boundaries."
A legacy of mentorship
This year, six Retriever alumni were awarded honorary degrees and served as distinguished speakers during the ceremonies. Now in their own established careers, they've continued the UMBC tradition of paying it forward as mentors.
Kafui Dzirasa '01, M8, chemical engineering, mentioned what an impactful mentor President Hrabowski has been to him. "Every time I tripped and fell, when the world saturated me with adversity and tribulation, he would gently reach back his hand and pull me forward with a word of encouragement," he recalled.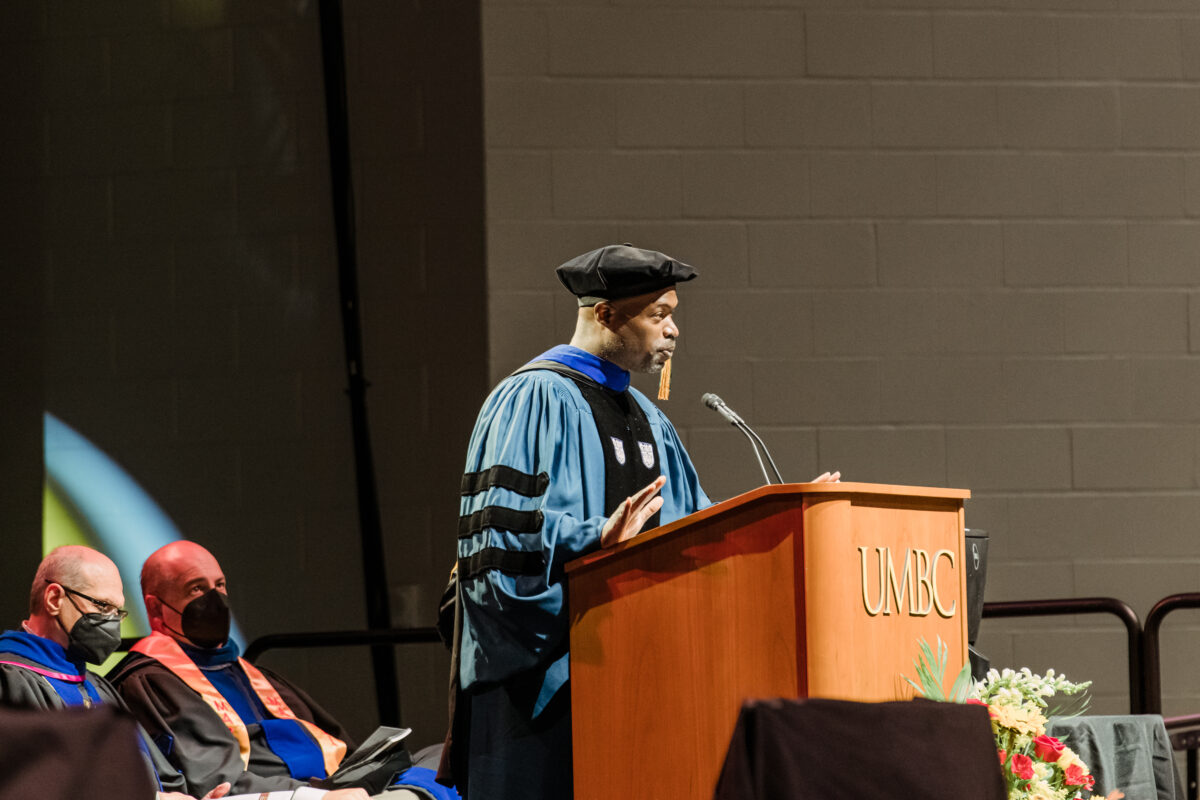 "As Doc's grandmother would tell him, the higher you go, the more people will try to pull you down," Dzirasa said. He went on to let the audience know with levity that that's "the modern day translation of 'haters gonna hate.' And when they do, it's the mentors that will be there to sustain you. They are a refuge in the midst of the storm."
The speakers promised to keep that legacy of support going amongst themselves, as well. In a tweet, Kaitlyn Sadtler '11, biological sciences, responded to a shout-out from fellow speaker Kizzmekia Corbett '08, M16, biological sciences and sociology, saying, "I credit you to being a huge reason why I'm on this list. Your email saying 'Hey there's another UMBC alum at NIH doing some COVID work' was a catalyst. I'll do my best to pay it forward."
Combining potential with support
Corbett delivered her remarks by video, as she was at a meeting with Nobel Laureates at the time of commencement. She has often commented on the profound role President Hrabowski and other mentors have had on her life and career, and has carried that forward through mentoring emerging scientists.
Focusing on what people can achieve when they have support and a belief in themselves, she shared, "I hope you dare to dream so big that no one else can imagine the possibility. I hope that you take this degree and you make this world a better place. I hope for you scientists out there, that you take this degree and you cure cancer. I hope for you humanitarians that you stop world hunger. And I hope that you live and I hope that you love."
Co-valedictorian Shahreen Zannat '22, biological sciences, also spotlighted the greatness that students and communities can achieve with the right support.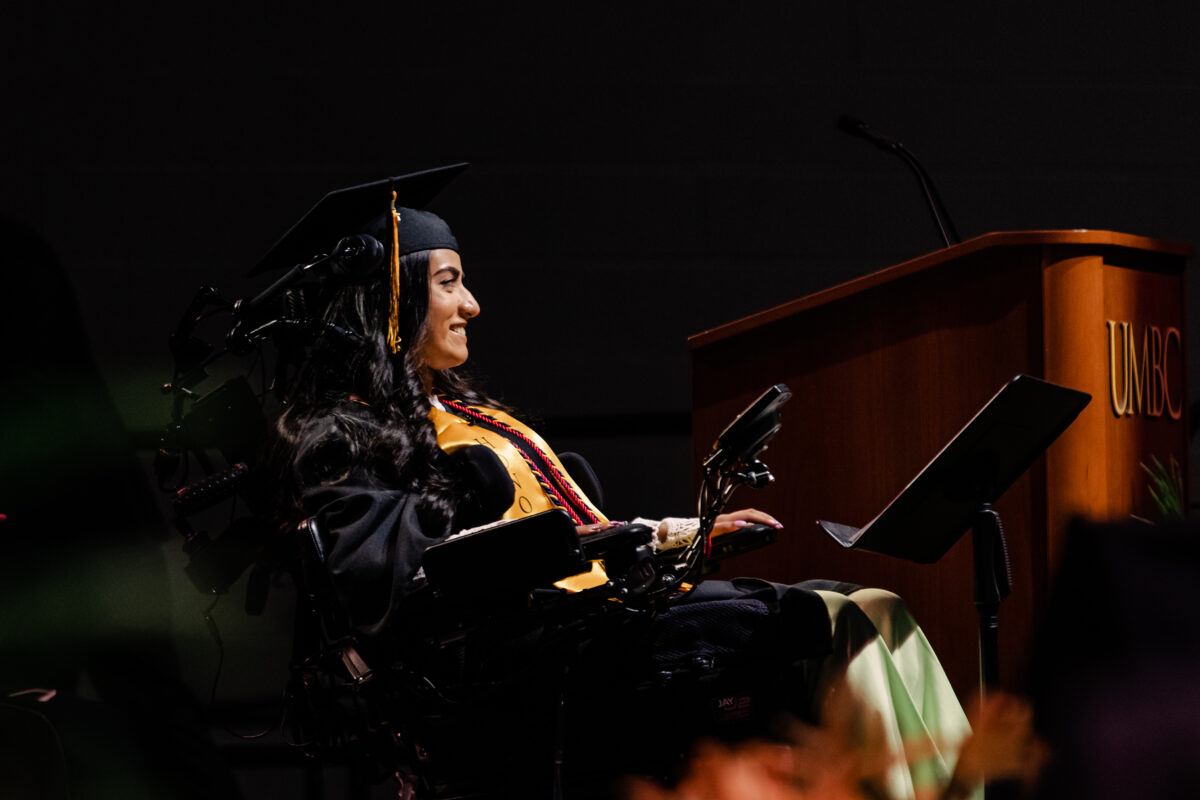 "Our journey at UMBC was not one we took alone—advisors came to our rescue during moments of panic, professors connected us with their networks for employment opportunities, and all of the support staff ensured our safety and well-being on campus," said Zannat. "This support has helped shape leaders, resulting in international recognition of UMBC's innovative research, creative teaching methods, and its cultural and ethnic diversity."
Sadtler recognized that support can also come from unlikely places saying, "You will meet people that will bring out the best and worst in you. Learn from both because if you don't get lost, you will never find your way."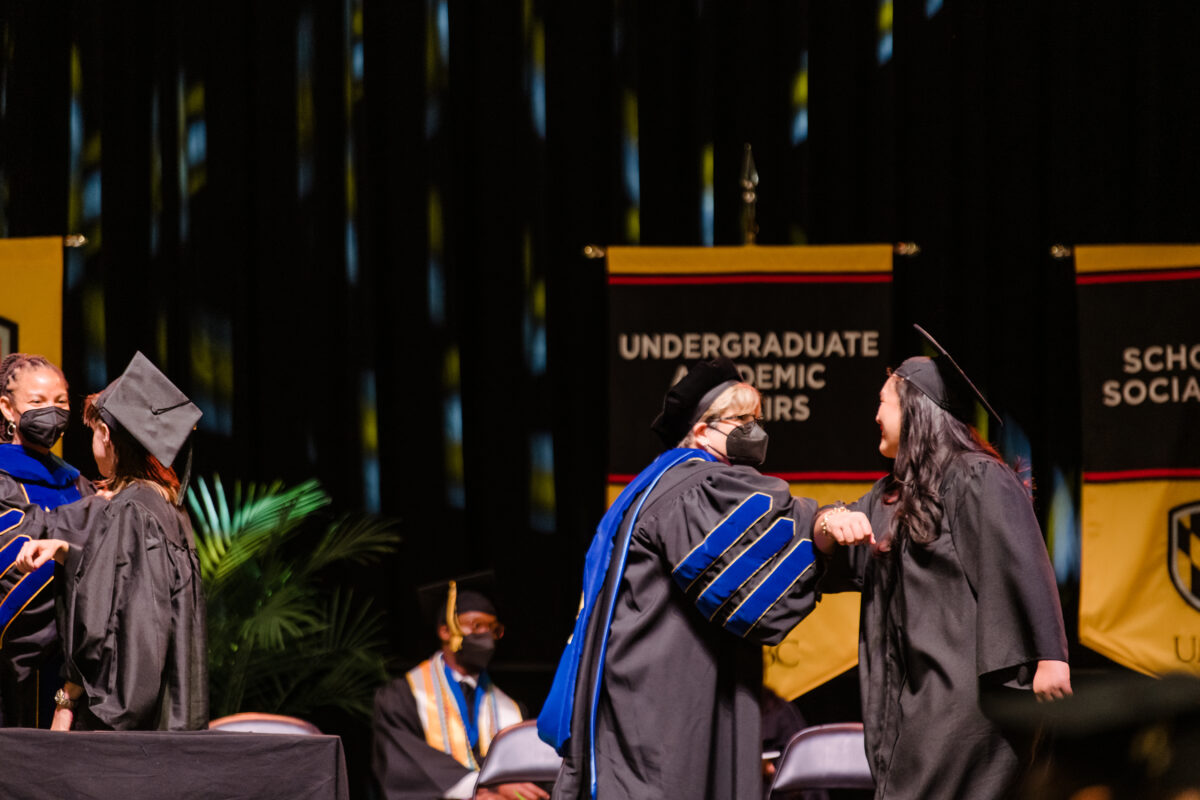 The importance of you
While many speakers touched on the idea of mutual support and "paying it forward," others recognized the need to couple that with taking care of oneself.
Co-valedictorian Viola Lis '21, psychology, reminded her classmates that, "To make a difference once we leave UMBC, we have to be doing the things that bring us joy, the things we find fulfilling and meaningful. Otherwise, our imprint will be faint. In order to show up for others, you have to show up for yourself first."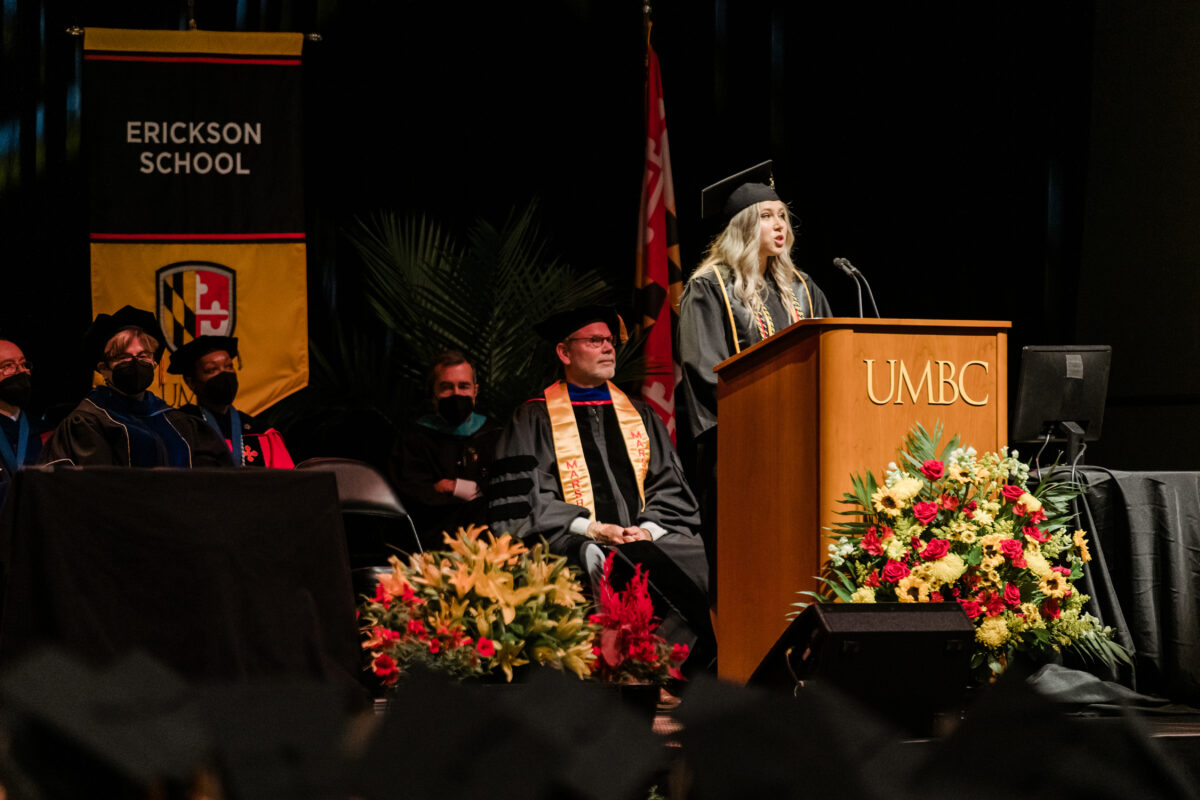 Echoing these statements, honorary degree recipient Mark Doms '86, economics and mathematics, admitted that the road would be hard for graduates, but implored them to listen to themselves and their abilities.
"You will hit roadblocks, setbacks will blindside you," he said. "But please, don't surrender to self-doubt. Instead, persevere. You are extremely gifted and, please, don't deprive us of your gifts."
Tiffany Holmes, M.F.A. '99, imaging and digital arts, was once a student who thought she had her life figured out. But as she shared in her address, the "key message to you today is to have a plan that is endlessly adaptable. Work hard at something that brings you joy, and your path will lead you somewhere fascinating that is just right for you."
The places you will go
The ceremonies were bittersweet—an important moment of transition for both the graduates and President Hrabowski.
"In many ways, today we're really celebrating two commencements: all of you, most of you, who graduated in four years. And then the second commencement is my buddy Freeman. Now, it took him 31 years to finish his work," joked Mike Gill from the University System of Maryland Board of Regents.
Gill went on to share the news of a significant new way in which Hrabowski's legacy would be carried forward: the $1.5 billion Freeman Hrabowski Scholars Program just launched by the Howard Hughes Medical Institute.
Presiding over his final commencement exercises ahead of his July 2022 retirement from UMBC, Hrabowski looked upon the audience a final time. Keeping his final message simple, he said, "Be confident knowing that we are so proud of you, knowing you must never let anyone else define who you are. You define who you are."

Congratulations to the Class of 2022! Please continue to share your messages of congratulations on social media using #UMBCgrad. Captioned versions of all three ceremonies can be found on UMBCtube. Read more about this remarkable class on the UMBC News site.
Tags: Biological Sciences, CAHSS, chemeng, CNMS, COEIT, Economics, Hrabowski, MechE, modern languages and linguistics