Many students see graduation as an opportunity to embark on entirely new and different experiences. For others, graduation is one more step forward on an already clear path—a chance to delve wholeheartedly into passions they fostered while at UMBC. These five students fit firmly in that second group, committed to applying their talents to specific community-centered initiatives that have shaped their UMBC journeys and that strengthen their local ties.
Transforming research into activism
Being a valedictorian for me is about honoring South Asian women feminists whose achievements were not as visible when I was growing up. It is also about the need to transform research and community service skills into direct activism.

—Samiksha Manjani
During her two years as a student staff member at the UMBC Women's Center Samiksha Manjani '19 has connected with and provided support for many people who have experienced sexual violence. Inspired by their courageous living, she sought to understand the roots and effects of gender-based violence. Her research, through her political science and sociology majors, has focused on inequitable sentencing of sex offenders.
In addition to research, internships have provided Manjani extensive insights into the legal field. This includes work with the Maryland State Attorney's Office, Police Integrity and Public Trust Unit in Baltimore City, Montgomery County Police Financial Crimes Section, and Office of the Attorney General for the District of Columbia Family Division. 
These experiences prepared Manjani to be active in UMBC's Retriever Courage initiative, focusing on improving the university's prevention of and response to sexual violence and other forms of sexual misconduct. Manjani served as a member of the student accountability committee and leader of the police reform subcommittee. Both experiences revealed to her the need to improve integration between the law and social work in working with vulnerable populations, something she plans to pursue through a combined J.D. and M.S.W. degree.
Human trafficking is the byproduct of so many other inequalities. Bringing together artists to create art and community in the name of awareness is one way to help dismantle inequalities at all levels.

—Mia Rickenbach
Mia Rickenbach '19, theatre, is the founder of Create Freedom, a new Baltimore City non-profit that combines her love of the arts and commitment to increasing public awareness of human trafficking. Rickenbach became aware of the scale of human trafficking through reading Half the Sky: Turning Oppression into Opportunity for Women Worldwide as part of UMBC's New Student Book Experience. The book informed her of the many industries that create and sustain a demand for human trafficking around the world.
Rickenbach was able to explore her next steps through an Entrepreneurship Undergraduate Research Award, granted by UMBC's Alex. Brown Center for Entrepreneurship. It was an opportunity to combine both her passions through a community arts organization. The award helped her research the idea, complete a feasibility study, develop a business plan, and map out a timeline for implementation.
Create Freedom is now home to artists committed to creating community and awareness. Throughout the year, the organization will host events where local artists and community members can gather to create and sell art to build awareness about human trafficking and build a network of like-minded people.
Mindful education
Today is a moment. I don't have to judge it. I just accept it. Being open to the present opens you to a world of peaceful possibilities that help to manage great challenges.

—Phillip McKnight
After two years walking through the UMBC campus, Phillip McKnight '19 will walk across the stage this May to receive his master's degree in instructional systems design and then walk along the Appalachian Trail for five months. The trek is part of his lifelong practice to live a mindful life.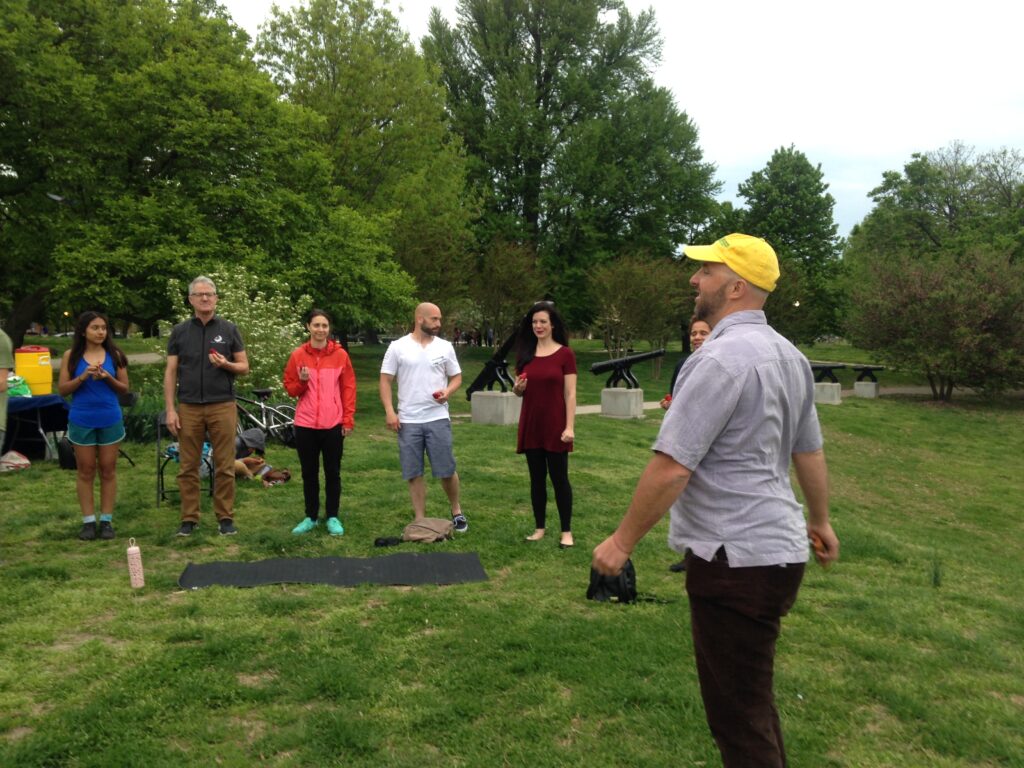 McKnight, a fellow in UMBC's Shriver Peaceworker Program, strengthened his practice through guided meditation during his time in Jamaica as a Peace Corps volunteer. Meditation helped him overcome challenges that came with being away from home and engage meaningfully with the community he was placed in.
During his graduate studies, McKnight helped connect Baltimore youth to urban green spaces through the Patterson Park Audubon Center. On his return from the Appalachian Trail, he plans to work with children in Baltimore City to further develop their mindfulness skills as an additional strategy for lifelong success.
Science is everywhere and for everyone
Science is everywhere, but it is also personal. The power of science comes from understanding how it applies to the communities we live in.

—Olivia Grimes
Olivia Grimes '19 has crafted her own individualized major around improving children's access to science education using culturally and geographically relevant teaching practices. While sharpening her teaching skills in Baltimore City through the Sherman STEM Scholars Program, she realized science was not covered in the same depth as state-tested subjects. Seizing the opportunity, Grimes began to develop place-based science lessons that students would find fun, engaging, and relevant to their lives.
Grimes adapted environmental science lessons relevant to students' neighborhoods and lives through an afterschool program at Lakeland. She also brought her passion for place-based science to her student teaching placement at Maree G. Ferring Elementary/Middle School. She plans to continue to adapt more science curriculum to support teachers in implementing lessons into tested subjects through fun experiments as a Baltimore City early childhood educator after earning her UMBC degree this month.
Science has always been my happy place, but as a first-generation college student from Dundalk/Essex, Maryland, I didn't know how I could afford college. Through a lot of hard work, with the support of my family, and the UMBC community, I was able to find my place as a gay scientist in the geosciences.

—Zachary Hunter-Lee Little
Zachary Hunter-Lee Little's life as a scientist began while playing on the Ocean City shoreline. As he let the current take him down the shore he became aware of how the sand and water interacted. He began to ask questions about how the natural world worked, and years later, this curiosity led to him to major in geography and environmental science (GES).
To support his UMBC education, Little '19 worked as a maintenance assistant in Residential Life and as a lab proctor. During the summers, he took advantage of unique research experiences. The National Science Foundation's Research Experiences in Solid Earth Science for Students (RESESS) program enabled him to work in Boulder with UNAVCO, a university consortium that supports Earth science research. The next summer, the scholars program connected him with a research opportunity at Duke University.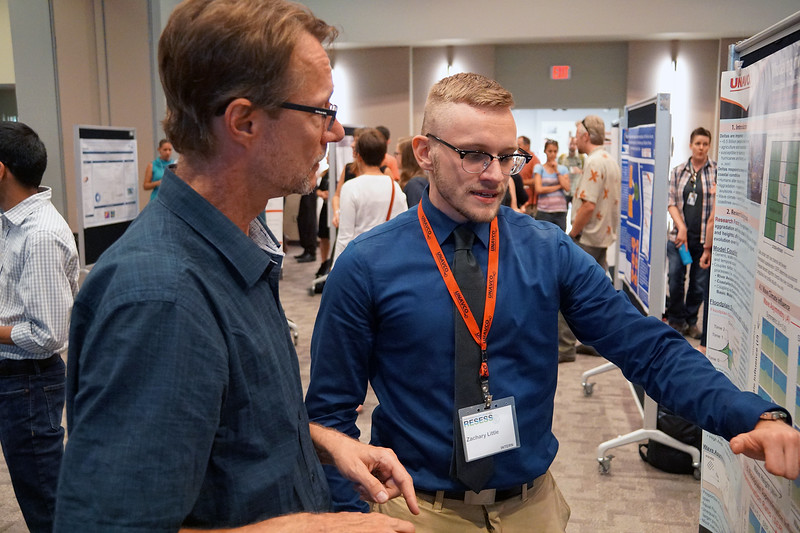 Those experiences helped Little sharpen his research skills and develop his identity and confidence as a scientist. Before long, he was presenting his own research at geoscience conferences across the country.
Back at UMBC, he grew his science communication and advocacy skills as an eco-ambassador and Blue Water Baltimore volunteer. And he's always supporting more students along his journey, encouraging them to apply for research opportunities and internships that can help them reach their goals.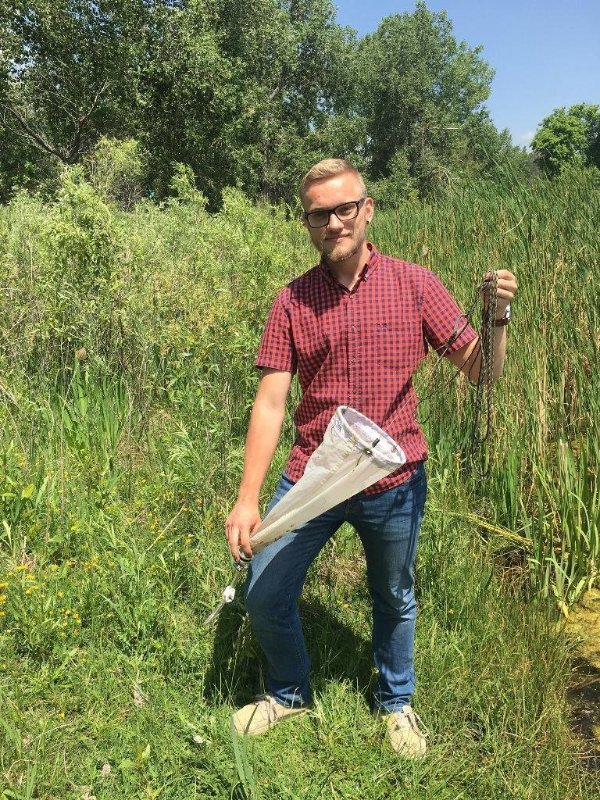 Little's hard work is paying off. He recently learned that he's been awarded a highly competitive three-year National Science Foundation Graduate Research Fellowship. He'll soon begin an M.S. at North Carolina State University in biological and agricultural engineering.
As Little looks toward the future, his mind goes back to that moment on the Ocean City shoreline and knows his heart will remain with local waterways and communities.
Banner Image: Photo of Samiksha Manjani at Take Back the Night, courtesy of the UMBC Women's Center. All photos by Marlayna Demond '11 unless otherwise noted.
Tags: CAHSS, GES, INDS, PoliticalScience, SAPH, ShermanScholars, ShriverCenter, Theatre, WomensCenter