With five no hitters under her belt, first-year pitcher

Courtney Coppersmith

spent the semester picking off batters and picking up accolades—including several firsts for UMBC.
Flashback to April, and the UMBC Softball team's bout against Norfolk State. The crowd roared and then began laughing out of astonishment: Coppersmith '22, biochemistry and molecular biology, had just hit a tie-breaking (and eventual game-winning), two-out, two-strike grand slam in the bottom of the sixth (out of the seven innings in a collegiate softball game).

This hit was her first career home run, but more impressively, it happened just three days after she pitched the second perfect game in program history.

Her teammates and fans couldn't stop shaking their heads and smiling because every time the lefthander from York, Pennsylvania, stepped on the field, it seemed like she was either breaking another record or coming up clutch.

Coppersmith helped lead UMBC to its first-ever America East championship and first appearance in the NCAA Tournament since 2002—despite the fact that the Retrievers were picked to finish last in the preseason coaches' poll. In addition to being named UMBC Softball's first-ever All-American, she was also the first person in America East history to be named both Pitcher of the Year and Rookie of the Year in the same season. And the list goes on.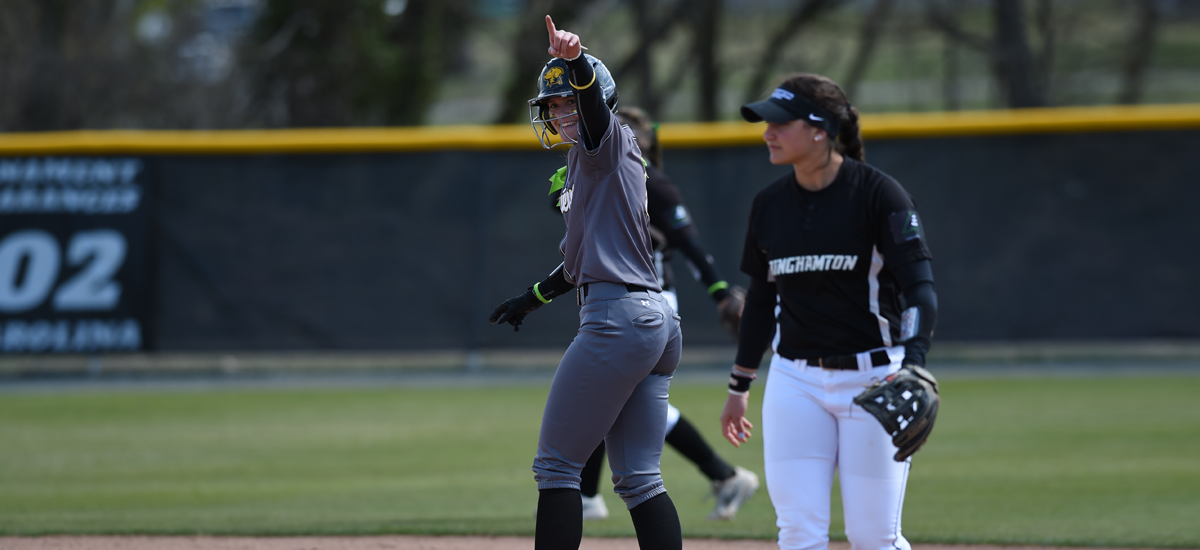 The Retrievers entered the America East tournament in Hartford, Connecticut. as the No. 4 seed, and had to face the hosts, No. 5 Hartford, in the first round of the double-elimination tournament. Coppersmith threw an 11-strikeout no-hitter, and then followed that up the following day by throwing another no-hitter, this time against the regular season champion No. 1 UMass Lowell. She then helped lead UMBC to a pair of victories over Stony Brook to clinch the championship. Coppersmith went 4 – 0 while allowing just two runs in 28 innings pitched, a 0.50 ERA on only eight hits, and 33 strikeouts en route to being named the tournament's Most Outstanding Player.
The previous UMBC record for strikeouts in a single game was 13, set over a decade ago. Coppersmith has already reached or surpassed that total in a game seven times this season. She absolutely shattered the record in one of the best performances in the nation this season: a 17 strikeout, no walk, one-hit masterpiece in a 1 – 0 win at UNC Wilmington, in which she scored the only run of the game on offense for UMBC. She then one-upped that with a 17 strikeout no-hitter in a 7 – 0 win over conference rival Maine.
No one has more fun on the diamond than Coppersmith, who can be seen dancing to the music in between pitches. She's top three in the country in strikeouts (a school single-season record 346) and near the top in strikeouts per game (10.16). We sat down with the thrower of a nasty "rise ball"—and aspiring future pharmacist—for a Q&A.
Zach Seidel: You were obviously recruited to play at multiple schools, so what made UMBC your top choice?
Courtney Coppersmith: They say it's like a wedding dress, you know it when you see it and then you cry. When I visited campus I knew it was the perfect fit. (I didn't cry, though.) Academics are very important to me, and it's a very good academic school. UMBC offered me a sense of community. It offers a lot programs and academic opportunities on top of being an athlete.
Seidel: You want to be a pharmacist, correct? Why is that?
Coppersmith: I like helping people and pharmacists provide medicine to people to help them do that. If I don't end up doing that, I do want to do research and help create drugs that can cure cancer and help treat various diseases.
Seidel: What feels better for you: acing a chemistry test or striking out a batter?
Coppersmith: Acing a chemistry test. A hundred percent acing a chemistry test!
Seidel: What is the coolest thing about striking someone out?
Coppersmith: The best part is when you fall behind 3-0, and then you throw two strikes that they don't swing at and then you get them to chase the rise ball anyway. Or, I'll throw a low rise ball right into the edge of the zone [for a called third strike] and they'll just look at the umpire; that's also very amusing to watch.
Seidel: Do you prefer striking batters out swinging or looking?
Coppersmith: Oh, that's a tough one because I get a lot of my strikeouts swinging, but I guess I like them equally. It's really funny to watch them when they think it's not going to be a strike and it's a strike, but also really funny to watch them swing at a ball that's over their head, because in no way is that going to be a strike, and they still swing at it anyway!"
Seidel: What's your walkout song and why?
Coppersmith: For my normal walkout, I use the song "Wild Thing" from the movie Major League for the simple reason that it is one of mine and my dad's favorite movies, and it is such an important moment in that movie. For my second walkout, it is the Little Einsteins trap remix. While it may sound super childish, I really enjoy the remix and the hype that it brings my teammates, myself, and even the other team.
Seidel:  What's the Retriever fan support like?
Coppersmith: Retriever fans are one of the major parts to the game; while we still go out and do our jobs, either way, fans only bring even more support to us as we are out there playing our game.
Seidel: If you could strike out anybody in the world, who would it be?
Coppersmith: Heck, I would love to be able to strikeout Coach [Chris] Kuhlmeyer. He always talks a lot of smack, and I know that he doesn't think I could strike him out, so that would be a cherry on top of the ice cream!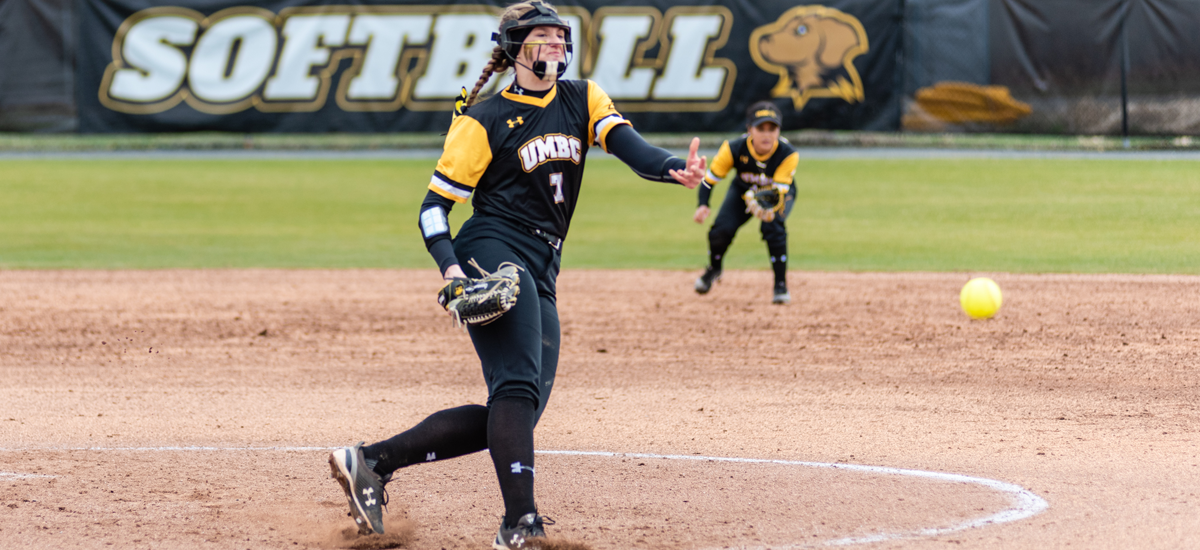 All-Star Stats
Coppersmith helped lead UMBC Softball to its first-ever America East championship. During the same season, she also became:
UMBC Softball's first-ever All-American (Softball America Honorable Mention)

The first person in America East history to be named both Pitcher of the Year and Rookie of the Year in the same season

UMBC's first Louisville Slugger/NFCA Division 1 National Pitcher of the Week

The first in America East Conference history to sweep the weekly awards in the same week as she was named as the Player, Pitcher, and Rookie of the Week (April 9)

The first member of the America East Conference to be included as a member in the

2019 Schutt Sports/NFCA Freshman of the Year Top 25, an award honoring the top freshmen in the entire nation

The ECAC (an organization of 87 Division 1 institutions) Rookie of the Year and made the All-ECAC First Team twice, as a pitcher and a designated player (only player to make first team at two separate positions)
****
Header image courtesy of Ian Feldmann, The Retriever.
Tags: softball, Spring 2019