Like any campus, UMBC is a blur of movement when school is in session. But when that motion is concentrated, studied, refined or performed – it can become truly special. UMBC's Dance Department is the core of that activity, blending the grit of classes and rehearsal with the grace of performance. But the celebration of dance is not confined to classrooms or concert halls. At UMBC dance is contagious, filling up The Commons, the RAC and even Beuys Sculpture Park with the beauty of bodies in motion.
REBECCA M. JUNG '87
In a master class for UMBC students, Rebecca M. Jung '87, dance, wants dancers to think in shapes. "I see line and design," she says, helping students assemble geometries of movement. "I call this sculpture garden. Let's sculpt!"
Jung brings insights from her work with the innovative Pilobolus Dance Company to the class – and an insistence on persistent effort. "Try again," she says after one droopy run-through. "I haven't seen 100 percent with you guys yet!"
But as the students finally put the shapes in motion with grins and grimaces, Jung also smiles and exclaims: "The sculptures start to move. They become kinetic!"
— Richard Byrne '86
Photo by Chris Hartlove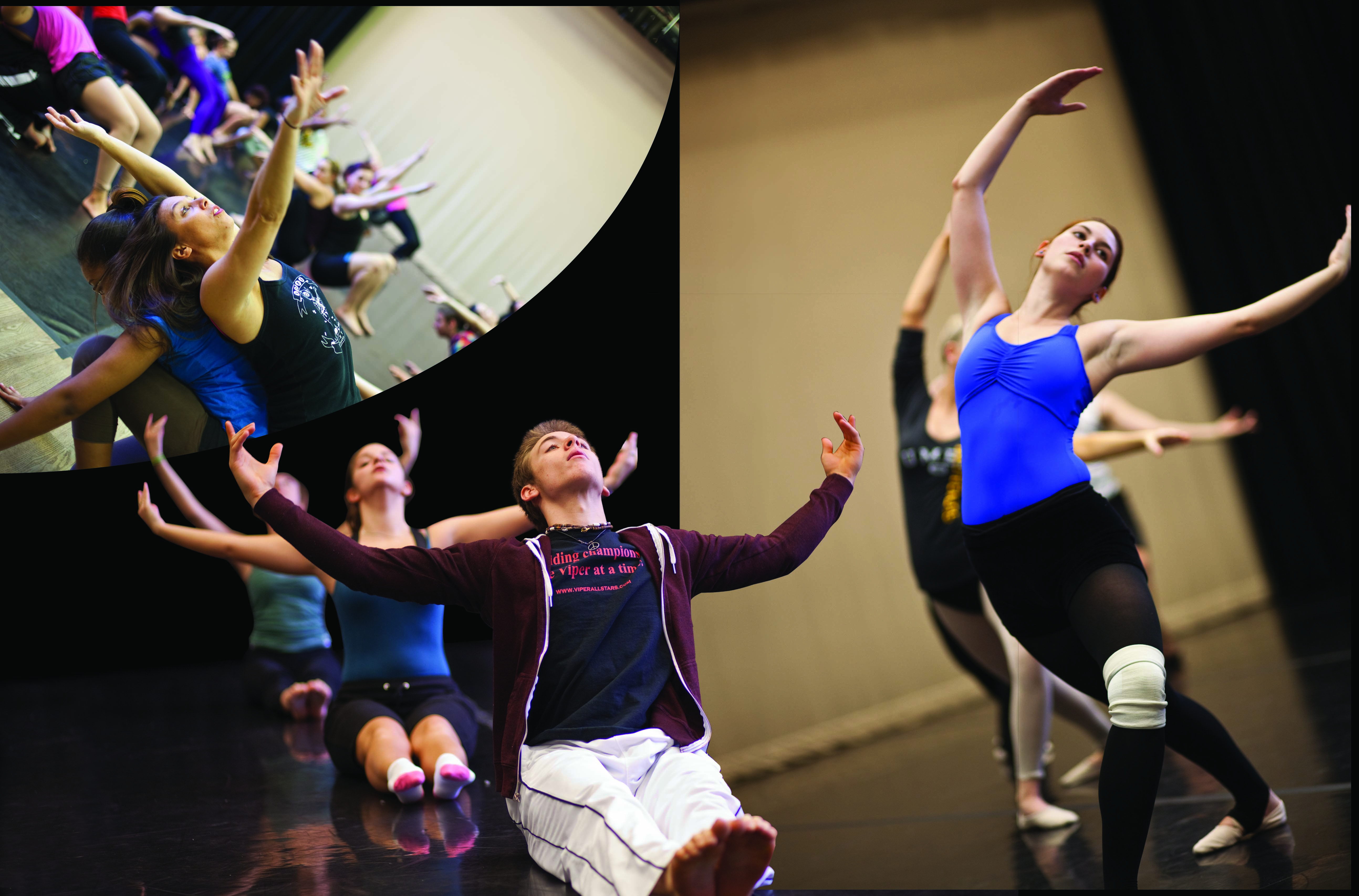 MODERN DANCE
A group of modern dance students are still stifling Monday morning yawns as Carol Hess, professor of dance, leads them through a series of flowing rolls, reaches, swoops and spins that grow in intensity and complexity.
"Let's clarify," Hess says suddenly. And under her gaze and instruction, the students wrestle their bodies into shapes and movements that tell stories. Motions that were simple and tentative at the beginning of class now blossom into creative expressions. In repetition, the students grow in grace and confidence and speed.
Hess nods with approval, urging her students on as they move: "Travel, travel, travel!"
— Richard Byrne '86
Photo by Chris Hartlove
BALLET
At UMBC, ballet class is not the stuff of Degas, all pink tutus and tightly-wound buns. The students wear rainbow knee socks. One has the outline of a swallow behind her elbow. There's a small square of injury tape on the wall that reads: "I ♥ UMBC Dance."
But the movement here is all ballet: a wonder of balance, of shape, of discipline. A pianist plays Mozart as lines of students spin into pirouettes. The air between the mat and the landing of a perfect grand jeté feels timeless somehow. And the swallow appears to fly.
— Jenny O'Grady
Photo by Chris Hartlove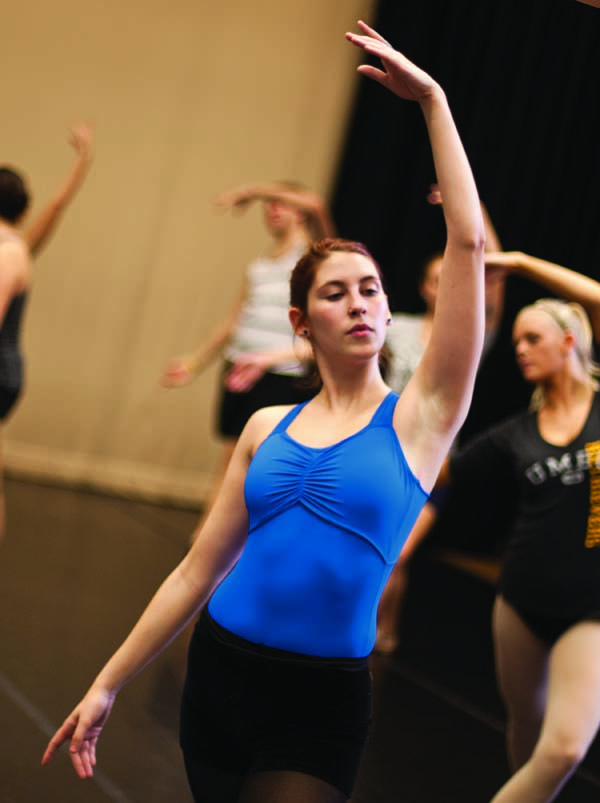 SENIOR DANCE CONCERT
The thrills and grace of circus acrobats was the center of Mystique – a piece choreographed by Meghan Alokonis '11 at the Senior Dance Concert. Inspired by Cirque du Soleil and entwined with classical ballet, six dancers spun in a flying swirl of colors – neon greens and purples and pinks. Their leaps and poses, splits and arabesques, were accompanied by the dizzying and enchanting music of the carnival.
— Derek Roper '11
Photo by Enoch Chan
FALL DANCE SHOWCASE
The UMBC Fall Dance Showcase is held in simple space, a dream-like emptiness that invites the audience to join in the act of creation, and imagine themselves in more deft and graceful limbs. Colored lights fade and revive as dancers run, jump and slide in their glow. We fill in blank spaces, tell our own silent stories. Too soon, the lights go black and we re-enter the waking world. The dancers, now all grins and heaving chests, take their bows as we applaud.

— Meredith Purvis
Photo by Enoch Chan
DANCE-A-THON
The heavy bass beat of a Dance-a-Thon for charity leaks out even before you arrive at the University Center. And you need that beat; the idea is to dance all night, from 9 p.m. to 9 a.m.
No one here is conserving energy yet. At one moment, breakdancers drop to the floor in an eye-blurring display of movement, feet flying. Then a group of six or seven dancers, moving in unison, forms a diagonal line that dominates the dance floor before it is submerged by the crowd and the music and cheers.
— Emma Marston '11
Photo by Erin Ouslander '03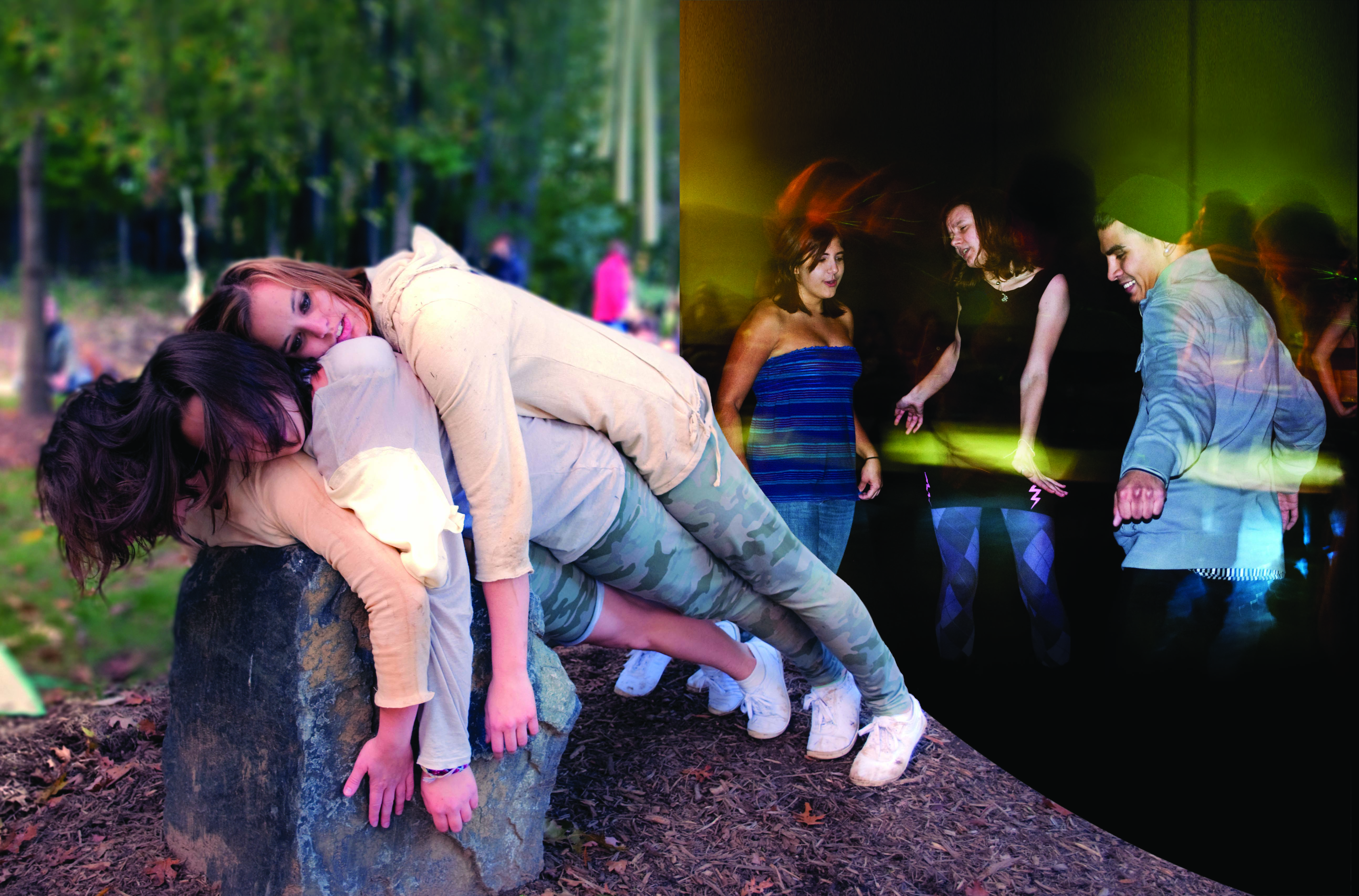 THIRTY OAKS
In Thirty Oaks, a piece performed in the Beuys Sculpture Park, the dancer's stage opens up around her. Autumn moss caresses her heel. A gray oak trunk is a maypole to arched back and wind-strewn hair. A rock is a fulcrum for her moving body. The soil works itself into the seams of her evolving costume, her fingers plunge root-like into mulch.
A tree branch snaps against her, a natural staccato. She smiles, and a ray of sunshine peeks through the leaves like a spotlight. Dance can happen anywhere.
— Jenny O'Grady
Photo by Erin Ouslander '03
DANCE TEAM
At Homecoming this year, UMBC's Dance Team had to tweak its choreography mid-routine to squeeze all 22 dancers onto the The Commons' Main Street. But the team's dancers – who often take Retriever Fever out of the RAC to pep rallies, fundraisers and campus events – are old hands at tight fits. "We performed inside the bookstore once," says co-captain Meghan Alokonis '11. "We were trying not to knock down the mugs!"
— Chelsea Haddaway
Photo by Michelle Jordan '93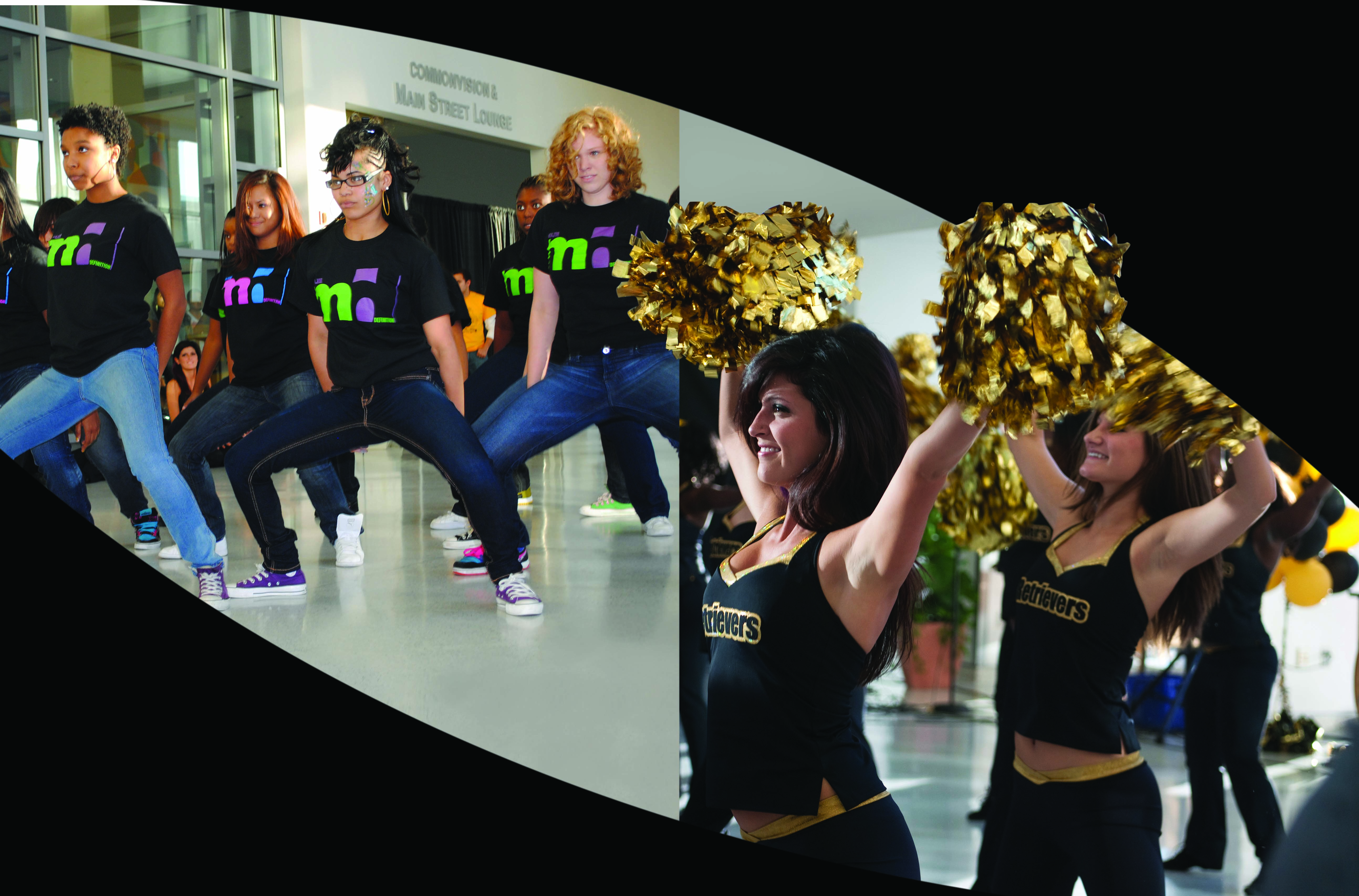 MAJOR DEFINITION
Hip hop is all about flow. Intensity. From the emcee to the beats to the movement that the music inevitably creates. And when the rhythm kicks in, campus dance troupe Major Definition brings flow and intensity anywhere they throw down – in the RAC, in The Commons (where they perform and teach classes) and in contests like the East Coast Dance Competition, which the group won in 2009.
— Richard Byrne '86
Photo by Melissa Van der Kaay