The biotech industry—or technology-based business that harnesses the power of biology—is booming in Maryland. And with more than 3,000 biotech companies currently operating in the state (with more on the way) and an economic impact estimated at around 17 billion dollars, according to the Maryland Chamber of Commerce, there's never been a greater demand for highly-skilled workers to fill specialized roles as researchers, biomedical engineers, and technicians.
With its presence expanding beyond the home campus in Catonsville at The Universities at Shady Grove campus in Montgomery County, a hotspot for biotech growth, and its commitment to inclusive excellence, UMBC is uniquely positioned to prepare students for fulfilling jobs in this industry, both at entry and advanced levels.
We sat down with William R. LaCourse, dean of UMBC's College of Natural and Mathematical Sciences, and Annica Wayman '99, mechanical engineering, associate dean for Shady Grove Affairs in the College of Natural and Mathematical Sciences, to hear more about what makes UMBC's programs distinctive, and why it's so important to make this type of education and training accessible to as many types of students as possible.
UMBC Magazine: Dr. Wayman, you came back to UMBC in 2018 after a career in the biotech industry, at least in part because of UMBC's emerging work in the translational life sciences. Can you tell us about what drew you here?
Dr. Wayman: When I saw the Translational Life Science Technology (TLST) degree program that UMBC was launching at the Shady Grove site in Rockville, it got me really excited. Because for me, this space of translational science, biotech, and the ability to have a high-impact career where you can help people with their healthcare challenges, is really exciting. The other exciting piece was the interdisciplinary nature of the curriculum—how many types of work can be brought together in new ways—and so it really spoke to those things that I've always been interested in. Being able to train students for careers in this space is exciting to me, and I have enjoyed being a part of this community so far.
Dean LaCourse: And speaking of a community, Maryland has such a growing and vibrant biotechnology industry, and it really is all about responding to this great need in the workforce for biotechnology. It's a tremendous opportunity for students to be trained for really good-paying jobs in the applied sciences. This is something where you can roll your sleeves up and get working.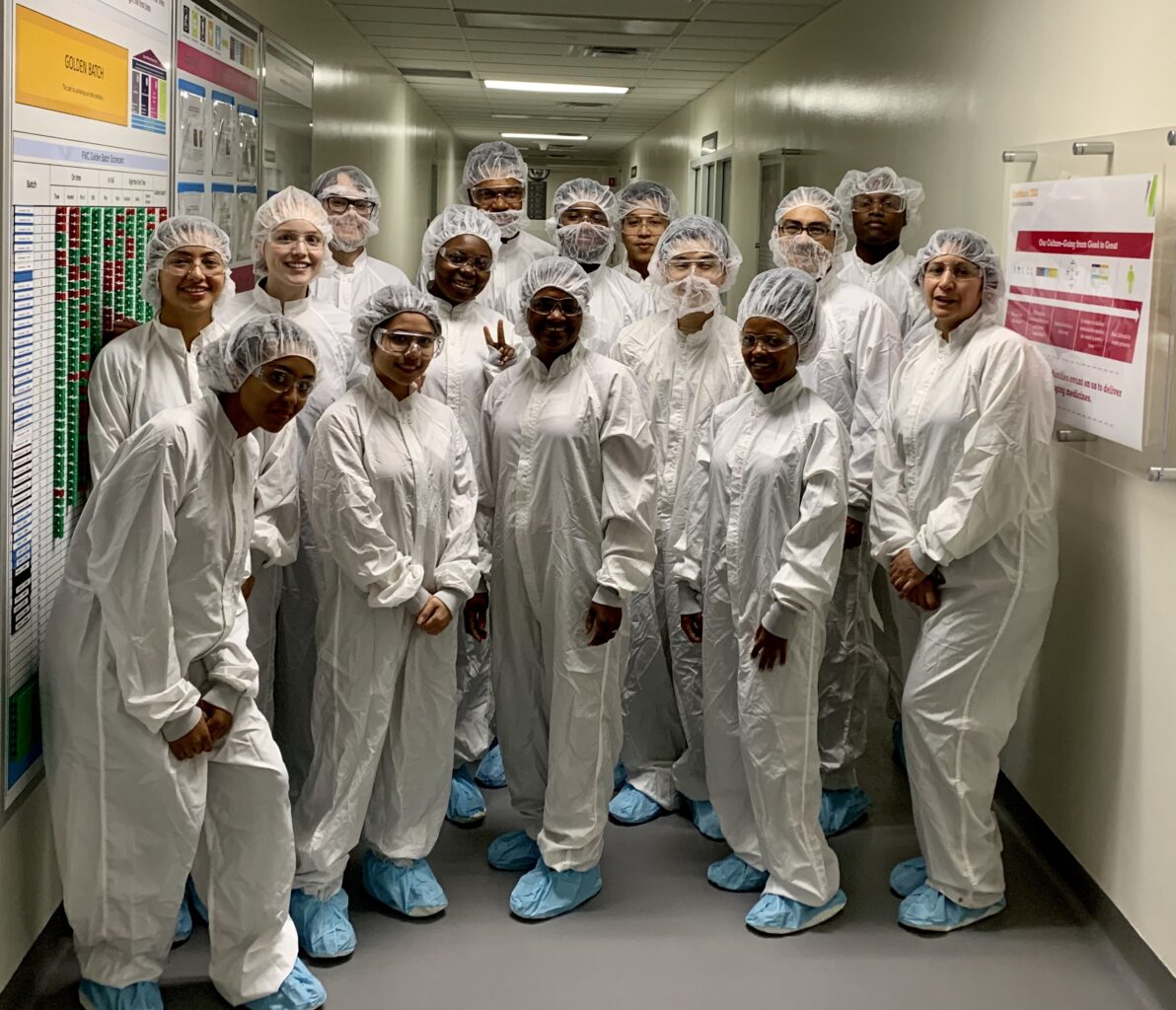 UMBC Magazine: So, what does the journey look like for a student interested in this sort of work?
Dr. Wayman: The idea is to train students for critical jobs that are needed in the biotechnology industry primarily in the private sector at companies like AstraZeneca, Catalent or Kite Pharma. About 70 percent of our students in the TLST bachelor of science degree program come to us after getting their associate's degree from Montgomery College. We're seeing a big workforce gap in a number of areas, including cell and gene therapy. So we have this program that increases the pipeline but also trains students in an interdisciplinary way. Students are not just getting the biology, biochemistry, and chemistry. They get bioinformatics, but they also get engineering classes, so biochemical engineering and biomanufacturing. We have a lot of faculty members who are from the industry teaching these courses on a part-time basis, and a lot of guest lecturers from companies who can share what, for example, bioprocess design really looks like in the field and how highly regulated the environment is. And so students really get the skills that they need to hit the ground running in the industry. It really is exciting to see students get all of this out of one degree.
Dean LaCourse: We're also thinking a lot about the continuum of education. So we have the undergraduate TLST program and then, after students get some work experience and want to build into more of a managerial or technical leadership track, they can come and do the professional master's in biotechnology to get those leadership and technical skills. I love how UMBC is thinking about this continuum of education where people can come on and off as they see fit, for certain skills or knowledge that they need to gain and move their careers forward.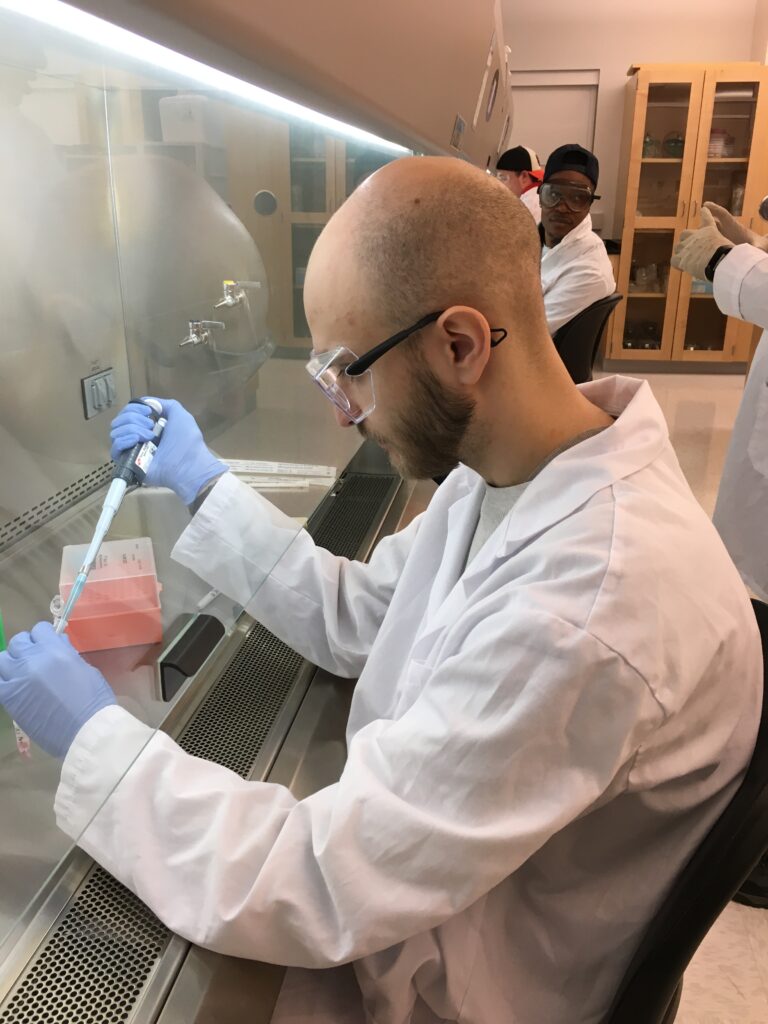 UMBC Magazine: Why is it so important to you to make this education accessible to students of all backgrounds? And why is it so important for the industry itself?
Dr. Wayman: These are well-paying jobs with high earning potential where you can leverage your scientific interest and skill to have enormous societal impact. Our TLST and MPS Biotech students are contributing to life-saving solutions. Some students may think that being a doctor or nurse is the only pathway if they are good in science, but these biotech jobs are other possibilities where you're enabling thousands of doctors and nurses in helping patients – and impacting even more lives. And it's important that those who work on these life-saving solutions come from diverse backgrounds to bring unique perspectives that reflect the diverse populations being served.
Dean LaCourse: That's why we create our education systems for everyone. You're admitted to UMBC, so we owe you the best education possible. No matter what path you took to get here, what disadvantages you have. And that's why we emphasize professional advising, mentorship, applied learning experiences, compassion, and fairness. Inclusive excellence is what we're all about.
Learn more about UMBC's TLST program, the M.P.S. in Biotechnology, and other exciting pathways here.
You know why your goals matter, and UMBC knows how to get you there. Apply to UMBC today!
Tags: CNMS, TLST, Universities at Shady Grove