Majoring in the arts requires intense levels of stamina and self-discipline—long hours rehearsing, creating, writing, designing, interpreting—coupled with an inner drive for inquiry and perfection. UMBC's undergraduate and graduate students in the arts are no exception, reaching forward even in this era of social distancing.
UMBC's 2020 graduates in dance, theatre, music, and visual arts include scholars looking forward to graduate study, teaching, and professional creative work in their fields. Some have been able to move ahead with long-planned next steps. Others have been making adjustments in response this unique and challenging moment.
Listening to the natural world
Percussionist Jonathan Sotelo '20, music, came to UMBC to study music education, but discovered his love of timpani by playing in the UMBC Symphony. Since then, he has been a member of the UMBC Percussion Ensemble and studied with associate professor Tom Goldstein and Baltimore Symphony principal timpanist James Wyman.
With a strong interest in new music, Sotelo has commissioned a number of his student composer colleagues to write solo percussion pieces for him.
"My most important achievement at UMBC," says Sotelo, "was learning how to listen. I've learned how to listen to the natural world, and how to apply it to music. Because of that, I am able to make my performances more connective to the audience, in any type of music—improvisations to the orchestral repertoire."
He looks forward to attending graduate school at the University of Maryland, College Park, with the goal of becoming an orchestral timpanist.
An athlete, an artist
Linehan Artist Scholar and Division I soccer player Courtney Culp '20, visual arts, has combined her loves of sport and visual arts to create impactful works during her time at UMBC.
The National Civil Rights Museum in Memphis screened her film A Mile in My Cleats as the opening presentation of the 2020 Race and Sports Day, held just before Martin Luther King Day. Through her documentary, she gave others space to share their stories of what it's like to be a black female athlete. She shares, "I finished the project with an immense amount of new knowledge of my craft and closer relationships with my peers at UMBC."
Studying Italian art and culture in Rome in 2019, with UMBC visual arts faculty Kimberly Anderson and Lynn Cazabon, also played a significant role in Culp's UMBC experience. "I have gained lifelong friends at UMBC that have pushed and challenged me for the better," she says. "I will forever be grateful for my time here."
Culp will begin an M.F.A. program in illustration with minors in production design and themed entertainment design at the Savannah College of Art and Design (SCAD) this fall. "My hope is to become a visual designer for animation, film, and interactive entertainment projects." She is also slated to play soccer at SCAD.
Contemporary musician
Few musicians are equally adept at more than one instrument, but Christian Hartman '20, music, is an exception. He has made a name for himself as both a cellist and percussionist.
The principal cellist of the UMBC Symphony and a Linehan Artist Scholar, Hartman will attend the University of Delaware in the fall for graduate studies in cello performance. While at UMBC, he received a Music Performance Fellowship and Music Achievement Award.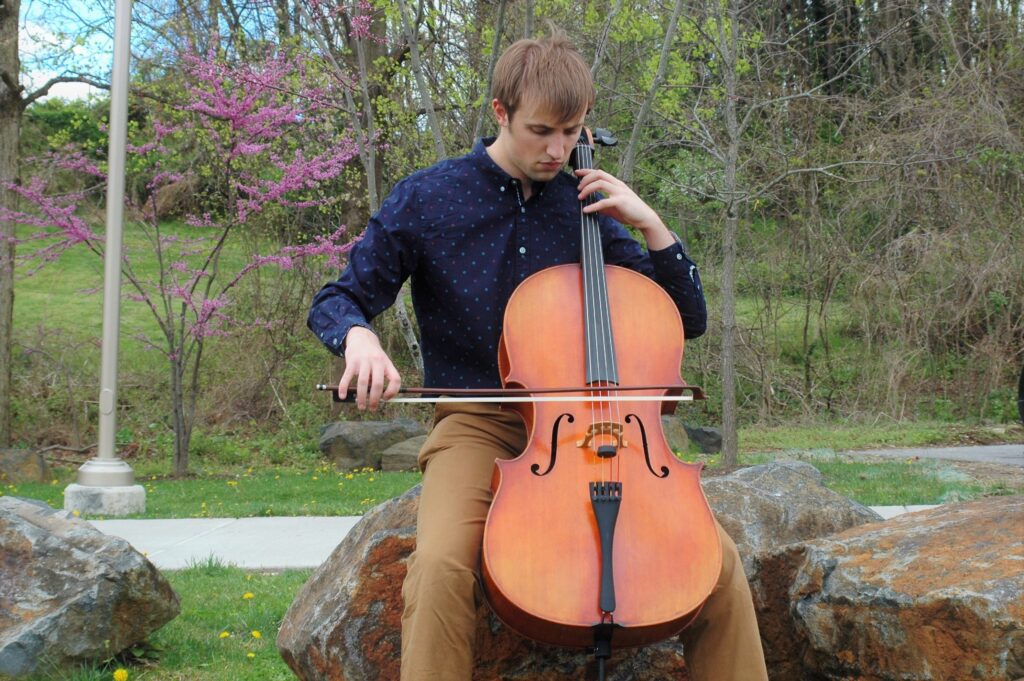 "I'm considering an academic career, which would allow me to perform, teach, and research," says Hartman, "especially in the fields of contemporary and early music in which I'm most interested."
His interest in contemporary music has led to collaborations with composers, and he has premiered a number of new compositions. A composer and arranger himself, he has written and arranged music for a variety of ensembles, including works premiered by high schools, honor groups, dance companies, and collegiate ensembles.
As a percussionist, Hartman plays snare drum in the Baltimore's Marching Ravens Drumline, which he intends to continue through graduate school. He also drums for the Baltimore-based rock band The Negative Men and serves as percussion director for Manchester Valley High School marching band, his high school alma mater.
Lighting a new path
Linehan Artist Scholar Corey Goulden-Naitove '20, theatre, has already had the opportunity to work professionally as a lighting designer at the Annapolis Shakespeare Company, Abington Friends School, and Long Lake Camp for the Arts. He had planned to continue this path when he graduated. But as coronavirus stay-at-home orders rolled out, and show after show was cancelled, he watched as five months of work evaporated in 24 hours.
Remarkably, the next day Goulden-Naitove received a call from Indiana University, Bloomington, inviting him to their Design + Technology program. At the time, it seemed "out of the blue."
"They called up to offer me a spot in the M.F.A. program, with an assistantship with a living wage and tuition remission," he says. Now, he will have a chance to continue studying his craft and remain connected to the theatre industry during COVID-19 closures.
This past winter at the Southeastern Theatre Conference, Goulden-Naitove presented his lighting design for the 2019 UMBC production of Anon(ymous), and won First Place in the Undergraduate Lighting Competition. He would later learn that it was that lighting design and award that caught the attention of the University of Indiana.
"UMBC was definitely the right choice for me—I have had opportunities here that I don't think I would have found anywhere else in the world," Goulden-Naitove says. "I am very grateful to all of my professors, to the university, and to Earl and Darielle Linehan for helping to make this happen."
Inspiring the next generation of students
It's no wonder that Linehan Artist Scholar Teresa Whittemore received the dance department's Outstanding Senior in Choreography Award—her work has been twice featured at the American College Dance Festival. This includes the work Giving Skin, performed this spring.
Whittemore has also twice presented for UMBC's Undergraduate and Creative Achievement Day, and through departmental dance showcases. And Arts by the People has presented her choreography in New York.
In addition to choreography, Whittemore also loves to teach. Following graduation, she plans to teach at three area studios—JMD Studios, EMC Performing Arts, and Kinetics Dance Theatre, where she is currently assistant school manager.
Everyday activities become something more
Brandon Ables, who earns his M.F.A. in Intermedia and Digital Arts this spring, had expected to travel to Romania this September as a Fulbright scholar. Fortunately, although coronavirus complications have delayed his travel, it will still move forward in February 2021. In Romania, he'll teach English at a university and will conduct an arts research project on the Romanian deadlift weightlifting form and history.
In the meantime, Ables will continue his research in the U.S. His work replays dreams, notes, and ideas using everyday environments and actions, accompanied with hypnotic suggestions. "I'm interested in discovering and creating triggerable actions within daily routines to score with audio and visual self-help style suggestions, guiding the subconscious to solve practical and absurd challenges," he says.
"Activities like lying in bed, chewing, and looking in the pantry become opportunities to carve the subconscious into a desirable shape with no extra effort required."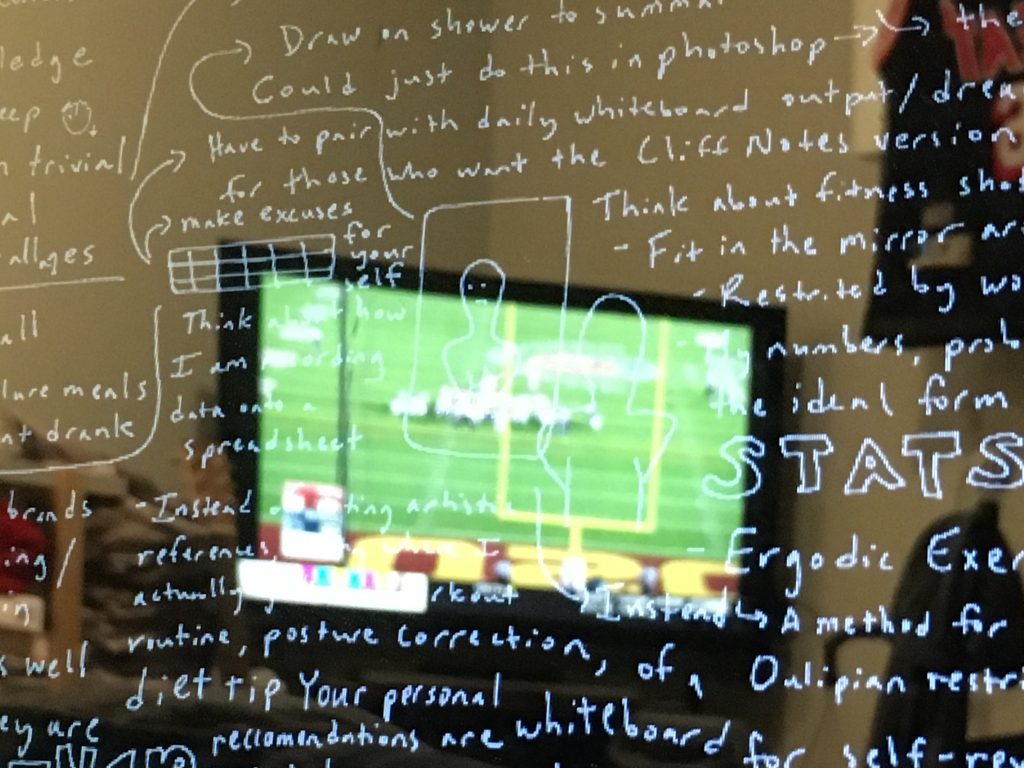 This summer, Ables will complete an interactive novel about parking, autonomous cars, and impulse purchases. He will also develop a one-man-band live performance to add more complexity to the actions he's using to trigger self-hypnotic audio and visuals. And then, onward to Romania.
Performer, producer, teacher
Raymond Robinson '17, music technology and jazz studies, and '20 M.A.T., music, came to UMBC in 2013 as Linehan Artist Scholar and a multifaceted musician. He already was a skilled pianist and saxophonist, but he credits UMBC and his professors for his mastery of music theory and music technology.
"Now I produce, engineer, and know advanced jazz theory, arrangement, and composition," he says. "I would not be the musician and educator that I am today without the guidance of all my teachers. I feel like I owe it to them to also be a teacher."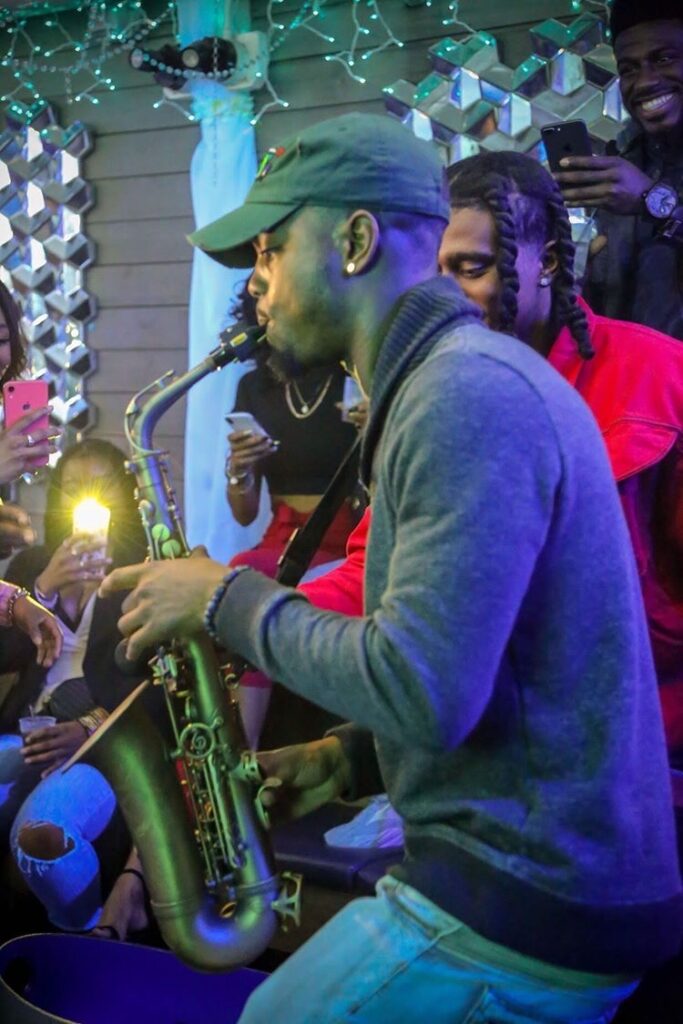 Robinson feels that it's important to have more men in the education system, especially black men. "I hope to have the opportunity to teach students of all ethnicities about acceptance and open-mindedness before perspectives and deeper implicit biases get locked-in," he says. And he hopes to be a role model for black boys and young men.
He looks forward to teaching instrumental and general music in Baltimore County and Anne Arundel County public schools. He also looks forward to resuming performances at popular venues around Washington's U Street corridor and with A.B.M and New Impressionz, two of the major Go-Go bands in the District.
Intensive training, unique opportunities
Linehan Artist Scholar Emily Godfrey '20, dance, has performed at the Kennedy Center not once, but twice. Godfrey first appeared there in 2018 at the American College Dance Festival, performing choreography by Maia Schechter '18, dance. She then appeared again in 2019 in choreography by assistant professor Ann Sofie Clemmensen.
Godfrey's own choreography, terminal, was chosen in 2020 for the American College Dance Association (ADCA) Mid-Atlantic North Conference Gala, along with Giving Skin by Teresa Whittemore. At UMBC, she has appeared on stage with Baltimore Dance Project and in many dance department programs.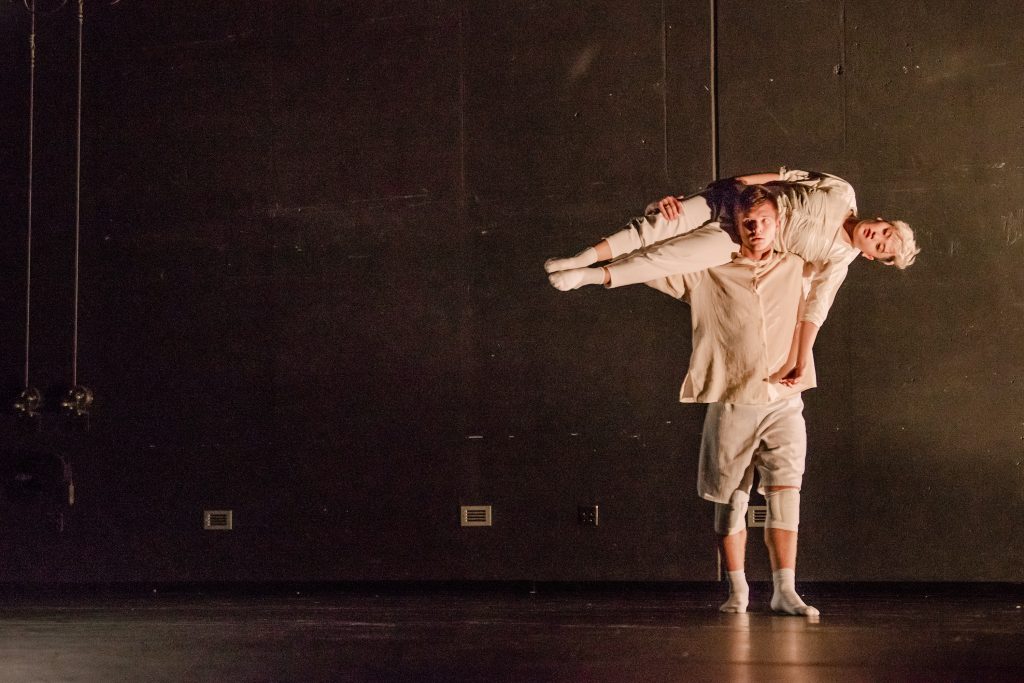 With the financial support of the Linehan Summer Award and the Dance Department Summer Award, Godfrey attended several intensive programs. These include the Hubbard Street Dance Chicago Summer Intensive, the Paul Taylor American Modern Dance Summer Intensive, the Peridance Blueprint Summer Intensive, and study at the Gerlev Sports Academy in Denmark.
Following graduation, Godfrey plans to pursue a professional career in dance performance with national and international companies.
Satisfying "my creative side"
Double majoring in the arts and sciences can be daunting, but Linehan Artist Scholar and Honors College student Sarah Brewer '20 will graduate with a B.A. in dance and a B.S. in biology. She credits open communication with dance and biology faculty, a team of advisors, and her own focus on time management for making it work.
As she prepares to leave UMBC, Brewer remains committed to both art and science. She is interning at a molecular biology lab within the Johns Hopkins Applied Physics Laboratory, and recently interviewed for a full-time position. She says the work at the lab "satisfies some of my creative side and all of my scientific side." Still, she's already reaching out to contacts at local companies to find ways to continue her work in dance.
Brewer says her proudest undergraduate moment was a duet performance choreographed by Teresa Whittemore '20, When Eve and Eve Bit the Apple, at an ACDA gala performance in spring 2019. The piece was one of only two undergraduate works among twelve selected for the gala.
She shares, "To be a part of Teresa's choreographic process, and build a creative relationship with her and my duet partner Michelle Ye '22 was one of the most rewarding experiences I've had at UMBC."
The perfect fit
Some UMBC students dream of attending the university for years before they arrive on campus. Linehan Artist Scholar Olivia Mills '20, visual arts, had a different experience.
"I'm not from Maryland, and I wasn't familiar with UMBC until the end of my college search," Mills says, "but once I researched it and was offered the Linehan Artist Scholarship, it rose to being my first choice—and it was the perfect fit for me," she says.
Mills's focus has been on animation. Her senior capstone project and 2020 URCAD presentation, the animated film Creatures in Crisis, challenged the notion that robust animated film projects emerge only from major studios.
As an artist at UMBC, she especially enjoyed Commonvision programs, and made a point to share her work during annual Art Week festivities and in seasonal zines.
Given the impact of coronavirus on the arts, Mills plans to use her time immediately following graduation to build her artistic portfolio. "While the coronavirus situation saddens me and has been a source of stress, a silver lining is I now have to stay in and work on my art," she says. "I'm also glad there is a virtual network through UMBC's Career Center and Alumni Association to get on-track with my professional goals."
Catherine Borg contributed to this article.
Banner image: Emily Godfrey '20 performs with colleagues in Baltimore Dance Project's 2020 concerts at UMBC.
All Photos by Marlayna Demond '11 for UMBC unless otherwise noted.
Tags: Arts, CAHSS, ClassOf2020, Dance, LinehanScholars, Music, Theatre, Undergraduate Research, visual arts