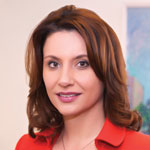 Back in 2001, Kaliope Parthemos '93, psychology, got some career advice that has resonated with her over a decade of public service.
Parthemos was clerking for Baltimore Judge John C. Themelis at the time, and she recalls that he turned to her one day and said: "You belong in the courtroom and you belong as an advocate. Don't be one of those people who talks about how things should be done, but has never actually worked it and lived it. You know the people. You understand the people. Go fight for the people."
As Baltimore City Deputy Mayor of Economic and Neighborhood Development, Parthemos is now engaged in that advocacy every day. She oversees 17 city agencies, addressing issues from transportation to tourism to the arts – a great fit given her keen appreciation of Baltimore's cultural institutions and its underground art and music scene. Some of her current projects – including a "Vacants to Value" housing initiative and a push for "healthy food zones" to transform some of Baltimore's food deserts – have tackled deep-rooted challenges to Baltimore's public health and safety.
Parthemos sees her own career trajectory as very individual – based on opportunity as much as her longstanding interest in social issues and her passion to serve the needs of Baltimore's children. After graduating from UMBC and working as a social service caseworker in Baltimore, she took a law degree at the University of Maryland School of Law.
Having grown up in the Baltimore City public school system, she saw her subsequent job as a public defender focusing on juvenile law as a way to effectively serve Baltimore's youth. When Parthemos left the public defender's office in 2006, she intended to start her own practice, but public service beckoned again when Stephanie Rawlings-Blake – a friend and colleague who served on Baltimore's City Council and eventually became mayor in 2010 – recruited her to work in the city's administration. Reflecting on her time at UMBC, Parthemos says that her experiences with Choice – a UMBC/Shriver Center program that offers youth in Maryland's juvenile justice system a wide array of resources, counseling, employment skills development, educational support, and after-school and weekend activities – gave her an opportunity to witness first-hand the struggles that many of Baltimore's children face when unfairly dealt a tough deck in life.
Parthemos' work with Choice and the Department of Social Services has informed her approach to serving the needs of Baltimore's children and other residents while also managing the city's unprecedented budget problems.
"When we came into office we had a $120 million budget deficit," notes Parthemos. One of her first tasks was negotiating with area non-profit organizations, hospitals, colleges and universities on a controversial "bed tax" to help plug the budget gap. She attributes the success of that effort, which the Daily Record reported will net the city $20.4 million over six years, to balancing the needs of these groups and their value to the city with the need for new revenue.
Parthemos is now enmeshed in another difficult budgetary challenge: assessing how to spend the city's limited recreation funds to best serve city children. "They don't deserve a building that's basically glued together and only has one person at the door that's basically just allowing kids to come in, with no actual structured activities in place for them," she says. "What we're hoping to do is have a smaller number of recreation centers… but ensuring that the kids have a safe environment with structured activities."
Parthemos says that her training as a lawyer and the educational experiences that enabled her to make friends from different socioeconomic and cultural backgrounds has been a key to meeting the challenges she faces in city government. She laments that some Baltimore residents do not have such opportunities to meet people outside of their own circles: "It strikes me really profoundly… how limiting that is to one's ability to grow and one's ability to see something through someone else's eyes." Being an effective public servant, she says, means "understanding the city of Baltimore, understanding the people, understanding the struggles that people have on a daily basis." It also means combining awareness of those challenges with knowledge about how government agencies "interact with one another in order to create the services and systems that Baltimore City residents require and should have."
— Dinah Winnick
Tags: Winter 2011