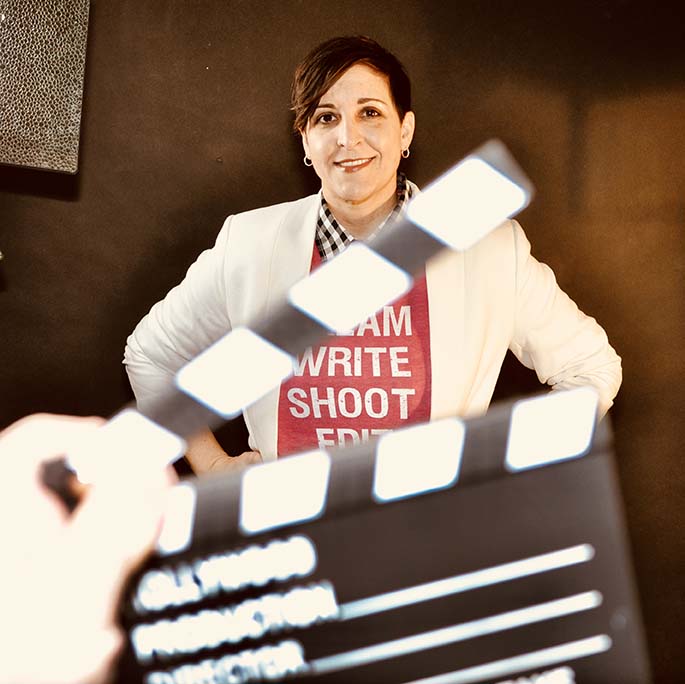 UMBC's new Director of Undergraduate Research and Prestigious Scholarships, April Householder '95, spends her days opening doors to students exploring the vast world of research.  As an alumna of visual and performing arts with a minor in art history, she also boasts a fascinating background in documentary filmmaking and media criticism. Here, Householder talks about how her time learning and working at UMBC helped shape her work in film, teaching, and her new work in the division of Undergraduate Academic Affairs (UAA).
Q: What are your thoughts about your education at UMBC? How did UMBC help prepare you for your research, teaching, and administrative work?
A: I was a transfer student to UMBC from Villanova University. I initially chose Villanova because it had a great name brand, but I quickly realized that it wasn't for me because it lacked diversity, and it didn't have many academic offerings in my growing fields of interest – art history and film/media studies. I was very familiar with the UMBC campus because I am native of Arbutus, and as a kid, I grew up riding my bike from my house to play video games in the game room at UMBC. So at the end of my sophomore year, I transferred to UMBC and was thrilled to find  diverse student life on campus and a vibrant arts community in the film/video department. I worked with really creative professors such as Vin Grabill and Dr. Kathy O'Dell, both of whom encouraged me to pursue graduate school, and inspired me creatively. The visual arts program drove me to work hard, and because of this I was the Visual Arts Student of the Year in 1995. As a first generation college student, I found the students and faculty at UMBC to be engaging and challenging, and I worked alongside some really talented film students like alumni Eric Dyer and Brian Dannelly, who have gone on to do amazing things. At UMBC, I learned filmmaking and research skills, and made great personal connections that helped me later in my professional life as an academic.
Q: You have done much work with documentary films and film criticism, you have written books, and you have taught classes (including some at UMBC) related to representations of gender, sexuality, and race in media. How did your interest in these areas develop and what inspired you to focus on these topics in your work?
A: My interests in visual representation began in a course I took as an undergraduate student- we studied Michel Foucault's interpretation of Diego Velazquez' painting Las Meninas. That moment sparked my interests in issues of representation, identity, and gender in visual art. In graduate school, my focus shifted from film production to film history, theory, and criticism, and my research and teaching today has continued along the same themes that I became interested in as an undergraduate student. My doctoral dissertation was a documentary film about Bouboulina, the heroine of the 1821 Greek War of Independence. My first book is called Feminist Perspectives on Orange is the New Black. I've published essays on the HBO series, Girls and another essay on the biased ways in which the Greek economic crisis was represented in the media. I have a book chapter coming out this year on the history of Baltimore's radical feminists with my colleague from the Honors College, Dr. Jodi Kelber Kaye. I've taught courses at UMBC about feminist and LGBT films; gender, race, and media; and even one about pornography. I feel that these topics continue to be important areas around which young people should develop critical thinking and cultural literacy. This way, they can have tools to interpret the world around them, form their own identities, develop a political consciousness, and be able to see clearly through the fog of media messaging that constantly surrounds us.
Q: You are UMBC's new Director of Undergraduate Research and Prestigious Scholarships, and have taught classes here in the past. What brought you back to the UMBC community?
A: I got my first work study job in the Student Support Services office as an undergraduate. Years later when I was finishing my Ph.D. at the University of Maryland, College Park, and working part-time at the RAC, I landed my first job as the Assistant Director of the McNair Scholars program at UMBC. I also worked as an adjunct faculty member in the Gender and Women's Studies Department where I taught courses related to film and media. In January 2017, I moved into my current role as the Director of Undergraduate Research and Prestigious Scholarships. So, most of my academic career has been spent here at UMBC. I still have connections that I made as a student, and now I work with amazing colleagues who are supportive of my research, teaching, and administrative work. I love being able to give back to the community that supported me, and my greatest joy is to inspire UMBC students who are just like me.  My time as an undergraduate student, and now fourteen years as a professional at UMBC has made me bleed black and gold!
Q: What future work do you see yourself doing in research?
A: Currently, I am working on research that focuses on themes of resistance and catharsis in Greek art, music, and film in the context of the European economic crisis. My research looks specifically at contemporary Greek poetry, graffiti, and the resurgence of Rembetika music (known as the "Greek blues").
Q: What are your future plans here at UMBC?
A: I hope to continue to support UMBC's undergraduate students by engaging them in meaningful research experiences and exposing them to opportunities for after they leave UMBC. Being a researcher myself, I am uniquely positioned to help students find their path, no matter how that might look. I enjoy exposing new students to research and getting them excited about working with faculty mentors on something that they are passionate about. Engaging in undergraduate research is a great resume builder for graduate school and their careers, introduces them to the culture of their disciplines, and builds their skills and networks in their fields.  I also work with seasoned students who are applying for prestigious scholarships, and hope that I can help them be competitive on a national and international scale. My goal is to contribute to UMBC as an institution that provides a distinctive undergraduate experience, and to the growing recognition that UMBC is an intellectual powerhouse that stands shoulder to shoulder with the highest ranking universities in the nation. I hope to build on the success of our first Rhodes scholarship (senior chemical engineering major Naomi Mburu) to motivate more students to do great things. UMBC undergrads inspire me!
— Interview by Allison Cruz '18
URCAD 2018 is coming! Learn more about Undergraduate Research & Creative Achievement Day, April 25, here.
Tags: Undergraduate Research, URCAD