Each week of the 2020 athletic season, Retriever athletes, coaches, and fans held their breath to see what games would be cleared to play. After making it through 2020 with men's and women's basketball holding down the proverbial fort, 2021 marked a new year and new development for UMBC sports—all unplayed fall and spring sports would return to action in spring 2021. 
Though there was no shortage of challenges when it came to playing in a pandemic (diligent symptom monitoring, regular testing, periods of isolation), student-athletes rose to the occasion and added several new chapters to UMBC record books this year. 
Serving success
For the first time in program history, UMBC women's volleyball earned a share of the America East regular season title, splitting the honor with UAlbany. Then, on April 2, the team traveled to Albany to take on the Great Danes for the America East Championship, and they delivered, winning their first America East Championship in program history.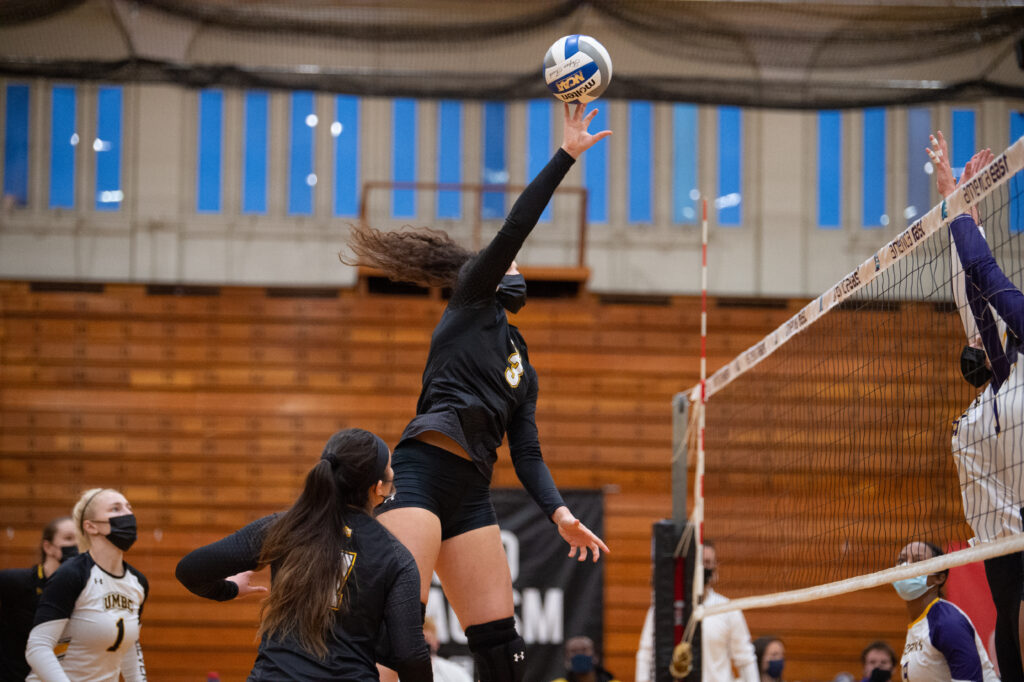 "The first day we met UMBC's then-new athletics director, Brian Barrio, in 2020, he showed us an empty photo frame on his wall," says Anouk Van Noord '21, psychology, a right side hitter. "He told us that he was saving it for when we win the America East championship. I am so proud to graduate from UMBC in May with that spot filled on his wall."
The Retrievers competed in the first round of NCAA tournament play and ultimately fell to Pepperdine, but they're just getting started. 
"My goal when I took over this program was to establish this program as a perennial America East championship contender and that is what we are building here," says head coach Cristina Robertson.
Shooting for a win
For the first time since 2007 – 2008, UMBC men's basketball nabbed the America East Regular Season Title, sharing it with the University of Vermont. UMBC finished the regular season with a 10-4 conference record. The Retrievers ultimately fell during America East playoffs, but the team collected numerous honors on and off the court. Several players were named to All-Conference teams, and Keondre Kennedy '23, media and communication studies, was named Sixth Man of the Year, the first awardee in program history. Kennedy's contributions coming off the bench, playing in all 19 games, but starting just two, landed him this honor.
Ryan Odom ended his coaching career at UMBC on a high note, earning the America East's Coach of the Year honor. Odom announced in early April that he's continuing his career at Utah State, and Retriever Nation welcomed Jim Ferry from Penn State as UMBC men's basketball new head coach. 
"The sincerity and the love for this place, it just came through," says Ferry. "This is one of the fastest-growing universities in the country and I'm excited to be a part of this family and such an outstanding basketball program."
Netting a legacy
Coach Pete Caringi, Jr. has been a force at the helm of UMBC men's soccer for 30 seasons and to mark such an impressive tenure, his players decided to give him a very appropriate gift— his 300th win. In a double-overtime win against George Washington in February, Caringi improved his overall mark to 300-186-75, a winning percentage of better than 60 percent.
"He is one of the most respected coaches in Maryland, and there's a reason for that," says goalkeeper Quantrell Jones '22, sociology, who was named to the America East Conference Men's Soccer Second Team in 2021. "He wants to make the players better and wants to win championships, and that all I've ever wanted to do."
Lapping the competition
Though they fell just short of defending their America East Title, UMBC men's swimming and diving performed impressively at this year's competition. Niklas Weigelt '23, economics, was named Most Outstanding Swimmer of the Meet, and Kai Wisner '21, mechanical engineering, earned the David Alexander Coaches Award. 
Women's swimming and diving also captured second at this year's America East tournament. Natalija Marin '21, mechanical engineering, closed out her senior year on a high note, earning the David Alexander Coaches' Award for accruing the most points over the course of the four America East Championship meets.
Senior captains Vanessa Esposito '21, psychology, and Abbey Farmer '21, health administration and policy, share, "This year has thrown so many challenges our team's way.  Just a few weeks ago we did not think we would be competing at our conference championships. To climb all the way up to finish second overall is truly a testament to our women's team."
The Retriever swimmers and divers also welcomed new head coach Matt Donovan, former head coach at Long Island University, this spring. 
"Matt brings the experience, work ethic, and integrity that this program will need to continue its growth into national prominence," says Barrio, director of athletics. "He is a great fit for our UMBC community and I'm excited to connect a leader like Matt with the superb student-athletes we have at UMBC."
******
Volleyball photos courtesy of America East.