Congratulations to these UMBC alums whose accomplishments have reached the media. Take a moment to read what they've been up to!
Greg Cantori, '84, geography, has recently turned heads on the road, in the office, and in his local police station.
After purchasing a velomobile (an enclosed bike that resembles a pedal-powered submarine), Cantori has forgotten about his car for his ride to work. Every morning, he makes the one-hour ride to work, with the occasional stop to speak with a curious police officer to explain why the velomobile is legal and how it works. "It's so aerodynamic," he says to The Baltimore Sun. "You can ride longer distances with the same amount of energy." While the parking at work may not be ideal for such a newfangled mode of transportation, his office has been creative with the new addition, using its sound system and decorating it for Christmas. Find out more here, or watch a video.
Kim Berghaus, '14, physics, earned her second career America East All-Academic Team award on May 23, 2014, after maintaining a 3.84 grade-point average in her major, physics, and her two minors, economics and mathematics.
During three of her seven semesters here at UMBC, Berghaus held a 4.0 GPA and received the athletic department's Matt Skalsky Female Outstanding Scholar-Athlete award, which goes to the highest-performing scholar-athlete. You can read more about her accomplishments and plans for the future here.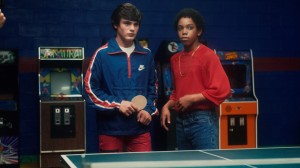 Michael Tully,'97, cinematic arts, released his movie Ping Pong Summer on May 31 at the Carroll County Arts Center.
Starring Susan Sarandon, Lea Thompson, Amy Sedaris, and John Hannah, the movie was staged in Ocean City and follows an annual family vacation, which is interrupted by a ping pong challenge with the local bullies. "We really tried to make it feel like a lost film from 1985," says Tully in his interview with the Carroll County Times. The film is to be released in 20 theaters across the country starting Friday, June 6, including AMC Owings Mills, the AFI theater in Silver Spring, and the Charles Theater in Baltimore. To find out more about Tully's new film, read the article here.
Ayobami "Ayo" Olufadeji, '11, biological science, was born and raised in Nigeria. Now, a student at the Dartmouth Geisel School of Medicine, Olufadeji is looking back to his hometown.
In a heartfelt essay, Olufadeji writes of the political history of Nigeria and the current unrest, while speaking in terms of hope for his country. "Effective positive change in Nigeria has always been my goal," he says in his essay for 32 Hours, a news network for Dartmouth. "Medicine happens to be my means." Read his full essay here.
Tags: Alumni, Berghaus, cantori, cinematic arts, Nigeria, olufadeji, ping pong summer, tennis, tully, velomobile