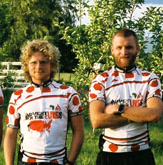 Just outside Jackson Hole, Wyoming, Adam Driscoll '04 stopped his bike to check his blood sugar levels. His teammate, Patrick Blair '03 waited patiently to continue their journey. Snowy mountain peaks filled the skyline.
During the summer of 2006, while many people were vacationing, Driscoll, a type 1 diabetic, and former UMBC track team members Blair and Jesse Stump '06, mechanical engineering, spent their free time riding their bikes across the country to raise money for a school in Africa.
Building on that success, Driscoll and Blair last year founded Adventures for the Cure, raising more than $45,000 for a variety of causes, including the American Diabetes Association, by organizing extreme athletic events. In just a short time, the duo has made a name for their group, even becoming the subject of a documentary film.
Lifelong Teammates
Driscoll and Blair both came to UMBC for the same reason – to get top-notch training in computers, and to eventually get a good job in the IT and computer science field. They were also drawn to UMBC's excellent reputation in science and math, as well as its proximity to their homes.
"I knew it was a school that wasn't a joke," said Blair, a computer science major. "It was a place where I could go and get a good education."
During his time at UMBC, Blair worked as a research assistant in the computer science department. However, he and Driscoll, an information systems major, never crossed paths in the classroom; instead, they were teammates on the UMBC track team. Both competed all four years of college, and during Blair's senior year (Driscoll's junior year), they lived as roommates.
Filling in the Gap
The two remained friends and roommates as they graduated and started their first jobs at the Department of the Treasury and Northrop Grumman, respectively. Although they appreciated their jobs, Driscoll and Blair both felt a void.
"We both had these really great jobs, but we weren't helping anybody," Driscoll said.
While at a church retreat, Blair and Driscoll met two individuals who inspired them: a man who had discovered that he could run very long distances to raise money for charity, and the founder of Kupenda, a group that raises money to build boarding schools for African children with disabilities. Blair and Driscoll found both of their stories riveting and, since they enjoyed running and biking long distances, found that they, too, could compete in physical events to raise money for charity.
"We realized we could use the things we already liked doing to help other people," said Blair.
A Healthy Start
Because of Driscoll's personal experiences as a diabetic, Blair suggested that they start giving back by raising money for the American Diabetes Association. Ever the extreme athletes, the pair organized a two-day bike ride from Catonsville to Ocean City and back, raising $8,000 for the ADA. Motivated by their success, they decided to move into more extreme events, such as long runs and bike rides, in the name of raising money for charity. They founded Adventures for the Cure, a non-profit organization, shortly thereafter.
Adventures for the Cure is slowly but surely gaining publicity. Most recently, fellow alumnus Philip Knowlton '03, visual arts, directed, produced, and edited a documentary chronicling their cross-country bike race, which resulted in raising $37,000 for Kupenda. "Adventures for the Cure" premiered in October 2007 at the Senator Theater in Baltimore, and is being shown at independent film festivals throughout the country. Knowlton, Blair, and Driscoll hope to eventually release a DVD of the film.
Their next big event, the Race Across America, will be held in summer 2008. Similar to the summer 2006 bike trip, RAAM will be a cross-country bike relay to keep raising money for charity, starting on the West Coast and ending in Annapolis, MD. At least one more UMBC rider will also be part of the team – Alex Driscoll '08, environmental science, Adam's brother.
– by Melissa Gilden '10
Originally posted December 2007
Tags: Sports