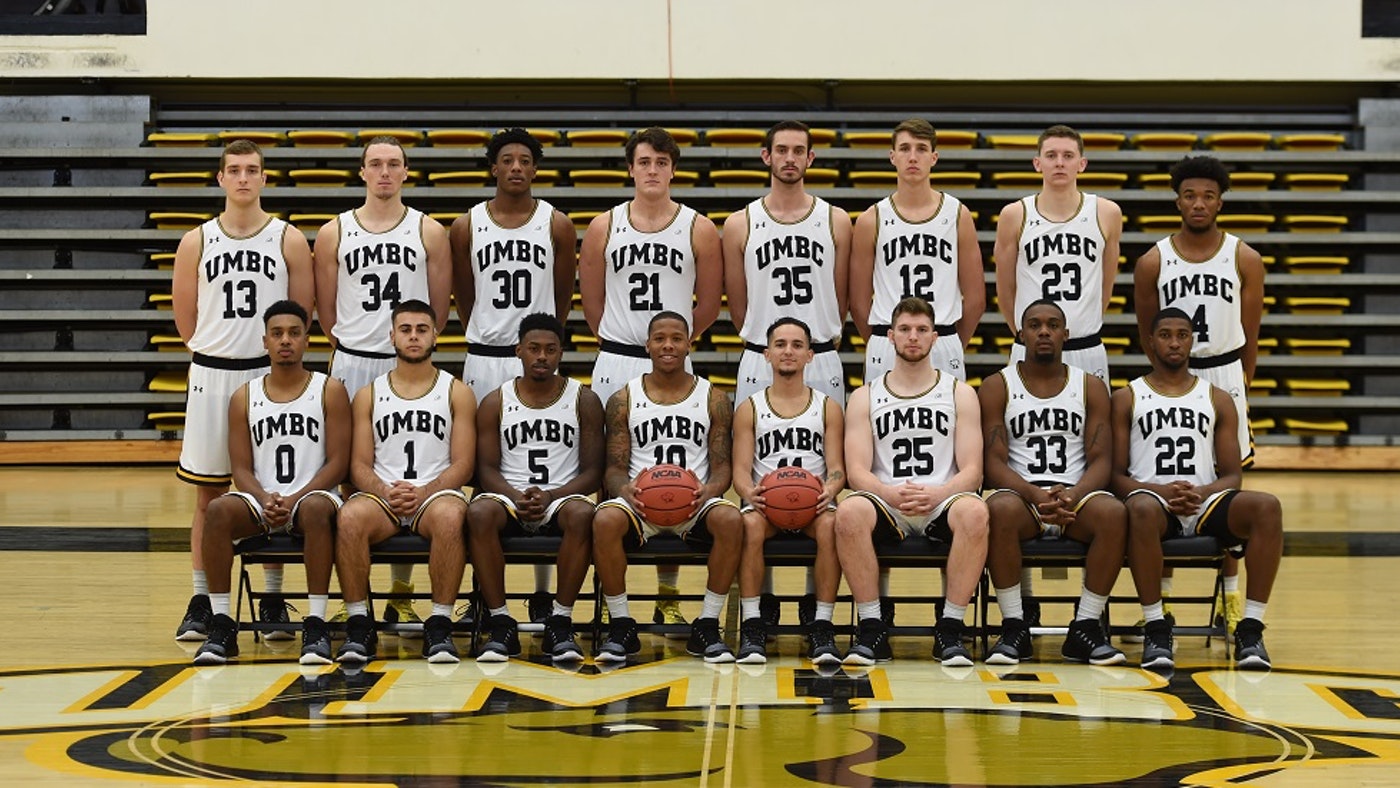 Bobby Mills '91, economics, played a prominent role in building the foundation of UMBC's Division I men's basketball program. While there have been ups and downs over the past 30-plus years, including four conferences switches and six head coaches, the first teams and their "founding fathers" hold a special place in Retriever Athletics' history. Mills' UMBC journey contained challenges, but he credits his families – the one based in Pittsburgh and his Retriever family in Baltimore – for putting him on the path to achieving more than he could ever have imagined back in 1986. And, he's never been more optimistic about the present and future of his beloved Retriever program.
– Steve Levy '85, Associate AD, Athletic Communications
"It's a Whole New Ballgame"
This was the slogan that former athletics director Rick Hartzell chose to use as he piloted the UMBC Athletics' program into the NCAA Division I era in the fall of 1986. For a university with only 20 years under its belt, the words seemed apt.
Within the new structure, a great number of UMBC teams were expected to fare reasonably well in the early stages of the Division I experience, but the men's basketball program was not among them. After some great fortune, marked by back-to-back NCAA Division II appearances in 1978 and 1979, a loss of scholarships helped sink the program into poor condition just a few years later. In fact, the Retrievers won only five games (5-23) in their final D-II campaign and a daunting D-I independent schedule in their initial campaign had those inside and outside the UMBC Fieldhouse wondering if new head coach Jeff Bzdelik would win a contest in 1986-87.
But Bzdelik, using his resources as a former Northwestern assistant, gathered several Division I-ready players shortly after arriving in Baltimore. Junior college transfers Reggie Truitt '89 and Jeff Reynolds '89, DeMatha High School product Duane Faust, and Towson Catholic's Gamel Spencer '90 teamed up with dedicated holdovers and two other recruits with whom Bzdelik had forged bonds on the recruiting trail at his former Big Ten school: Larry Simmons '90 and Bobby Mills '91.
That group shocked the skeptics and won 12 games (12-16) in the first season. The following year, the addition of Reynold's brother Kenny propelled the team to a 13-win season (Jeff missed the year due to injury). When the Reynolds brothers finally got on the court together in 1988-89, the Retrievers posted a mark of 17-11 and captured the Battle of Baltimore Tournament under first-year head coach Earl Hawkins.
Mills had visited Northwestern and also had offers from George Mason, St. Peter's and St. Francis University of Pennsylvania. But he ultimately decided  to take a chance and come to Baltimore to play for Coach Bzdelik. "It gave me the opportunity to play right away," said Mills, who also promised his parents he would find a school with an engineering program. "It came down to the right situation for me, coming in with the new guys and building something up from the ground."
It didn't take long for Mills to get acclimated. "It was a commuter school back then. You became close with everybody on campus. I liked (former UMBC President) Dr. (Michael) Hooker; it was great meeting him on my first visit and hearing his vision of where the school was going. And it was only four hours for my parents to come see me play."
Mills also credits Gym I (UMBC's original playing facility, located on the grounds that The Commons has occupied since 2002) as creating part of the culture of that close-knit group. It acted as a private practice facility for the team in those days where "gym rats" like Mills, Simmons, and others, could shoot and play long after the sun went down or came up.
But the bonds that Mills forged went well beyond his teammates and the administration. He roomed with senior lacrosse players Craig Parks '88, Ricky Fried '88 and UMBC Hall of Famer Ray Ignacio '87 in his sophomore year and, despite moving in with Simmons as a junior, he still had great friendships with UMBC's other athletes on the lacrosse, baseball, and soccer teams.  
On the court, Simmons had been recruited to play the point guard position and Mills the off-guard slot. But circumstances dictated a role reversal after their third game as freshmen and, Simmons, an Indiana native, would go on to score the most points (1,805) in school history, a mark that stands more than a quarter-century later.
Mills' numbers were not nearly as gaudy.  He struggled with injuries throughout his tenure, missing the entire 1987-88 campaign with mysterious concussion-like symptoms from a charge sustained in the Coppin State game at the end of his freshman year. (Years later, after re-connecting with UMBC sports medicine guru Cindy Kubiet, he learned he suffered from a spinal concussion, a yet-to-be-discovered condition at the time.)
But Mills persevered through it all, provided some memorable moments at point guard, and learned life lessons from the adversity. "My sophomore year was a tough year because no one knew what was going on. But we had such a tight-knit family, from the coaching staff to Cindy's staff, I really appreciated the care that I was given."
It didn't hurt that his parents, Glenn and Rose Mills, made it to Baltimore from Brackenridge, Pa. for nearly every home game and traveled extensively during Bobby's tenure. To this day, Glenn has fond memories of pick-up games with the athletic administrative staff on numerous occasions.
And being an NCAA Division I independent, despite its limited chances to make the "Big Dance" in March, didn't faze Mills or his teammates at the time. "You were playing Division I basketball. It was about loving what you were doing with the teammates you were doing it with," said Mills.
His fourth year he managed to stay healthy and start all 28 games in 1989-90, averaging 6.6 points per game. He also dished out a team-best 135 assists, including one to Simmons that resulted in a game-winning, buzzer-beating shot at home versus George Washington.
Academically, Mills flourished. He changed his major from engineering to economics (his parents forgave him) and became a College Sports Information Directors of America (CoSIDA) Academic All-American candidate. Upon graduating he earned a fellowship for an 18-month MBA program at the University of Pittsburgh, then went to work at PNC Bank  and advanced quickly within the company in northeast Pennsylvania and the New Jersey regions.
During his tenure in the Scranton-Wilkes-Barre area, he met his future wife, Maureen, and the couple married in 1997. For several years, he shuttled between New Jersey during the week and Pennsylvania on the weekends before joining his wife in her family's petroleum oil distribution business in 2000 when their first daughter was born. In 2004, Mills and his wife bought the business, grew it for eight years throughout the Mid-Atlantic, and then sold it to PetroChoice, a Greenbriar company. For the next three years, Mills served as PetroChoice's Chief Strategic Officer.  
Mills is currently "semi-retired," although he bought into the New York Yankees' Triple A International League affiliate, the Scranton/Wilkes-Barre (SWB) RailRiders, and has served as the day-to-day partner for the past three years. The RailRiders won the Triple A National Championship in 2016 and have won the International League North title the past three seasons.
Additionally, Mills started the SWB Pinstripe Foundation for the SWB Railriders. He serves as its president, raising money for underprivileged and underserved children in Northeast Pennsylvania and additionally raises money for cancer research with Stand Up for Cancer.  
The couple has three girls –  Morgan 17, Maggie, 14, and Brooke, 8 –  who all play basketball. Barring conflicts, Bobby never misses a game, having coached the girls through their amateur careers.
Mills said he was thrilled when Ryan Odom was hired as the new head coach of his alma mater in the spring of 2016. He knew Odom's father, Dave, from his days working as a counselor at Five Star Basketball Camp where the elder Odom served as the head coach for a number of years.
"Ryan reached out to me the day he got the job through Coach Bzdelik," said Mills.  "He's a great person, easy to relate to and is a fabulous coach.  He is somebody I would have loved to play for."
Mills has also built relationships with director of athletics Tim Hall and head women's basketball coach Phil Stern and is thrilled that the programs will be moving across the street to a great basketball facility in the UMBC Event Center.
"UMBC has a bright future," he said. "There are great people there; the key is keeping in touch with the former athletes and letting them know the great things the university is doing."
Tags: Athletics, Basketball