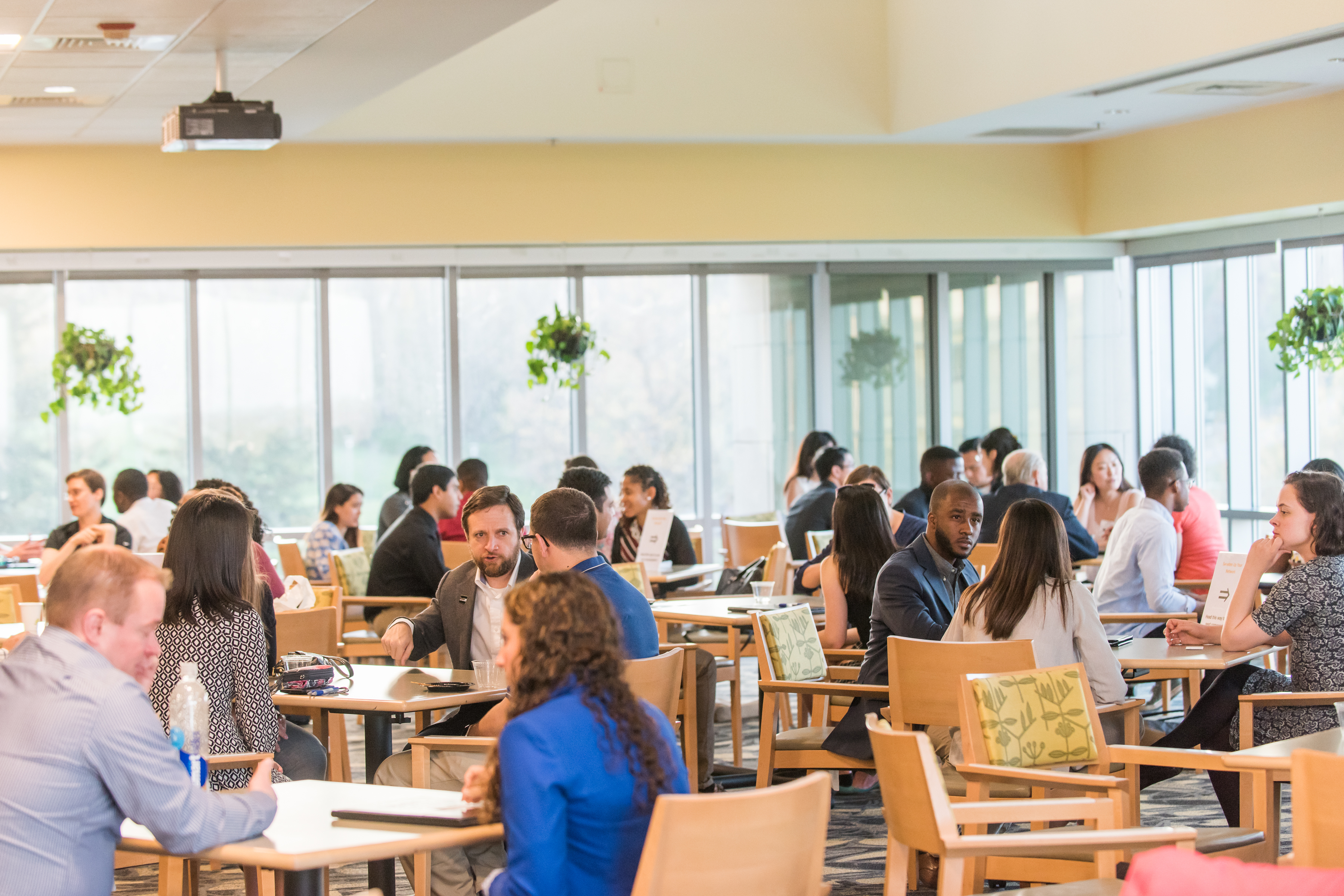 In partnership with the Career Center and the Office of Alumni Relations, the UMBC Student Alumni Association (SAA) was proud to host the annual Sweeten Up Your Network event on Tuesday, April 11. As one of Career Month's staple events, Sweeten Up Your Network is open to students and alumni from all majors and years, and is almost entirely planned and executed by a team of SAA members. Because of their amazing efforts, this year we had just under 30 alumni and over 50 students participate!
As the Assistant Director of Alumni Relations, I have the honor and privilege of supporting both current students and alumni in developing programming that connects them to campus and one another. Sweeten Up Your Network is one of the most special examples of how these types of programs can really impact both sides of the speed networking table. I asked two participants from the evening to share a little more about their experience.
Julia Celtnieks '13, Media & Communication Studies
Despite being a relatively recent alumna, as well as a staff member, I'd never made it to Sweeten Up Your Network before this year. Nonetheless, I was intrigued by the opportunity to help students hone their networking skills, as well as offer some of my insights as a young professional. As it turned out, I had as much to learn from this experience as they did!
Most of the students I met and spoke with were going into fields completely different than my own: the sciences, psychology, engineering. At first it was challenging to tailor the conversation to their specific experiences, but then I realized I didn't have to. There are plenty of ways to make connections, and many things I've learned over the course of my post-grad life, like the ins and outs of entry-level job searching, can apply to almost any area. Sweeten Up Your Network is really about getting students used to the idea of networking in general, and I think giving them the chance to talk with alumni in a variety of careers is what makes it so unique…and so perennially popular.
Alida Hartwell '19, Bioinformatics and Computational Biology
I have been with SAA since the fall 2016 semester. SAA is full of amazingly motivated and helpful people. They always manage to make our meetings not only productive, but fun as well. All SAA events that I have participated in have felt like that, too. I also love that our events are planned and run by the SAA members.
Specifically relating to this event, I was very excited going into it. Ever since I joined SAA, the upperclassmen have talked up Sweeten Up Your Network. My experience was even better than what I was expecting. There were so many alumni from all different fields. I got the chance to speak with people who are in fields that I am considering going into, which was awesome for me because I got to see how powerful a degree from UMBC can be in the real world. Even talking to people from different degrees and fields was eye-opening. All of the alumni were passionate about UMBC and still love it […] it made me feel very proud to be attending this university. Overall, I think the best thing about Sweeten Up Your Network was the chance to see what it will be like years after graduation, whether that is what careers people with my major have or how much Retriever pride alumni carry with them!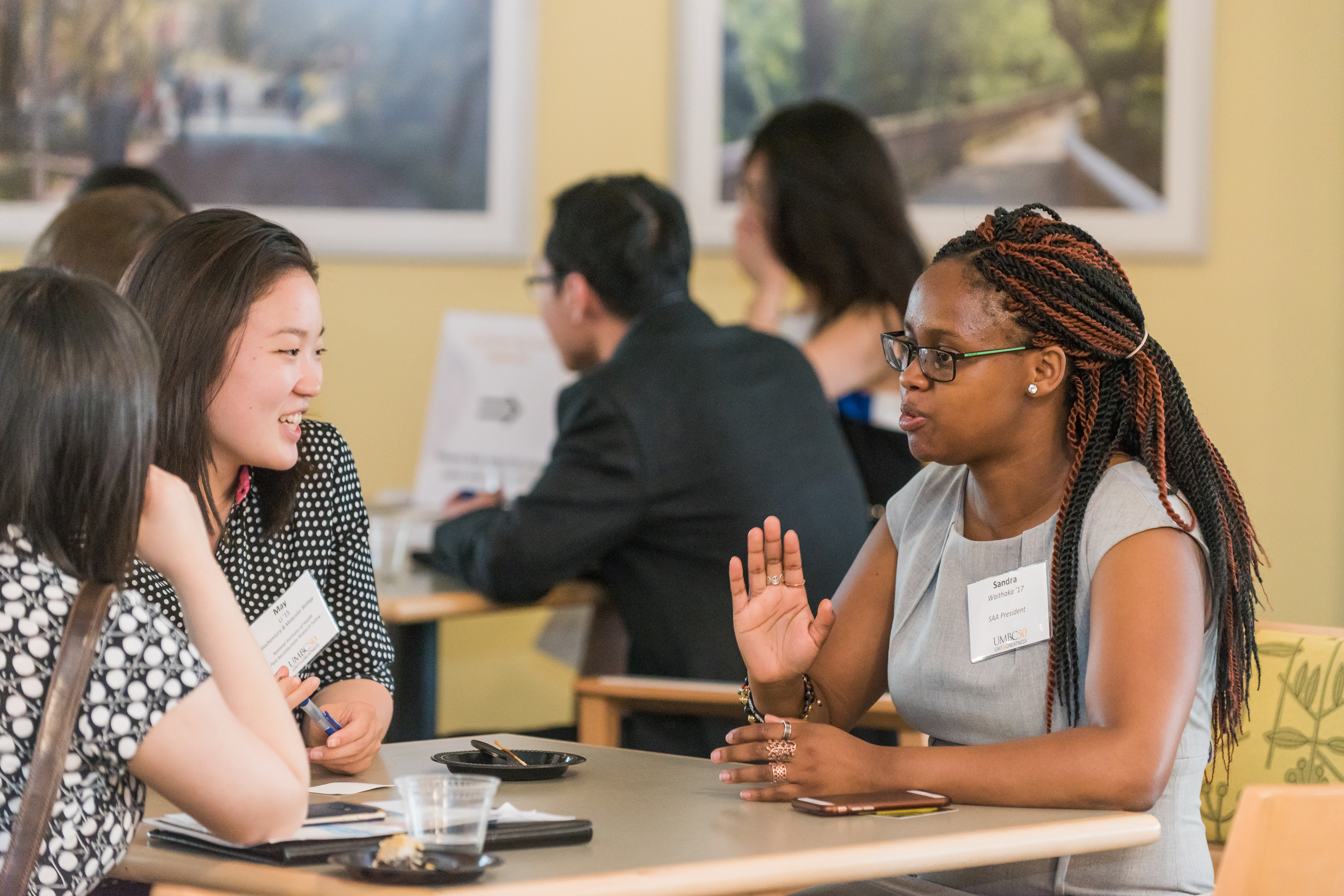 So there you have it! If you're an alum who wants to give back to the UMBC community, click HERE to learn about all the pathways to get involved. We've always got events and programs going on that could use your support.
—Jessica Wyatt, Assistant Director of Alumni Relations