When the NCAA canceled the 2020 spring and fall championship seasons due to the pandemic, UMBC Athletic Director Brian Barrio created a new game plan for Athletics communication staff: create UMBC's first-ever Letterwinners Club. Similar to other universities' clubs, the Retriever Letterwinners Club looks to welcome alumni home to UMBC by creating a network to connect them with current student-athletes and UMBC Athletics.
"I think it's going to be a unique opportunity for student-athlete alumni from all walks of life, every sport that UMBC Athletics has ever sponsored, to really be able to connect and come together as one family," says Assistant Director for Annual Giving Seth Nagle.
Athletic communications staff also used the launch as an opportunity to update data on athletes throughout the years. Led by Communications Director Steve Levy '85, interdisciplinary studies, the staff dug through every athletic team's roster since the start of UMBC Athletics in 1966 to create a full list of club members. Levy's 30-plus years at UMBC has made him an indispensable resource. This longterm knowledge of Retriever Athletics is particularly helpful for team rosters prior to 1995—these lists are not available online and their accuracy is reliant on whoever put the media guide together for the team that year.
Going through UMBC Athletics' archives helped ensure that all former student-athletes were automatically inducted into the Letterwinners Club. Current student-athletes will become members at the end of their final year playing for UMBC. The club also includes alumni members of spirit teams like the Down and Dirty Dawg Band and Dance Team. 
Nagle explained that the club is UMBC Athletics' way to thank alumni for their contributions to its various sponsored programs over the years.
"Letterwinners clubs are fairly common around the nation, and it was definitely something we wanted to implement at UMBC just to really show our gratitude for all the dedication, time, blood, sweat, and tears that you put in as a student-athlete during their time here," says Nagle.
No matter how long ago an alum played for or cheered on UMBC Athletics, Barrio wants them to know that they are part of the Retriever family.
"And we want to get through to our current student-athletes as well that, you know, you've chosen to be a part of the Retriever family and, because of that commitment you made, we're going to give it back to you for the rest of your life."
Barrio emphasized that alumni are "Retrievers for life." In the release of the Letterwinners Club at the virtual Retriever Athletics Fall 2020 State of the Department meeting, Barrio reinforced that UMBC is home no matter whether you played only for a season, you were last on the roster, or an All-American.
"It's so important from a culture standpoint that all our former student-athletes understand that they're always welcome here, and they can always come back," says Barrio. "And they don't have to explain who they are, and it doesn't have to be through their old coach."
Brian Hodges '07, financial economics and American studies, M.A. '10, economic policy analysis, and UMBC men's basketball alum, says he has always bled black and gold. Throughout his time as a student-athlete at UMBC, Hodges made many connections to the University and the UMBC community. He continued to maintain these connections through a period of membership on UMBC's Alumni Board of Directors and as an avid fan of the men's basketball team—even driving to Charlotte, North Carolina, to watch their historic NCAA upset.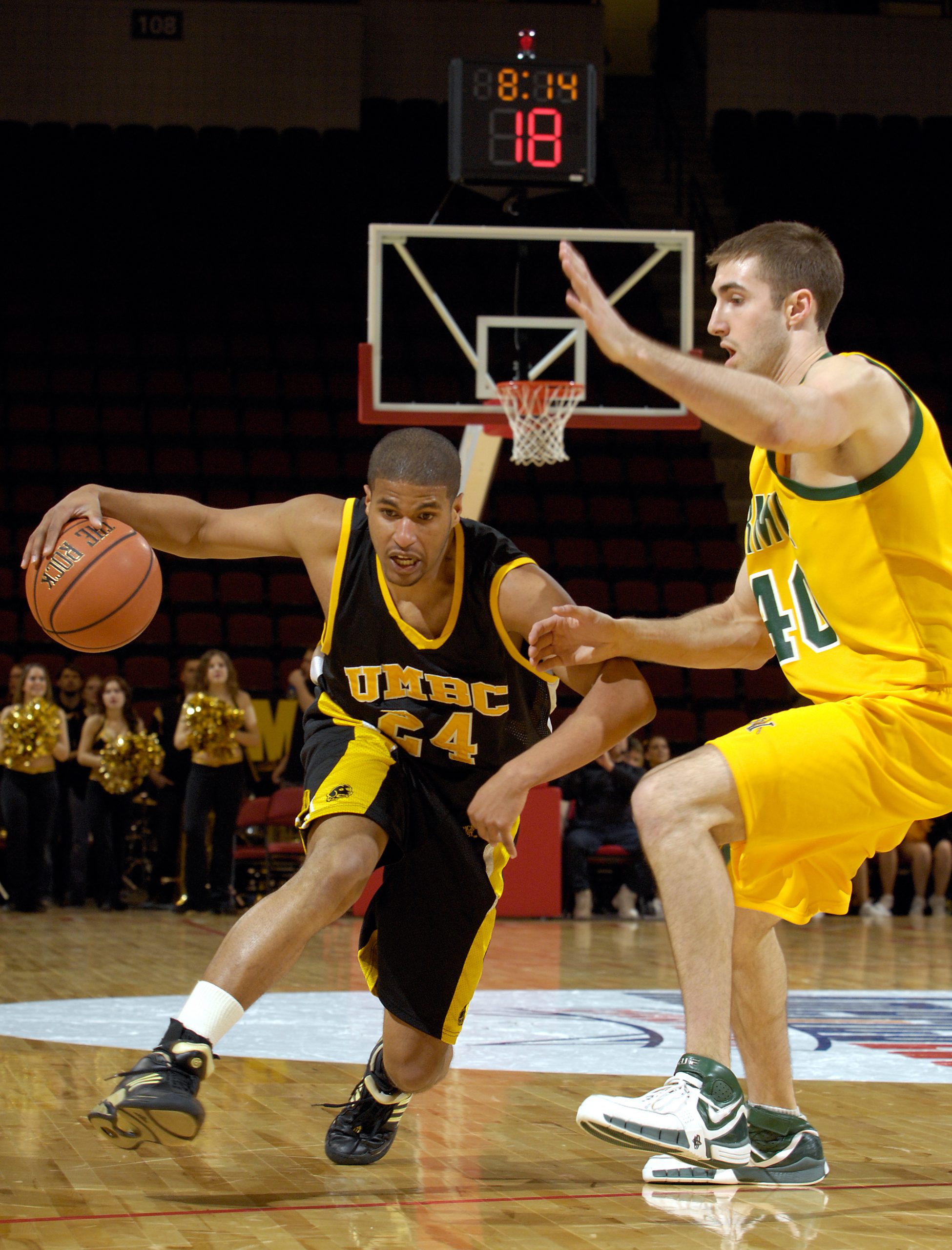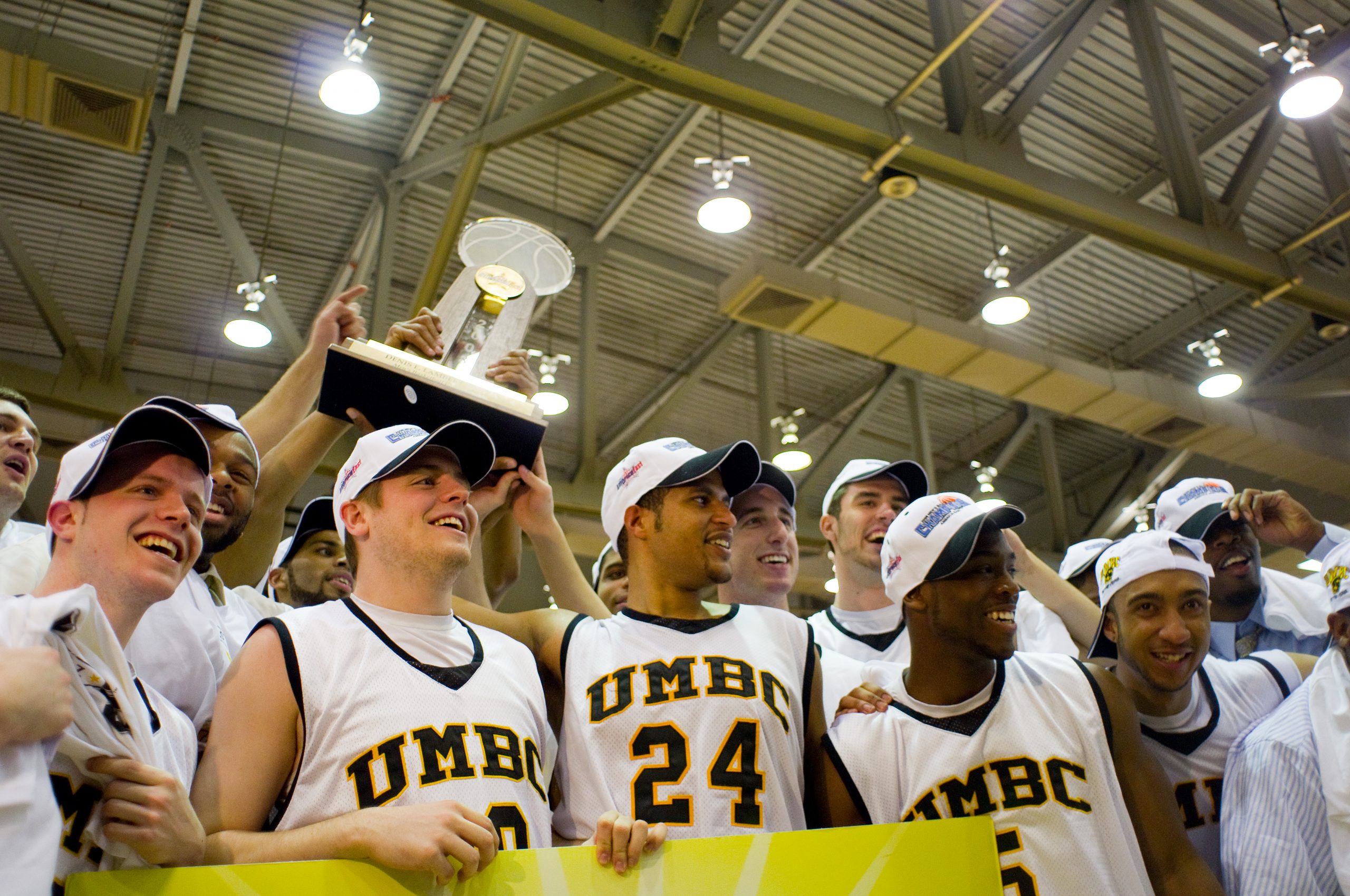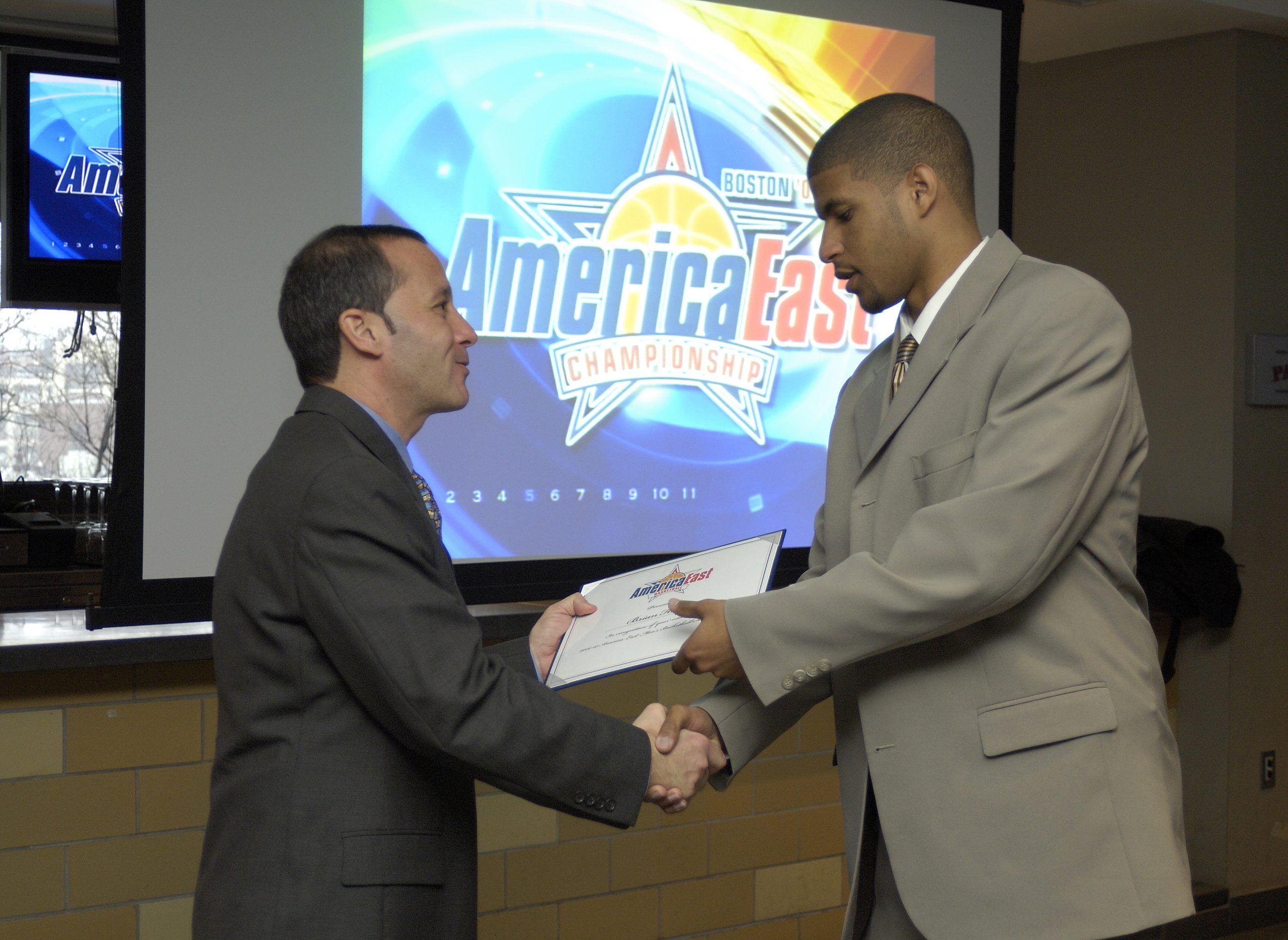 Brian Hodges (#24) competed for the 2008 UMBC men's basketball team which won the America East Conference Championship, beating the University of Hartford and sending them to the first round of the NCAA Championships. Photos courtesy of UMBC Athletics.
"I am very much a strong advocate of UMBC and am very proud of my degrees," says Hodges.
The announcement of UMBC's Letterwinners Club gave Hodges a means to further connect with the UMBC community. Specifically, the club connected him with his former teammates as well as all the men's basketball players that came after him.
"I was elated when I first read about the Letterwinners Club and started thinking about all of the possibilities that could result from its creation," says Hodges. "It will definitely assist in connecting me with the University in a different way."
While Athletics is doing due diligence to reach out to alumni, they can also register themselves through Athletics' website. Barrio emphasized the importance of having as many alumni as possible register to be members. 
"Behind each one of those names is a great story, it's somebody's life story," says Barrio. "And so, the way I look at it, we've got hundreds of life stories out there waiting to be discovered."     
Learn more about the Letterwinners Club.
*****
Header image: True Grit pumps up the crowd at the 2018 UMBC men's basketball celebration. Photo by Marlayna Demond '11.
Tags: Alumni, Fall 2020, umbc athletics, umbc retrievers