Students come to UMBC with a variety of experiences and in different stages of life. The unique perspectives of transfer students enrich the University, particularly as students connect with and support each other. Here, three students earning their degrees this week share how they found community, and built community, at UMBC.
Supporting each other
When CJ Jude '19, history, met Andrew Nolan, he knew that UMBC at the Universities at Shady Grove was a place where he would succeed. Jude transferred from Montgomery College to UMBC-Shady Grove seeking a challenging and supportive learning community near his home and work. Meeting Nolan, a senior lecturer and director of UMBC's history program at Shady Grove, gave Jude a sense of the team of faculty and staff dedicated to his learning and growth.

"I just realized that you're not going it alone, and that you can share your successes with people but you can also commiserate with them, too," Jude shares. "When you realize that you're part of a group like that, it makes your successes [even better]."
Reflecting on how much community support meant to him, Jude quickly developed a passion for helping other students have positive experiences transferring from community college. He connected with Chelsea Moyer, a director at Shady Grove, and became a part of the UMBC-Shady Grove Peer Advisory Team.
"We do a multitude of things, including a lot of open houses and orientations, and we give tours. We walk new students around campus, and help them through registration and verification and transferability forms," Jude explains. "We try to put students at ease. If there's a way we can make their transition less jarring, that's what we do."
Jude particularly recalls the moments when students he has led through orientation have thanked him for making their experience so positive. "I've actually had some of the students whom I took the lead for come up to me and say, 'Hey, you were really helpful to me, and I'm doing okay this semester because you gave me a good heads up,'" he says. "It was one of those moments where I kind of realized how much power my voice had."
Building a network
Like Jude, Bianca Monge '19, information systems, transferred to UMBC from Montgomery College. Monge knew that she was interested in pursuing a career in cybersecurity, specifically focused on computer networking. She was drawn to UMBC's Cyber Scholars program, run through the Center for Women in Technology (CWIT) and the Center for Cybersecurity. The program has provided her with meaningful and transformative opportunities, and Cindy Greenwood, assistant director of CWIT, has served as a mentor for Monge during her time at UMBC.
Transitioning to life as a UMBC student "was a lot easier and smoother than I thought," she shares, thanks to her newfound support network. A weekend orientation specifically for Cyber Scholars helped her to become familiar with the campus and make connections with other students. "It was an introduction to how my semester would be as a Cyber Scholar," she explains. "By the time I came back in the fall to take classes, I already had a network of classmates, friends, and contacts."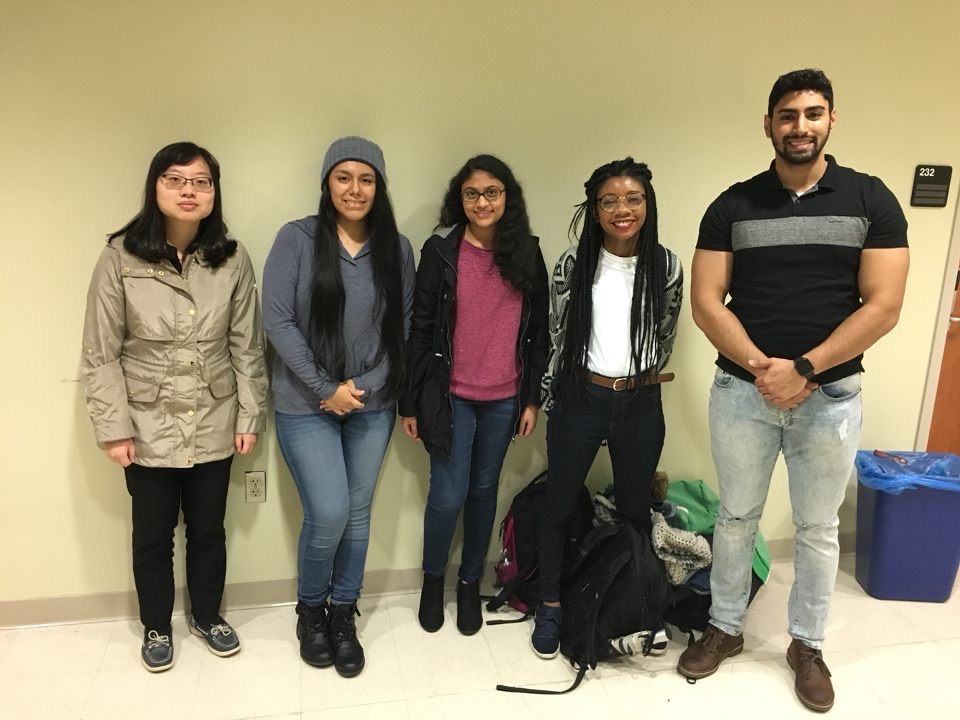 CWIT networking opportunities and special events have proved beneficial to Monge's academic and professional growth as she advanced in the Cyber Scholars program, Monge was paired with an incoming Cyber Scholar, whom she has mentored throughout the year. "I didn't think that I had much to offer," she shared, but that changed when she found she was able to answer her mentee's questions based on her own UMBC experience. "I am more than happy to tell her all that I knew, and all that I have learned over the years."
Outside of CWIT, Monge has been an active member of the UMBC chapter of the Information System Security Association (ISSA), a student organization that helps students pursuing degrees in information systems with career networking and connecting with industry experts. She says that having facetime and interactions with professionals helped her become more confident as a student, and prepare her for her career.
Monge had an opportunity to intern for Leidos over the summer, and plans to begin working full-time with the company as a cyber intelligence analyst after graduation.
Creating a community
Josie Aquino '19, mechanical engineering, came to UMBC after transferring from Harford Community College. When she arrived on campus for a tour, she says, "I immediately felt so at home and not just the physical environment, but the people around me. I knew I could make this my home, and that I could learn a lot here."
Aquino was eager to get connected on campus, exploring new interests and building new relationships. "I'm a returning student, a first-generation student, and also a transfer student, and I really felt like now is my time to dig in and try all these different things." 
Aquino has been able to challenge herself while also accessing community support as a Returning Women's Scholar through the UMBC Women's Center, and a member of the S-STEM program through the mechanical engineering department. These groups, she says, helped her feel part of something larger. As a commuting student, Aquino found that the Women's Center in particular provided a peaceful and welcoming space for her to use between classes.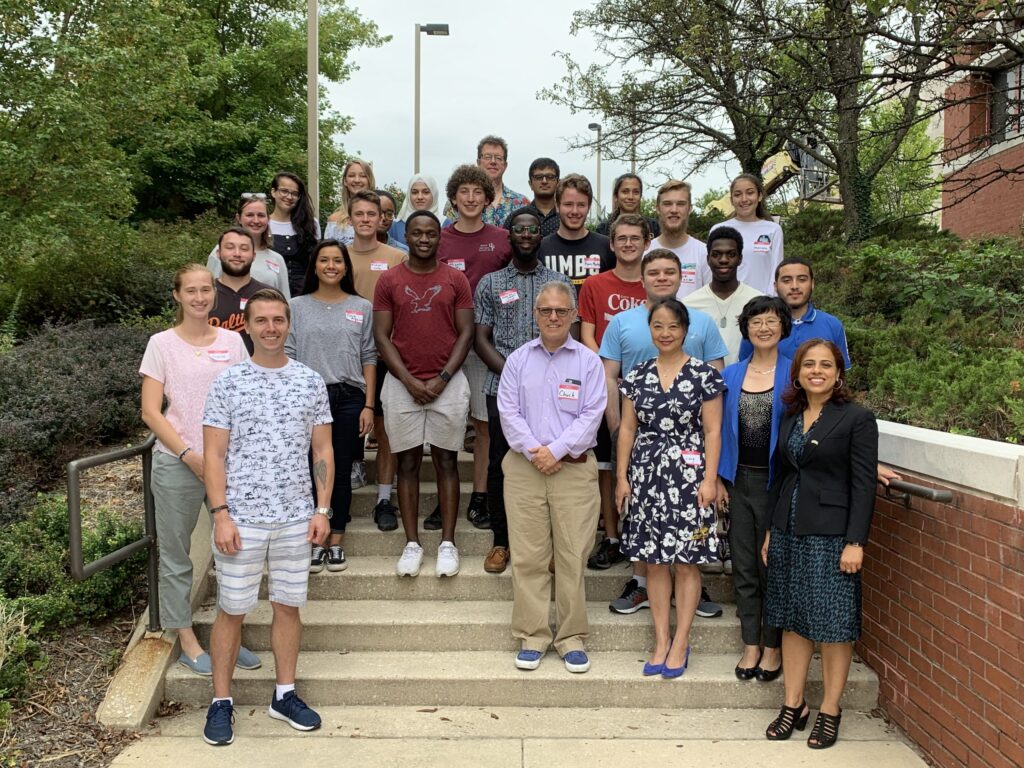 Aquino also began conducting research alongside Jamie Gurganus, associate director of engineering education initiatives, on transfer students in STEM. She has focused on transfer students' beliefs about engineering, and their sense of identity as engineers, which can impact degree attainment and career trajectory.
As she settled in to life at UMBC, Aquino became passionate about helping incoming students have the kind of positive experience that she has enjoyed. Recalling how helpful she found a transfer student seminar in her first semester on campus, Aquino was connected with Laila Shishineh, director of academic engagement and transition programs, by Gurganus to learn how she could get involved on the teaching side. Aquino became a peer facilitator and has now supported transfer students in seminar classes over multiple semesters.
Combined, these experiences have helped Aquino feel confident and prepared for her future career, and energized to support new transfer students in reaching for their goals. "We need people just like you, with your experiences and your perspectives, represented here," she shares with incoming students. "The community is just really incredible to be a part of." 
Tags: CAHSS, COEIT, CyberScholars, History, IS, MechE, ShadyGrove, WomensCenter