In 2020, Renata Taylor-Smith '24, theatre, eagerly prepared for her first trip to Munich, Germany to study theatrical lighting design, but a week before she was meant to fly to Germany, her trip was canceled due to COVID-19. She learned that the show she helped to prepare the lighting design for, a production of Jessica Dickey's The Amish Project, would be postponed indefinitely.
"That roadblock forced me to think creatively about how I could redesign my project," says Taylor-Smith. With the help of her faculty mentor Adam Mendelson, senior lecturer in theatre, Taylor-Smith sought new ways to gain hands-on experience in lighting design research. Mendelson connected her with other Baltimore-based lighting designers and encouraged her to attend the Live Design International conference and trade show to network with industry professionals.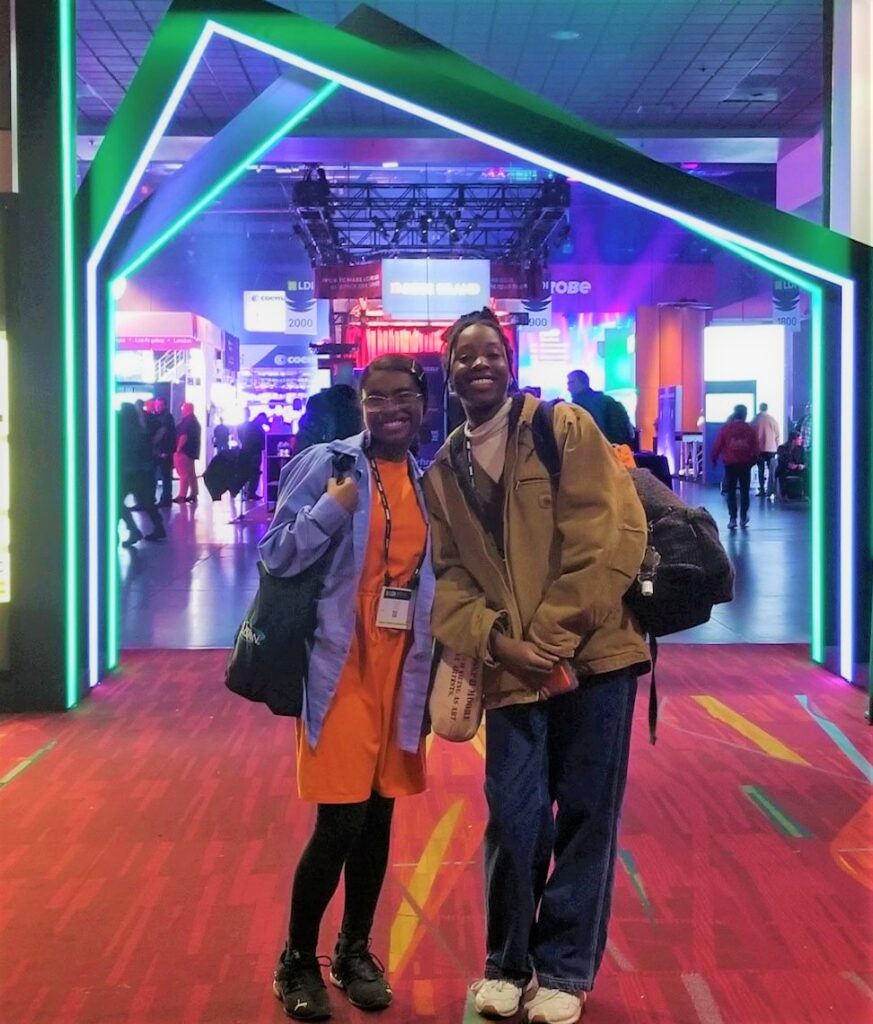 Taylor-Smith says, "I was able to meet the intended goal of my research project while also expanding the scope of my project to include opportunities to learn from other designers." It came full-circle this year when Taylor-Smith worked as the assistant lighting designer, and later transitioned to head designer, for a production of The Amish Project at UMBC's Black Box Theatre.
Last week Taylor-Smith showcased that work at UMBC's 2023 Undergraduate Research and Creative Achievement Day (URCAD), held in person for the first time since COVID-19. There, she and nearly 200 other UMBC students convened to present their research and creative projects.
"I was really stressed about presenting my research," says Taylor-Smith, sharing a feeling that many first-time URCAD presenters initially experience. "I had to remind myself that I spent almost a whole year working on this and all I had to do was talk about what I've done. I'm taking the experience that I've gained from doing shows to become more confident in my voice as a lighting designer and in my design choices."
Mendelson shares that he was excited to support Taylor-Smith with her URCAD project because hands-on research "allows students who have an interest to really get started, grow, and think through their ideas."
With support from UMBC's William T. Brown Shakespeare on Wheels Research Award and an Undergraduate Research Award, Taylor-Smith expects to finally make her way to Germany later this year.
"When someone believes in you…believe them."
This year's URCAD featured a talk by special guest Alicia Wilson '04, political science, who is the managing director and global head of philanthropy for the North America region for JPMorgan Chase. Wilson captivated an audience of URCAD presenters and attendees, sharing her personal journey, the value of her research experience, and the power of mentorship.
"UMBC, for me, represents so much of who I am and what I want to be in the world," says Wilson. "My pathway to where I am now is rooted in relationships, being able to care for my community and people regardless of their background. I learned at UMBC to treat everyone well and to research and understand things."
She advised students to "explore any type of research that you might be interested in," saying that "it all leads to a great place." Wilson also encouraged students to take heed of their supporters' belief in their abilities: "When someone believes in you—even if you can't believe in yourself—believe them. Don't believe your doubts. Believe in their belief in you."
Wilson, who presented her research on community-building at UMBC's 2022 GRIT-X event, also shared her experience building and sustaining connections, from an 8-year-old who became her mentee to former first lady Michelle Obama.
The language of toys
Theo Reinhert '23, media and communications studies, is one of the hundreds of UMBC students who presented their work at URCAD this year. Reinhert engaged a crowd of URCAD observers with a display of children's toys, gathered to demonstrate his analysis of how gender ideologies can be coded in toys. 
"While growing up and struggling with my own gender, toys were one of those media that impacted and had power over how I viewed my gender," Reinhert explained after his presentation. It made him curious to understand how material objects can have the power to carry ideas.
Reinhert found presenting at URCAD to be an important learning experience. "As I presented my research, I understood my ideas better," he said. "Creating a presentation was a step for me to understand the final research outcomes."
He also found the support of his faculty mentor, Jason Loviglio, associate professor of media and communication studies, to be essential. "Whenever I would feel lost, Dr. Loviglio would assure me that I was experiencing a normal stage in humanities research" and he'd provide valuable insight, Reinhart said.
Balancing privacy and utility in smart devices
Several students worked together to complete complex group research projects. Tartela Tabassum '23, information systems; Luke Zimmermann '24, computer science; Ruhshana Bobojonova '24, biological sciences; and Joshua Cheeks '25, computer science, collaborated to explore the tradeoffs that exist between privacy and utility when using smart devices at home. 
The group worked in the DAta Management and Semantics (DAMS) research lab led by Roberto Yus, assistant professor of computer science and electrical engineering. They built a prototype of a framework to generate inferences about a person based on audio and video input like speech data collected by a smart speaker and images from a smart security camera, using open-source code and artificial intelligence and machine learning algorithms.
"We think that privacy is a rising issue," says Tabassum. "There are things going on with the government trying to ban social media platforms like Tik Tok because of these privacy issues. We want to give users more autonomy with their own privacy."
Developing flu treatments
Lillian Kidd '24, biochemistry and molecular biology, explored the design and synthesis of palmitoyltransferase inhibitors as potential therapeutics for influenza, or the flu, with her research partner Brooke Nelson '23, biological sciences. Kidd and Nelson received an Undergraduate Research Award to support their work with faculty mentor Paul Smith, associate professor of chemistry and biochemistry.
"I think doing research is a lot like standing in front of a mirror. It exposes you to what you're scared of and inversely, what you're excited about. I learned a lot about my approaches to problem solving and discovered a deep interest in biochemistry," says Kidd.
She shares that her preparation leading up to URCAD helped her to grow as a research scientist: "There is so much specificity to every single step in our synthesis of palmitoyltransferase inhibitors that pushed me beyond what I had learned in the class environment. Actively using all of the information I studied to carry out research in the lab was such a fundamental experience to my growth as a research scientist."
A history of Baltimore's LGBTQ+ nightlife
Ava Sekowski '24, political science and media and communication studies, was inspired to explore the history of LGBTQ+ nightlife in Baltimore after growing up hearing stories about The Hippo, a now-defunct LGBTQ+ bar where her parents met. Sekowski created the short film "Out in the Open: Tracing the History of Gay Nightlife in Baltimore," which chronicles the decline in LGBTQ+ nightlife establishments in the city. 
"In coming to UMBC, I wanted to explore more about the history of Baltimore through the lens of the LGBTQ+ community," shares Sekowski. For this project, she says, "I wanted to explore why The Hippo is gone. I heard about the bar my whole life being this amazing club that was welcoming, and I wanted to explore if that was true and who it was welcoming for."
The project enabled Sekowski to practice her editing and interviewing skills and taught her how to navigate the post-production process. "The process was much harder than I thought it would be," she shares. "I was a one-person filming and editing crew. The hardest part, for me, was filming and getting the lighting correct, but in the end, I'm pretty happy with how it turned out."
A bioinformatics approach to understanding DNA
In his research, Emmanuel Mekasha '25, biological sciences, explores promoter regions located in DNA structures and how they are fundamental to our understanding of how gene expression is regulated. He is helping to tackle the challenge of designing generic computational programs capable of finding promoters across different organisms, with the guidance of his mentor Ivan Erill, professor of biological sciences, and biological sciences Ph.D. student Elia Mascolo.
"I have always been an interdisciplinary learner. Based on bioinformatics approaches, my project combines the best aspects of mathematics, statistics, computation, and biology," says Mekasha. "I thoroughly enjoyed everything that went into this project, from the literature review to the experimental design."
Mekasha already has his sights set on continuing his research pursuits beyond his time at UMBC. "This project, and previous research experiences, have made me certain that I want to do research in the future, leading me to my goal of achieving an MD-Ph.D. degree."
Implicit bias in healthcare
Thu Dinh '23, biological sciences; Maryamah Ndao '23, psychology; and Jorge Saucedo '23, psychology, worked as research assistants in the Social Determinants of Health Inequities Lab (SoDHI), led by their faculty mentor Danielle Beatty Moody, associate professor of psychology. The group examined the systemic impact of implicit bias from healthcare providers on patient health outcomes. For Ndao, this was a research topic she's been interested in since her first year at UMBC.
Ndao describes her main focus as "making sure that the healthcare needs…of Black people, especially Black women, are heard."
"The data is very clear and the disparities are clear but there's a lack of action," Ndao shared during the group's poster presentation. "Having this opportunity at URCAD to be able to speak to people directly is beneficial because a lot of people [may not] know about this."
For Saucedo, this research interested him on a personal level, as someone who has lived with chronic pain and felt that medical professionals didn't believe the amount of pain he was experiencing.
"As a minority myself, I've faced a lot of discrepancies and had people not take my pain seriously. I've had experiences through the healthcare system that made me feel as if I wasn't fully represented culturally. I felt as if I was neglected from having proper care because of that," says Saucedo. Because of his experiences, Saucedo was interested in exploring the research being done at the SoDHI lab.
Ndao hopes to one day open her own mental health medical practice to better help individuals from marginalized groups, and also impact the conversation on bias in healthcare. "I want to do more advocating. I love speaking about this topic," says Ndao.
Reducing pain after shoulder surgery
Supported by UMBC's Mechanical Engineering S-STEM program, Jacob Lombardo '25, mechanical engineering, explored how the use of a cooling pad could be beneficial in the healing of surgical repair sites of shoulder injuries. His research asserts that effective cooling may temporarily reduce nerve activity by disrupting the transmission of pain signals and could be a cost-effective approach to decrease the use of painkiller medications during surgical recovery. 
With the help of his faculty mentor Liang Zhu, professor of mechanical engineering, Lombardo learned how to circumvent obstacles that arose during the research process. "Research allows you to overcome problems that don't have a textbook answer," says Lombardo.
For example, he explains, "My research included the use of a blood flow measurement device. I initially encountered difficulties getting meaningful results from the device. With the encouragement of my advisor, I got in contact with the manufacturer." Their engineers explained in more detail how the device worked and shared best practices for using it effectively in research.
This experience learning more about medical technologies has inspired him to continue to pursue biomedical engineering. He says, "I am motivated by the possibility of improving patient care through research, and I am eager to expand upon my experience in future projects."
UMBC Review
Several URCAD presenters and other student researchers have shared the results of their research and creative work in UMBC Review, a peer-reviewed research publication completely directed by UMBC undergraduate students. Free print copies of the new 24th edition are available in the Office of Undergraduate Research and Prestigious Scholarships, located in the Albin O. Kuhn Library and Gallery.