When students come to UMBC, they bring with them life experiences that shape the program they choose, the mentors they find, the research questions they ask, and the communities they build on campus. Here, five UMBC students earning their degrees this month share stories of those connections in their own lives, and how chance encounters and deep moments of inspiration alike opened exciting new paths.
Student-athlete researches Alzheimer's disease treatment
When Laura Simpson arrived at UMBC as an undergraduate, she knew that she was interested in a broad range of scientific topics, but she didn't yet have a clear picture of what her career path might look like. An internship at NASA and her own experiences as a student-athlete changed that.
At NASA Simpson became intrigued with how the human body is affected by space. As a record-setting varsity pole vaulter, she experienced joint and ligament injuries that resulted in surgeries with challenging recoveries. Together, these experiences sparked her interest in biomedical engineering, combining her curiosity about how the human body works with, as she describes, "the applicability of the engineering knowledge."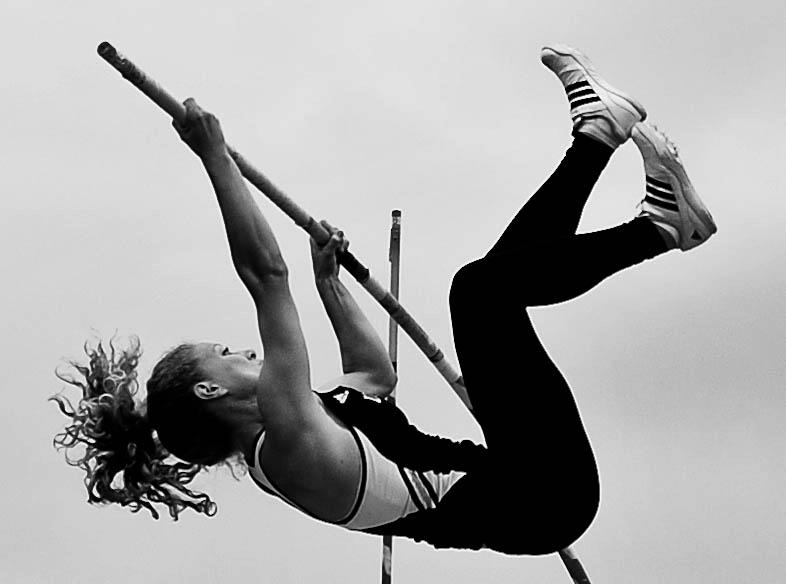 Simpson earned her bachelor's degree in biological sciences in 2013. Encouraged by her mentor, Jennie Leach, associate professor of chemical, biochemical, and environmental engineering, she applied to UMBC's chemical engineering Ph.D. program. Now, nearly a decade after stepping onto UMBC's campus for the first time, Simpson will soon officially earn that Ph.D.
As a graduate student in Leach's lab, Simpson has researched treatment options for Alzheimer's disease. "There's no cure and no preventive treatments for Alzheimer's disease, and the drugs that are out are just to try to help symptoms, but it doesn't slow…the progression of the disease," Simpson explains.
Simpson notes that the most recent unique drug for treating people with Alzheimer's disease was approved in 2003. The gap in new drugs being released is not due to a lack of drug development, but issues with drug performance and approval by the Food and Drug Administration. She explains that Alzheimer's drugs are typically studied using mice or cells on a plate, which have limitations.
When her research mentors, Leach and Theresa Good (who is now at NSF), suggested that perhaps the 3D environment was affecting how the beta amyloid protein, which is thought to cause Alzheimer's disease, was acting, Simpsons dissertation topic was born. She has studied how 3D environments impact the beta amyloid protein associated with neurotoxicity in Alzheimer's patients, and her work has been groundbreaking. "The 3D has a major affect not only on the protein but on the structure of the cells," Simpson says.

To describe her findings, Simpsons compares the movement of cells and proteins to how people are able to move in space. In wide open spaces, movement is unrestricted, but in a small space, like a closet, people lose their range of motion. Similarly, cells and proteins function differently when they occupy different kinds of 3D spaces.
Simpson's work has the potential to significantly impact the treatment options available for people with Alzheimer's. After graduating, she will begin a career in Maryland's biotech industry.
Returning Women Scholar explores paths, builds confidence
Life as a student who is also a parent can be complicated, and also tremendously rewarding, says Alexis Ashcroft '19, psychology. Inspired to finish her degree after her daughter was born, Ashcroft earned her associate's at Anne Arundel Community College before transferring to UMBC.
Ashcroft has successfully juggled many responsibilities while pursuing her degree, from her class and work schedules, to involvement with student orgs and research opportunities, to her commitments as a parent. Ashcroft found mentorship and a community at UMBC as a Returning Women Scholar and a Newcombe Scholar, through the UMBC Women's Center.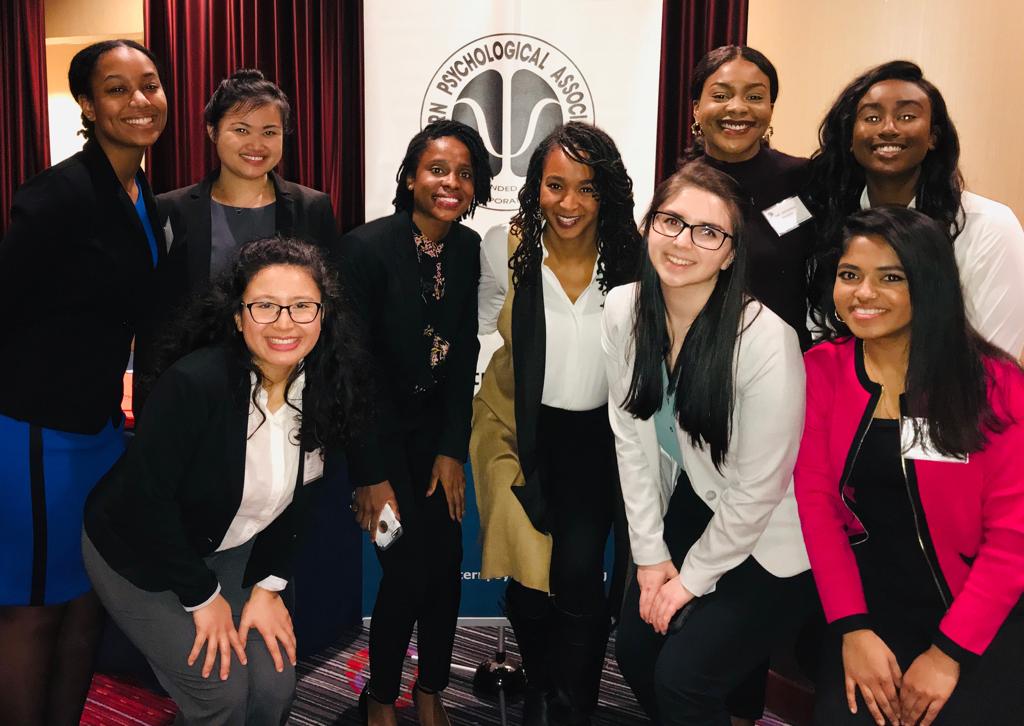 Returning Women Scholars have the opportunity to attend workshops and programs that focus on academic, personal, and professional aspects of life, in addition to having the support of peers, faculty, and staff. "Being a Returning Women Scholar has been such a great experience for me," says Ashcroft. "The program and the people in it have helped me so much. From the teaching events they hold, to the one-on-one meetings, and of course the scholarships, the program has taken a lot of burden and stress off of my shoulders."
When she first arrived at UMBC, Ashcroft was considering a career in law. Her time on campus broadened her sense of the kinds of careers that could fit her interests in the law, health, and social issues. "After taking a psychology of law class, I found myself intrigued by the mental and emotional components of health and wellness," she recalls. "I realized I could combine my love for the law and social sciences into a career."
Ashcroft explored the possibilities through every avenue she could find. She served as a student justice on UMBC's Hearing Board as well as the nontraditional students project manager on UMBC's Student Government Association executive board, and in roles with other groups. "My involvement with UMBC clubs and organizations forced me to get outside of my comfort zone and open up," she says. "I became more confident in speaking up, debating, and learned how to communicate better."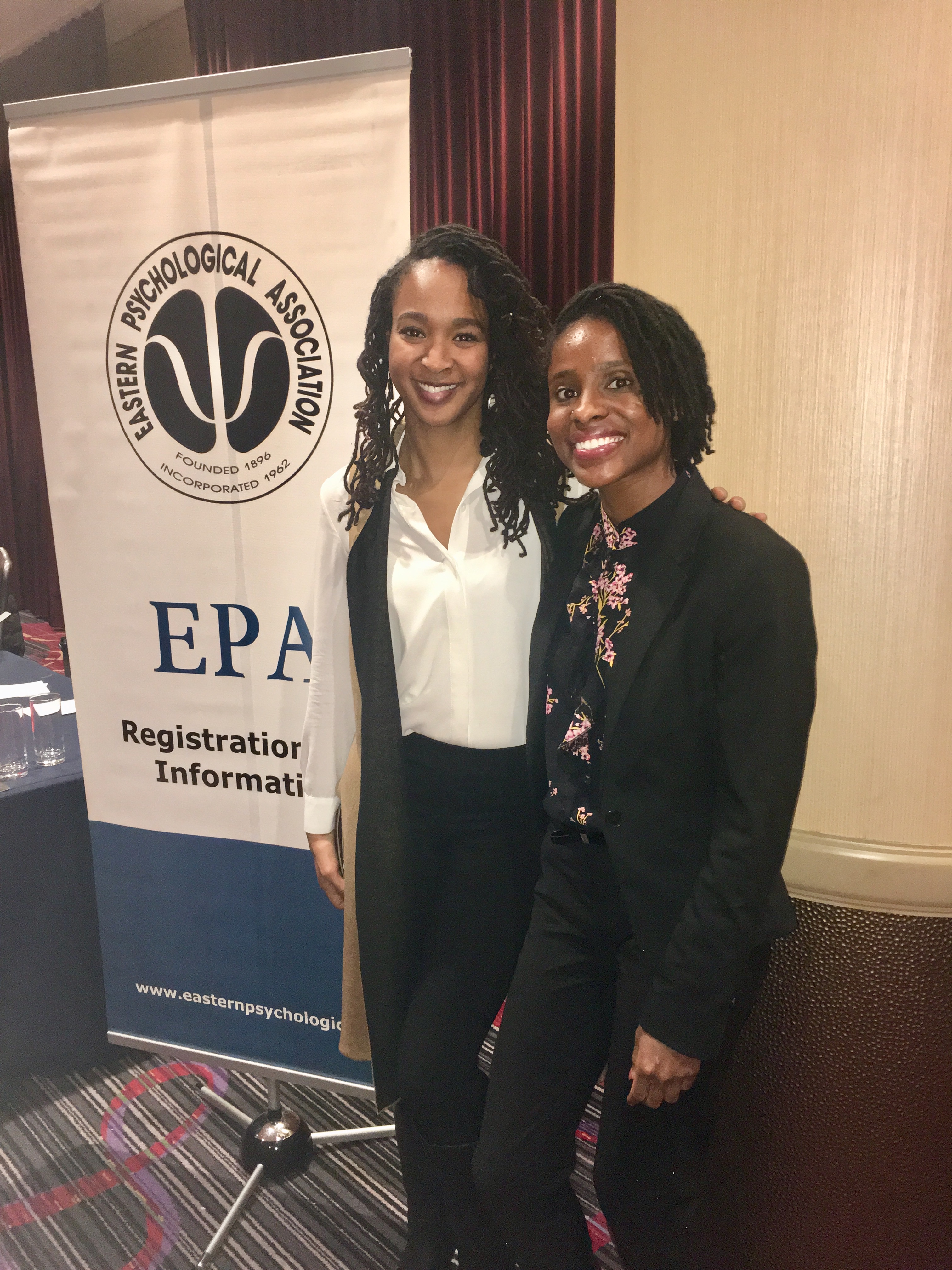 Ashcroft also conducted research with Jasmine Abrams, assistant professor of psychology, focused on health disparities impacting black women. This year, she has worked on a qualitative study examining the sexual attitudes, practices, and beliefs of young black women. She has also supported Abrams's highly collaborative research aiming to reduce the stigma surrounding HIV/AIDS in Haiti.
Artist examines the history of a community and herself
Aimi Chinen Bouillon M.F.A.'19, intermedia and digital arts, spent two months in her hometown of Okinawa, Japan to explore the history and long-standing relationships between Americans and people from Okinawa. That deep study results in her thesis: "The Colonized and the Colonizer Within Me: Finding Ryukyu Language of My Matrilineal Ancestors on a Militarized Island."
During World War II, nearly 30 percent of Okinawa's population was killed in a devastating battle. Today, a large U.S. military base is located on Okinawa. Bouillon's mother is from Okinawa and her father is a retired U.S. Marine. Bouillon grew up in Okinawa and lived there until she was 16, when she moved with her family to Ohio.
Bouillon was interested in developing a better understanding of Okinawa's history, and also in examining how that history lives on and is reinterpreted in the present. She aimed to create a visual and textual dialogue around the often polarizing topic of the colonization of Okinawa through her work.
"As I get older, I'm confirmed that I was a born artist. I am interested in many materials and need to make and make and make," she explains. She reflects that while she's always had the drive to be an artist, the resources she's been able to access as an MFA student at UMBC have helped her accomplish so much more.
Bouillon was drawn to pursue her M.F.A. at UMBC after her partner joined the program and she had a chance to meet the faculty a get a sense of the department's "family feel." Once enrolled, she quickly connected with mentors Lynn Cazabon, Kathy O'Dell and Chris Peregoy, all of visual arts. She's enjoyed how they have learned about Okinawa alongside her and have encouraged her to balance learning experiences inside and outside the classroom and studio.
"The classroom is amazing in that it can be a place to share opinions and studies," Bouillon says. "The outside experiences are where everyday people as a whole live and navigate daily and that is a very important space for inspiration."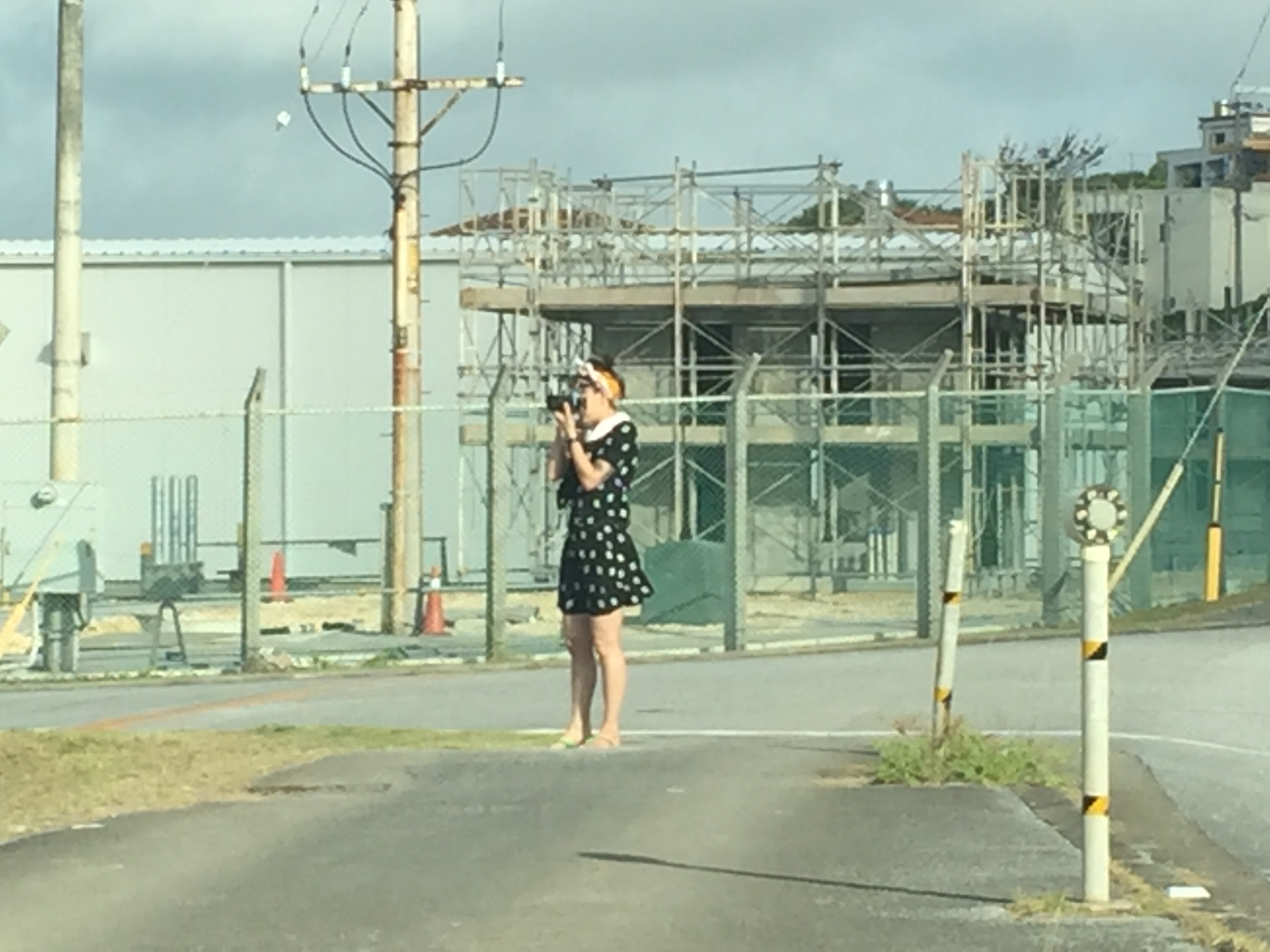 After graduation, Bouillon plans to create an artist residency in Okinawa to "act as a bridge for deeper dialogue and exchange for the Ryukyu culture, language, and history."
From an Iraqi Internet cafe to Baltimore waterways
Trevor Needham, Ph.D. '19, environmental engineering, learned about UMBC at an internet cafe in Iraq during a 15-month deployment. Needham had planned to pursue a Ph.D. for years, but those plans were temporarily put on hold as he fulfilled his ROTC scholarship commitment with the Army.
Needham recalls sitting in front of that computer in Iraq and searching for environmental engineering Ph.D. programs. One of the search results was the lab of UMBC's Upal Ghosh, professor of chemical, biochemical, and environmental engineering. He reached out to Ghosh to find out more about his work.
When Needham returned to the U.S. from Iraq, he earned his master's in environmental engineering from Missouri University of Science and Technology. He was then accepted into UMBC's environmental engineering Ph.D. program and began working with Ghosh in 2014 to study polychlorinated biphenyl (PCBs), a legacy environmental contaminant.

Needham explains that PCBs were engineered to never break down, and today they are found in fish and in people. The problem of PCB contamination is compounded by the fact that the cost of removing PCBs is very high.
During his first year at UMBC, Needham was given the opportunity to explore his interests in a broad range of projects. He was particularly fascinated by his work at a wastewater treatment facility, where he learned how PCBs travel to urban watersheds in the Chesapeake Bay region. "UMBC has been a great place to transition my professional career and pursue cutting edge science to solve real environmental problems that face the Chesapeake Bay."
Needham is currently working at the U.S. Geological Survey, located at in UMBC's Research Park. After graduation, he will continue working at USGS as a hydrologist.
Listening to women's powerful stories
The underrepresentation of women in research on health outcomes after strokes inspired Iona Johnson to pursue her Ph.D. in gerontology. Johnson is a medical speech-language pathologist who currently is a clinical faculty member at Towson University. She finds inspiration for her work in both her personal and professional experiences.
"I have worked with stroke survivors throughout my career as a clinician, and have been running a stroke support group for survivors and caregivers for many years," says Johnson. She also served as a caretaker for a close family member who experienced a stroke while she was pursuing her Ph.D.
Johnson often finds herself dispelling misconceptions about gerontology. "It is about the aging process, and we are all aging every day," she says. "People are living longer lives, and the more we know about aging, the more we can help society and help ourselves across the lifespan."
At UMBC, Johnson has worked with Leslie Morgan, professor of sociology and anthropology. "Her guidance, expertise, and patience have been invaluable," Johnson says.
In addition to valuing the mentorship she's received, Johnson has been honored for her commitment to mentoring students as a faculty member at Towson. In 2017, she received the University System of Maryland's Board of Regents Award for Excellence in Mentoring. She describes, "Mentoring is my superpower. I believe that I am a role model for letting students see that they can reach for and accomplish big goals throughout life."
Looking back on the path to her Ph.D., Johnson says that it was one of the most challenging things she has done, but one of the best decisions she's ever made. "Doing my research for my dissertation changed me," she explains. "Listening to the stories of women who were bold and gracious enough to share with me made me reflect on where I am in my life."
Banner image: Laura Simpson, right, working in the lab. Photo courtesy of Marlayna Demond '11 for UMBC.
Tags: Athletics, Biology, CAHSS, CBEE, CNMS, COEIT, Gerontology, GradResearch, GraduateSchool, NewcombeScholars, Psychology, Research, Undergraduate Research, WomensCenter