Fan votes have been tallied and the results are in: UMBC men's basketball brought the nation the "Best Moment" in sports this year. UMBC's historic victory over University of Virginia in the first round of March Madness was awarded this honor at the 2018 ESPY Awards, a red-carpet event broadcast live from the Microsoft Theater in Los Angeles, California.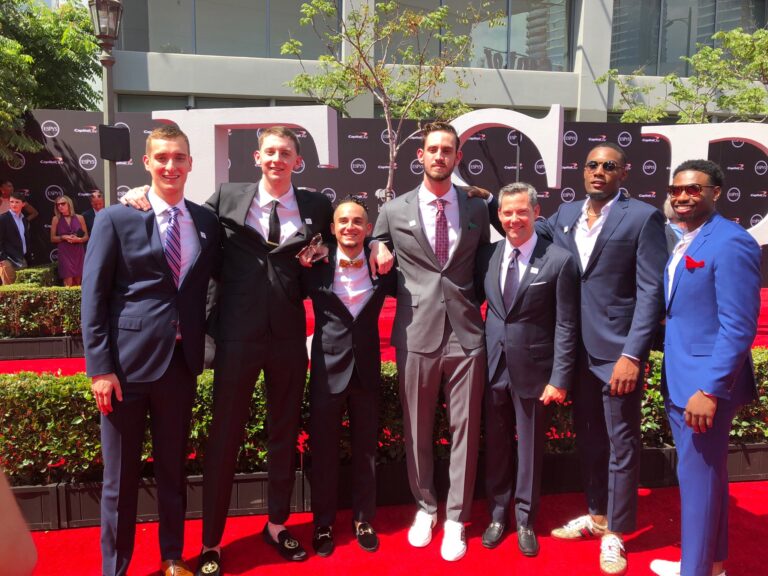 This is a first-time nomination and a first-time win for UMBC, and a thrilling experience for Retriever Nation, which joined in the celebration on social media.
[EMBED 1-2 SOCIAL EXAMPLES FROM ATHLETICS OR ALUMNI FANS]
Coach Ryan Odom and several members of the 2017 – 18 UMBC men's basketball made the trip to the West Coast to accept the award, including Joe Sherburne '18, Max Curran '20, Nolan Gerrity '19, Arkel Lamar '20, KJ Maura '18, and Jourdan Grant '18. Jairus Lyles '17 was not able to attend, as he recently signed a contract with the Utah Jazz following his success with that team's summer league.
"This was the perfect way to end a season that we'll never forget. We're humbled to have been included in the company of such athletic powerhouses and we're so grateful for all of the support from fans old and new who helped to make this happen," said Odom.
UMBC faced strong competition in the "Best Moment" category. The other nominees include the Minnesota Vikings, for their remarkable comeback victory against the New Orleans Saints, Notre Dame women's basketball's buzzer beater to clinch the NCAA title, and the Last Vegas Golden Saints advancing to the Stanley Cup in their inaugural year.
"This has been such a meaningful year for the team and for UMBC, and this ESPY award is further recognition of that," said President Freeman Hrabowski. "We took that amazing March Madness moment as a chance to show the world what we've known all along about UMBC — that this is a community that believes in grit and achievement, and also in supporting each other. With hard work and passion, we can reach for greatness together."
Thanks to everyone who supported #RetrieverNation!
Tags: Athletics, majoraward