After four days of intense competition, UMBC's men's and women's swimming and diving teams have both been crowned 2019 America East champions. The men's team successfully defended their title, giving them their 11th America East title win, and the women's team collected their seventh conference win. This marks the first time both teams were named champions since the 2010-2011 season. The men also previously competed within the Coastal Collegiate Sports Association.
"At the beginning of the year, our captains chose the theme 'enjoy it' to help guide our season and that's exactly what we did. We got to the championships and we added 'live it' and 'love it,' and we used that thinking to be the most relaxed and confident team," says Coach Chad Cradock '97, psychology. "From the minute the events started, we all rallied around each other to compete at our best."
UMBC 👏

The best way to celebrate in #AESD! @UMBCSwimDive #AEChamps pic.twitter.com/xA4GqLliwI

— America East (@AmericaEast) February 18, 2019
Setting new records
Throughout the competition, UMBC swimmers shattered record after record, both individually and as a team. The men's team racked up an awe-inspiring 1113.5 points, their highest total ever in conference play, and the women finished strong with 894.5.
Danish national champion Alexander Gliese '19, mechanical engineering, is no stranger to breaking records. Just last month, Gliese broke Michael Phelps' 16-year-old NBAC record during the back split of the 400 medley relay. During preliminaries of the 200 back for America East, Gliese set a new UMBC and conference record with a time of 1:42.56 and broke the UMBC and America East record in the 100 back with a time of 47.16. In addition to event wins, Gliese also received the Dave Alexander Coaches' Award as the senior who accrued the most points over the course of the meet.
"This championship was the most exciting and enjoyable one of my collegiate career," says Gliese. "Our team went into the season with the end result in mind and it was incredible to see it come to fruition. The team atmosphere this whole year has been incredible and I could not have asked for a better group of people to share this moment with."
Hania Moro '19, economics, earned gold and set a new school record for the 1650 free with a time of 16:39.98. In the 500 free, Moro bested the 14-year-old school record with a time of 4:49.26. Previously, at the Egyptian Nationals, Moro's 400 free time of 4:18.95 made her the Egyptian National Record Holder. Moro also received the Dave Alexander Coaches' Award on the women's side.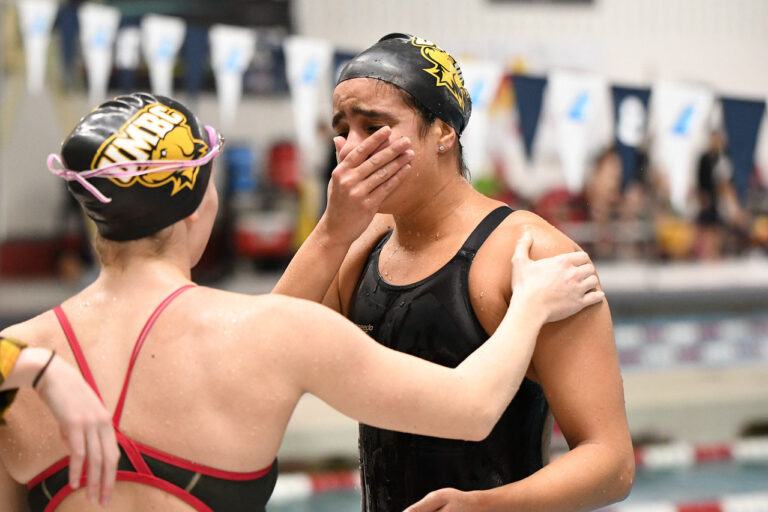 "This weekend was unbelievable, every day exceeded my expectations," says Moro. "The whole team came together to perform so strongly and it was everything I ever wanted and more. I'm so happy to end my college swimming career with these results and next to favorite people."
America East accolades
The team bus made the trip home from Worcester, Massachusetts, despite being weighed down with so much hardware from the America East. Matt Bennici '22, economics, and Luka Zuric '22, shared America East's Most Outstanding Rookie award. Gliese was named Most Outstanding Swimmer and broke the America East 100 and 200 back records. Elijah Wright '19, visual arts, took home gold in the 3- and 1-meter dives and was named Most Outstanding Diver of the meet. Connor Ganley '19, chemical engineering, was recognized as having the highest GPA among competing student-athletes and was named the America East Elite 18 recipient.
Cradock and his staff were again named the men's and women's Coaching Staff of the Year.
When you win, you belly flop! #AESD #AEChamps pic.twitter.com/j5eSZPjqyC

— America East (@AmericaEast) February 18, 2019
"I would like to thank the university and athletic administration for all the support we get to be as successful as we are, and the faculty and staff for challenging our student-athletes to be their best and focus on academics," says Coach Cradock. "Our staff are so dedicated to our program and I am grateful for all they do. And our alumni laid the foundation, which has allowed us to be our best."
"To our student-athletes," Cradock says, "thank you for giving your best every day for the whole Retriever family."
For more UMBC Swimming and Diving news, see UMBC Athletics.
Banner image: A member of UMBC's women's swim team dives in at America East Championships. Photo courtesy of Colleen Humel.
Tags: Athletics, CAHSS, COEIT, Psychology, SE, VisualArts