Faculty and staff in UMBC's College of Arts, Humanities, and Social Sciences (CAHSS) celebrated students in the annual CAHSS awards ceremony this spring. Scholars programs and departments recognized undergraduates for academic achievements, public service, and innovation within their major and beyond.
"CAHSS's amazing students do it all: think and learn across boundaries and borders, develop their identities as scholars and citizens, and contribute their imagination and expertise to local and global communities," says Scott Casper, dean of CAHSS. "Given all they've already accomplished, it's exciting to envision what they'll do next."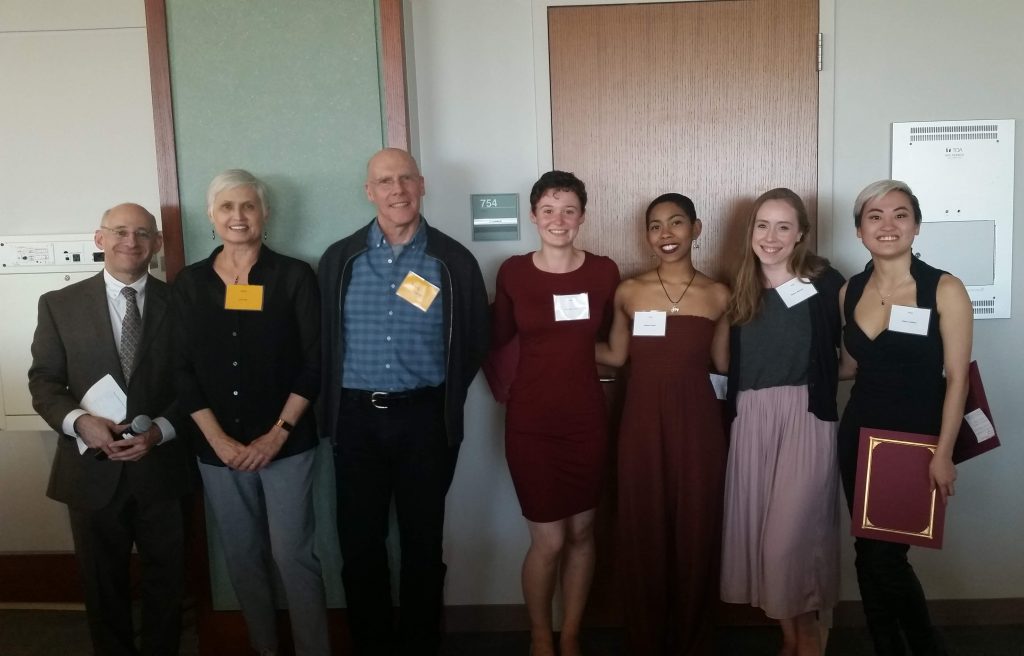 Combining dual passions
Among the many accolades were twelve awards to graduating students in the college's hallmark scholar programs: the Humanities Scholars, Sondheim Public Affairs Scholars, and Linehan Artist Scholars. These include several students with dual majors.
For example, four honored dance majors were also earning a degree in another field: Linehan Artist Scholars Emily S. Godfrey '20, dance and a psychology minor; Melissa Hudson '18, dance and economics; and Giavanni Powell '19, dance with an entrepreneurship and innovation minor; and Honors College member Samantha L. Siegel '19, dance and psychology.
Baltimore on my mind
The ceremony also honored students who committed to giving back to Baltimore communities during their time at UMBC. Vanessa Gonzalez '19, American studies, worked as a student teacher in Baltimore City as a Sherman STEM Teacher Scholar and received the award for outstanding achievement in American studies.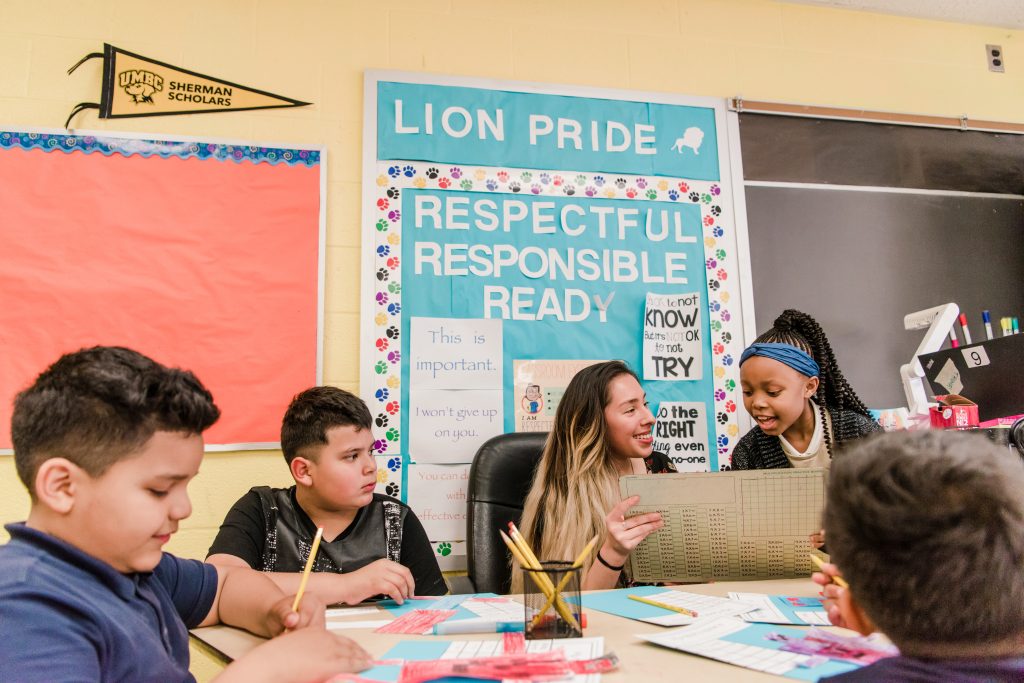 Belgian international student Tanguy Ringoir '18, financial economics and M.S. '20, economic policy analysis, was named the outstanding graduating senior in financial economics. Ringoir, a chess grandmaster, learned to play chess from his father at age seven. As he strengthened his skills he began to enjoy teaching the game.
During his time at UMBC, Ringor was part of a volunteer chess coach team for a program by TouchPoint in collaboration with UMBC and the Johns Hopkins Center for Talented Youth (CTY). TouchPoint is a community organization in Baltimore that provides free chess lessons to Baltimore youth. The coaching team included volunteers from both the UMBC chess team and chess club.
Ringoir also received a Community Service Outreach and Leadership award from the UMBC Division of Professional Studies for his dedication to creating accessible chess teams. He will continue his work with Baltimore K-12 students through the CTY program.
"I personally stay in Baltimore because I can combine my passion for finance with chess," shares Ringoir. "UMBC gives me an education at the same time that it supports my chess development through the chess team and community volunteer opportunities."
Like Ringoir, Ciara Jones '19, social work, is also an award recipient who has chosen to begin her professional career in Baltimore. She received the excellence award from Africana studies, her minor. Upon graduation, Jones will work with Sarah's House in Druid Park, as a forensic social worker. She will also serve the Canton community through Renaissance Baltimore Church.
Global skills
In addition to maximizing their academic experience on campus and participating in an exchange of skills within Baltimore communities, CAHSS students seek to sharpen their personal and professional skills by studying abroad.
Miriam Newman-Marshall '19, Asian studies with a Japanese minor, received the Constantine Vaporis Academic Excellence in Asian Studies Award. Newman-Marshall has traveled to Thailand and Cambodia, and has completed three study abroad trips to Japan. These trips strengthened her research skills and historical knowledge, which were critical for her work as a research assistant. She assisted Constantine Vaporis, Asian studies director, on his book, Samurai: An Encyclopedia of Japan's Cultured Warriors.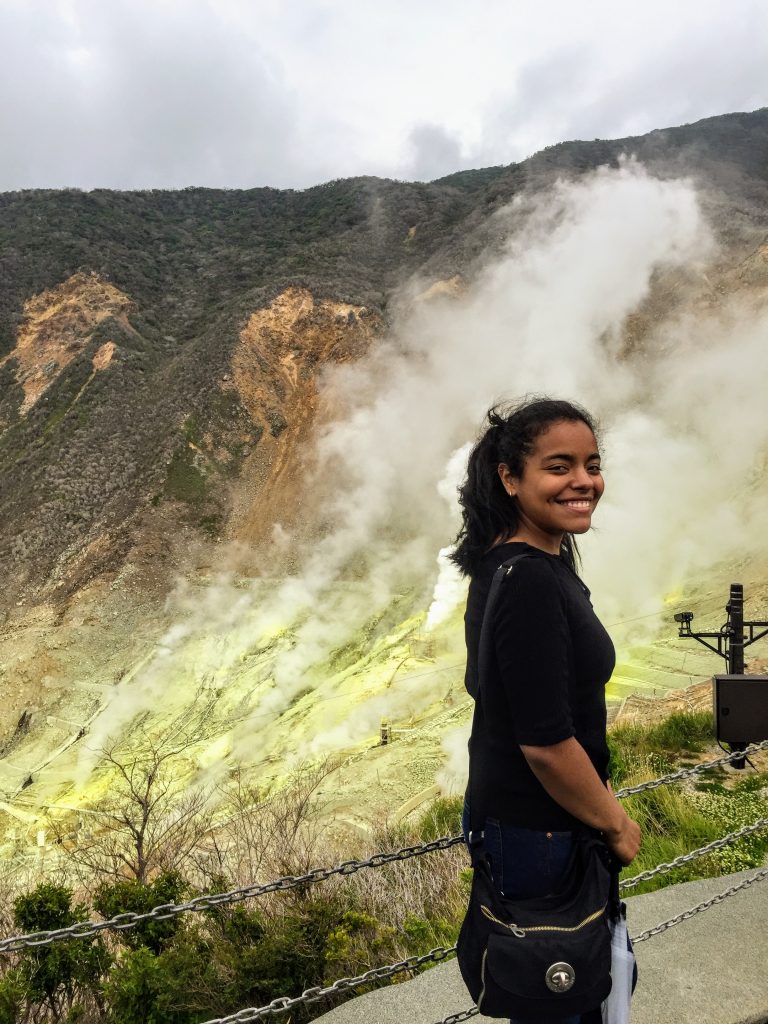 Vaporis encourages all students to study a foreign language overseas to accelerate and deepen their understanding of that language and culture. "Learning a language in its country of origin equips students with skills to conduct more complex research, using multi-lingual sources," explains Vaporis. "Miriam's knowledge of Japanese history and her ability to read Japanese greatly facilitated her work in support of my research on the samurai."
For more CAHSS news follow @UMBC_CAHSS on Twitter.
Banner image: Linehan Artist Scholar Emily Godfrey. All photos by Marlayna Demond '11 for UMBC unless otherwise noted.
Tags: AmericanStudies, AsianStudies, CAHSS, Dance, Economics, interdisciplinary, International Stories, LinehanScholars, ShermanScholars, SocialWork