Three UMBC-affiliated artists have each received 2020-2021 fellowship awards from the Saul Zaentz Innovation Fund (SZIF) in Film and Media at Johns Hopkins University. SZIF cash awards are granted to nurture unique project ideas that have the potential for socio-political impact and that advance the art and craft of audiovisual media.
In addition to receiving financial support for project development or production, selected fellows participate in ongoing mentorship and workshops with industry professionals.
Losing Winter
Lynn Cazabon is a professor in visual arts and CIRCA-IMET 2019-2020 artist-in-residence, and was recently named as the next director of UMBC's Center for Innovation, Research, and Creativity in the Arts (CIRCA). She has received funding to develop Losing Winter.
Cazabon will work with Lee Boot, associate research professor and director of UMBC's Imaging Research Center (IRC), to develop the Losing Winter mobile app. It centers on shared memories and emotions about the season of winter. The app will collect memories connected to the season of winter in the form of videos from participants all around the world. Cazabon will then incorporate them into an augmented reality audio-visual experience.
Under the Bay
Lisa Moren, professor of visual arts and graduate program director of the intermedia and digital art MFA program, received an award to create Under the Bay. This augmented reality project will include collaborators Tsvetan Bachvaroff, a professor of biology at the University of Maryland Center for Environmental Science, and Marc Olano, associate professor of computer science at UMBC and director of the game development track.
Under the Bay will invite users to interact with the waters of the Chesapeake Bay, beneath the surface, delivering a story through augmented reality.
Moren was previously part of the first cohort of SZIF Fellows, receiving support to develop the app NONUMENT 01::The McKeldin Fountain.
Legacies
Angela N. Carroll '06, visual arts, an adjunct professor at Stevenson University, received funding to develop a pilot episode for Legacies. She envisions this project as a 10-episode docuseries that chronicles a radical generation of artists active between 1960 and 1990. Each profiled artist will be someone known for substantial bodies of work that have critiqued, resisted, and engaged tumultuous and revelatory eras of political and social upheaval in the United States.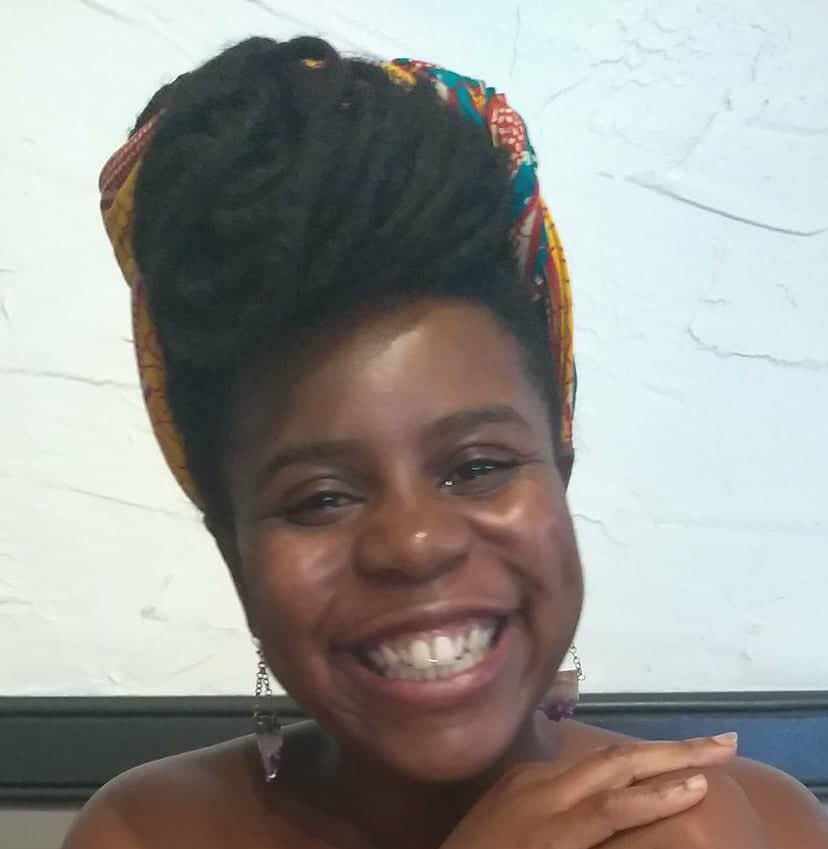 Describing herself as an artist-archivist, research has been an integral part of Carroll's art practice, traced to her time at UMBC and as a McNair Scholar.
Cazabon, Moren, and Carroll's projects are among 19 funded for the 2020-2021 fellowship year. They were selected from among 27 artists chosen in January as 2020-2021 fellows in the SZIF mentorship program, which also includes Emma Ayala '18, visual arts.
Johns Hopkins founded the fund in March 2016 through a $1 million grant from the Saul Zaentz Charitable Foundation. Zaentz was an Oscar-winning producer who died in 2014. The incubator supports Baltimore artists by helping them to connect with each other to develop and realize their ideas in Baltimore.
Banner image: Lynn Cazabon with her installation version of Losing Winter at the National Museum of Contemporary Art (MNAC) in Bucharest, Romania. Photo by Josef Polleross.
Tags: Alumni, CAHSS, VisualArts