Researchers and campus leaders from UMBC and the University of Maryland, Baltimore (UMB) convened at bwtech@UMBC South on April 12 to celebrate ongoing research partnerships and announce a new round of Research and Innovation Seed Grants. The awards provide one or two years of funding for interdisciplinary projects with collaborators from both institutions, and are available to faculty in every college at UMBC and every school at UMB.
UMB President Jay Perman, who is also a physician, thanked the researchers for tackling challenging issues that transcend the boundaries between fields. "Your collaborative work empowers people like me to help improve the human condition," he shared. "You need to know that your work is critically important."
Wendy Perrow, CEO of AsclepiX Therapeutics, also emphasized the connection between research and clinical work in her keynote address. She encouraged attendees to "bring your technology to the market to help patients," while acknowledging the many challenges along the way. Perrow's wealth of experience includes launching a now-mainstream high-blood pressure drug and the first-ever chicken pox vaccine. Most recently, she played a key role in a breakthrough celiac disease drug entering stage three clinical trials.
Following Perrow, five teams who received funding last year presented updates on their progress. Xudong Ge, assistant director of the UMBC Center for Advanced Sensor Technology, and Richard Pierson, professor of surgery at UMB, presented the improvements they've made to a non-invasive respiration sensor for adults, children, and even babies. The device would be a boon for intensive care units. Its accuracy parallels that of traditional methods, without the potential to cause burns, a pitfall of current respiration monitoring technologies.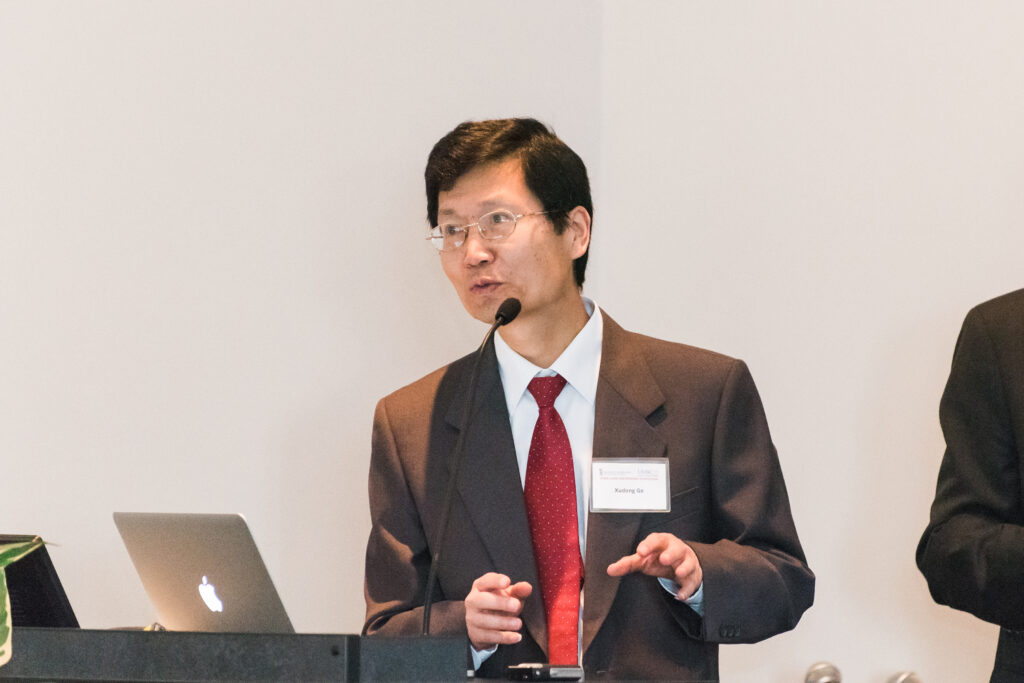 Tonya Santaus, Ph.D. student in Chris Geddes' lab at UMBC, shared the development of a rapid, low-cost test for cholera. The lab is applying the same technology to tests for sexually-transmitted infections. "The goal is to get this to rural Africa and rural Haiti," shared UMB collaborator Colin Stine, professor of epidemiology and public health. Geddes, professor of chemistry, added that while he and Stine have known each other for 15 years, it is "because of this grant [that] we've actually been able to work together."
Elsa Garcin, UMBC associate professor of chemistry and biochemistry, presented her work with Patrick Wintrode, UMB associate professor of pharmaceutical sciences. Their research seeks to better understand how a molecule naturally found in cells, called GAPDH, is able to either activate or shut down another molecule known to contribute to autoimmune conditions and cancer. Eventually, that knowledge could be used to harness GAPDH to treat those conditions.
Soobum Lee, UMBC assistant professor of mechanical engineering, and Mary Melo, UMB clinical assistant professor of dentistry, explained how they intend to use the movement of people's own jaws to provide the energy for deep brain stimulation, a proven treatment for some neurodegenerative diseases. The proposed new method would avoid the need for repeated surgeries to replace the battery.
Christine Mair, UMBC assistant professor of sociology, and Amanda Lehning, UMB assistant professor of social work, examine the relationship between neighborhood environments and cardiovascular health in Baltimore City to identify social determinants of health inequality such as violent crime and low social cohesion.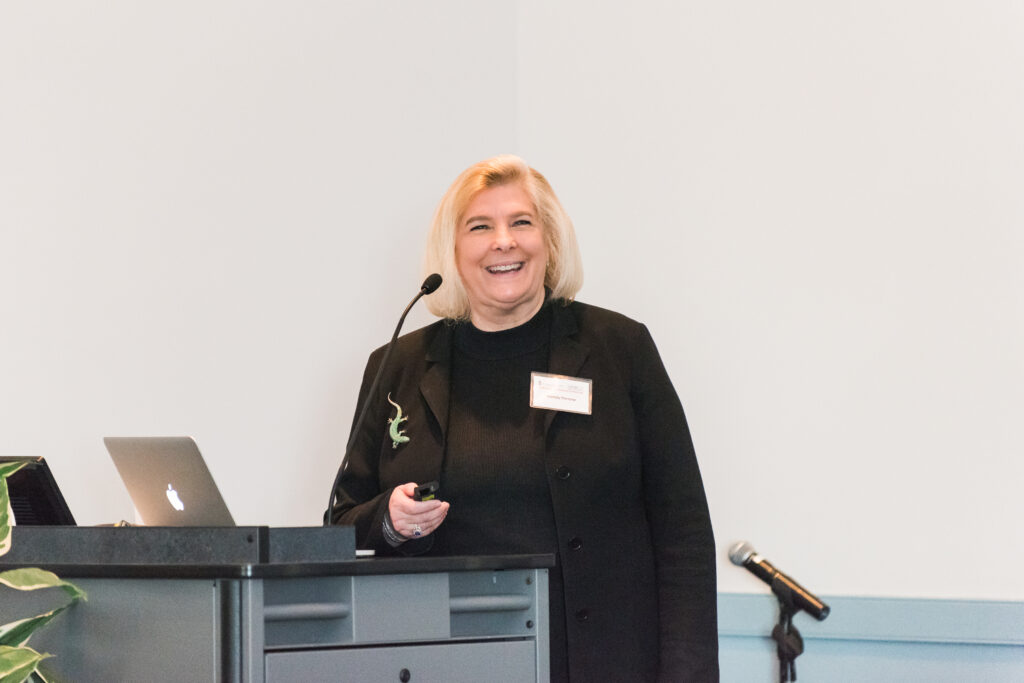 Don Engel, UMBC assistant vice president for research, and Terry Rogers, assistant dean of research affairs at the UMB School of Medicine, announced this year's cohort of awardees. "We're delighted to see this program reaching across many areas of both universities," shared Engel. The new projects include research on oyster herpes, opioid addiction, and non-invasive neonatal glucose monitoring.
Closing the program, UMBC President Freeman Hrabowski reiterated the value and strength of the UMBC-UMB relationship. The $1.5 million invested so far in UMBC-UMB partnership grants has led to $15 million of external grant funding, a return on investment that indicates the effectiveness of the program. In a challenging federal funding climate, it is more important than ever to creatively collaborate to demonstrate the importance of scientific research and generate new funding sources, Hrabowski explained.
"We want to be strong in our commitment to investing in and supporting" collaborative work, said Hrabowski, of uniting inquisitive minds across the institutions. "Our very future, not just in Maryland, not just in America, but of humankind, in large part depends on [this] kind of work."
Banner image: 2017 UMBC-UMB Partnership Grant recipients with the university presidents. From left to right: Jay Perman, President of UMB; Rose Viscardi, UMB School of Medicine; Leah Tolosa, UMBC Center for Advanced Sensor Technologies; Shaya Fadia, UMB School of Pharmacy; Michael Abrams, UMBC Hilltop Institute; Colleen Burge, UMBC Department of Marine Biotechnology; Matthew Frieman, UMB School of Medicine; Freeman Hrabowski, President of UMBC. All photos by Marlayna Demond '11 for UMBC.

Tags: CAHSS, CAST, ChemBiochem, CNMS, COEIT, IMET, IoF, MarineBiotech, MechE, Research, SAPH