Tess McRae
Degree: B.A., Individualized Study: Civic Renewal and Creative Expression
Hometown: Columbia, MD
Plans: Coordinator for Civic Design, UMBC's Center for Democracy and Civic Life
"The lesson I have learned from STRiVE and from the Center for Democracy and Civic Life's work, and from all of the people I've met at UMBC who have held up undistorted mirrors for me, is that I am worthy as my authentic self. That has radically altered everything I thought I knew about myself and the world, and has profoundly deepened my sense of community, connection, and purpose. And that clarity and sense of belonging are indescribably empowering and healing, even in moments of doubt."
Tess McRae '22, individualized study, grew up hearing stories about her mother's campus involvement as a UMBC student in the 1980s. She visited the campus several times as a teenager, and says "I was always entranced by how beautiful it was and how clearly I could imagine myself thriving here."
McRae spent a week at STRiVE, UMBC's immersive leadership for social impact program, during her first year, and joined the Center for Democracy and Civic Life's staff when it launched in 2018. For the next four years, she played a leading role in developing and leading the Center's workshops and programs, weaving in her insights as an artist and as a person familiar with the kind of self-doubt that can inhibit participation in communities and social change projects.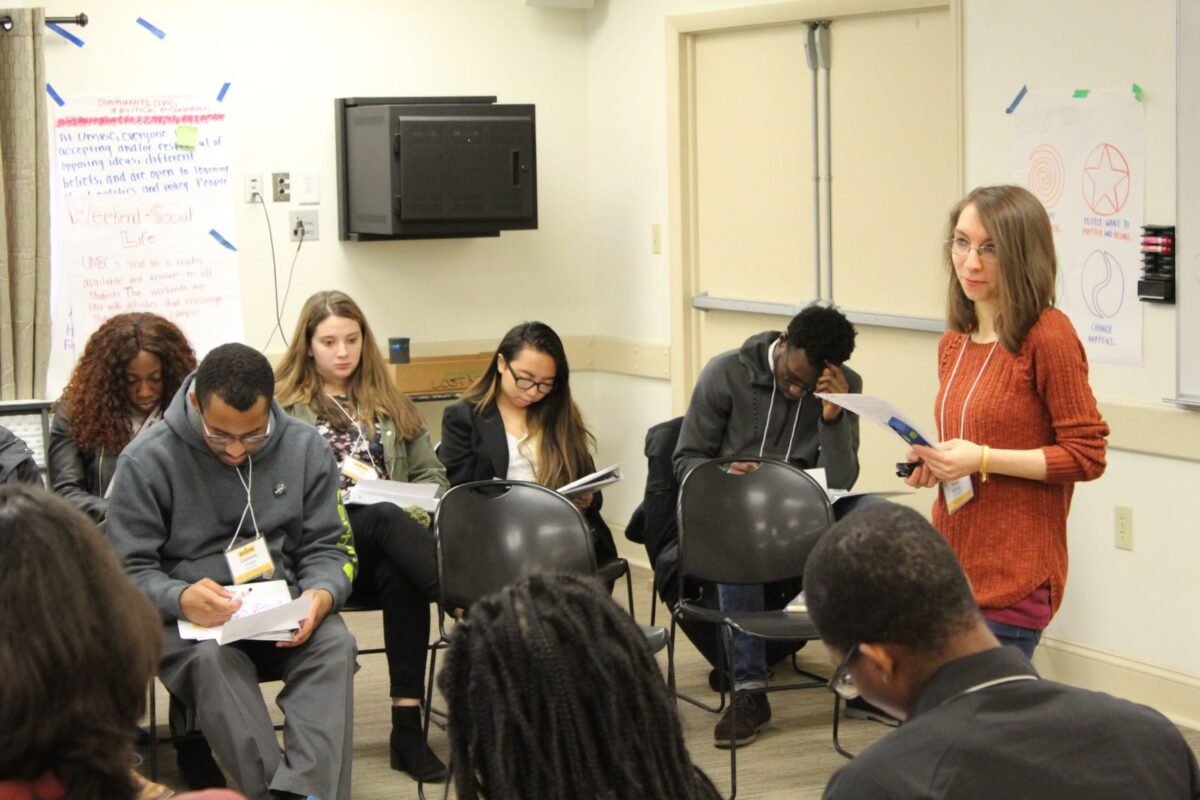 Along the way, she designed her own major in civic renewal and creative expression and produced the Co-Create UMBC virtual tour. And her paintings of UMBC spaces that have been co-created by students have appeared in exhibits both on campus and at the OCA Mocha coffee shop in nearby Arbutus.
McRae's immediate post-graduation plan is to work professionally at the intersection of civic engagement and the arts. She aims to "continue co-creating an ethos of agency, self confidence, and communion felt deeply by people around the world" in ways that allow her to indulge and draw on her identity as a poet, visual artist, musician, and aspiring theater-maker.
Story by David Hoffman, Ph.D. '13, language, literacy, and culture (LLC), director of the Center for Democracy and Civic Life, and Romy Hübler '09, modern languages and linguistics, M.A. '11, intercultural communication, Ph.D. '15, LLC, assistant director of the Center for Democracy and Civic Life.