Each year, Community Law in Action (CLIA), an organization dedicated to cultivating the leadership skills of Baltimore youth, honors a select group of individuals who create positive social change and transform the city. LaMar Davis, director of The Choice Program at UMBC, was one of just eight people honored by CLIA during this year's "Inspiring Voices" award ceremony, held May 10 at the University of Maryland, Baltimore.
During the event, CLIA Executive Director Corryne Deliberto recognized the awardees for dedicating their skills and expertise to serving as positive leaders, role models, and mentors to Baltimore youth who are devoted to making Baltimore a better city.
As a 2016 CLIA Inspiring Voice award winner, Davis was featured in a compelling video produced by CLIA about The Choice Program, a nationally recognized model for community-based intervention that has served more than 25,000 youth and their families from Maryland's highest risk communities.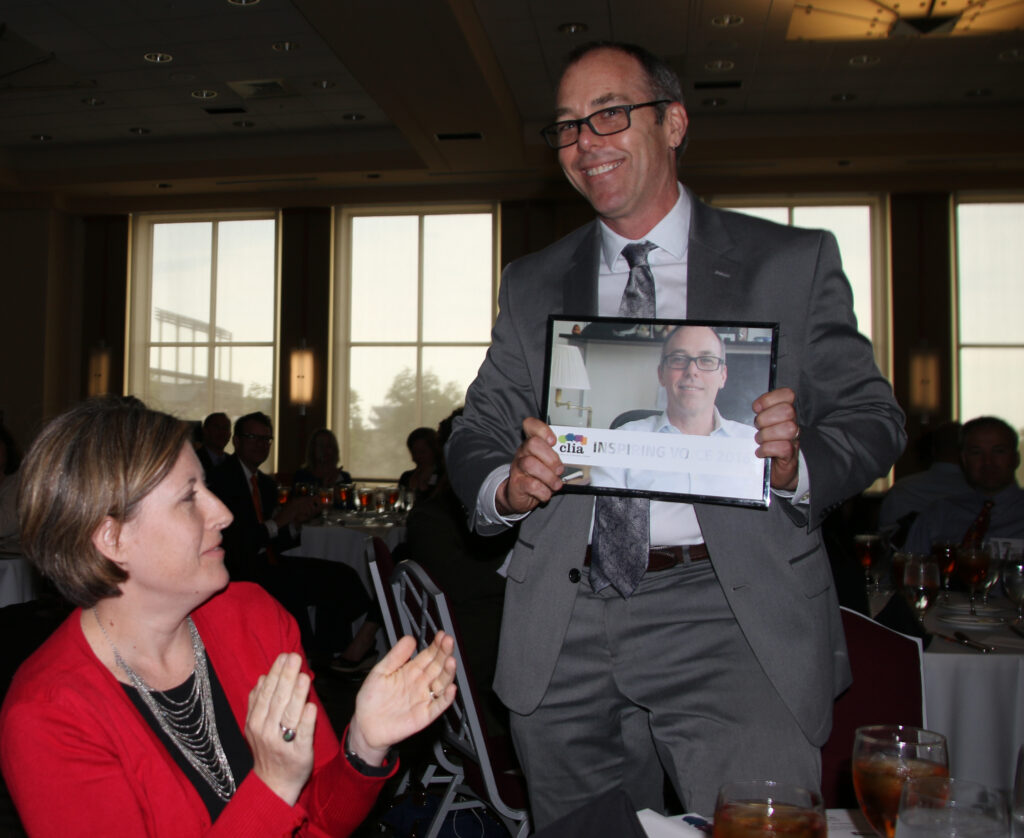 "The Choice Program is UMBC's response to addressing pressing social issues within Maryland and Baltimore City," Davis explains in the video, which was screened at the award ceremony. "What we know is that when youth enter into detention facilities, the likelihood that they will enter as an adult goes up exponentially."
For more than 28 years, The Choice Program has partnered with the Maryland Department of Juvenile Services (DJS) to focus on four areas of intervention: education, employment, family involvement, and community supervision. The program works within high poverty communities in Baltimore City and in Baltimore, Prince George's, and Montgomery Counties to reduce obstacles impacting youth and family success. Last year, 92% of participating court-involved youth completed the program and were not adjudicated with new charges.
During the CLIA Inspiring Voice award ceremony, Davis shared that the tremendous success of the program over the years has been largely due to an approach that focuses on youth, their families, and the community, supported by 50 AmeriCorps community service-learning fellows. Those fellows provide critical contact, mentoring, and advocacy to young people and their families involved in the juvenile justice and social services systems.
"We bring an approach that says, 'What are your strengths?' Youth and families already know what their problems are, but it's much more difficult for them and for others to really identify what they do well," said Davis in the video. "We are also looking at how to give young people in Baltimore and Baltimore County an opportunity to get that first job experience, to build a resume, and get some on-the-job experience though our Choice Flying Fruit Café, kiosk, and stand."
The Choice Jobs Program, which serves 200 local youth each year, expanded earlier this year with the grand opening of Baltimore's first Flying Fruit Café, located at the University of Baltimore (UB) John and Frances Angelos Law Center.
As UMBC is in the midst of its 50th anniversary celebration year, Davis is optimistic that the program will continue to build on its success, serving even larger numbers of Baltimore youth in the future.
"UMBC and our president, Dr. Freeman Hrabowski, continue to lead the way on how a public university should support its community and commit to being part of the solution," says Davis. "I am honored to have received this award on behalf of the university, The Choice Program at UMBC, our amazing staff, and AmeriCorps Community Service-Learning Fellows who do the work every day. This award speaks to our program and institution's inspired commitment."
Images: (1) LaMar Davis speaks at the 2015 University Retreat. Photo by Marlayna Demond '11 for UMBC. (2) LaMar Davis receives 2016 Inspiring Voice Award. Photo courtesy of Community Law in Action.