UMBC's Dresher Center for the Humanities recently partnered with the National Humanities Alliance to host Inclusion and Public Humanities: A Convening, one of the culminating events in the final year of the Inclusion Imperative.
Over the past six years, the Inclusion Imperative's work has focused on three core projects: the Visiting Faculty Fellows Program, the Diversity Teaching Network, and the Humanities Teaching Labs (HTLabs).
The Inclusion Imperative is a six-year initiative funded with a $750,000 grant from the Mellon Foundation. Run by the Dresher Center, the Inclusion Imperative promotes diversity and inclusion in the humanities in partnership with Bowie State University, Coppin State University, and Howard University. The initiative has supported cutting-edge humanities-centered inclusive practices and community collaborations in the Mid-Atlantic, with the goal of creating a national ripple effect.
The Visiting Faculty Fellows Program has welcomed 14 full-time faculty from area universities to join UMBC for a semester or year as residential research fellows. The Diversity Teaching Network has brought together visiting fellows, UMBC faculty, and other interested scholars to work on curricular and civic-engagement projects. Through HTLabs, faculty, staff, and students have practiced innovative humanities-centered approaches to teaching and learning, from decolonizing assessments to teaching with the Smithsonian Learning Lab.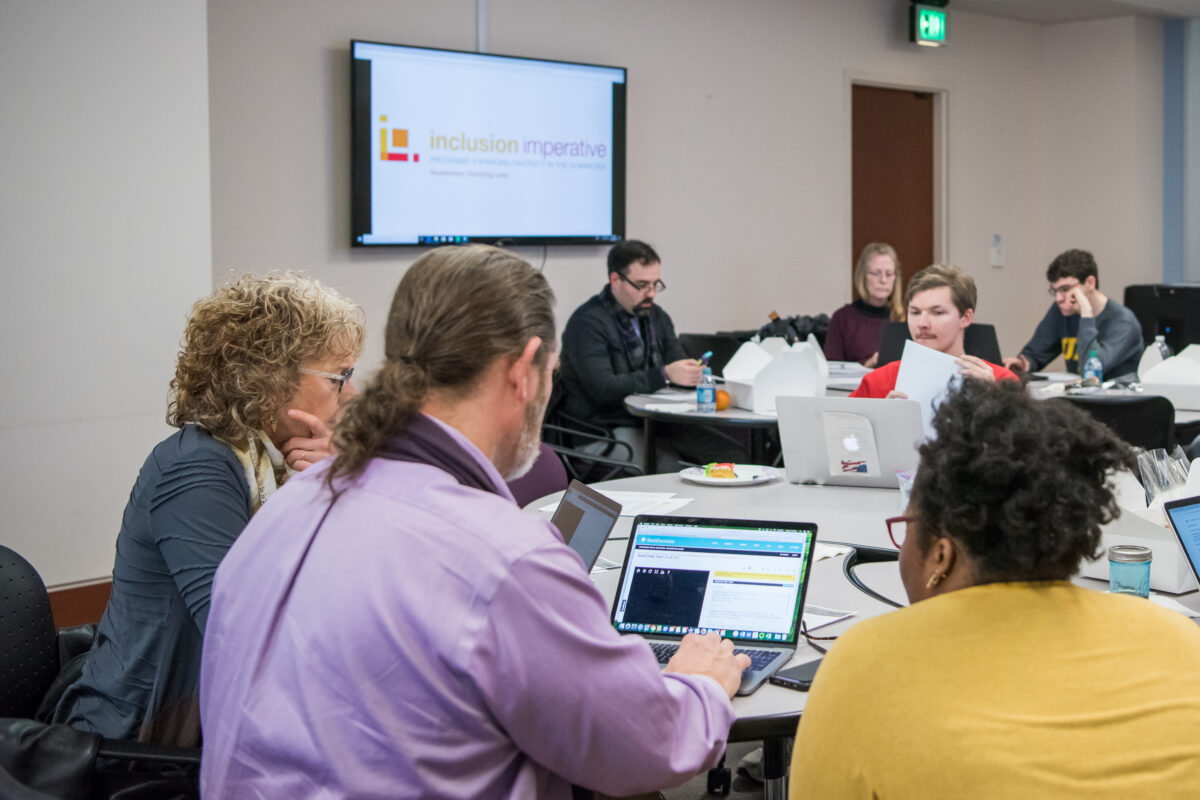 At the convening this spring, faculty and staff from institutions across the Mid-Atlantic gathered to share their approaches to community-engaged humanities research, teaching, and learning focused on race, equity, inclusion, and social justice issues.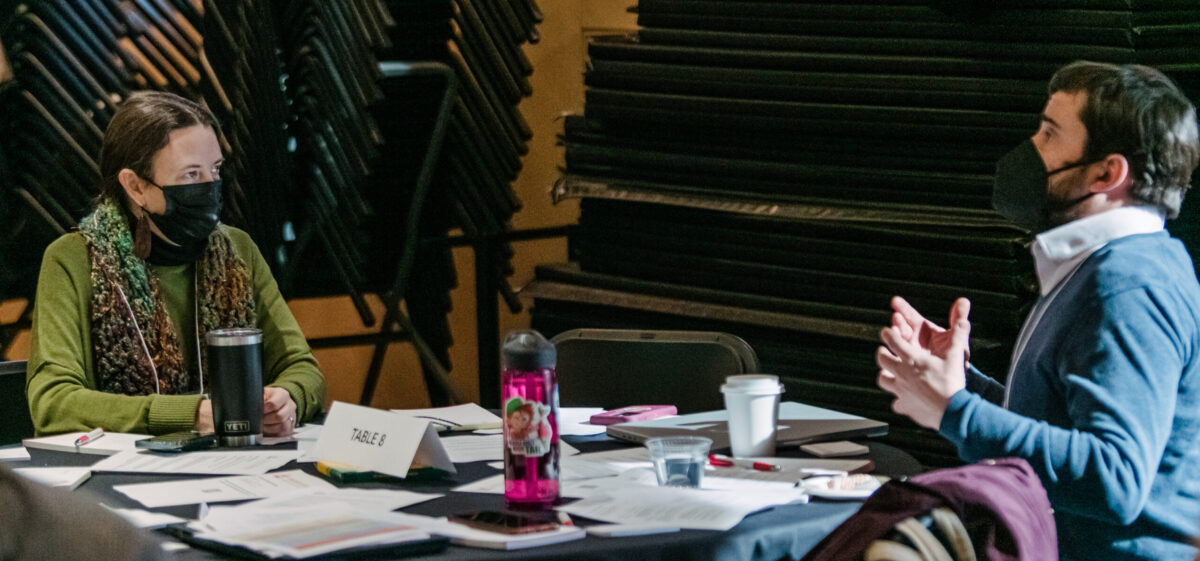 Building teaching and learning communities
Colleagues from University of Lynchburg, Community College of Baltimore County, Lehigh University, DewMore Baltimore, and Bard High School Early College-Baltimore presented on topics such as public humanities curriculum development, LGBTQ+ histories and resources, and poetry by local students.
UMBC faculty also shared several high-impact projects. Sarah Fouts, assistant professor of American studies and assistant director of the public humanities minor, spoke about her ongoing work with the Baltimore Field School 2.0. Earl Brooks, assistant professor of English, reported on his course Sounds Like Social Justice, redesigned through support from an Inclusion Imperative/HT Labs Course Transformation Grant.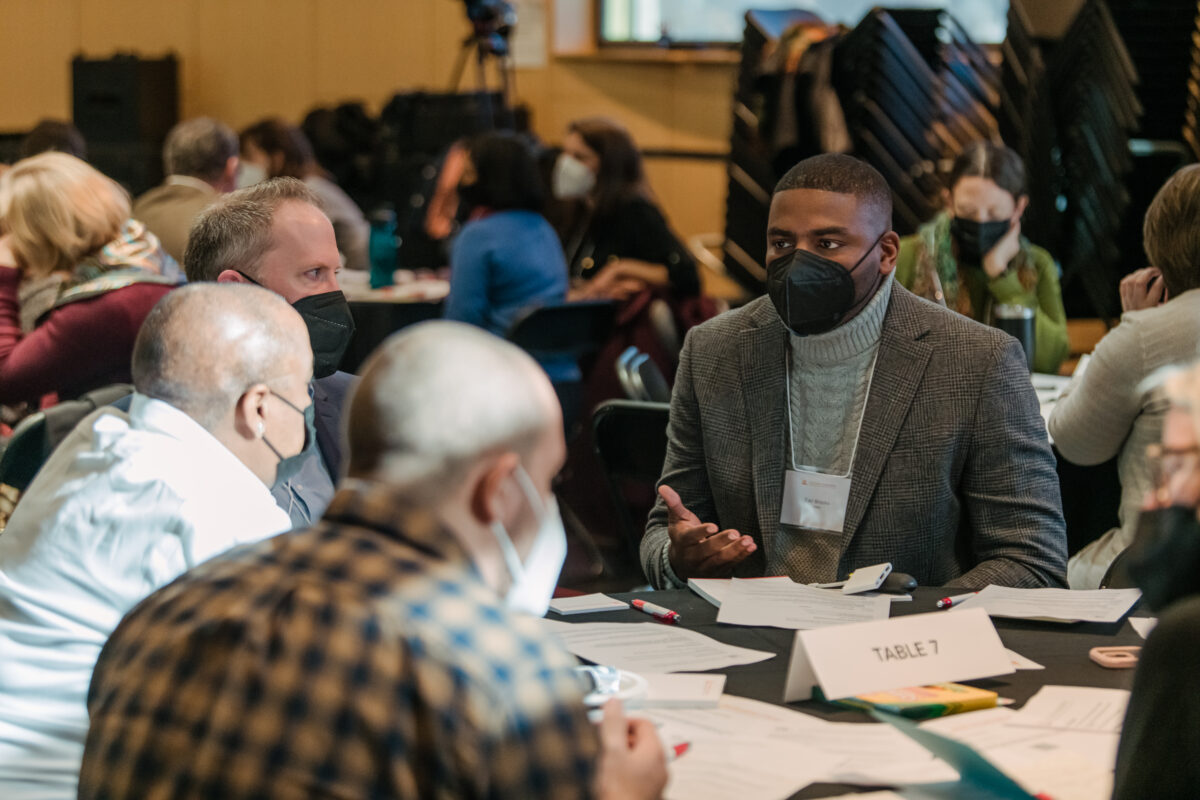 The funds provided recording equipment for students to work in collaboration with the Meadow Community Fellowship Church in Catonsville's Beechfield and Irvington communities to document their experiences during and after the 2016 and 2018 floods in the "Underwater/Underserved" podcast (as shared in The Baltimore Banner). "What most people don't know is that all that water flows downhill into the Irvington and Beechfield community, which is a little more than a mile from UMBC," explains Brooks. The class created "Underwater/Underserved" podcast about flooding in the Irvington and Beechfield neighborhoods in Baltimore, MD.
The grant included funding for students to work on interview skills with Rona Kobell, science editor and writer with Maryland Sea Grant. Brooks explains, "I wanted my students to tell a story about the ways that the church community was underserved as a way of thinking about the role of sound in storytelling."
Disability justice
Also at the event, faculty from La Salle University, University of Delaware, and Bowie State University shared insights into how diversity, equity, inclusion, and accommodation (DEIA) have become central to their humanities practice. To emphasize the role of accessibility and accommodation, leaders of two UMBC faculty working groups presented their ongoing work related to disability justice.
Dresher Center Disability Studies faculty working group leaders Drew Holladay, assistant professor of English, and Sharon Tran, assistant professor of English, discussed the disability justice movement and the pitfalls of ableist institutional policies that limit student and faculty engagement and success.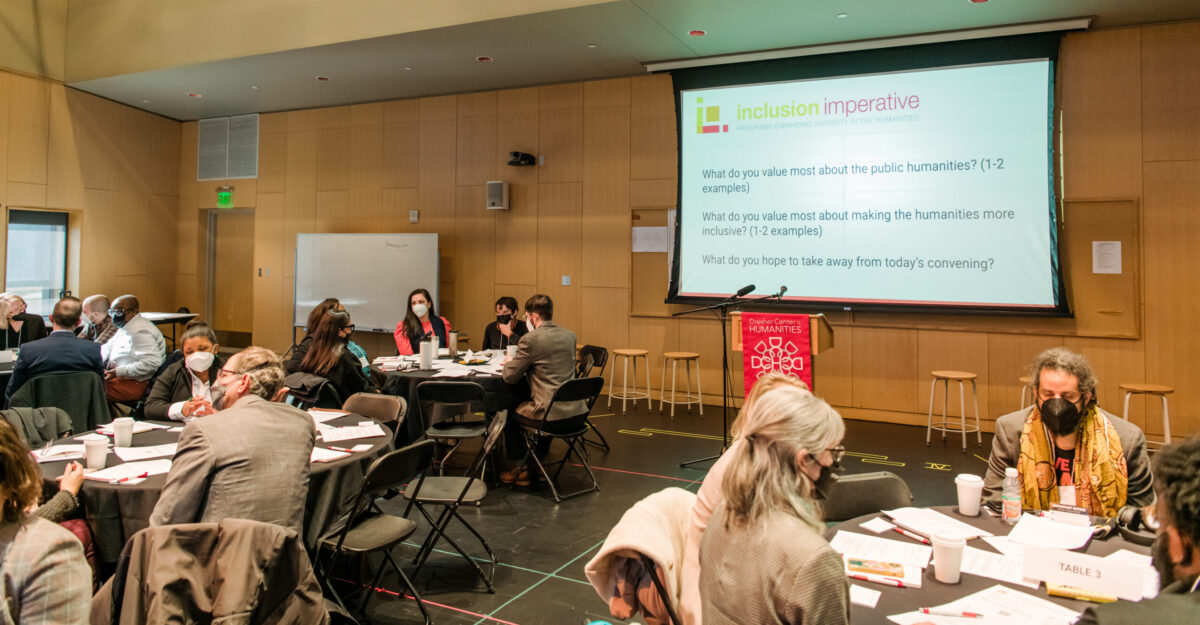 Disability justice does not equal accessibility, especially in the way that it is institutionally defined, and it does not equal DEIA, Holladay suggested. The way he prefers to approach disability justice is to center his research and classroom practice as examples of disability justice, not as a topic that is part of the curriculum.
Tran explained strategies to implement disability justice in the classroom. "We need to think of how we can [adjust] the normative clock in the classroom to better accommodate disabled students rather than forcing those students to meet those temporal pressures," she said.
Members of the Anti-Racism and Our Actions faculty and staff working group, Michael Hunt, director of UMBC's McNair Scholars Program, and Amy Tondreau, assistant professor of education, talked about their work to demystify, destigmatize, and magnify anti-racist practices in the academy and in K-12 education.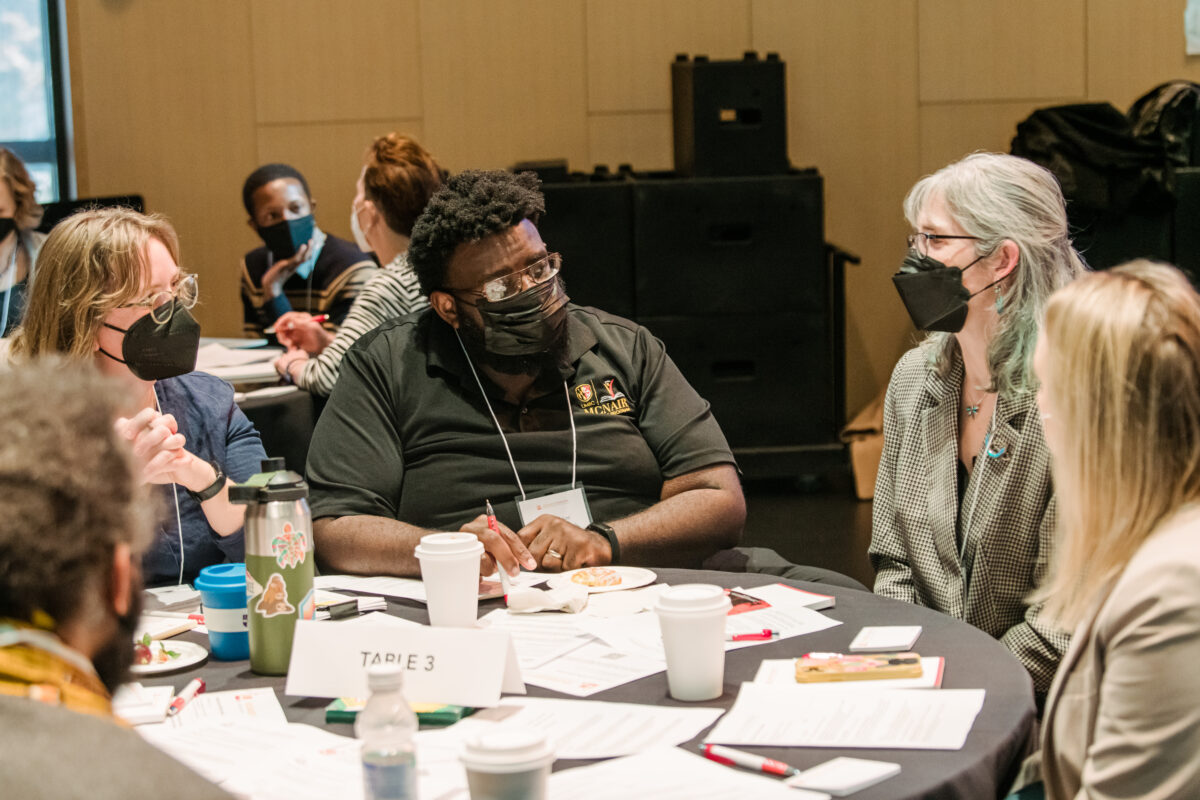 Leading a national conversation
Although the Inclusion Imperative's formal programming will come to a close this summer, the work itself will continue in several ways. Many of the program's participants will gather again in June for the 11th International Digital Storytelling Conference, hosted by UMBC in partnership with Montgomery College and the Smithsonian Institution.
"I firmly believe that the humanities offer us crucial tools for addressing pressing issues of civic life," says Berman who presented this work in partnership with the NHA at the 2023 NHA annual meeting. "Now more than ever, we need the tools of the humanities to advance local and national conversations about our history, our identities, and our common future."
Tags: American studies, CAHSS, cahssresearch, Dance, DresherCenter, Education, English, LLC, mcnairscholars