Spiders, robots, climate change, Vaudevillian history, and more—this year's GRIT-X event had something for inquiring minds of all kinds, with explorations into elements of the past, our collective present, and possibilities for the future.
Back for its seventh year, GRIT-X returned to the Fine Arts Recital Hall during Homecoming 2023 with presentations from faculty and accomplished alumni addressing some of the most pressing issues facing society now and throughout history, and how UMBC scholars are working to build a better tomorrow.
"The goal of GRIT-X is to provide a sneak peek behind the scenes of some of the exciting and impactful research and creative achievement initiatives across our campus community," says Karl V. Steiner, UMBC's vice president of research and creative achievement. "[GRIT-X] takes you around the whole campus and beyond."
"Disruptive" and intercultural thinking in the workforce
GRIT-X 2023 showcased how UMBC alumni are working to fuel innovation within the workforce and how faculty are strengthening the employability of future graduates. Melanie Harrison Okokoro, Ph.D. '11, environmental science, opened this year's GRIT-X with her discussion on how "bold and disruptive thinking" can help executives to lead, innovate, and transform their companies in the 21st century. Okokoro is the co-founder and CEO of Eco-Alpha, a firm that provides environmental compliance services and engineering workforce development training. Her talk outlined how leaders can create "disruptive strategies" in order to stay at the forefront of changes happening in their industries.
"Disruptive thinking is in my DNA," said Okokoro during her presentation. "It defines how [Eco-Alpha] outcompetes our competitors in the marketplace and allows us to target a segment of the population that's been traditionally overlooked."
Similarly to Okokoro, Zhensen Huang, M.S. '00, Ph.D. '04, information systems, used bold thinking to propel himself forward in his current career as CEO and founder of Precise Software Solutions, a firm that helps government and private sector clients modernize their IT systems. Huang spoke of his student experience at UMBC after emigrating to the U.S. from a small rural village in China—a future he says he didn't think was possible when growing up. He shared how UMBC helped even when "It's hard for us to make a connection between what we're doing now to the great possibilities down the road," says Huang.
"Embrace the present and envision the future," Huang shared during his talk. "Sometimes you don't know what your future possibilities are, and that's okay. What's important is to embrace what's in front of you, especially the challenges."
Irina Golubeva, professor and director of UMBC's intercultural communication graduate program, is working to address some of those challenges students face, such as navigating culturally-diverse environments. Her GRIT-X presentation focused on her research on intercultural learning, which includes the InterEqual training program she created based on student feedback. Golubeva shared how she's helping UMBC students develop their intercultural competence as they prepare for their professional careers.
"We cannot ignore and disregard these tendencies of job markets, and we must prepare our students to work and live in multicultural societies by equipping them with essential intercultural and language skills," says Golubeva.
Investigating earthly phenomena with math and science
Justin Webster, associate professor of mathematics and statistics, explored the "relationship between mathematical models and the phenomena in the world" during his presentation. He highlighted specific examples of how mathematical modeling can deepen our understanding of infrastructure disasters like the Tacoma Narrows Bridge collapse of 1940, and how his mathematical process helped researchers find a possible hypothesis for detecting the onset of glaucoma.
"Mathematical modeling is a scientific empowerment tool. Anyone, anywhere, can do math modeling and study anything that they're interested in," says Webster. "That's why it is so important that our students at UMBC, and students more broadly, are mathematically competent and excited so that they can go on to be students of the world."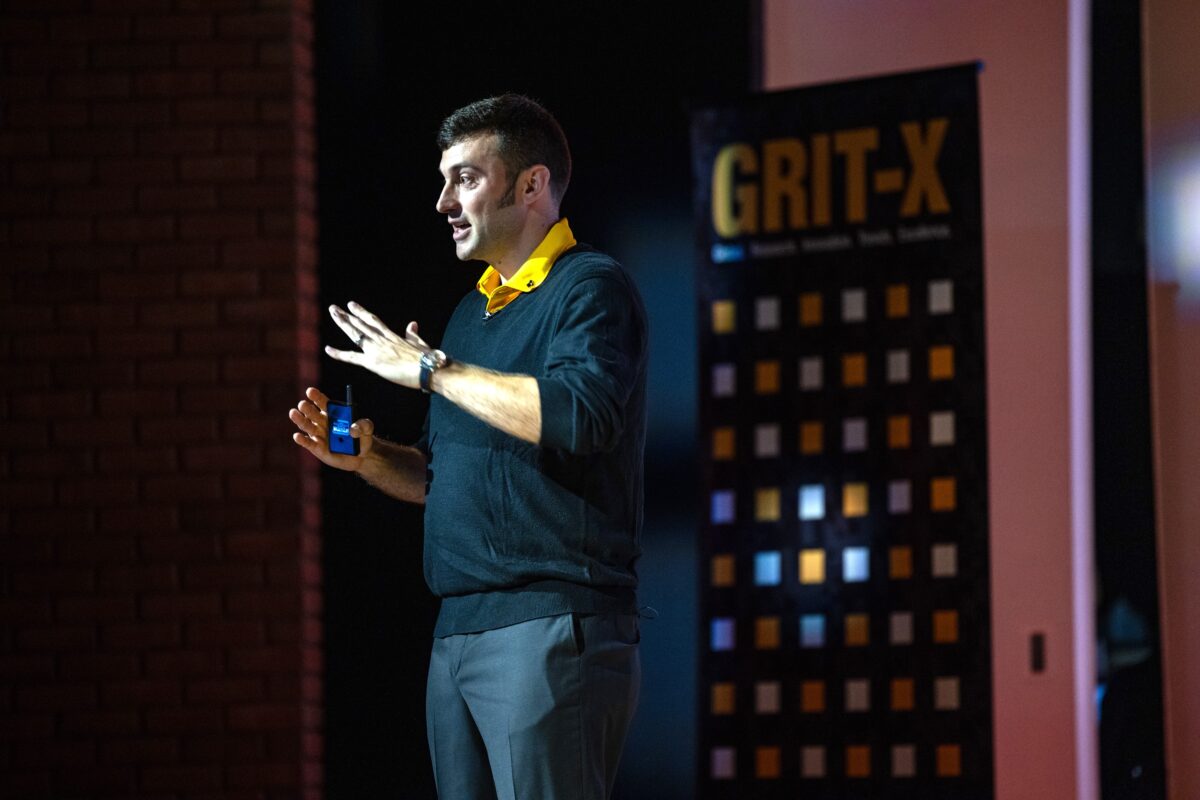 Charles Ichoku, director of the UMBC-led Goddard Earth Science Technology and Research (GESTAR) Center II, also explored a phenomena that's causing global concern—how rapidly the Earth is changing. Ichoku explained in his GRIT-X talk how climate change, people, and wildfire emissions are contributing to those changes to the Earth and the work he's done with NASA's Fire Energetics and Emissions Research project to understand causes of climate change.
"The world is warming dangerously, and human activities are driving the warming trend through the emission of heat-trapping long-lived greenhouse gasses (GHGs), particularly carbon dioxide (CO2), which has continued its upward trend over the last several decades. Wildfires are [also] contributing significantly to that," shared Ichoku.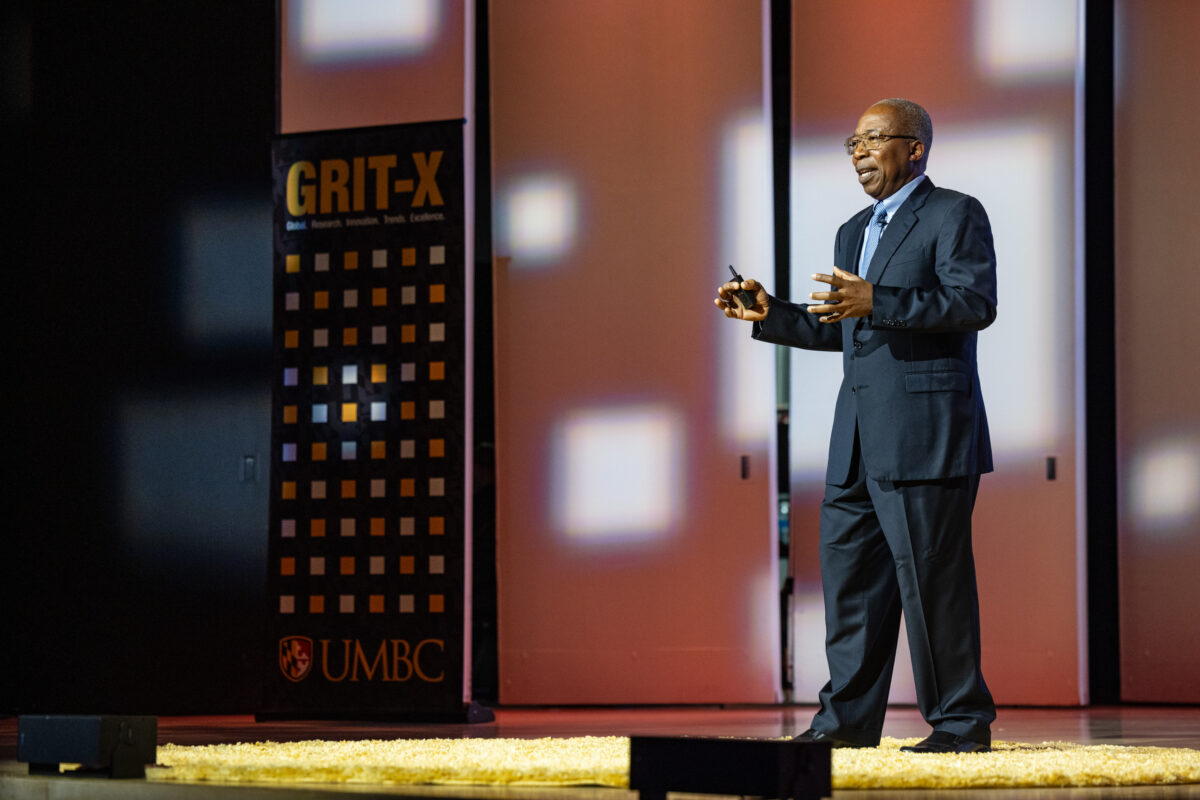 Similarly, Carlos Romero-Talamás, associate professor of mechanical engineering, explained in his presentation how most sources of energy produce carbon and GHGs, and the work that's being done to bring the global energy-related CO2 emission levels down to net zero. He discussed the benefits of using fusion energy to achieve that goal, which includes the work he's doing as the principal investigator of the Centrifugal Mirror Fusion Experiment, a research effort between UMBC and the University of Maryland, College Park that explores a promising alternative to traditional fusion power approaches.
"Fusion energy is considered the ultimate source of energy—the fuel is abundant and is non radioactive," says Romero-Talamás. "It is urgent to decarbonize our economy and our energy infrastructure because we are harming the planet [and] are running towards a climate disaster."
Past histories and future possibilities
Michelle R. Scott, associate professor of history, brought the GRIT-X audience back to a moment in time in which Black Vaudeville performers used economic empowerment as a form of resistance in the 1920s. Scott explained her research into the institutional history of the Theater Owners' Booking Association's (T.O.B.A.) origins, which she wrote about in her book T.O.B.A. Time: Black Vaudeville and the Theater Owners' Booking Association in Jazz Age America (University of Illinois Press, 2023).
"The [Vaudeville] circuit itself—its success—was a testament to Black excellence in terms of business, Black artistic skill, and a momentary period of interracial cooperation. It was truly an example of Jazz-age resistance," Scott said during her presentation.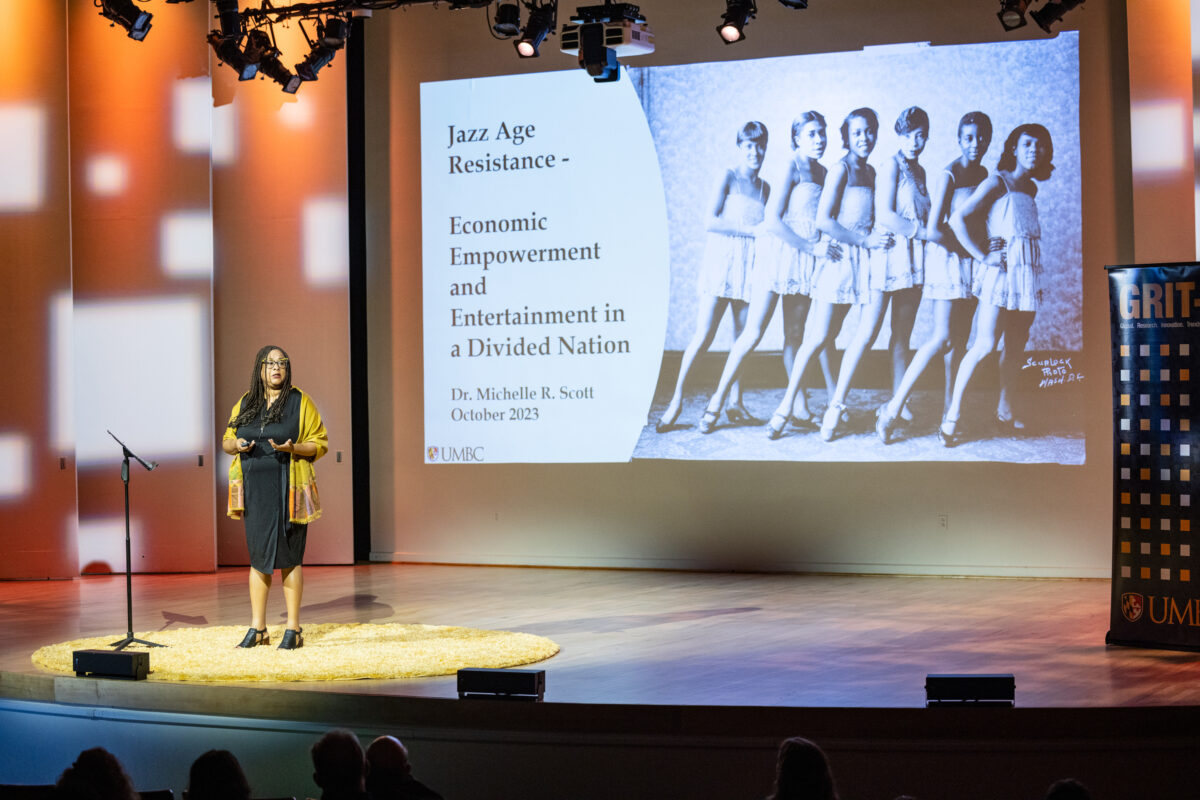 Mercedes Burns, assistant professor of biological sciences, explained a different kind of history—the history of arachnids. Burns, who received an NSF CAREER Award earlier this year, enlightened the audience with her research on spiders, opiliones (commonly known as daddy longlegs), and other kinds of arachnids. She outlined reasons why we should appreciate these "unloveable" creatures.
"Spiders have been living their lives for much longer than any vertebrate has —they've persisted over a millennia," Burns explained in her GRIT-X talk. "Arachnids…thoughtfully consume unloveable things in our habitats. Arachnids are [also] quite attentive to their environment. They are master architects and material scientists. If you're curious about the organisms that surround you and you're interested in learning more or appreciating what those organisms do for the environment and their ecosystem, that leaves no room for fear."
As a result of her being the first known female African American arachnologist, Burns had a species of trapdoor spiders named after her in 2021, called Ummidia mercedesburnsae. She reflected on the accomplishment, saying "Having experienced that honor of being the matranim of a described species really underscores the legacy that I want to leave."
Fellow UMBC NSF CAREER Award recipient Cynthia Matuszek, assistant professor of computer science and electrical engineering, brought the GRIT-X audience into the future with her presentation on the possibilities of human-robot interaction. Matuszek explained how humans and robots can interact and exist in the same space and how robots can be more useful.
Her work in UMBC's Interactive Robotics and Language Lab focuses on using grounded language—which refers to language that has meaning in and pertains to the physical world—as a tool to build robots that can perform tasks in real-world environments, instead of being programmed to handle a fixed set of predetermined tasks.
"In order to have robots that are useful in human spaces, we need robots that are flexible and capable of interacting in a variety of contexts," Matuszek explained in her presentation. "When people use language, we don't just use words. We use gestures, we point to things, we look at things, and we use body language. Useful language learning for robots needs to take all of these factors into account."
Learn more about GRIT-X 2023, past speakers, and their research.