Earning a degree isn't just a milestone, it's a special kind of growth experience full of challenges and doubts, inspiration and opportunity. Depending on their path, some students face particular challenges. They may be the first in their family to attend college, or need to work full-time or more to make ends meet while pursuing their degree. Some students are raising a family while working and taking classes.
At UMBC, students from all backgrounds are finding strength in community. They are building networks of support with peers and mentors to reach toward goals together, whether that goal is making a difference in Baltimore City, pursuing graduate school, or setting a powerful example for younger generations.
"You really have no idea what you're capable of, until you do it."
Vanessa Gonzalez '19, American studies, has been completely independent since age 17 and is the first member of her family to graduate from college.
Gonzalez has worked several jobs at once since she left home, and has struggled with health challenges. And still, she's earned an associate's degree from Anne Arundel Community College (AACC) and is now poised to graduate from UMBC as a Sherman STEM Teacher Scholar with a 4.0 GPA. She has big dreams that she's on the path to achieving: to teach math in Baltimore City and one day travel with the Peace Corps. And she's happy.
Gonzalez worked at the YMCA of Central Maryland while she was at AACC. That experience "helped me find my passion for child care and educating children," Gonzalez says. Since then, she's continued to grow in confidence and in her commitment to her work.
"Every now and then there are hiccups, but I went from never believing that I would make it past 18 years old to being 24 and accomplishing so much…And I'm pursuing exactly what I love," she says. "I'm excited every day. It's just nice having happiness."
How did Gonzalez accomplish this? "Embrace the hard times," she says. "Accept the tears. Because you're going to think: I'm dropping out. I give up. I quit. But the important thing is to not get to that point."
She tells other students facing challenges: "You've gotta push through when you really don't want to, so you can be where you want to be in the future. You really have no idea what you're capable of, until you do it, and then you have this overwhelming sense of accomplishment."
In addition to focusing on a powerful inner drive, Gonzalez notes the importance of being able to access support. Josh Michael, assistant director of the Sherman Scholars, has been one of her greatest champions. Michael juggles a busy schedule, including working one-on-one with several students in the scholars program, "but then he's still coming in to observe me teach, and giving me feedback, and working with me through my struggles," Gonzalez shares.
When she suffered a concussion and couldn't use a computer for weeks, faculty members printed class materials for her and worked with her to create a long-term make-up schedule.
Another faculty member "has been exactly where I am," shares Gonzalez. "Everything she says and she's done for me is just to make me better and help me achieve my goals." Seeing her mentor's success has been encouraging for Gonzalez, especially in the most challenging moments.
Now that she's made it this far, with the support of the Sherman Scholars staff and her American studies mentors, Gonzalez wants to give back to the community. In Baltimore, she says, "I see homelessness. I see hungry people. I see a lot of struggle. And it hurts."
"My goal is to be a part of the change that I'd like to see," says Gonzalez, voicing the goal of so many UMBC students graduating alongside her. "I want to be part of helping lift up a community that deserves more."
"[My] parents came here to give me a better life, and I'm living it."
Ashley Batista '19, biological sciences, is the first member of her family to graduate from college. Her parents emigrated from the Dominican Republic in search of new opportunities, and Batista was determined to make the most of her college experience. She chose to attend UMBC after hearing a woman of color speak at a UMBC event about the opportunities she was able to access as a UMBC alumna.
"I felt like she represented me," Batista says. "I just felt really empowered, and I enjoyed how rigorous the coursework would be here. I thought it would challenge me but also prepare me well for whatever I choose to do after."
Once on campus, Batista was particularly excited to hear about the Louis Stokes Alliance for Minority Participation summer research fellowship—a program that supports students in historically underrepresented groups in STEM. But because she didn't have a faculty mentor or research project lined up, she put the application aside. That was until Peter DeCrescenzo, project coordinator in the Office of Academic Opportunity Programs, reached out to encourage her to apply, offering to help connect her with a mentor.
That summer, Batista started working on Alzheimer's research with biology professor Fernando Vonhoff, and it's changed her life.
Being in the lab "opened a lot of doors for me to network and to figure out opportunities and programs I could be involved in after graduation," she shares. She notes that the research itself "was really gratifying. It changed my whole perspective and my goals." A reproductive health-focused Alternative Spring Break also helped Batista identify her path forward toward an obstetrics or pediatrics career.
On top of her research experience, Batista began organizing multicultural learning events for the UMBC community as a sister in the Zeta Sigma Chi Multicultural Sorority, Inc. That work "helped me understand and teach others about different perspectives, and create an environment where people can be open to discussion, respectful, and nonjudgmental," she shares. " I think that's something that I can transfer wherever I go."
She adds that her sorority sisters have been a huge source of support during her time at UMBC.
Batista says that while it adds challenges, being a first-generation college student has been motivating. "Whenever I'm feeling overwhelmed, I remember that my parents came here to give me a better life, and I'm living it," she says. "It motivates me to keep going and make them proud—and to make myself proud, because I know it will be rewarding in the end."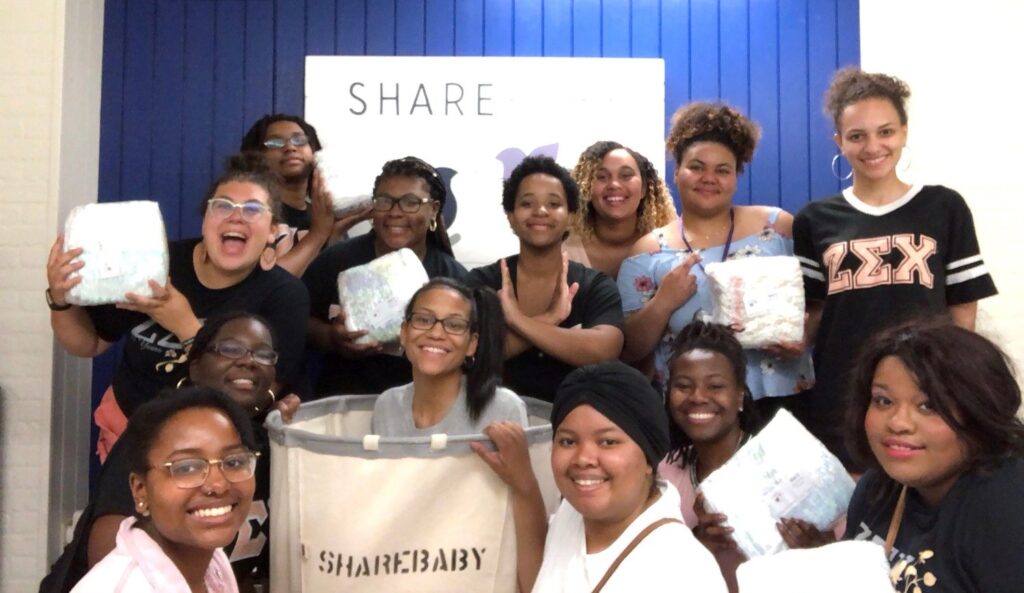 "I'm not alone in the struggles…or alone in my successes."
Damarius Johnson '19, Africana studies, is also a first-generation college student as well as a transfer student from the Community College of Baltimore County. Like Batista and her sorority, for Johnson, finding close-knit communities within UMBC has been the key to success. "UMBC has supportive communities that have helped me see college graduation as feasible," he shares, "and then allowed me to go through the ups and downs that happen as a college student."
"The McNair Scholars Program has been instrumental as far as focusing my attention on what I'd be pursuing after graduation," says Johnson. That attention has paid off—he'll begin a Ph.D. in history at the Ohio State University this fall.
The Transfer Engagement and Achievement Mentoring (TEAM) Program has connected Johnson with mentors and peers who have had experiences he can relate to, such as being the first in their family to attend college, transitioning from community college to a four-year school like UMBC, or experiencing college as a young black man, he says.
Johnson shares, "Having that support has been really helpful in knowing that I'm not alone in the struggles that I have, or alone in my successes. These are people I celebrate with, too."
Several mentors have helped Johnson through his UMBC journey, and determining his next steps, including Michael Hunt, assistant director of the McNair Scholars Program; Gloria Chuku, professor and chair of the Africana studies department; and James Hamilton, an academic advisor in the College of Arts, Humanities, and Social Sciences. He started at UMBC not knowing what he might do afterward. But now, Johnson says, "I'm most excited about my transition from being an undergraduate to being a scholar in history. I'm excited for what that journey will be like, and to be learning in a new environment."
"Hopefully it's the beginning of something good for my family," says Johnson, who has younger siblings. "I'm really happy to be able to honor them by getting to this point, because they've done a lot to support me."
At UMBC "you can get to where you want to go."
Like Johnson, Blake Hipsley '19, a dual degree recipient in physics and mathematics, was a McNair Scholar. Since his sophomore year, Hipsley has pursued research through the program with Michael Hayden, professor of physics. "Research helped me open up to what I want to do in the future," Hipsley says. "I had the chance to see if it was something I wanted to do, and I decided it is." This fall, he'll begin a Ph.D. in physics at the University of Michigan.
Hipsley's parents didn't graduate from college, but always encouraged him to pursue higher education. "My mom always encouraged us to do our best and work hard," he shares. "I think that's why I have this drive to always be doing so much, and I put it on myself to pay for my own school." By applying for a multitude of scholarships and working as a tutor, Hipsley was able fund his UMBC education on his own.
Without family members who had attended college, "The only people I really could talk to about graduate school were my professors," he says. "They really helped me a lot with getting funding, writing a personal statement, and preparing for the GRE."
Hipsley also served as the McNair Scholars Program's inaugural teaching fellow, a role where he advises other McNair students and provides feedback to program leadership. "McNair has helped me not only get into graduate school," he says, "but also help others who may be struggling."
The McNair Scholars also supported Hipsley's personal growth. "One of the benefits of the program is that you get to meet people from all different backgrounds," he says. As a result, he tried his first sushi and watched his first Bollywood film.
With such a caring community of support, Hipsley says, at UMBC, "If you work hard and keep at it, no matter where you're from you can get to where you want to go."
"They're going to see you finish what you started."
Nicole Katsikides, Ph.D. '19, public policy, began her doctoral journey 12 years ago while working full-time for the Maryland Department of Transportation on highway freight transport efficiency. During her Ph.D. studies, she's had two children, now 6 and 8, and her husband was deployed with the Air Force to the Middle East several times. Two years ago, based on the skills she's gained through her graduate studies, she was also recruited for a demanding new job with the Texas A&M Transportation Institute (TTI), which she'll continue after officially earning her doctorate this month.
"There were many times along the journey that I truly didn't think it would happen," Katsikides reflects. "I think the way I got through was with very gracious support from my advisor and my committee." John Rennie Short, public policy; Tim Brennan, public policy; and Scott Farrow, economics, "wanted to see me succeed," she shares, "and that really helped."
For Katsikides, the public policy program's active effort to be accessible to working professionals made all the difference. "Under Dr. [Susan] Sterrett's leadership, the program has evolved to be something that's really helpful for people in public positions like I had to succeed," she says, "and to bring Ph.D. level knowledge into the public sector working environment." Katsikides also notes that her TTI supervisor, Bill Eisele, was very supportive, especially as she approached the finish line.
Still, Katsikides struggled to balance motherhood with pursuing her career and her education. "It's very easy for people to say, 'Why are you doing that?' or 'You should be spending more time with your kids.' There's still a lot of cultural norms," she says. She stayed motivated by remembering how her own parents pursued advanced degrees when she was a child.
"I hope that when my kids think about this as they grow up, that they saw what it takes to achieve something. That it's an example for them," she shares. "So block out the noise, and keep going—the kids are gonna be alright. They're going to see you finish what you started."
Banner image: Vanessa Gonzalez '19 works with a student at Lakeland Elementary School. Photo by Marlayna Demond '11 for UMBC. 
Tags: AfricanaStudies, AmericanStudies, Biology, CAHSS, CNMS, Economics, GraduateSchool, mcnairscholars, Physics, PublicPolicy, ShermanScholars