Lauren and Vibha sit in a conference room deep in the middle of the University of Maryland School of Medicine. They wait patiently as faculty and staff from UMBC; the University of Maryland, Baltimore (UMB); the University of Maryland, College Park; Baltimore City government officials; and staff from Baltimore-based non-profit organizations fill the round tables.
This is the Research Summit on Violence Prevention and Community Engagement hosted by UMBC and UMB. In a room of about fifty attendees ready to discuss the impact of violence prevention efforts in Baltimore, Lauren and Vibha look at each other, knowing they bring a different voice. Both recent UMBC alumni and graduate presidential fellows at UMB, they are here to speak as young Baltimore researchers, who care deeply about their communities and want to be involved in the research aimed at making their city safer.
"I am the community"
Lauren Highsmith '15, education, introduces herself to the room after a conversation about the need to work with the community. "I am the community. Please remember me," she says. "I am a master's student in social work at the University of Maryland, Baltimore. I was born in West Baltimore and continue to live in the area. Don't assume the community is just what you see on television. The community are also people like me who are working in the field and doing research."
Vibha Rao '14, biological sciences, M22, claps after her friend's statement. She is from Gaithersburg, Maryland, but lives, studies, and works in Baltimore. In the last decade, she has earned her undergraduate degree and a medical degree from the University of Maryland School of Medicine, and she is currently pursuing an M.S. in clinical research.
Rao has been deeply affected by the experiences of her undergraduate and graduate peers from Baltimore whose family members have been killed by gun violence. "Their experience having grown up and gone to college and medical school in Baltimore is starkly different than students outside of Baltimore," she says. She worries about the normalization of gun violence and wants to be part of research to address it from a medical perspective. She shares, "I don't want violence to be normal anymore."
Human- and community-centered research
The research summit was organized by Christine Mallinson, director of UMBC's Center for Social Science Scholarship (CS3) and professor of Language, Literacy, and Culture, and Kate Tracy '03 Ph.D. and '01 M.A., psychology and human services, who is associate professor of epidemiology and public health and director of The Richard and Jane Sherman Center for Health Care Innovation at the University of Maryland, Baltimore. As one focus for the day's work, Mallinson and Tracy asked participants to explore both immediate and long-term supports for communities served through the UMB Community Engagement Center. During the breakout sessions, they asked attendees to identify how they might engage more undergraduate and graduate students from Baltimore, like Highsmith and Rao, in community-facing research on violence prevention.
"We wanted to purposefully use this summit to convene as many researchers as possible to examine, discuss, and share expertise and data," Mallinson says. "Our intent is increasing collaboration and resources beyond this room, between institutions and the community, to create tangible, applicable and responsive human- and community-centered research in violence prevention with and for Baltimore."
During the day-long event, UMBC faculty and staff representing the School of Public Policy, media and communication studies, visual arts, The Hilltop Institute, The Shriver Center, Division of Student Affairs, emergency health services, and psychology gathered for group discussion in different areas of violence prevention research. They met as cohorts focused on data, community involvement, K-12 and higher education, clinical interventions, and the intersection of the correctional and health systems.
Responding to the call from the morning discussion, the groups developed ideas for how to support the UMB Community Engagement Center through each of their focus areas, particularly building on existing work by community members. They also identified a timeline to continue the cohort work beyond the conference. 
"Collaboration between academic and community partners is key for successful violence prevention research, and developing the next generation of innovators by harnessing the talents of our undergraduate and graduate students in this process is essential," shared Lucy Wilson, M.D., graduate program director of emergency health services at UMBC.
After the summit, the participants walked through two thought-provoking exhibitions,
David Hess's "Gun Show,"
with life-size sculptures of assault rifles made from ordinary objects, and a photo series of homicide locations in Baltimore City by
Amy Berbert
's '17, visual arts
. Both artists created the pieces to foster dialogue and awareness about guns and violence.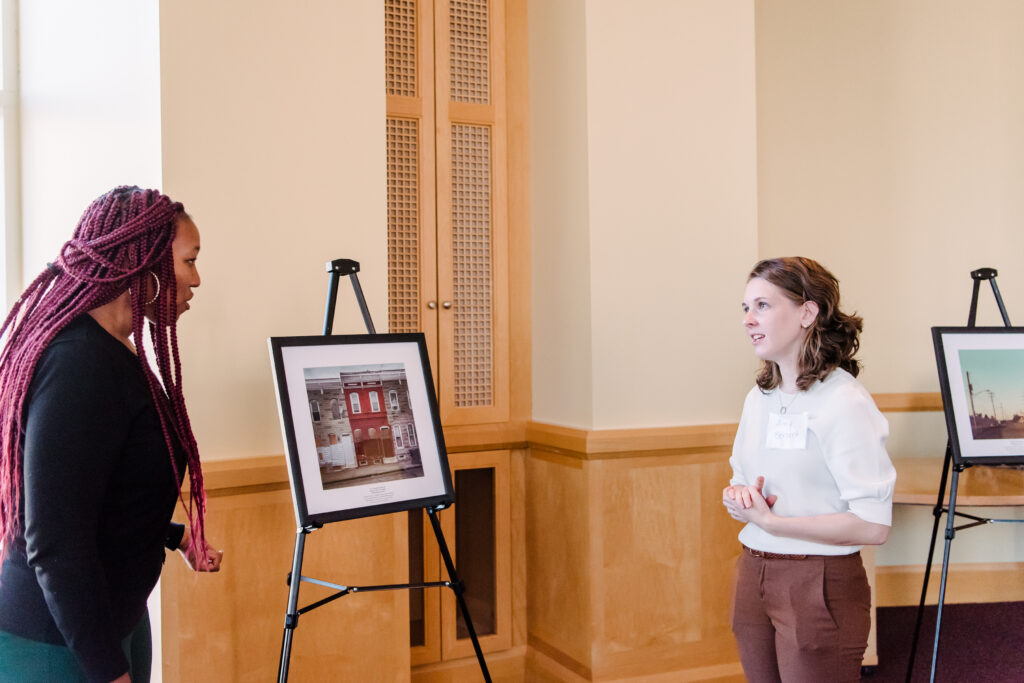 As everyone spoke with the artists, and with each other, reflecting on the day, Mallinson took this opportunity to connect with Lauren Highsmith and Vibha Rao. She wanted to hear their perspectives, and their advice, on how to engage and include more undergraduate and graduate students from Baltimore in violence prevention work, to ensure it tackles the most pressing issues, recognizes community work already underway, and can have a lasting impact.
Banner image: Event organizer Christine Mallinson (r) speaks with summit participants. Photo by Marlayna Demond '11 for UMBC.
Tags: CAHSS, CEC, CIRSCA, CS3, EHS, HilltopInstitute, MCS, Psychology, PublicPolicy, ShriverCenter, VisualArts