Max Bobbin
Degree: B.S., Chemical Engineering; B.A., Philosophy
Hometown: Joppa, MD
Post-grad plans: Ph.D. in chemical engineering, University of Delaware
Max Bobbin may still be an undergraduate, but he's already made significant research contributions in the Artificial Intelligence and Theory-Oriented Molecular Science (ATOMS) lab, led by Tyler Josephson, assistant professor of chemical, biochemical, and environmental engineering. Bobbin was the first in the research group to develop expertise in the programming language Lean. He took on a leadership role, teaching other lab members, including Josephson, about new ways to use Lean. He also selected appropriate projects for new team members, helped the group prepare for Josephson's parental leave, and initiated new directions for the lab's work.
Bobbin believes his additional philosophy major supported his engineering work in important ways. "For an engineer, the most important skills are problem-solving, critical thinking, and communication," he says, "and philosophy is a major built around those three ideas."
Bobbin also served as vice president of the UMBC American Institute of Chemical Engineers (AIChE) student chapter and led UMBC to the AIChE Jeopardy national championship in 2022.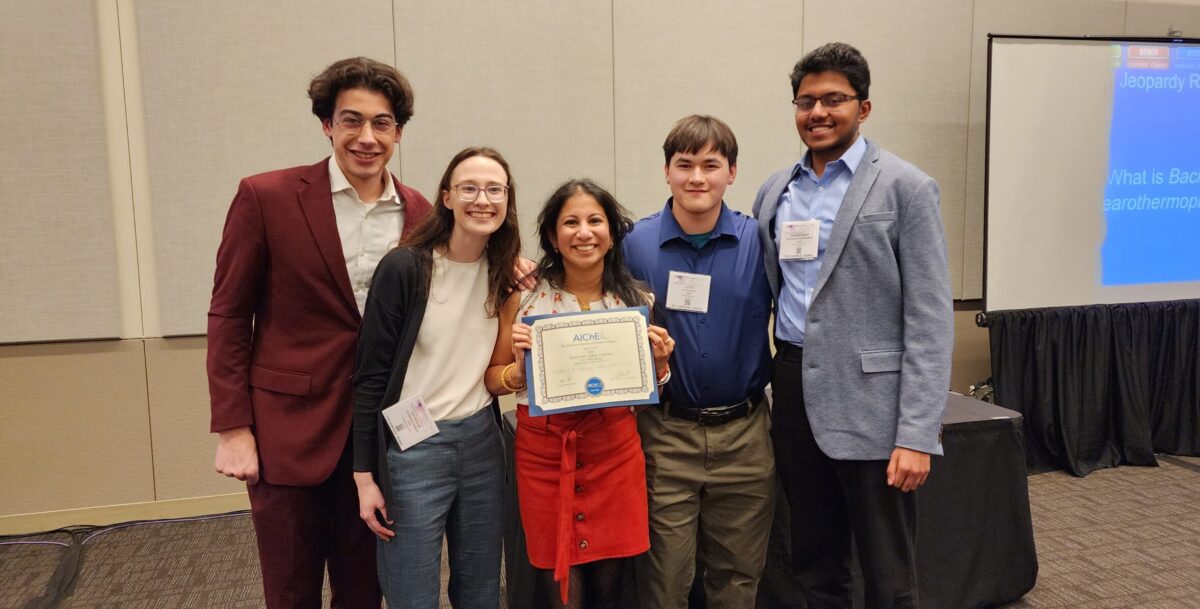 What has been the best part of your UMBC experience?
"My first American Institute of Chemical Engineers Jeopardy competition was nationals in 2021, where we placed second. I worked very hard to make sure we were ready when we went back to nationals in 2022, because I wanted to bring back first place for UMBC. Our practice paid off, and after a tough final round, we won first place at nationals. I enjoyed attending the conferences and the opportunities to network, but competing is my favorite memory because it was the best representation of how well UMBC students work together to achieve their goals."
Is there a particular academic achievement you're most proud of?
"In the first couple of months after I joined the Josephson lab, I spent a considerable amount of time learning more about higher level math and coming to our weekly meetings with new information to teach the rest of the group. In the summer, I made my first breakthrough and moved into a leadership role in the group. This project helped me hone my skills relating to learning new subjects, leading a project, and leading a group of people in a new field of study. Plus, it gave me confidence as I continue doing research for my Ph.D."
Tags: CAHSS, CBEE, COEIT, Philosophy, Undergraduate Research