"I am privileged to receive strong support in my pursuit of a career in math and economics," says Anna Gifty Opoku-Agyeman, M26, '19, mathematics, co-founder of the Sadie Tanner Mossell Alexander Conference for Economics and Related Fields. "I am an anomaly. There has never existed a formal space for Black women in economics to convene and benefit from the resources of a supportive network. I co-created one."
On February 23, the Sadie Collective launched the first Sadie T.M. Alexander Conference for Economics and Related Fields. The event was held at the Washington D.C. office of Mathematica, a policy research organization.
The Sadie Collective is made up of undergraduate, graduate, and post-baccalaureate students from across the country, including student leaders from UMBC. Along with Opoku-Agyeman, the group includes conference co-organizer and head of logistics Olusayo Adeleye '20, M28, economics and mathematics. Yasmin Graham '19, mechanical engineering, served as event photographer. Bethany Woosen '19, economics and mathematics, participated in the conference, along with other Black women in math, economics, and related fields from across the country.
"There weren't many people like me in math and economics, which was frustrating. Through the Sadie Collective, I have the community and support I was seeking," explains Adeleye. "Now, I am part of a network and platform that promotes Black women economists and provides access to high-level opportunities for future Black women economists."
The conference received support from donors worldwide, including prominent economists. The UMBC delegation also received funding for accommodations from the UMBC economics department through an Alfred P. Sloan Foundation grant. This $1.3 million dollar grant program, announced in November 2017, works to increase the number of students from underrepresented racial and ethnic groups who complete highly competitive doctoral programs in economics.
Did I mention that we have a private Q&A session with the former chair of the @federalreserve, Janet Yellen? Thank you @BrookingsInst and @davidmwessel for this amazing opportunity. #SACE2019 pic.twitter.com/nqCfgPgAoc

— Anna (@itsafronomics) February 22, 2019
Finding a circle of support
Opoku-Agyeman came to UMBC with an interest in understanding health inequalities in Black and African diaspora communities. She found unwavering support for her questions and research in three women on campus: Jacqueline King, Nandita Dasgupta, and Gloria Chuku.
Jacqueline King, Ph.D. '09, psychology, met Opoku-Agyeman when she applied to the MARC U*Star program. King is assistant director of the program, which supports students from historically underrepresented groups in the biomedical sciences, with the goal that they go on to complete advanced degrees.
"I've witnessed Anna's metamorphosis from a student who was unsure of her academic capabilities to a young woman who is positioning herself to impact the economic and public policy field," King remembers. "Her superpower is her ability to foster connections and collaborations to make a difference."
Opoku-Agyeman explains that Dasgupta, adjunct professor of economics, and Chuku, chair, and professor of Africana studies, have also been intrinsic to her success. "Dr. Dasgupta gave me an economic framework to understand a developing Africa," she says, "and Dr. Chuku has provided the historical context for the structural inequalities in the African Diaspora."
With their support, Opoku-Agyeman realized math and economics were priceless tools in understanding health inequalities which helped to eventually chose to major in mathematics and minor in economics.
Inspiration from Sadie T. M. Alexander
As Opoku-Agyeman began to look for other Black women economists to connect with, she was stunned to find so few. Seeking inspiration, she found the story of Sadie T. M. Alexander, the first African American woman to earn a Ph.D. in economics.
Between 1919 and 1923 Alexander served as the first national president of Delta Sigma Theta sorority, which focused on service to the African American community. She earned her Ph.D. in 1921 from the Wharton School of the University of Pennsylvania, at a time when the economics field did not allow Black women to practice. Undeterred, Alexander completed a dissertation that called for a change in economic models to include the economic lives of the Black community. She continued to be a pioneer and in 1929 become the first African American woman to earn a law degree from University of Pennsylvania Law School and the first African American woman to practice law in Pennsylvania.
The Indicator Podcast today on Sadie Alexander!

Very fitting on the day of the inaugural Sadie Alexander Conference #SACE2019https://t.co/IqmGqdBw4O pic.twitter.com/OFOpG8suGR

— Dina D. Pomeranz (@DinaPomeranz) February 23, 2019
When Opoku-Agyeman learned that there was no global or U.S. professional organization for Black women economists, she drew inspiration from Alexander's pioneering spirit and decided to take action.
Legacy of Black women economists
The inaugural Sadie Tanner Mossell Alexander Conference for Economics and Related Fields drew over eighty Black women undergraduate and graduate students, and PhDs in economics, from across the United States and Canada. Notable economists Julianne Malveaux and Willene A. Johnson discussed the implications of Alexander's dissertation research and speeches for current economic theory and future research. Malveaux, former president of Bennett College, and Johnson, president of Komaza, Inc., a development finance and peacebuilding firm, have both written extensively on the role of economics in Alexander's life. Alexander's daughter, Rae Alexander-Minter, and her grandchildren attended as guests of honor.
Three expert panels during the event provided participants insight on how to help Black women succeed in economics, opportunities for Black women in economics beyond the undergraduate years, and navigating professional spaces as a Black woman. These panels included Black women economists from the International Monetary Fund; Women's Institute for Science, Equity, and Race; American Economic Association; Harvard Research Scholar Initiative;  Joint Center for Political and Economic Studies; Federal Reserve Board; Africa Gender Innovation Lab at The World Bank; Economic Policy Institute; and multiple universities.
Recruiters from doctoral programs as well as prestigious financial and government institutions also attended to take advantage of this unique opportunity to reach out to top talent from across the United States.
Future of Black women economists
Opoku-Agyeman and her co-organizers see an ongoing need for a thriving network of Black women economists beyond the annual conference. They have founded the Sadie Collective to not just organize the conference, but also to connect, empower, equip, and educate Black women in economics and public policy more broadly, for years to come.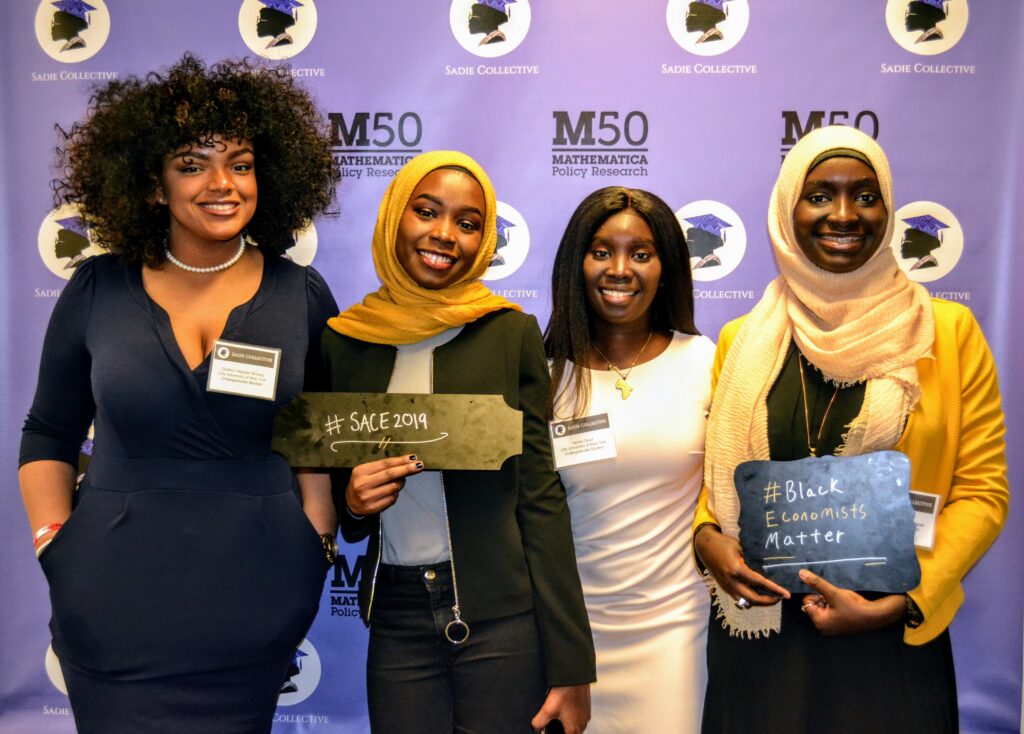 The group has already drawn wide public interest. Recently, Congresswoman Maxine Waters mentioned the Sadie Collective in her testimony in a financial and monetary policy hearing with the Federal Reserve. NPR's Planet Money and Forbes Magazine have also noted the importance of the conference for increasing diversity in economics.
"Similar to Dr. Alexander, people have projected their limitations onto me, often focusing on what I could not do because of my race/ethnicity, gender, socioeconomic background, age, or all of the above," says Opoku-Agyeman. "She taught me that there is absolutely nothing that I cannot do. If want to reach a goal, all I have to do is run towards it."
Banner image: Opoku-Agyeman presenting Diane Herz, vice president, director of human services, and chief diversity officer of Mathematica Policy Research, with a plaque of appreciation for hosting the first Sadie T.M. Alexander Conference.
All photos courtesy of the Sadie Collective.
Tags: CAHSS, Economics, marcustar, MathStat, MeyerhoffScholars