UMBC and the University of Maryland School of Medicine (UMSOM) have received a five-year, $13.7 million grant from the National Institutes of Health (NIH) to enhance recruitment and training of junior faculty from groups underrepresented in biomedical science. Funding is through the NIH Common Fund Faculty Institutional Recruitment for Sustainable Transformation (FIRST) program, which was founded last year to support efforts to hire groups of diverse, early-career research faculty.
The grant will enable the universities to hire a group of four faculty members at UMBC and six at UMSOM, each of whom will have cross-campus appointments at both institutions.
"Faculty hired under UM-FIRST will advance our teaching and research missions and serve as leaders for institutional change as we pursue our vision of a diverse professoriate," says William LaCourse, dean of the College of Natural and Mathematical Sciences and professor of chemistry and biochemistry at UMBC. "These faculty and those who follow will also serve as role models for future generations of underrepresented students."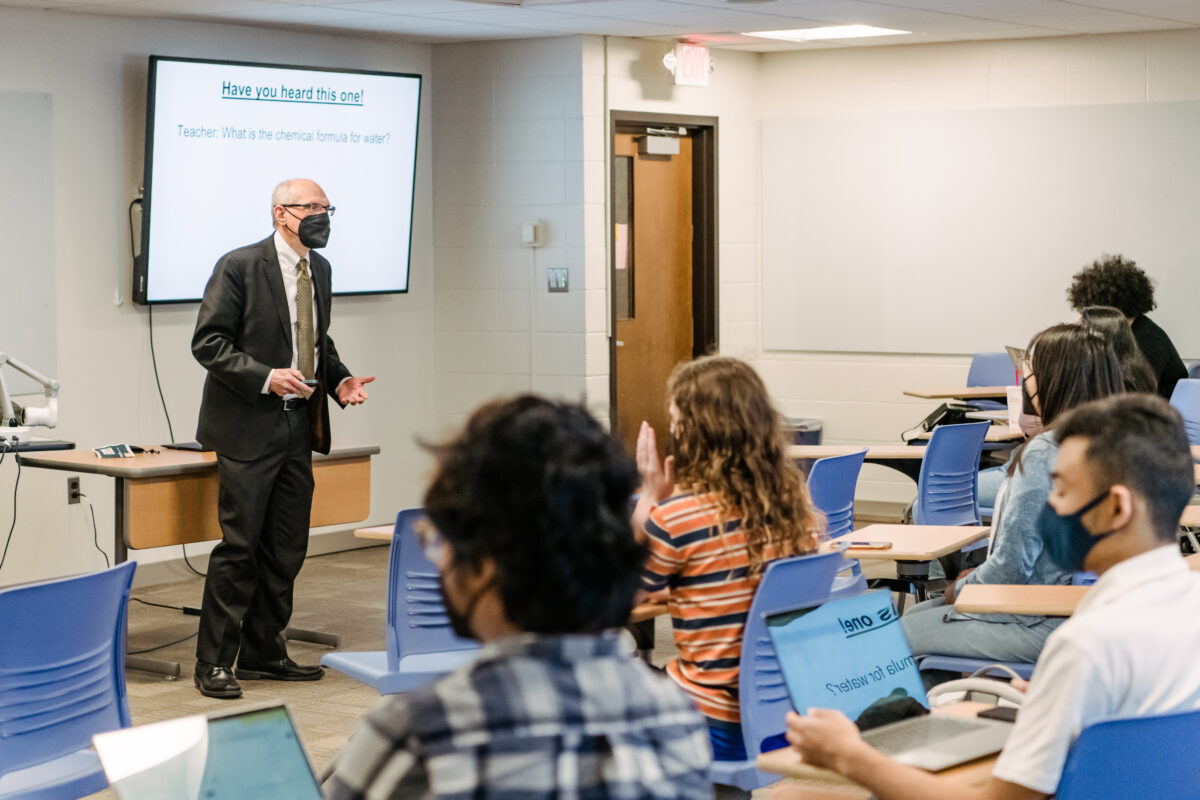 Fostering culture change
The grant aims to build self-reinforcing communities of scientists committed to diversity and inclusive excellence through the recruitment of early-career faculty who are competitive for assistant professor positions and have demonstrated commitment to promoting diversity and inclusion. UMSOM and UMBC will measure their progress against clearly defined metrics of institutional culture change, diversity, and inclusion to determine if hiring efforts and other evidence-based strategies are achieving the program's goals.
The grant "is designed to foster sustainable culture change and promote inclusive excellence by enabling us to hire a diverse cohort of new faculty and to support faculty development, mentoring, and promotion opportunities," says James Kaper, the lead on the grant and the James and Carolyn Frenkil Distinguished Dean's Professor, vice dean for Academic Affairs, and chair of microbiology and immunology at UMSOM.
Building on a legacy of inclusion
The NIH FIRST grant builds on UMBC's highly esteemed Meyerhoff Scholars Program, launched more than 30 years ago, which has led UMBC to become a leading university for developing underrepresented STEM undergraduates. UMBC is now the nation's number #1 producer of Black undergraduates who go on to complete a PhD in the natural sciences or engineering and #1 for Black undergraduates who complete an M.D./Ph.D. 
At the same time that UMBC excels in educating undergraduates, the university is also classified as one of only 146 R1 ("very high research activity") institutions in the nation.
UMBC's efforts to promote faculty diversity in STEM include the PROMISE Academy and ADVANCE, which has increased women faculty in STEM by 70 percent at UMBC since 2003.
The College of Natural and Mathematical Sciences' Pre-professoriate Fellowship offers incoming faculty two-year appointments as research assistant professors, with structured mentoring and other scaffolds for success. Faculty who came to UMBC through this program in biological sciences, physics, and chemistry have already been converted to tenure-track assistant professors.
Unwavering dedication
The recent $10M INCLUDES grant awarded to UMBC further builds a robust, diverse pipeline in STEM at UMBC by supporting postdocs from underrepresented groups, and the PROMISE Allegiance for Graduate Education and the Professoriate (AGEP) program offers professional development and community to all graduate students and postdocs at UMBC and throughout the University System of Maryland.
UMSOM's efforts to promote a diverse STEM and health-science pipeline include the UMB CURES program for middle and high school students, several internship and summer research programs for college students, and multiple post-graduate training programs that give underrepresented minority scholars direct experience in a laboratory setting.
Like many of these other initiatives, "The true strength of UM-FIRST," LaCourse says, " is in the unwavering dedication of the leadership, faculty, and staff of these two institutions to inclusive excellence and social justice."
Tags: CNMS, COEIT, diversityandinclusion, majoraward, MeyerhoffScholars