"To whom much is given, much is required."
As UMBC honors Dr. Freeman Hrabowski's 30 years as president, we are calling on Meyerhoff graduates across the nation to give back to the program that profoundly impacted their lives.
Meyerhoff Scholars Program
UMBC's Meyerhoff Scholars Program, established in 1989, has been at the forefront of efforts to increase diversity among future leaders in science, engineering, and related fields. The UMBC Meyerhoff family is now more than 1,400 strong, with nearly 370 students enrolled in graduate and professional programs. By assembling such a high concentration of high-achieving students in a tightly knit learning community, students continually inspire one another to higher levels of excellence. Many Meyerhoff Scholars are encouraged to continue their academic pathways. In fact, UMBC is the nation's #1 producer of Black undergraduates who go on to complete M.D./Ph.D. programs. Visit the Meyerhoff website for all up to date information on the program.
Gesture of Gratitude
By giving back, alumni will honor both Robert Meyerhoff and Dr. Hrabowski through the program's Gesture of Gratitude campaign. To date, we have raised more than $500 thousand dollars towards a one million dollar alumni goal to support the next generation of Meyerhoffs.
As Meyerhoff alumni, the power of this community is the collective strength that comes from working together as a family. Regardless of the size, the intent has been consistent—to show deep appreciation for the generous support of Mr. Robert E. Meyerhoff and Dr. Freeman Hrabowski.
Graduates of the Meyerhoff Scholars Program have expressed their thanks to Mr. Meyerhoff and Dr. Hrabowski many times, and in many ways. Can we count on your Gesture of Gratitude?
With your help, the Meyerhoff Scholars Program will continue to be a national leader in increasing diversity in the STEM fields and beyond.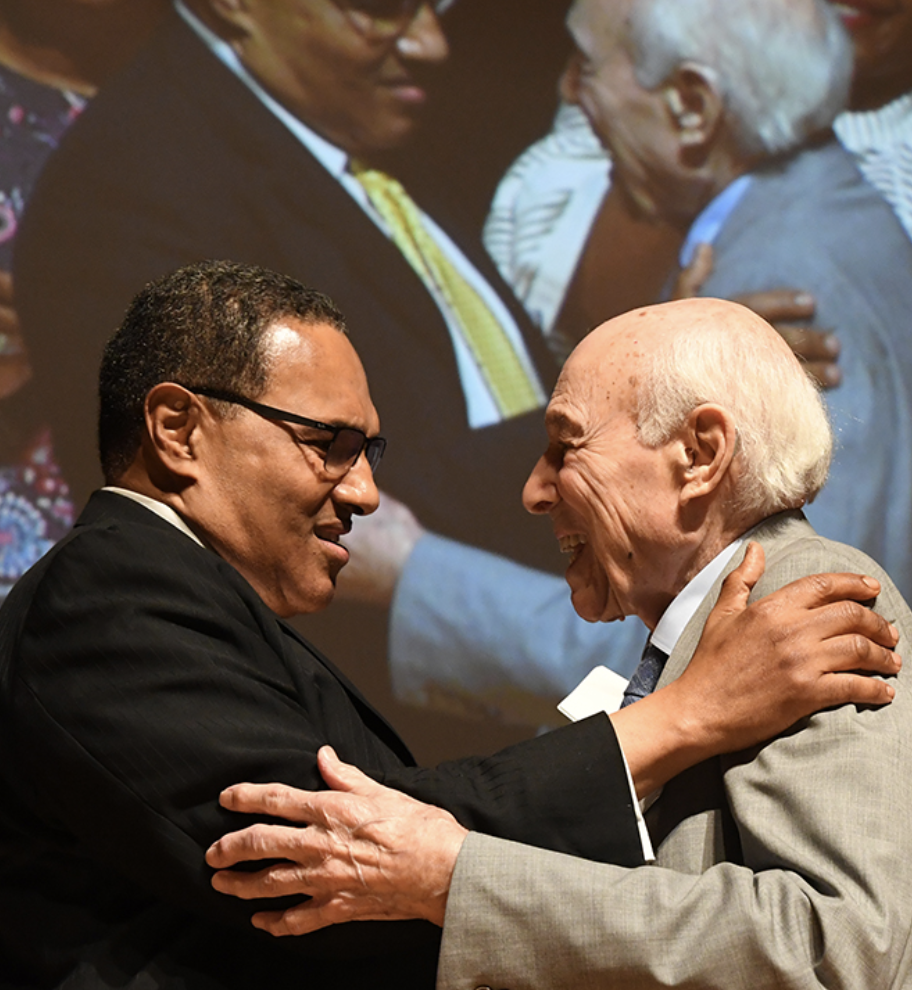 I established the Kizzmekia S. Corbett Endowed Scholarship in gratitude to UMBC and the Meyerhoff Scholars Program for training me to be the scientist and, moreover, the humanitarian I am today. At UMBC, I realized clearly my purpose to use science to help humanity, and I hope that this scholarship inspires future generations of Meyerhoff Scholars to do the same… to uplift all people.

Dr. Kizzmekia Corbett

'08, M16
Key Program Areas
LaMont Toliver Endowed Scholarship Fund
In memory of Mr. LaMont Toliver, former Director of the Meyerhoff Scholars Program, this endowed fund provides scholarship support for Meyerhoff students. Scholarships continue to be the single greatest expense in operating the Meyerhoff Program. Growing this scholarship fund will allow UMBC to continue to support students as they go through the Meyerhoff program.
Summer Bridge Endowment
Summer Bridge is a cornerstone of the Meyerhoff experience. This endowment Summer Bridge is a cornerstone of the Meyerhoff Program. Historically, Summer Bridge has benefited from federal funding, which has significantly decreased in recent years. This endowment generates annual income to maintain this essential experience for future scholars.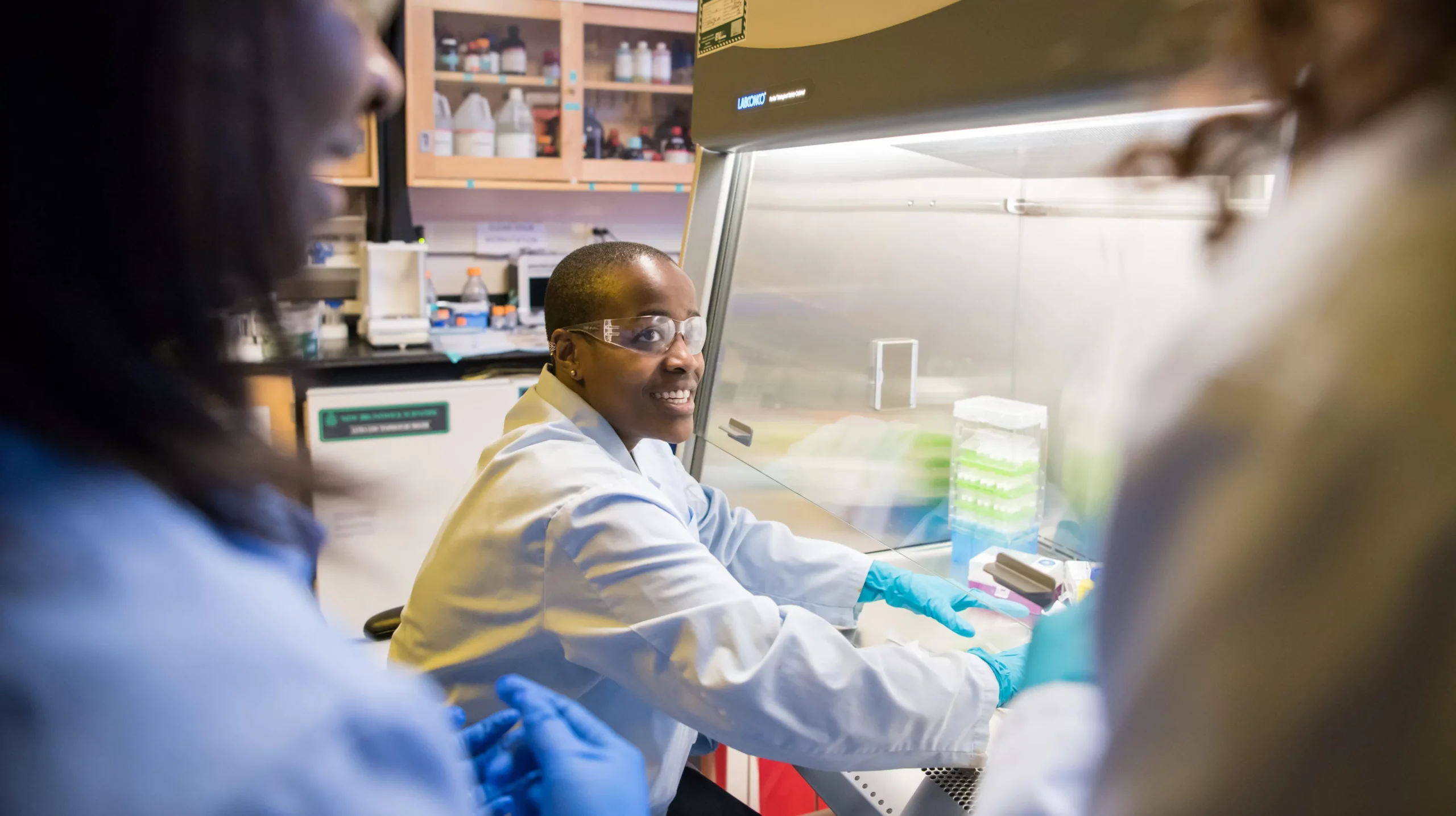 Meyerhoff Operating Fund
Your gift to this fund provides valuable resources to support the countless programmatic elements that make the Meyerhoff experience unique and successful – including travel stipends for students to national conferences/meetings, graduate school visits, community-building initiatives, and much more.
The Meyerhoff Scholars Program has successfully built exceptional leaders in STEM and I am honored to be part of its legacy.  The community, the support and the culture of academic excellence have helped me achieve more than I ever imagined. I give so that others might have the same opportunity.

Felicia Sanders

'96, M4
***For alumni committing a multi-year pledge or gift over $1,000, endowed gifts are encouraged.
Make Your Gesture
If you wish to speak with someone about making a gift to the UMBC Foundation to support the Gesture of Gratitude campaign, please contact Kim Robinson at trowbrid@umbc.edu or give online via the form linked below.
All contributions are administered by the UMBC Foundation, Inc., for the benefit of UMBC.