Emily Ferketic
Degrees: B.S., Physics
Hometown: Pittsburgh, PA
Post-grad plans: Ph.D. in Theoretical Physics from UMBC
As a scholar athlete, Emily Ferketic has excelled in both the research lab and on the volleyball court. Ferketic is a physics major who participated in the quantum thermodynamics research group with Sebastian Deffner, associate professor of physics.
A key mentor, Deffner helped guide Ferketic through the process of writing and submitting the article "Boosting thermodynamic performance by bending space-time," which examines how to unlock the mysteries of black holes. It was published this January in the journal Europhysics Letters. She plans to continue working with Deffner for her Ph.D., focusing on quantum thermodynamics and shortcuts to adiabaticity.
While completing this intensive academic work, Ferketic also shined as a student athlete on UMBC's Division 1 women's volleyball team for four years. In 2021, she was named the America East Elite 18 Award winner, which recognizes the top performing student-athlete in the America East championships, and she later became captain of her team. She credits volleyball for teaching her valuable communication skills and discipline, and she has also developed connections with international teammates from around the world.
Given Ferketic's extraordinary accomplishments, she was asked to co-host the spring 2023 inauguration dinner for UMBC President Valerie Sheares Ashby.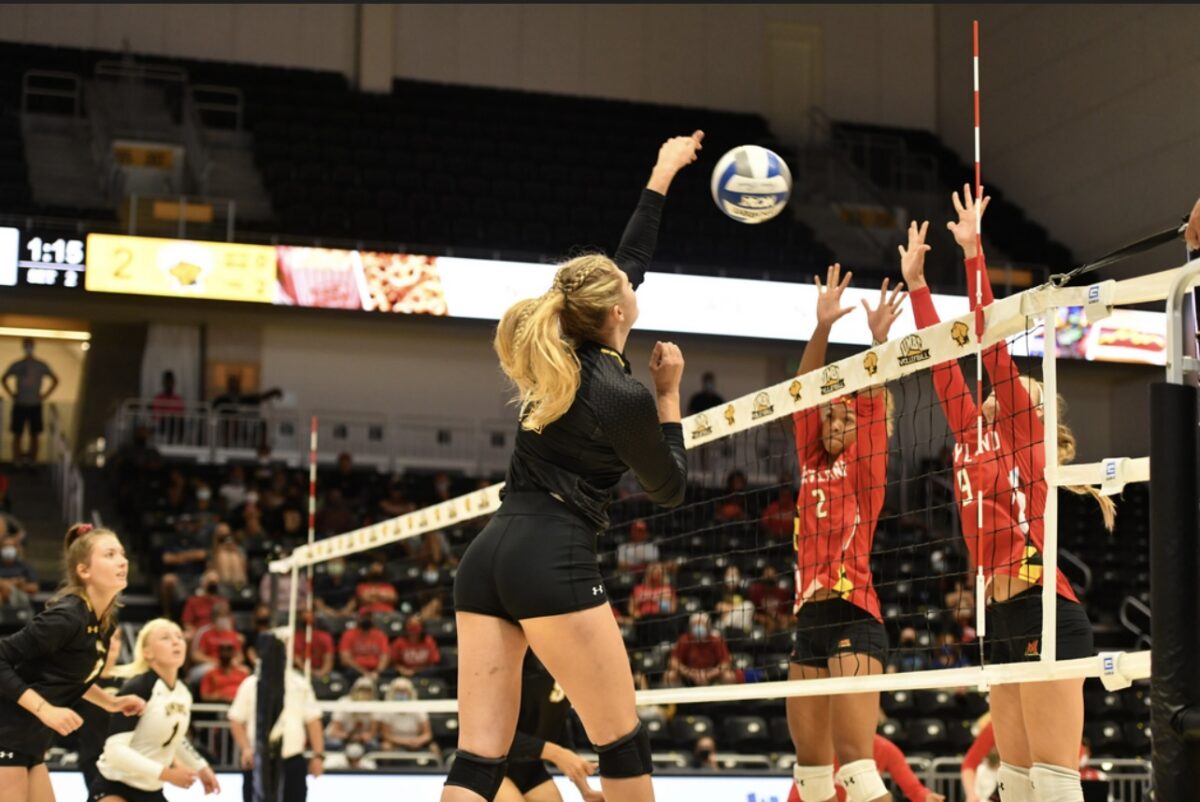 Has there been a mentor or fellow student who influenced your time at UMBC?
"Sebastian Deffner has been my mentor for about a year and a half (since the beginning of my junior year). I was taking his PHYS 303 class called Thermodynamics and Statistical Mechanics and I ended up doing well and really liking it. Given that, he invited me to audit some of his research group's weekly meetings and, shortly after, I joined. We began working on my first research project and had my first professional paper published a little over a year later. He saw potential in me that I didn't see myself, and I certainly wouldn't have the success I do today if it weren't for him. Now I am staying at UMBC for my Ph.D. as his research assistant."
What has been the best part of your UMBC experience?
"My best UMBC experience was hosting President Sheares Ashby's inauguration dinner. President Sheares Ashby personally asked Chris Slaughter '23, M31 computer engineering, and me to host a dinner the night prior to her inauguration. I was exceptionally honored she asked me to represent the student body. In addition to the extraordinary experience, it also connected me to people I never thought I would have the privilege to meet."