As UMBC welcomes 2020, we celebrate the student successes, athletic achievements, research breakthroughs, and community news that made 2019 a year to remember.
Retriever Nation
Whether it was on the field, on the court, or in the pool, UMBC's Retrievers set out to shatter records in 2019. After being predicted to finish last in the America East, women's softball stunned by clinching the title for the first time in program history. First-year standout Courtney Coppersmith, biochemistry and molecular biology, was named UMBC softball's first-ever All-American. She was also the first person in America East history to be named both Pitcher of the Year and Rookie of the Year in the same season.
Men's and women's swimming and diving were both crowned America East champions, with the men's team successfully defending their title. The America East accolades don't end there, with men's lacrosse bringing home the title for the first time in a decade. And men's basketball had another thrilling season thanks to the support of dedicated fans.

Global learning experiences
In 2019, Retrievers discovered more ways to explore the world. Faculty-led summer trips gave students the opportunity to earn college credits through immersive experiences in Wales, Spain, France, Italy, and Colombia. Also, as part of a pilot program this year, nearly 30 new Retrievers jump-started their college career through Dawg Days Abroad in England. And 14 UMBC students and recent alumni received Fulbright U.S. Student Program awards — a new university record.

Student achievements
Students also earned major recognition for their contributions to communities in Baltimore and around the globe, and for their promise as emerging leaders in a range of fields.
Evan Avila '20, economics, was awarded a Harry S. Truman Scholarship, the fourth recipient in UMBC history. Avila shared, "I want to pursue a career in economics to inform policy that can dismantle structural barriers to economic equality for immigrant communities." Maheen Haq '20, global studies and economics, was named a Newman Civic Fellow for her work supporting people facing discrimination in Baltimore and abroad. The Cyber Dawgs, UMBC's Cyber Defense Team, beat out over 100 teams to be named the U.S. Department of Energy's CyberForce Competition national champion.

New faces and spaces
UMBC's Interdisciplinary Life Sciences Building (ILSB) officially opened in the fall. The new facility offers features that set it apart as a space for learning, and set up students and faculty for transformative moments of discovery.

Off campus, the doors of OCA Mocha—a student-developed coffee shop and community gathering space in downtown Arbutus—opened in November. And we gave a big #RetrieverNation welcome to Brian Barrio, UMBC's new director of athletics, physical education, and recreation.
Making the grade
UMBC again appeared on numerous distinguished rankings lists in 2019. U.S. News named UMBC a national leader in teaching and innovation and recognized several UMBC graduate programs as among the best in the nation. The Center for World University Rankings declared UMBC one of the top 3.3 percent of universities worldwide, and the Princeton Review's Best 385 Colleges for 2020 lauded UMBC as one of the best colleges in the nation. The research-focused QS World University Rankings 2020 named UMBC one of the top 500 universities in the world overall and among the best of the best in a key measure of faculty scholarship. And a brand new Times Higher Education ranking recognized UMBC as #3 among U.S. universities in global social and economic impact.

Research with impact, at all scales
From launching a satellite into space to sequencing the genes for spider glue, the UMBC community made exciting breakthroughs in 2019.
Sarah Stellwagen, assistant research scientist in biology, published the first-ever complete sequence of two genes that allow spiders to produce glue—a sticky, modified version of spider silk that keeps a spider's prey stuck in its web. A NASA-funded satellite that UMBC's Vanderlei Martins, physics, developed in collaboration with Space Dynamics Laboratory launched from NASA's Wallops Flight Facility to the International Space Station in November.
Mustafa Al-Adhami M.S. '15, Ph.D. '20, mechanical engineering, developed a rapid bacterial-detection test that can assess, within an hour, if a patient has an infection. His test can also help physicians determine which antibiotics should be used to help fight the infection at a fraction of the price of the current antibiotic susceptibility test. This impressive breakthrough won Al-Adhami first place at the national Three-Minute Thesis competition.
Erle Ellis, geography and environmental systems, worked with colleagues to survey archaeologists across the globe to better understand human land use over time.
In the arts, UMBC Magazine highlighted the groundbreaking work of Chelsea Pace, assistant professor of theatre, a national expert on best practices for staging intimacy in theatre and film. Shortly afterward, she was featured in a major New York Times Magazine piece on intimacy coordinators.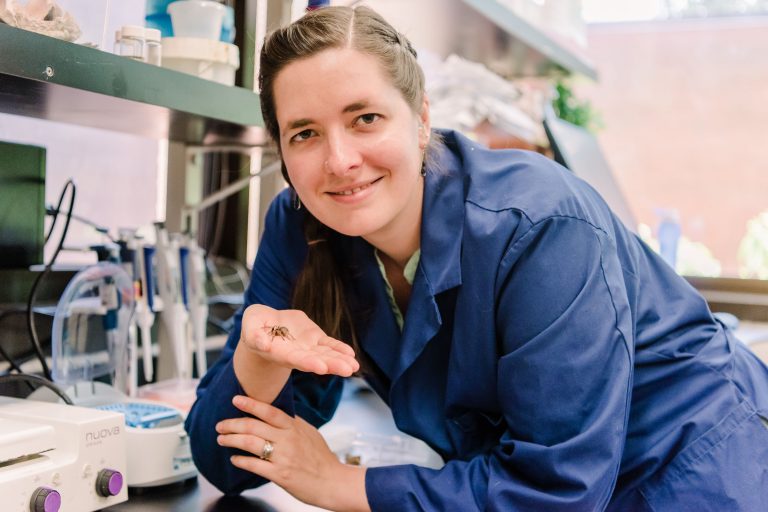 Building on a legacy of excellence
UMBC's Meyerhoff Scholars Program has long been recognized as a national leader at the forefront of efforts to increase diversity in STEM fields. Last summer, hundreds of Meyerhoff alumni gathered in Baltimore to celebrate the vision of philanthropist Robert E. Meyerhoff. Celebrations continued throughout the weekend as members of the Meyerhoff Scholar community shared how the program helped guide them to where they are today.
The program also reached an exciting new milestone. The Chan Zuckerberg Initiative (CZI) announced that it has awarded $6.9 million to replicate UMBC's Meyerhoff Scholars Program at UC San Diego and UC Berkeley. This work builds on successful Meyerhoff replications at Penn State and UNC-Chapel Hill, supported by the Howard Hughes Medical Institute. These programs and more are also highlighted in The Empowered University, a new book by President Freeman Hrabowski, Provost Philip J. Rous, and Peter H. Henderson that brings UMBC's story to readers around the world.
And in an exciting story of local impact, Maryland's latest PARCC test results revealed that Baltimore City schools partnering with UMBC have seen dramatic growth in student math performance. Joshua Michael '10, political science, and assistant director of UMBC's Sherman STEM Teacher Scholars Program, provided insight on this work.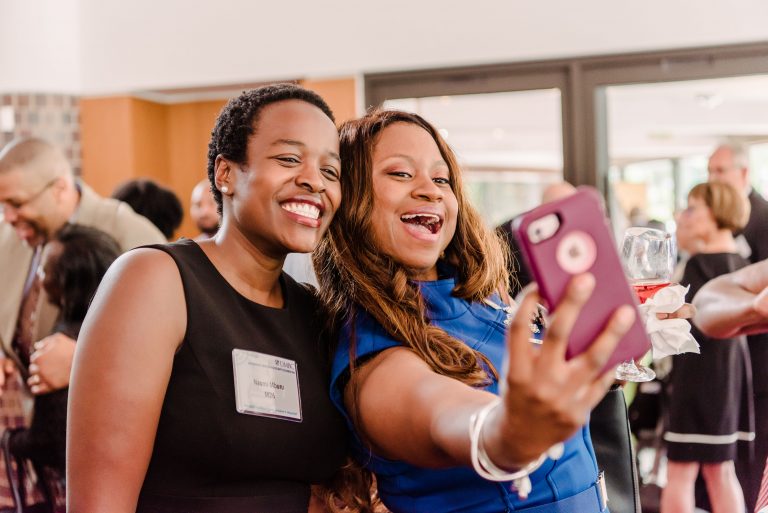 Alumni leadership and inspiration
What our students accomplish at UMBC is only the beginning. Their lives as alumni continue to inspire after they leave campus. This year, several Retrievers shared their stories of parlaying their college internships into full-time positions, thanks to the support they received from UMBC's Career Center.
UMBC Magazine profiled alumna Karyn Swann '92, sociology, whose daughter is carrying on her basketball and academic legacy. Lyric Swann '23, visual arts, is following (and running and dribbling) in her mom's footsteps and getting noticed during her first year at UMBC. Mimi Dietrich '70, American studies, was in UMBC's first graduating class and hasn't stopped working since. In March, the Maryland Historical Society launched a year-long retrospective of Dietrich's national acclaimed quilts at its Baltimore headquarters.
Several alumni also began new, high-profile leadership positions. Adrienne Jones '76, psychology, made history when she was sworn in as Maryland Speaker of the House, the first African American and first woman to serve in this role. Letitia Dzirasa '03, M11, biological sciences, was appointed Baltimore's new health commissioner, presiding over the health department's annual budget of $150 million.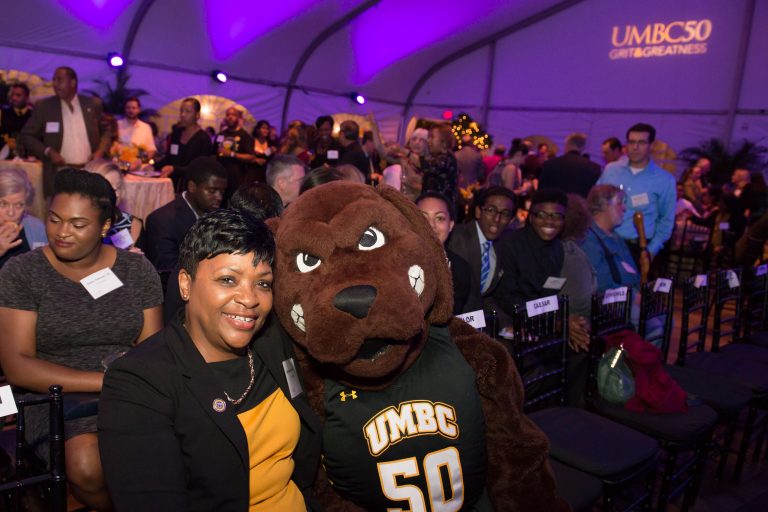 Retriever fever
We love adding new fans to #RetrieverNation and 2019 gave us an impawssibly cute one. UMBC's police department welcomed Chip, the new campus comfort dog, in September. Along with her handler, Sergeant Jamie Cheatem, Chip helps to provide comfort during midterms, finals, and high-stress situations.

To hear the latest UMBC news as it happens in 2020, follow UMBC on Facebook, Twitter, Instagram, UMBC News, and UMBC Magazine, and subscribe to UMBC's "Top Stories of the Week" email.
Banner image: UMBC swim team members underwater. All photos by Marlayna Demond '11 unless otherwise noted.
Tags: Alumni, AmericanStudies, Athletics, CAHSS, campus, CNMS, COEIT, Hrabowski, Research, Undergraduate Research