UMBC's newest graduates in computing and data science fields include students at all stages in their education and careers. Undergraduates, master's students seeking to access new career opportunities, and Ph.D. students completing high-impact research have thrived at UMBC. Many cite the university's strong academics, accessible faculty, research opportunities, and connections across disciplines as drawing them to UMBC. Connections with mentors and communities of support have helped carry them over the finish line to earn their degrees.
Impacting communities through service-learning
Fikir Ejigineh '20, information systems, remembers feeling intrigued by UMBC in high school, when she first heard about the university's living learning communities (LLCs). Before long, she moved into UMBC's Shriver Center LLC, a residential floor for students committed to civic engagement, service, and community-building.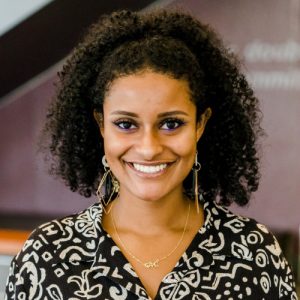 As an information systems student focused on community-based problem-solving, she was selected for UMBC's CoLab program in 2018. Ejigineh formed the Race and Social Justice CoLab with two other students. Together, they worked with new mapping software from UMBC's Imaging Research Center, creating a 3D space to collect and share the multimedia stories of people living in Baltimore. The purpose of the project was to highlight voices that are oftentimes suppressed by the media's representation of Baltimore City, Ejigineh explains.
As a France-Merrick Scholar through the Shriver Center, Ejigineh helped develop a creative art contest and leadership day for Baltimore youth that posed the question, 'How do you envision your community?'. The project was another chance for her to work on a team with students from a broad range of majors. Together, they helped launch a display of youth artwork for the grand opening of OCA Mocha, a coffee shop and community gathering space in downtown Arbutus, founded by UMBC alumni.
Ejigineh has also served as vice-president of  UMBC's Ethiopian-Eritrean Student Association. A cultural organization that aims to support philanthropic causes by hosting annual events like the Awareness Banquet. 
After graduation, Ejigineh will work as a business administrator at Alakrity, an IT startup company. In the future, she looks forward to combining her technical skills and creativity by furthering her education in user experience design. 
Her advice to incoming students is to focus not just on excelling in the classroom, but also finding opportunities to connect with students in other fields, and with communities on and off campus. "I've had a great UMBC experience because of what I've made out of it," she says. "I would never be where I am now if I hadn't gotten involved."
Building connections 
As an undergraduate at UMBC, Fabiha Mahmood '18, political science, M.P.S. '20, cybersecurity, knew that it was important to establish networks right away. "When I was visiting colleges, the one thing that really struck me about UMBC was how close-knit and diverse the community is," she says. "For me, it's really important to have interpersonal relationships with my professors."
Mahmood was undecided about what major to pursue, but after meeting with Eric Brown, a lecturer in the individualized studies program, she was eager to begin a first-year seminar in security studies. "He was so invested in my journey here, and from that first interaction, I knew that UMBC was different," she shares. 
That trend of building close connections in the classroom and across campus continued. Mahmood went on to support UMBC students as a resident assistant and president of UMBC's Panhellenic Association.
After completing her bachelor's degree, Mahmood found that she was interested in careers that required technical skills that she didn't yet have. She identified UMBC's cybersecurity M.P.S. program as a strong complement to her political science degree.
In January 2020, Mahmood joined Residential Life again, this time as a graduate assistant,  where she supervised resident assistants, and began a "whirlwind of a semester" in her new program. While she had no idea that the experience would involve a pandemic, she says that her mentors in Residential Life helped her stay motivated and feel connected when many things moved online. "I could tell that they genuinely cared about me, and can confidently say that I wouldn't have gotten that anywhere else," she says.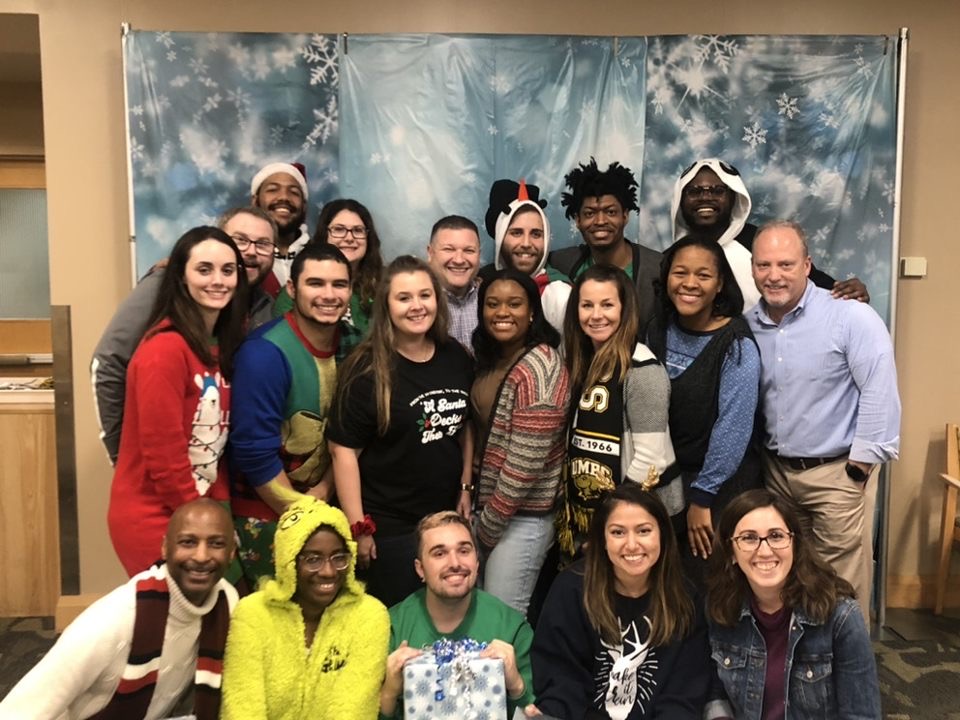 Mahmood plans to pursue a career as an intelligence analyst, combining her knowledge of political science and cybersecurity.
Opening doors in a high-demand field
Like Mahmood, Matthew Griff '17, mathematics, M.P.S. '20, data science, also found a UMBC master's program to complement his undergraduate degree and open up doors in a high-demand field. After earning his bachelor's degree, Griff completed a finance internship at the American Psychological Association. A master's in data science was his "logical next step"—helping him explore impactful ways to apply knowledge from his mathematics courses. 
Griff has enjoyed connecting with the data science program's accessible faculty. He shares that Ergun Simsek, professor of practice and graduate program director for data science, was easy to approach and has served as a mentor for him. Building this one-on-one connection has helped him feel prepared for his next steps. 
How tech impacts lives
William Easley took his first course on human-computer interaction as a curious undergraduate at UMBC. Ravi Kuber, associate professor of information systems, piqued his interest in how technology impacts peoples lives, particularly for people with disabilities. Easley, who has a visual impairment, went on to complete an M.S. in human-centered computing in 2015, and is now earning his Ph.D. in the field. 
Easley loves that as a researcher he is now on the cutting edge of "creating knowledge." "The idea of designing and building technologies to help people with disabilities is super exciting to me. It's something that's worthwhile and meaningful," he explains.
But Easley wasn't always aware of the opportunities available to him through research. He recalls how much it meant to him as an undergraduate when mentors encouraged him to get involved with research and pursue his master's degree. They included leaders like UMBC President Freeman Hrabowski and Renetta Tull, former associate vice provost for strategic initiatives at UMBC.
3D print shop creates opportunity
As a master's student, Easley connected with Amy Hurst, former associate professor of information systems at UMBC, known for her high-impact community-engaged research. Hurst worked with the Digital Harbor Foundation's 3D print shop in Baltimore City, helping youth develop technical skills that would serve them in future careers. 
That experience and the connections he built over the years encouraged Easley to stay at UMBC to pursue his Ph.D. His work with youth at Digital Harbor became three years of dissertation research. Two youth from the first group continued to work in the print shop for all three years and took on more senior roles. Eventually, one of the youth became the shop manager, which Easley was excited about.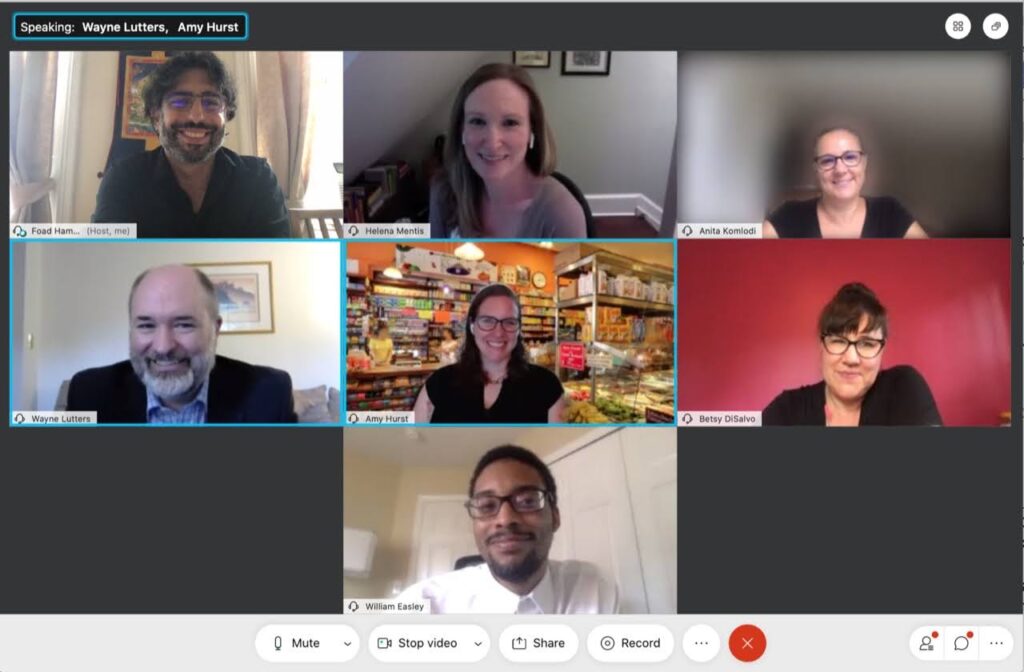 Throughout his time at UMBC, Easley says that support from faculty was important to his development as a researcher. Hurst helped him find opportunities to travel to present his research and connected him with fellow researchers in human-centered computing. Easley also worked closely with Helena Mentis, associate professor of information systems, and associate dean in the College of Engineering and Information Technology. Mentis and Foad Hamidi, assistant professor of information systems, were Easley's co-advisors for his dissertation. 
"Everyone that I worked with played a big role in helping me get to the finish line," he says.
The COVID-19 pandemic shifted Easley's final months at UMBC. He successfully defended his dissertation virtually in September, and interviewed and accepted a job as a human factors design engineer at Apple, and is currently working remotely.
Banner image: William Easley works with youth in the makerspace at the Digital Harbor Foundation in 2017. Photo by Marlayna Demond '11 for UMBC.
Tags: ClassOf2020, COEIT, Cybersecurity, GradResearch, INDS, IS, MathStat, PoliticalScience, ShriverCenter