"I feel like I've waited a very long time to say this, but…welcome home."
Speaking at UMBC's annual Fall Opening Meeting, Provost Philip Rous acknowledged the gravity of the moment—the first time faculty, staff, students, and friends gathered in person in over a year. Marking the official opening of the 2021-2022 academic year, campus leaders shared meaningful milestones with the community, joining from the renovated Retriever Activity Center and online.
UMBC is on pace to welcome nearly 2,100 new first-year students, making this the largest incoming fall class in UMBC's history.
First-year student Ashley Gomez chose UMBC because, she says, it "allows me to be a full-time student, still work, be with my family, be a dancer, and accomplish all that I've dreamed of doing. UMBC allows me to make my family proud."
With nearly 1,000 transfer students and additional international undergraduates and graduate students enrolled, almost 4,000 total new students will join Retriever Nation this fall. Plus, more than 100 students will return to UMBC as part of the Finish Line program to complete their degrees, some more than 10 years after their academic journey began.
Like most universities, UMBC elected to make standardized tests optional for applicants in 2021. With this in mind, the average SAT for the incoming first-year class is an impressive 1297 for those who submitted scores.
A welcoming atmosphere for all
This year's international student population is also looking at a record year for enrollment.
"In spite of the unprecedented challenges posed by a global pandemic, students from around the world continue to persevere in order to begin their studies at UMBC," says David Di Maria, senior international officer and associate vice provost for international education. "This not only speaks to the high value placed on a UMBC education, but it is also a notable demonstration of true grit."
University rankings reflect UMBC's success in building an international reputation for excellence and impact. The Center for World University Rankings (CWUR) included UMBC among the top 3.7% of universities on its global 2021-22 list. U.S. News and World Report also considers UMBC a leader on the global stage, included in their 2021 Best Global Universities list.
"We are excited to welcome such a remarkable cohort of the world's best and brightest to our UMBC community this semester," says Adam Julian, director of international student and scholar services. "These students have demonstrated many incredible skills and qualities as they overcame the challenges and obstacles of the global pandemic."
UMBC's commitment to fostering a collaborative classroom environment is what drew many international students to the campus. Nigerian student Praise Lasekan '25, biological sciences, can't wait to study in an environment where students are encouraged to actively dialogue with faculty and each other.
"I was excited to learn that I can ask my professors questions at UMBC," says Lasekan. "I'm here to learn as much as possible and want to work with professors, students, and anyone I can learn something from."
Recognizing leadership
UMBC's growing national and international stature is also visible among higher ed professionals. Dale Bittinger '16, M.P.P., assistant vice provost of undergraduate admissions, orientation, and school partnerships, has for years worked closely with Common App, a national non-profit focused on college admissions. He recently became Chair-Elect of the Common App Board of Directors, and his leadership marks an important first.
"This is the first time in the Common App's history that the position is held by someone from a public university," says Bittinger. "I think this selection speaks to UMBC being a leader on the national stage and I look forward to representing us, as well as all other public institutions, in this capacity."
Welcome home, Retrievers
One of the traditions new students enjoy the most is the host of UMBC Welcome Week activities. With limited students living on campus last fall, most events were held virtually. This year, UMBC is offering a hybrid schedule of Welcome Week events for both first-year students and sophomores (most of whom are now on campus for the first time) to ensure everyone gets the full experience.
This past weekend, both cohorts had dedicated move-in days, complete with their own activities.
"The world has changed and we know COVID is part of that world. Planning student events now means taking into account more detailed health and safety requirements, as well as knowing what will make for a fun student experience," says Jen Dress, associate director of campus life. "We've been looking forward to renewed energy and presence on campus and being able to continue many of our traditions."
After unpacking their boxes and hanging their Retriever gear in their closets, new students had a chance to enjoy Retriever Fest. They made their way to Erickson Field to learn more about campus offerings, meet friends, and snag some UMBC swag. They also had the opportunity to check out the newly upgraded Retriever Activity Center (RAC).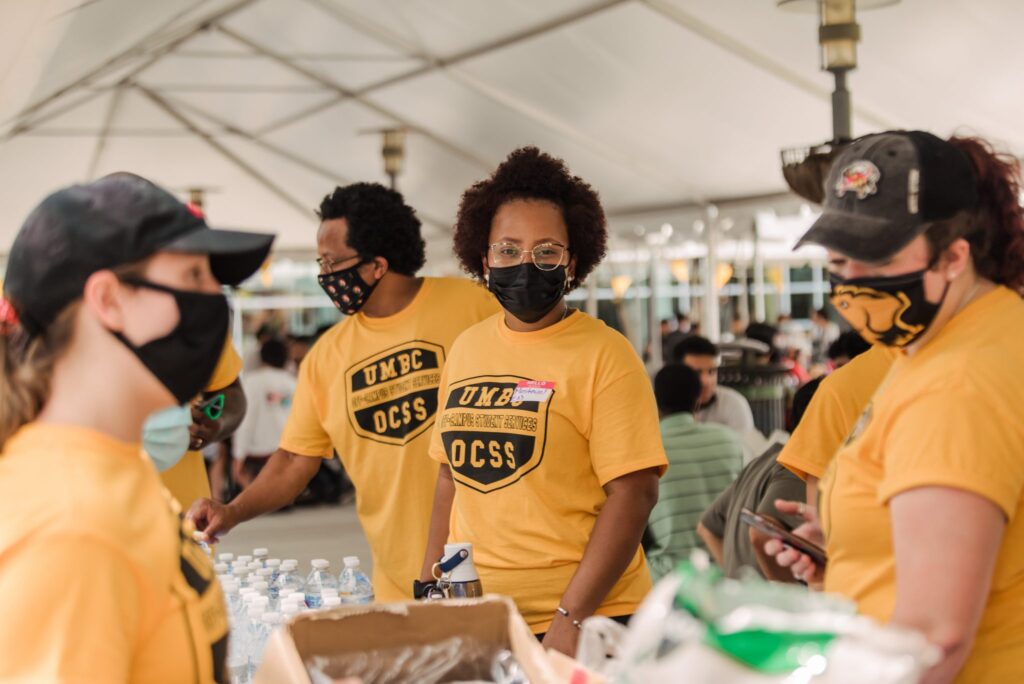 Exploring campus
While the doors were closed to the public last year, there was a dedicated team working inside to completely overhaul the RAC. With a budget of $28 million, approximately 77% of the building was renovated. Updates include doubling the weight training space, with seven tons of free weights and plates; quadrupling the cardio space, with 95 pieces of cardio equipment; adding a new cycle studio; and locker room renovations.
"The newly-renovated RAC will help transform the UMBC campus. The RAC will engage students, faculty, and staff while providing far more programs and activities with a focus on fitness and wellness," says Gary Wohlstetter, senior associate athletic director. "It will have an immediate positive impact on our current users and will be a great asset to attract new Retrievers who will be able to see the priority we place on health, wellness, and community-building."
New Retrievers also had the opportunity to spend time in UMBC's Chesapeake Employers Insurance Arena during Convocation, the official start to the new semester. Mehrshad Fahim Devin '22, physics, president of UMBC's Student Government Association, shared in personal remarks to the crowd that he had difficulty adjusting to UMBC when he first arrived, but felt compelled to see it through.
"I stayed because of a phenomenon which I like to call the 'UMBC butterfly effect,'" he said. "I'm sure you're all familiar with the theory that a small change could lead to a larger and more significant difference. That theory is very prevalent at UMBC and you will all experience it before the end of this year."
For Devin, that moment was attending a meeting, a few months into his freshman year, where he realized that at UMBC, students are encouraged to co-create the campus community, in partnership with faculty and staff.
An historic year
The start of this academic year is also unique in that it marks an important transition in university history. After 30 years as president, Freeman Hrabowski announced he will retire at the close of the 2021-2022 academic year. The University System of Maryland will conduct a national search to find UMBC's next president. Until then, Hrabowski is making the most of every campus event this year.
Onlookers noticed Hrabowski with phone in hand during the Fall Opening Meeting, as he filmed the audience for what would be his last State of the University address. Looking at the crowd of colleagues, Hrabowski reflected on his tenure at UMBC saying, "This is the house that love has built. We show the world that we can transform lives through education."
Featured Image: "Welcome home, Retriever Nation" signs lining a walkway with students in the background. All photos by Marlayna Demond '11 for UMBC.