UMBC has received a 2022 Beckman Foundation Award to launch a Beckman Scholars Program for outstanding students interested in graduate study in the biological or chemical sciences. The Arnold and Mabel Beckman Foundation today announced 14 institutions across the U.S. as new recipients of three-year institutional awards, totaling over $2.1 million. At UMBC, the program will support six students who aspire to pursue M.D./Ph.D. degrees, each paired with a mentor.
"The specific aim of the program is to build a strong foundation for the Beckman Scholars to become tomorrow's well-rounded and accomplished physician scientists," reads UMBC's award proposal. Importantly, the program also aims to support students from underrepresented backgrounds in medicine.
UMBC is in a strong position to pursue this goal, being the #1 institution in the country for graduating Black students who go on to receive M.D./Ph.D. degrees. UMBC is also #1 for Black graduates who go on to complete Ph.D. degrees in the natural sciences and engineering.
Strong foundation
Each Beckman Scholar will receive significant financial, academic, and research support. They will gain community service and leadership experience and have the opportunity to forge relationships with peers and mentors from UMBC and elsewhere. In this way, the program will prepare the scholars for future careers as physician scientists and ground them in a supportive network that they can rely on for years to come.
"I am delighted that UMBC and the College of Natural and Mathematical Sciences (CNMS) have been selected to receive this prestigious award," says Provost Philip Rous. "This support from the Beckman Foundation recognizes the fundamental roles that justice, equity, diversity, and inclusion play in the advancement of science and innovation, consistent with UMBC's shared value of inclusive excellence."
Research and mentorship
The 15-month Beckman Scholar experience will include one academic year bookended by two summers. Scholars will conduct research with faculty mentors at UMBC full-time in the summer months and part-time during the school year. The goal is for this work to lead to a peer-reviewed publication, a rare and exciting opportunity for undergraduates.
Mentors will receive financial support as well as training from UMBC's Faculty Development Center in culturally-responsive mentorship and techniques for fostering self-efficacy and inclusion in emerging researchers.
"Early exposure to research enhances our students' readiness for post-graduate school and their chosen career paths," says Bill LaCourse, dean of CNMS, which will house the program. "More importantly, independent research under the mentorship of UMBC's dedicated faculty can spark a student's lifelong interest in interdisciplinary learning. In the sciences at UMBC, our motto is, 'It takes a scientist to train a scientist.'"
Entrepreneurship and service
Beckman Scholars will take courses in science communication, research ethics and integrity, and biomedical case studies. They will also complete UMBC's Entrepreneurial Skills Training for STEM Undergraduates.
"Entrepreneurship is the ability of an individual to identify a goal, provide the leadership, and mobilize the assets necessary to reach that goal," UMBC's proposal says. "Individuals breaking ground in science and technology, by creating innovative solutions to society's problems, are all entrepreneurs."
Scholars will also provide community service at local hospitals or clinics, shadow campus leaders, benefit from intensive academic advising, and receive support with the medical school application process. Every aspect is designed to offer experiences and develop skills that will make the scholars competitive candidates for M.D./Ph.D. programs upon graduation.
Each year, the scholars are invited to attend the Beckman Summer Research Symposium, where they can connect with other fellow scholars from around the country. They will also plan and organize an annual Beckman Scholars Forum at UMBC, featuring speakers of interest to rising physician scientists.
Community connections
Because the number of students in the program is small, the Beckman Scholars will collaborate with other STEM-focused scholars programs at UMBC. This will include the renowned Meyerhoff Scholars and the CNMS Scholars, for women in STEM fields in which they are underrepresented.
The Beckman Scholars will benefit from the best practices to support student success that UMBC has developed over many years through these programs. Connecting with members of other programs will also help the Beckman Scholars build a strong sense of community. Community support and belonging are known to enhance persistence and success in STEM, especially among students from underrepresented groups.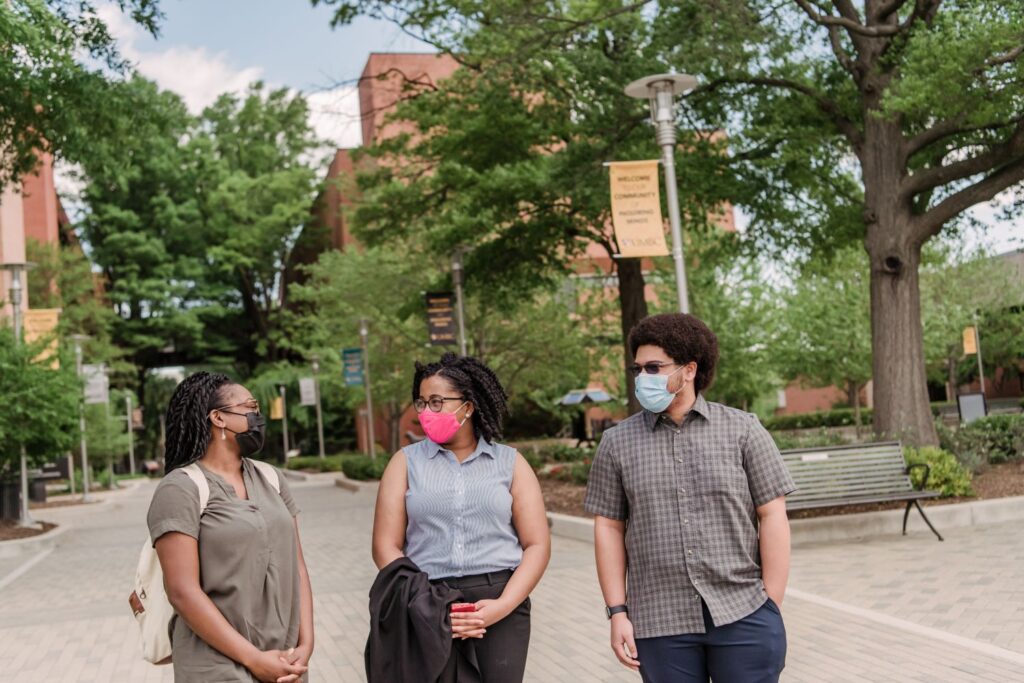 "We are very proud of the impact that programs such as the Meyerhoff Scholars and CNMS Scholars have had on retaining underrepresented students in STEM disciplines," says Caitlin Kowalewski, assistant director of undergraduate academic initiatives in CNMS. "We look forward to using the lessons we have learned from these programs to provide the Beckman Scholars with a strong foundation to succeed at their goal of pursuing an M.D./Ph.D."
UMBC also has a long history of using new programs as opportunities to learn how to best support students, and then institutionalize those elements for an even greater benefit over time. For example, inspired by the success of STEM BUILD, an NIH-funded initiative to diversify the biomedical sciences, CNMS launched The Learning Collaboratory, revitalized its STEM Living Learning Community, and expanded courses in ethics and science communication.
In the future, LaCourse says, "The college intends to use the Beckman Scholars program as a model for increasing the number of students applying for M.D./Ph.D. programs."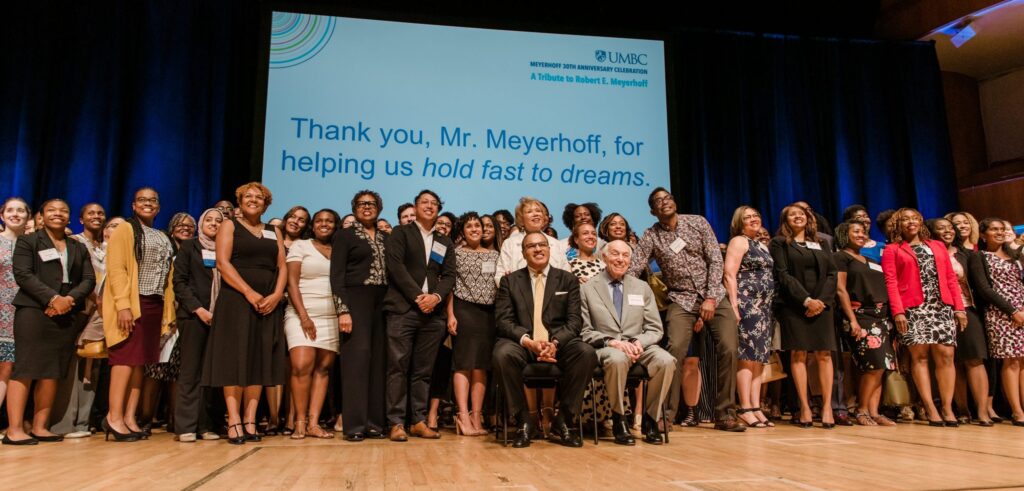 Springboard to success
To be prepared to pursue an M.D./Ph.D., students must demonstrate a balance of research experience, leadership, community service, clinical experience, and a strong academic record. The Beckman Scholars Program provides ample resources and opportunities to meet all of these requirements and more.
"The Beckman Scholars Program at UMBC will serve as a springboard for students from all backgrounds to launch themselves into successful careers as physician scientists. And as Beckman Scholars, they will be surrounded by a community that enables them to explore, challenge themselves, and, yes, sometimes fail—all while feeling supported," LaCourse says.
He notes, "Their peers and mentors will help them grow into confident and creative researchers who will make important contributions to medicine and science in the years to come."
---
Featured image: Grace Tugado '23, chemical engineering, working in the SeeTrue Technology lab on UMBC's campus in summer 2021. The Maryland Technology Internship Program supported her work and she gained prior research experience through UMBC's STEM BUILD program. All photos by Marlayna Demond '11 for UMBC unless otherwise noted.
Tags: BeckmanScholars, CNMS, diversityandinclusion, MeyerhoffScholars, STEMBUILD