The Fulbright U.S. Student Program, funded by the U.S. Department of State, is now more than 70 years old. In that time, the distinguished program has selected nearly 400,000 college seniors and recent graduates to represent the United States in study, research, and teaching abroad, including over 50 recipients from UMBC in just the past decade. This year UMBC has produced thirty applicants and twenty-two semifinalists—a record number for the university.
These semifinalists have been selected for their vision to create solutions and serve as leaders around the world. They and the mentors who have supported their journeys—faculty, staff, peers, and family—await with anticipation the final decisions that will launch the next class of Fulbright visionaries.
Finding a niche in field biology
Matthew Kane '19, biological sciences, and member of the Honors College, came to UMBC with a laser focus on biology and track. Kevin Omland, professor of biological sciences, and Matt Gitterman, head cross country coach, offered him guidance throughout the years, as he grew his skills and explored his next steps, including applying for a Fulbright U.S. Student Award.
Omland met Kane in Biology 142, Ecology and Evolution. "Matthew was one of the most engaged students. He was a super hard and positive worker," remembers Omland. Gitterman also recognized Kane's high level of focus. He coached him on identifying what was important and finding the next logical step. Gitterman explains, "We worked on transferring these skills and habits to more meaningful experiences beyond college."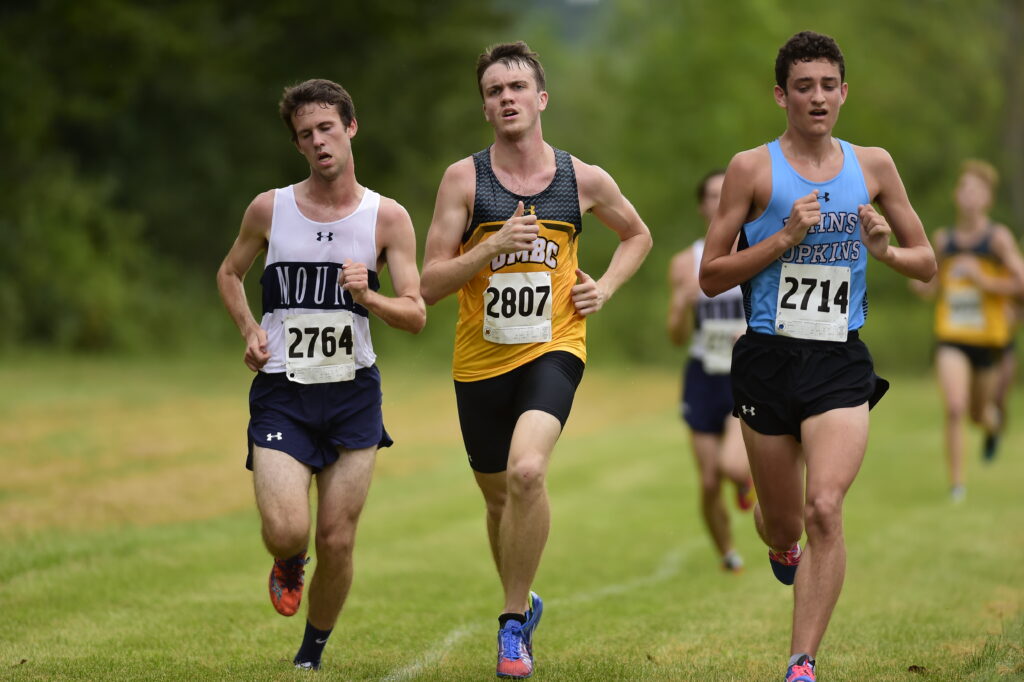 Kane eventually combined both passions through international fieldwork as part of Omland's Bahama Oriole research group—an experience that gave him his first plane ride. "Mathew's natural interest and extraordinary background knowledge of field biology and wildlife, along with his physical and mental strength made him ideal for fieldwork," says Omland.
Omland also connected Kane to a researcher at the National Taiwan Normal University (NTNU). He hopes to soon join NTNU researchers studying native bird species in Taiwan's mountains.
Being capable of big things
Creating opportunities to discover new paths is a key way mentors support students and defines how Jamie Trevitt, assistant professor of health administration and policy, has supported Jessica Linus '19, health administration and policy.
"I would not be here if it wasn't for Jamie Trevitt," shares Linus. "At first I wanted to be pre-med and pursue a career in obstetrics and gynecology to help with African women's health," remembers Linus. But that changed during a trip to Nigeria, where she shadowed doctors in a hospital. There she saw structural, staffing, and management needs that kept the hospital from being a greater benefit to the community.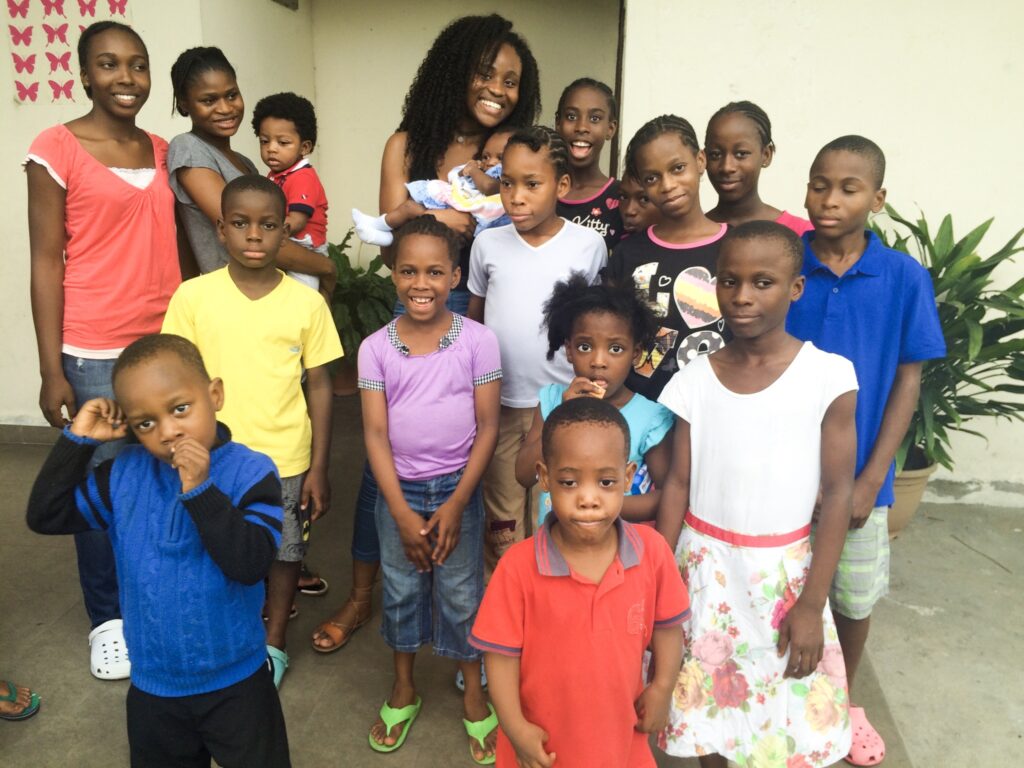 Following that experience, Trevitt helped Linus secure an internship in reproductive health in Rwanda through a National Science Foundation program. "The best part of my job as a professor and educator is helping students find their passion within the public health field," says Trevitt.
The internship gave Linus first-hand experience conducting interviews, doing qualitative research, using data analysis software, working with Rwandan professors, and shadowing doctors in a hospital. She was amazed to find a thriving health system only twenty-five years after the Rwandan genocide. But she was also perplexed by the contrast she saw to Nigeria's many economic and health care struggles.
"I had big questions," explains Linus. "I needed to understand what made this Rwandan hospital thrive and find ways I could help the hospital in Nigeria do the same."
Trevitt sees in Linus an emerging leader in international public health, and she knows that asking big questions and taking advantage of opportunities like a possible Fulbright research award in Rwanda will help her get there. "As a professor," Trevitt explains, "there is no better reward than helping a student realize they are capable of big things and then watching them grow into a confident and knowledgeable expert that's ready to make a difference in our global society."
A new framework for understanding gender
When Sarah Chard met Robert Barrett '15—majoring in cultural anthropology as well as biochemistry and molecular biology—she was struck by the clarity of his interests. "Robert knew very early on that he wanted to find a research experience in biomedicine and anthropology, and study abroad in India," remembers Chard, associate professor of sociology, anthropology, and health administration and policy. "The challenge was to determine how the pieces could fit together over several years."
Together Chard and Barrett explored what his unique path could look like. "There are many pathways. Validating them affirms the importance of ideas and recognizes students as scholars who bring new and exciting work to the discipline," says Chard. "It's important during conversations with students to help them foresee roadblocks and alternatives, and develop a flexible mindset."
These conversations prepared Barrett to make the most of his study abroad experience in South India at Manipal University. "My research in India required me to learn a completely new framework for understanding gender, sexuality, and associated stigma," he explains. "It tested my ability to use research methods across a language barrier, and provided concrete examples of the social determinants of health."
The experience in India, as well as his work as a medical scribe in the U.S., have shaped his understanding of homophobia and anti-queer views as largely based on negative views of femininity. In his position as a scribe, he notes, "I observed derogatory comments and misgendering of transgender patients, revealing the lack of LGBT-specific training within healthcare."
Next, Barrett wants to ground himself in feminist and queer theory in another cross-cultural context to better prepare himself to serve the health needs of LGBT people. The Fulbright U.S. Student Award would allow him to earn a master's degree in gender studies at Tampere University in Finland before enrolling in an M.D./Ph.D. program.
Jodi Kelber-Kaye, associate director of the Honors College, has enjoyed exciting and fascinating conversations with Barrett, a member of the Honors College, as a mentor. "Robert is willing to ask the 'what if' questions that become real possibilities for social change work," shares Kelber-Kaye. "It is a creative process. He throws out ideas, listens to my thoughts about those ideas, and refines them. He is not afraid to take intellectual risks."
Kelber-Kaye also reflects, "Mentoring is a combination of practical and personal. This is an academic pursuit for Robert that is also founded in his own identity." She shares, "He has often remarked that living my life as openly lesbian has helped him see what it looks like to have a rich life that is open and honest."
Engineering possibilities
"If you are not comfortable being out of your comfort zone then you are closing the door to amazing opportunities," is a saying that Marc Zupan, associate professor of mechanical engineering, avidly shares with his Global Engineering students. It's an idea Jacob Schubbe '18, mechanical engineering, has taken to heart.
STEM students are sometimes unsure about whether they have time to study abroad while working to complete required courses, but Schubbe knew early on that he wanted an international experience. Schubbe chose to study engineering in Ireland, and used the opportunity to travel more across Europe, from Moscow to London. Gaining experience living outside of his comfort zone proved an asset upon graduation when he was hired as an engineer by a multinational engineering company.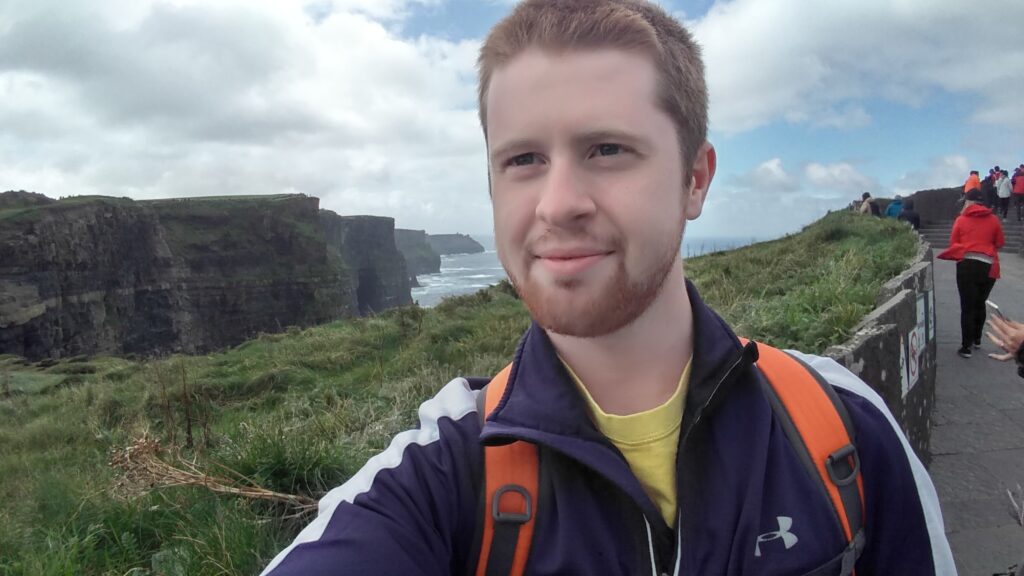 "I want to design green energy and help solve world problems through mechatronic engineering," a combination of mechanical and electrical engineering, explains Schubbe. "I have a plan A, a plan B, and a plan C and they all end with me earning a Mechatronic System Design master's program degree at Lappeenranta-Lahti University of Technology in Finland."

But determination is only half of the formula. Schubbe didn't know anyone in Finland or how to present all of his experiences in a compelling way in the Fulbright application. Zupan helped point him in the right direction.
"A lot of what I do in terms of mentoring is simply being available. I answer questions, connect students with other faculty, set guidelines, and provide examples," explains Zupan.
Zupan is particularly proud that this year's UMBC Fulbright semifinalists include three students from mechanical engineering—Scubbe, as well as Rebekah Kempske '19, mechanical engineering, and Lucas McCullum '19, mechanical engineering and mathematics. Zupan shares, "I love being there for students as they see the world open up because they were willing to step out of their comfort zone."
For the love of teaching
"When I transferred to UMBC from Howard Community College I was surrounded with people who supported me in pursuing unfamiliar opportunities," remembers Liam Connor '18, information systems, an audio-visual technician at Good Samaritan Hospital.
At UMBC, Connor learned that the Vietnam Medical Assistance Program, a student organization, needed help with managing information and data. He didn't speak Vietnamese and didn't have experience in the healthcare field, but he had a passion for data management and for service. Connor has now taken two service trips to Vietnam with the group, and currently serves as operations volunteer.
In between trips, Connor worked at UMBC's English Language Institute (ELI), where he first began to consider teaching as a possible career. "We watched Liam go from being a reserved student to an engaged purposeful teacher," recalls Ryan Sheldon, academic director of ELI. Connor sought Sheldon's expertise to understand ESOL theory and worked with Cara Aaron, an ELI instructor, to learn how theory is applied in the classroom. Connor hopes to return to Vietnam as an English Teaching Assistant via the Fulbright U.S. Student Award.
Beyond the lab
Cynthia Wagner, senior lecturer in biological sciences, advises 50 students each semester. With some of them, she focuses on selecting the right courses, but for "very organized students" like Manneha Qazi '18, biological sciences, and member of the Honors College, she says, "we have time to discuss life plans."
Wagner discussed with Qazi her desire to pursue an M.D./Ph.D., to combine her interests in medicine and teaching. She also connected her with valuable research experience in the lab of developmental biologist Rachel Brewster. "MD/Ph.D. programs are very competitive and it is important to be aware of the range of experiences you bring," says Wagner. "Manneha was diligent in broadening her skills beyond the lab."
Qazi sought opportunities to expand her skills as a biology tutor, an undergraduate teaching assistant, a volunteer at the Esperanza Center teaching English to immigrant children, and as a teaching fellow for the McNair Scholars Program. The biology faculty recognized her commitment and impact through a Sandoz Undergraduate Teaching Award in 2017.
Next, Qazi wants to apply her teaching skills internationally in a predominantly Muslim setting. "In high school, my family moved to Pakistan for two years," she shares. "The education system was very different from the U.S. system. It sparked a curiosity of how students learn in other educational systems." Qazi is now a semifinalist for an English Teaching Assistant in Uzbekistan.
Thinking about her conversations with Qazi, Wagner focuses on the importance of "small moments to stop and listen." Mentors can truly make a difference, she says, by being mindful of "how each moment can impact another person"—by listening closely to students and responding to their needs.
The peer mentor
Sometimes mentors are classmates. For Leah Ginty '14, modern languages, linguistics and intercultural communication, and '19 M.A., TESOL, a classmate in her TESOL master's program was the catalyst to pursuing a Fulbright U.S. Student Award. That classmate was Brian Souders, Ph.D. '09, language, literacy and culture, UMBC's Fulbright U.S. Student Award advisor.
"Even when I am in the role of student and not working, I am always happy to share and promote the Fulbright experience wherever I go," says Souders. "I have seen first-hand how it catapults students' success in a way they never thought possible."
Ginty knew she wanted to work in Benin since she visited her brother during his Peace Corps experience there. She fell in love with the people and the culture of the French-speaking West African nation and decided to pursue a master's degree in French at Boston College after graduating from UMBC. She then became a teaching assistant on the Caribbean French-speaking island of Guadeloupe, where she found she also loved teaching English to speakers of other languages and decided to pursue teaching languages as a career.
"I wanted to return to UMBC and enroll in the TESOL master's program in hopes of returning to Benin with all the formal qualifications to succeed," says Ginty. The opportunity arrived quicker than she expected. Souders, upon hearing her desire to return to Benin, shared with her that Fulbright U.S. Student Award program had just opened an English Teaching Assistant program in Benin.
"I am dedicated to promoting this amazing opportunity for UMBC students, as well as mentoring them throughout the process," shares Souders. He offers every student encouragement and skills-based support to guide them through the challenges of completing a highly competitive Fulbright application. And students share that he is integral to their success in the long but worthwhile Fulbright journey.
"Every call, every meeting, has one purpose," Souders says, "to help students believe they have the personal and academic skills to be selected for this prestigious award."
Two of last year's Fulbright recipients are sharing updates on their work through social media. Morgan Chadderton '18, modern languages, linguistics, and intercultural communication, did an Instagram takeover from Kyrgyzstan where she's teaching English. Flora Kirk '18, ancient studies, will share the work she's accomplished studying ancient coins in Romania on Instagram on March 7.
This year's semi-finalists hope to research, teach, and study in 13 countries across Asia, Europe, Africa, and South America:
Research Assistant Semifinalist
Mathew Kane '19, biological sciences, Taiwan
Jessica Linus '19, health administration and policy, Rwanda
Lucan McCullum '19, mechanical engineering, mathematics, Switzerland
Gabriela Salas '10, global studies, gender, women's and sexuality studies, Mexico
English Teaching Assistant Semifinalists
Jennifer Bohlman '19, M.A., ESOL, Germany
Dymond Elliot '19, psychology, modern languages, linguistics, and intercultural
studies
Chanler Harris '19, anthropology, Taiwan
Bryce Moore '19, modern languages, linguistics and intercultural communication,
Kazakhastan
Michael Schapiro '19, M.A., TESOL, Colombia
Savannah Steinley '19, computer engineering and English, Uzbekistan
Liam Connor '19, information systems, Vietnam
Kelly Wan '18, global studies, financial economics, Korea
Michael Tomitz '17, business technology administration, Germany,
Leah Ginty '14, modern languages, linguistics and intercultural communication, and
'19, M.A., TESOL, Benin
Manneha Qazi '18, biological sciences, Uzbekistan
M.A./M.S. Study Semifinalists
Stefan Gehrman '19, anthropology, Iceland
Rebekah Kempske '19, mechanical engineering, Netherlands
Julian Tash '19, Asian studies, history, Taiwan
Banner image: (L to R) Matthew Kane, Kevin Omland, and Briana Yancy '19, environmental science and geography. Photo by Marlayna Demond '11 for UMBC.
Tags: Biology, CAHSS, CNMS, COEIT, Education, International Stories