Announced today, 2022 U.S. News Best Graduate School Rankings name several UMBC programs in engineering and public affairs as among the best in the nation.
U.S. News bases these rankings on a combination of quantitative data about over 2,125 programs and expert opinions on program reputations. This feedback is provided through surveys to more than 23,000 deans, program directors, senior faculty, and other leaders.
UMBC has top-100 programs in public affairs and several engineering fields. Engineering is one of a few areas where rankings also reflect the opinions of professionals who hire or work with new graduates.
A growing leader in engineering
UMBC's engineering programs, overall, tied with engineering colleges at the flagships University of Missouri and University of Kansas at 108th. The ranking has steadily climbed from 111th in the 2019 rankings. This year, UMBC is ranked ahead of both the University of Georgia and Utah State University.
UMBC engineering programs were recognized in five separate categories. For environmental engineering UMBC moved from #58 to #56, and for mechanical engineering UMBC rose from #105 to #101. UMBC's graduate programs in chemical engineering experienced the most rankings growth, from #84 to #68.
"I am not at all surprised by the higher rankings we see for our chemical, biochemical, and environmental engineering (CBEE) graduate programs," says Keith J Bowman, dean of the College of Engineering and Information Technology (COEIT). "We have expanded a fantastic team by hiring outstanding new faculty and we have been successful in recruiting extraordinary graduate students."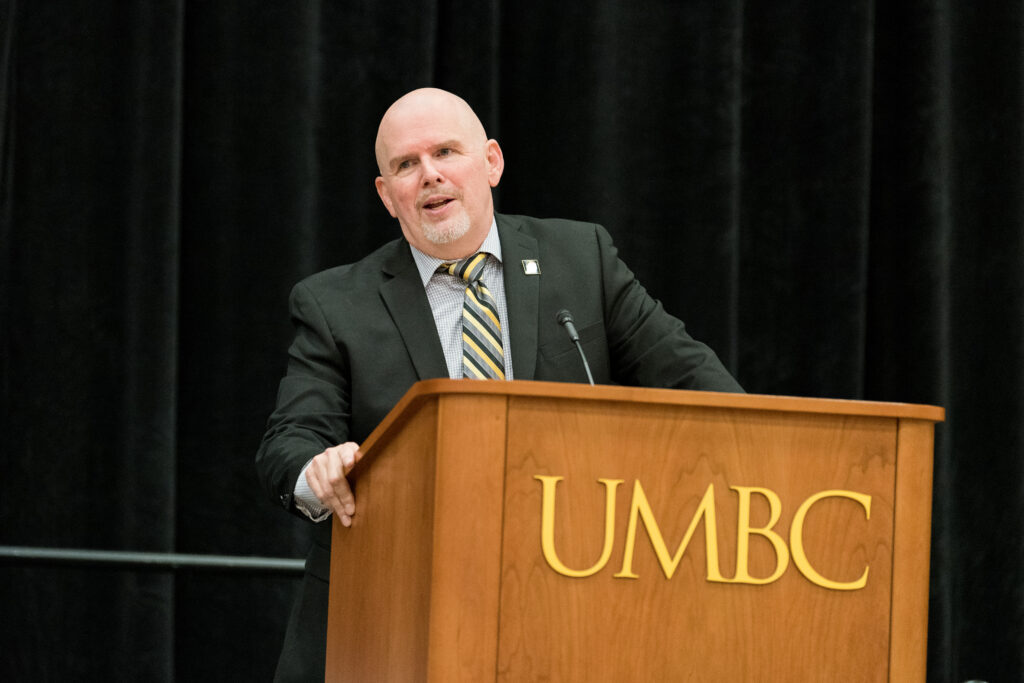 CBEE Professor Erin Lavik, COEIT's associate dean for research and faculty development, shares, "Whether it is technologies to enable better, more accessible treatments for diseases or developing solutions to make environmental justice a reality, our CBEE programs prepare students for the future as socially responsible engineers."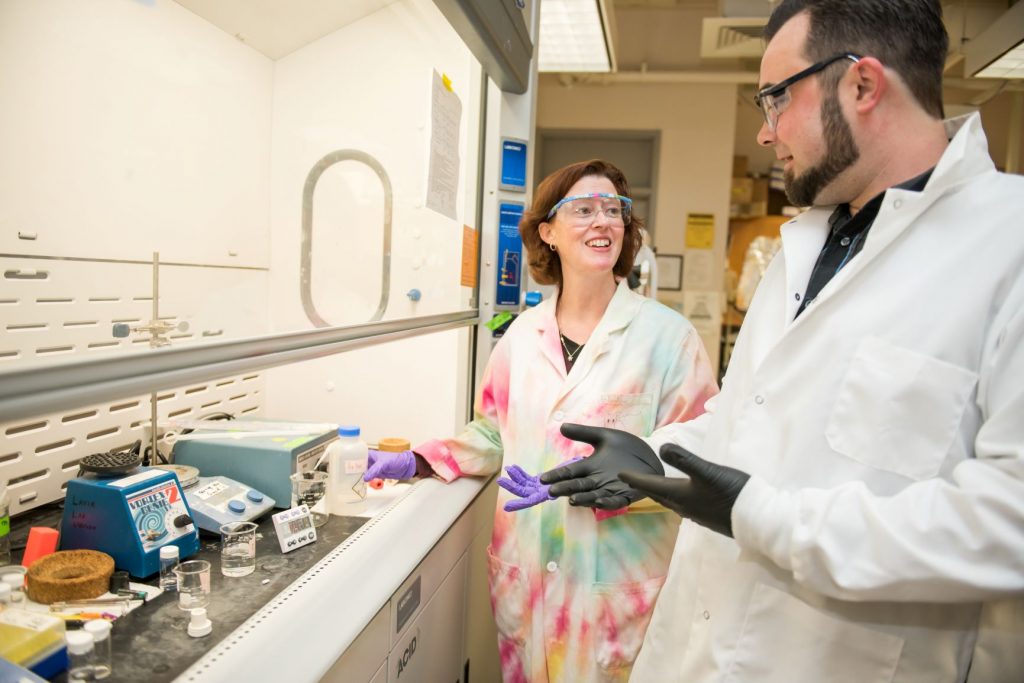 Groundbreaking computer engineering research
UMBC also ranked #92 in computer engineering and had a strong ranking in electrical engineering. Highly robust research opportunities for graduate students are a key reason why UMBC has a top-100 ranking in computer engineering.
Tinoosh Mohsenin, computer engineering, leads the Energy Efficient High-Performance Computing Lab (EEHPC), at the forefront of research in the new field of human-autonomy.
Brain activity monitoring is a growing field with medical applications in detection, diagnosis, prevention, and rehabilitation related to brain disorders. Human-autonomy is one of those applications, where people can potentially use brain signals to remotely guide devices. Mohsenin and her students have also worked on a variety of low power artificial intelligence processors that use electroencephalogram (EEG) signals to identify brain artifacts, detect seizures, and monitor stress and an individual's attention.
"The UMBC graduate school experience has been very rewarding as it encourages graduate students to express and broaden their outlook while also allowing them time to establish these ideas towards a realistic platform," says Arnab Mazumder, a computer engineering Ph.D. student who works with Mohsenin.
"Working in the Energy Efficient High-Performance Computing Lab has been the highlight of my experience at UMBC," Mazumder says. He and fellow Ph.D. student Hasib Al-Rashid, electrical engineering, have already published several papers and two book chapters on their research. They focus on developing deep learning models and low power wearables to detect brain EEG artifacts and recognizing activity and gestures from people's physiological data.
"This opportunity has given me a stage to expand and articulate my vision," says Mazumder. "My goal is to help the public figure out an end-to-end artificial intelligence solution for detection and recognition-related problems, especially in the area of human health monitoring."
Producing leaders in public affairs
UMBC has offered robust graduate programs in policy sciences for more than four decades and formally established the School of Public Policy in 2014. Today, the school is best known for research in government performance, health disparities, and improving educational outcomes. UMBC also has expertise at the intersection of economics and public policy.
"The School of Public Policy draws a diverse and exceptional group of graduate students," says Nancy Miller, professor and director of the School of Public Policy. "They go on to exciting leadership careers in the public sector, academia, and non-profit sectors."
Among the School's prominent alumni is Rear Admiral Sylvia Trent-Adams, Ph.D. '06, public policy, former principal deputy assistant secretary for health for the United States and now chief strategy officer for the University of North Texas.
Other Ph.D. alumni include Nathaniel Jones, III '87, mechanical engineering, Ph.D. '02, health policy, president of College of Alameda; John A. Olszewski Jr., Ph.D. '17, public policy, Baltimore County executive; and Deborah Trautman, Ph.D. '04, public policy, CEO of the American Association of Colleges of Nursing.
The School's many notable master's degree alumni include leaders like Qubilah Huddleston, M.P.P. '17, education policy, who is education policy analyst at the DC Policy Fiscal Institute, and Steve Sharkey, M.P.P. '06, public policy, director of the Baltimore City Department of Transportation.
Excellence across disciplines
"UMBC has outstanding Ph.D., master's, and certificate programs across engineering, computing, natural and mathematical sciences, social sciences and education, and the arts and humanities," says Janet Rutledge, dean of The Graduate School at UMBC. "We are proud of how U.S. News and others recognize the accomplishments of our faculty, students, and alumni."
---
Banner image: Graduate student Adam Day (left) works with Erin Lavik (right) in her lab, 2018. All photos by Marlayna Demond '11 for UMBC unless otherwise noted.