The Library of Congress's Coolidge Auditorium, one of the nation's leading performing arts venues, is typically busy year-round, bustling with performers playing to capacity audiences. Now, with the venue silenced by the coronavirus pandemic, the Library has launched a new kind of program, The Boccaccio Project.
During the darkest period of the plague in 14th-century Italy, author Giovanni Boccaccio (1313–1375) wrote the Decameron, structured as a collection of stories told by ten characters, all of whom were in self-isolation. This artistic response during a time of quarantine inspired the Library of Congress's contemporary Boccaccio Project, in which the Library has commissioned ten composers and ten performers to create and record new works of music that will reach audiences online.
UMBC's Daniel Pesca, a pianist and assistant professor of music, is one of these performers. He was chosen by David Plylar, music specialist and concert producer at the Library of Congress. 
"I've known Daniel's phenomenal work as a pianist and composer for many years," says Plylar. "He has performed at the Library of Congress in the past, so our concert team knows him as well. We were thrilled to work with him again." 
To bring Pesca into The Boccaccio Project, the Library of Congress collaborated with the University of Chicago's Grossman Ensemble, a nationally-recognized new music group of which Pesca is a member.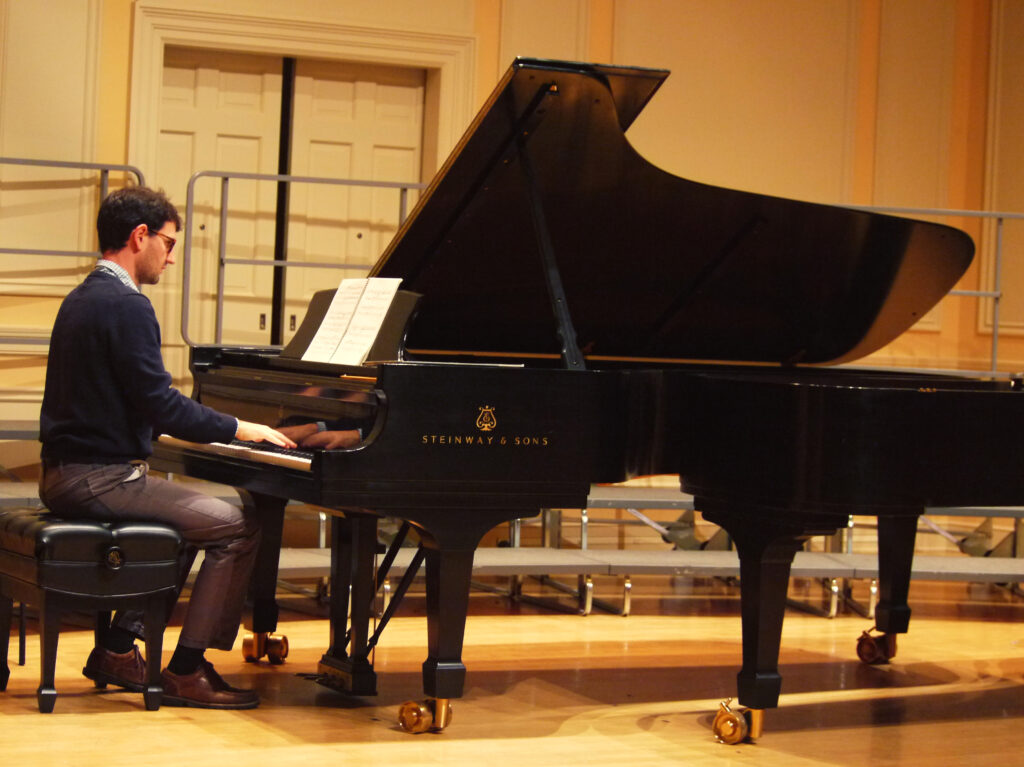 Selecting a composer
Each commissioned performer was asked to select a composer with whom to partner. In Pesca's case, he immediately turned to Aaron Travers, an assistant professor at Indiana University Bloomington. "I've long admired Aaron's exquisite writing, and particularly love his piano solo piece Songs of Loss," says Pesca.
"It's a special thing as a performer when you encounter a composer who you feel understands not just what is technically possible on your instrument, but your instrument's soul, its voice," says Pesca. "Aaron has that affinity for the piano—I knew this from his earlier work, and I see that again in his new piece, Olcott Park. What I love here in particular is the layers of sound that he draws out of a solo instrument. I find this kind of layered writing particularly rewarding to play."
Virtual performance
Pesca's performance of Travers's new composition, Olcott Park, will be broadcast on Tuesday, June 23 at 8 p.m. on the Library of Congress YouTube channel, and simultaneously on Facebook and Twitter. The performance will remain on the Library of Congress YouTube channel indefinitely. Other performances in The Boccaccio Project are already underway and will continue through Friday, June 26.
"We are thrilled that Daniel Pesca will be one of the select few performers chosen to premiere new works as part of the Library of Congress's Boccaccio Project," says Linda Dusman, chair of music. "This marks him not only as a pianist of note, but also as a socially conscious musician who responds dynamically to important contemporary issues."
Banner image: Daniel Pesca by Rosen-Jones Photography.