Jacqueline Wojcik
B.F.A., Visual Arts (animation/interactive media)
Summa Cum Laude, Certificate: Honors College
Hometown: Hollywood, Maryland
Plans: Fulbright researcher, Viking Ship Museum, Norway
UMBC fostered an interdisciplinary environment that let me pursue my interest in animation, computer science, and history, ultimately combining the three into my Fulbright project.
Jacqueline Wojcik has applied an inquisitive mind to understanding animation in all its diverse aspects, including expertise in three-dimensional and two-dimensional techniques, game design, computer science (her minor), and the social context that informs animated work.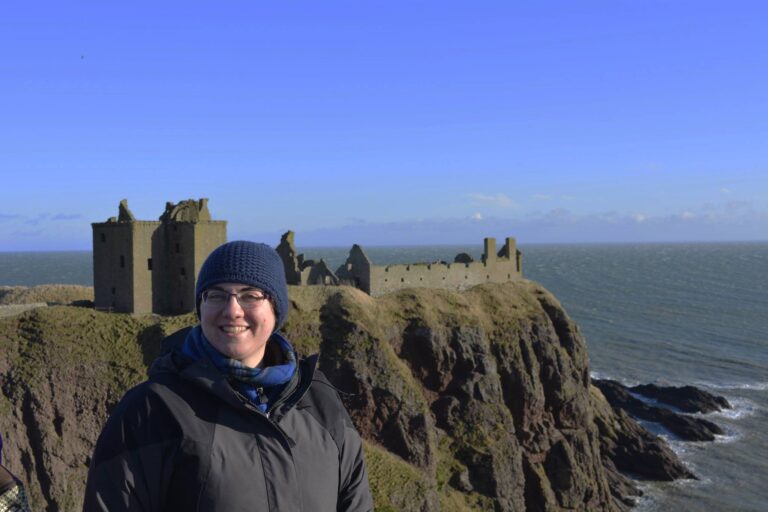 With her imagination sparked by a study abroad experience in Scotland, she applied to the U.S. Fulbright Student Program, winning a research award for 2017-18. Wojcik will spend the next academic year as a Fulbright researcher at the Viking Ship Museum in Oslo, Norway. Her project, "The Gokstad and Oseberg Burials in Digital Space," will recreate artifacts from two Viking Age ship burials as they would have been used in the lives of their owners. The three-dimensional digital artifacts she creates will exist in a virtual reality game-like environment for visitors to explore.
During her time at UMBC, Wojcik was very active in the award-winning UMBC Game Developers Club, presenting for the club at UMBC's Undergraduate Research and Creative Achievement Day for two consecutive years. She also presented at Gamescape 2016 and MAGFEST 2017, and participated in the 2016 Baltimore Student Film Showcase with "Beware Bad Footing." Her entry into UMBC's 2015 Art Week Motion Challenge Competition won first place, and, on a regular basis, her animations reached wide audiences through work with CommonVision's iNet display screens found across campus.
Wojcik has also excelled academically, as a member of the Honors College who has been recognized on the President's List for every semester of her time at UMBC.
Portrait by Marlayna Demond '11 for UMBC.
Tags: HonorsCollege, majoraward, Undergraduate Research, VisualArts